Kitchen tips : 5 important tips to check plate and cutlery are germ free
Crockery and cutlery are the two most important dining essentials that we need in our daily life. Whatever delicious dish you eat rusty and dirty crockery and cutlery will give you bad impression. Here is the important kitchen tips on list of 5 important ways to check plate and cutlery are germ free.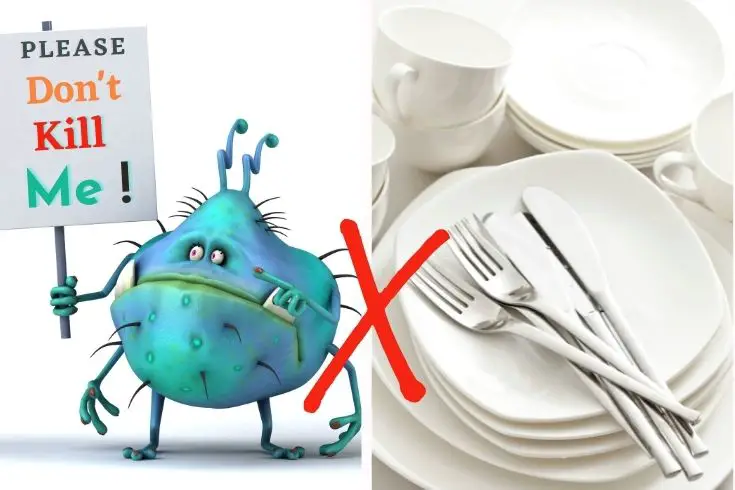 Below a few easy ways to ensure that the cutlery and crockery you use daily are thoroughly cleaned and safe from germs and bacteria.
Germ free hands
The First and foremost thing to maintain plate and cutler germ free, first makes your hands germs free.
You know our hands are one of the main sources of transmissions of bacteria all round the kitchen,
because we often touch many things in our kitchen, from raw foods including meat, vegetables etc to fridge handles, towels, spices, kitchen cabinet and cooking utensils.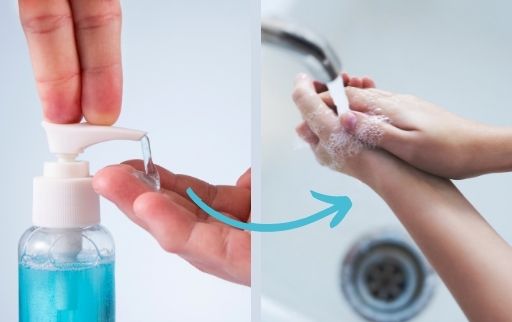 So to keep your kitchen clean and germ free we first need to keep our hands clean.
For this we must wash our hands thoroughly with soap and warm water in below mentioned times:
before starting to preparing food

after touching raw food including meat, poultry, vegetables and eggs

after going to the toilet

after touching the bin

after touching pets
If you have dryer in your house you can dry your hands thoroughly otherwise you can use disposable kitchen towels. Make sure hands must not be wet, because wet hand will help the bacteria to spread easily.

Use clean cloths
Cloths another most important thing you keep in mind to keep plate and cutlery germ free.
Because, dirty and damp cloths or sponges are the perfect places to grow bacteria and one of the . So wash your kitchen cloths or sponges regularly and keep them to dry before using them again.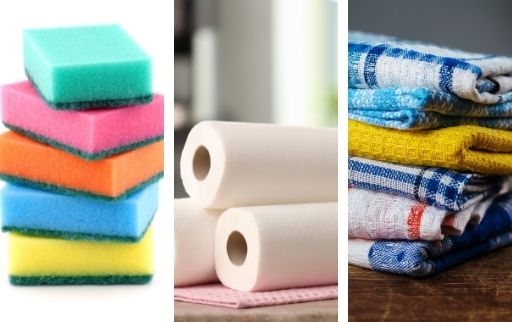 To stay in safe side if you have options you can use disposable kitchen towel to wipe worktops and chopping boards, because you through them out after using it.
Otherwise you can use different cloths for separate jobs such as , use one cloth to wipe worktops and another to wash dishes, in this way bacteria will not spread easily.
| Also read : how to blanch almond fast
Clean and germ free crockery
After completing cooking always wash your crockery as soon as possible otherwise germs may build up on it.
If you are lazy to immediately wash your utensils , then you can pour some warm water on it, this helps to avoid any staining.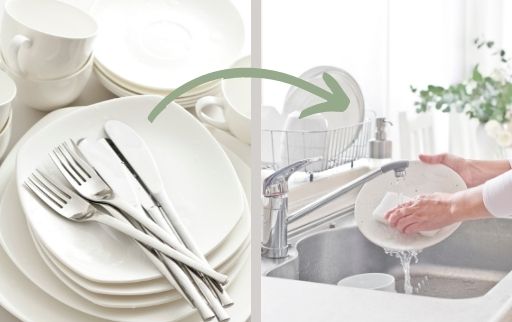 You can also wash your crockery with hot and soapy water along with a pinch of salt, this helps in keeping your crockery thoroughly clean and safe from germs.
If you use artistic crockery or antique pieces, then never use any synthetic chemicals, vinegar or lemon this will become erosion of painted coatings.
| Also read : how to use pressure cooker safely
​Use clean cutlery
Most people prefer washing cutlery in a dishwasher as it may seem like a tedious task to wash every single cutlery manually. This is why spoons and other cutlery essentials are often left to pile up and later washed in a dishwasher.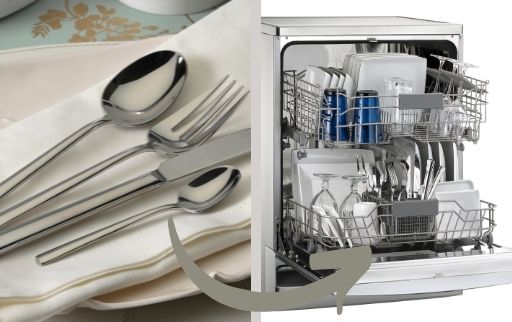 However, to ensure that your cutlery is cleaned nicely, you can dip them in a large utensil with water, lemon juice or baking soda as this removes any chances of food deposition or staining. Whether you like it or not washing cutlery manually can always help in keeping germs away.
 

De-clutter and disinfect kitchen countertop
The last most important thing is declutter kitchen cabinet and remove all unnecessary items from your countertop including grocery items, bills receipts, raw vegetables, raw fruits and keys on kitchen cabinets.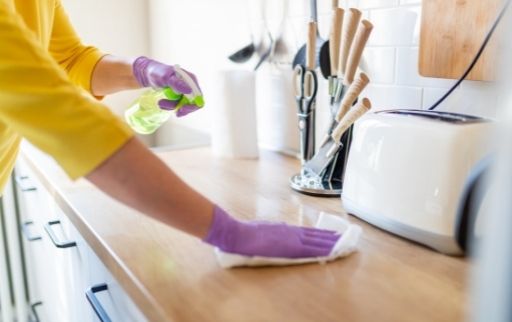 This helps to clean your countertop easily.
Now it is easy to disinfect the kitchen cabinets to remove any germs that may have gotten on board.