Kitchen tips : How to clean an oven
Who doesn't love baked and grilled dishes? If you are a big foodie just like me, you will love to do cooking delicious dishes a lot. Besides, you should have good knowledge of how to clean an oven otherwise it becomes an impossible task and as there is a lot of smell and grease in it. Here are the easy kitchen tips on 5 easy ways to clean an oven at home.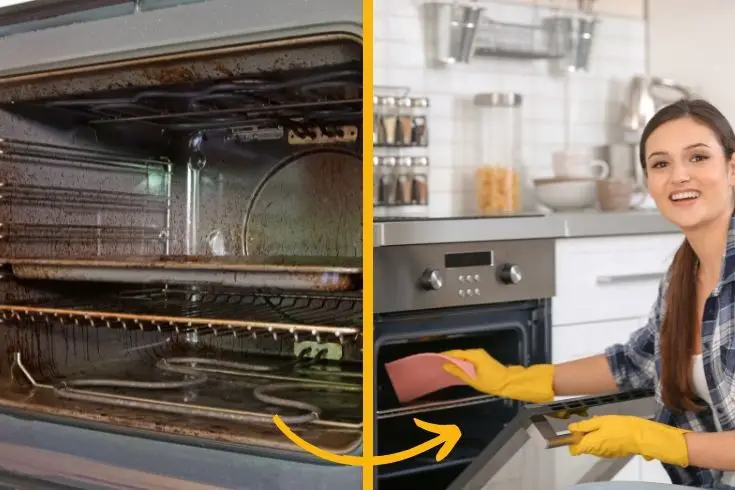 Though there are various ways to clean an oven either you can buy an oven cleaner from the supermarket and use it or you simply want to use homemade oven cleaner solutions made of mixing baking soda, vinegar, and warm water.
Baking soda works as an abrasive agent here if we leave this mixture on burnt food or sticky grease for some time, then after some time it loosens the burnt food or grease and with the help of a sponge we can easily remove the food particles.
How to clean an oven
If you are also thinking to clean an oven, then here are some easy tips using which, the shine your oven without emitting any bad smell.
Clean oven racks
To clean oven racks first wait until the oven becomes cool and stays at room temperature.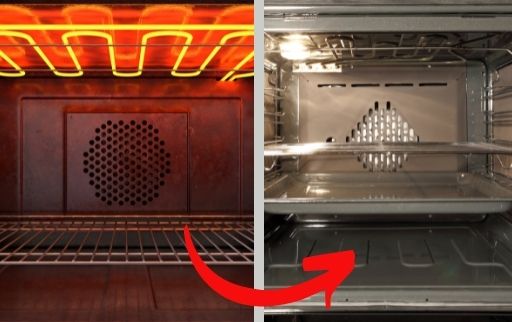 Then gently remove the racks from the oven and soak them in the mixture of warm water and dishwater detergent or baking soda, warm water and vinegar mixture for at least 2 to 3 hours.

The process helps the sticky residue to come out easily with minimum scrubbing.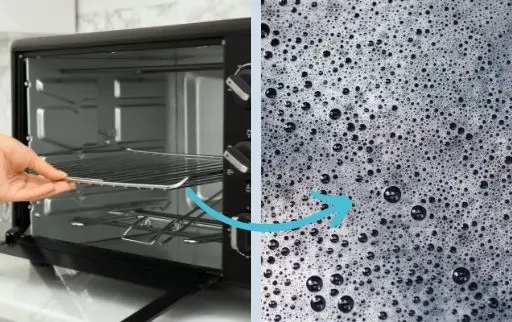 After that, just scrub the racks with a stiff brush, rinse, and dry them before returning them to the oven.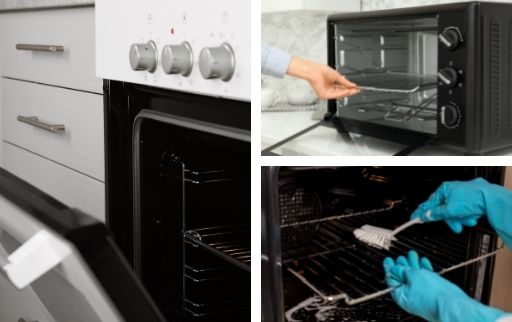 You May Like
Clean oven knobs
To clean oven knobs properly never ever use the dishwasher or any type of liquid cleaner spraying directly on the oven knobs because these liquids can easily go behind the knobs and switches and help to short-circuit the whole control panel.
To stay on the safe side just use a soft damp microfiber cloth to wipe out any residue on the knobs. If required you can also use a little amount of soap or a disposable wipe to clean oven knobs.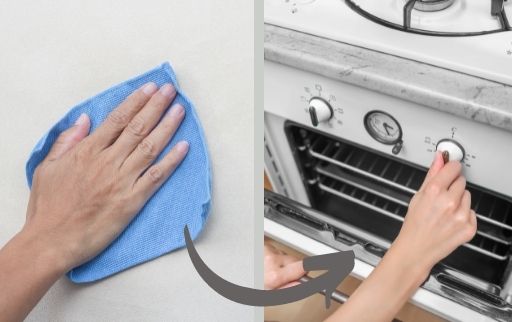 Clean oven glass



Now to clean oven glass take extra precautions because glass is more prone to scratches than other parts of the oven.
If you want to clean oven glass door without removing then first make a homemade cleaning mixture.

For this make a thick paste of mixing baking soda and water. Spread the paste carefully on the glass and let it rest for at least 30 to 45 minutes.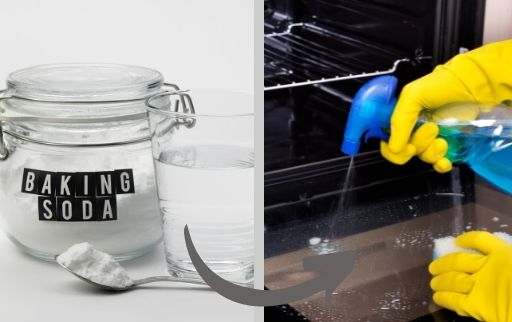 After that, gently wipe up the paste with a soft microfiber cloth, rinse thoroughly with water and leave it dry.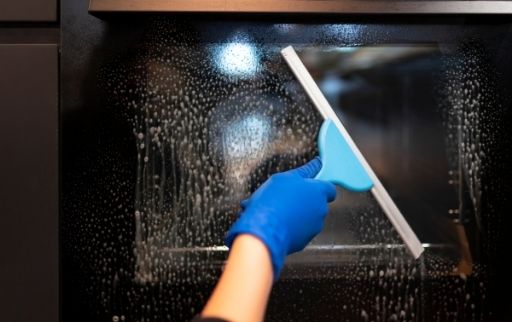 Note: You can also clean oven without baking soda mixture, for this use soapy water or a standard oven glass cleaner to clean the oven.
| Also read : how to store cooking oils at home
Clean oven trays
If you have sticky grease on the oven trays then spray with any grill spray available from any supermarket then gently wipe it away with a kitchen towel.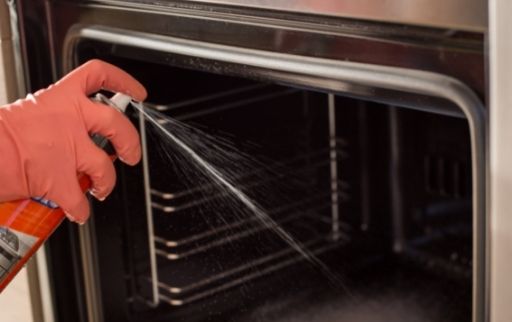 Make a soapy solution by mixing hot water and soap, then fill it in the oily and greasy tray. Let it rest for an hour.

If you have a non-stick tray then it is very easy to clean just use dishwashing liquid and clean with a soft sponge and cloth to wipe away any residue.
| Also read : how to use pressure cooker safely
How to clean oven naturally
To clean oven naturally, you have to use the self-cleaning function on your oven which you can easily find in most modern ovens.
Before using self-cleaning functions read the instructions carefully because this function makes the oven reach 880F or 471 C which helps to burn the leftover food inside the oven and turns them into ash, which is then easily removed by any damp cloth.
Though it is one of the easiest ways to clean the oven some of you don't like this method because this method usually generates excessive heat and some burning odour that will completely fill in your kitchen.
Last thing you have to remember while performing a self-clean oven is never to use any commercial oven cleaner because it may damage the enamel coating of your oven.
| Also read : how to store ghee for longer
How often should you clean an oven
To clean an oven totally depends upon how much you use it. If you use the oven more frequently then you have to deep clean the oven every 3 months to avoid the buildup of any residue.
If you use it less regularly, then must deep clean the oven every six months.
Also remember If any significant residue fall in the oven accidentally, then don't forget to wipe it out when your oven is cooled otherwise it will take time to wipe them out.