Though cooking is fun we should not forget about basic kitchen safety tips. Because while working in the kitchen we face various kitchen tools and electric equipment including sharp objects like knives, open fires from ovens, and various electrical appliances to prevent serious injuries or accidents always pay attention to the kitchen safety rules. Here I share a list of

8 basic kitchen safety tips

.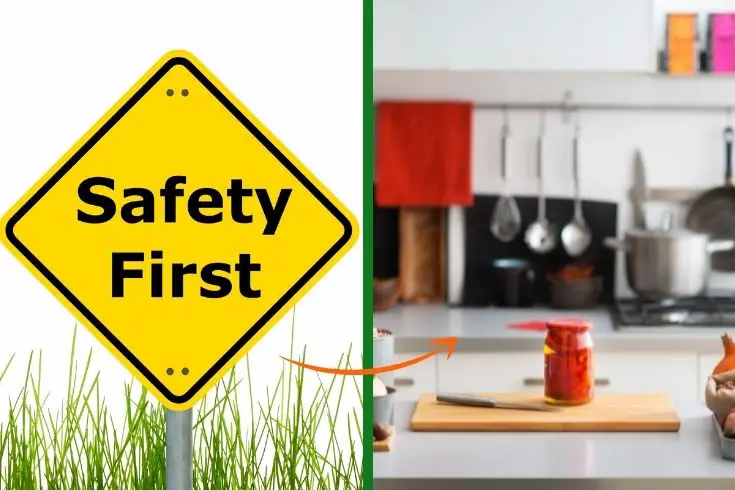 The kitchen has a very important place in our houses besides cooking delicious dishes we also deal with hot surfaces, boiling liquids, sharp knives, scissors, forks and electrical machinery which ultimately makes the kitchen an unsafe place for kids and pets.
Apart from these there are also risks of electrical hazards, fire hazards and getting burnt out from hot surfaces or hot liquids. You can reduce the hazards in a kitchen by following the below kitchen safety tips.
8 basic kitchen safety tips

Kitchen safety is very important, and failing to follow kitchen safety guidelines can result in serious injury and fatal accidents. Here are some important kitchen safety rules you must follow in the kitchen.
Keep kids and pets out of the kitchen



It is our top most priority to keep away children and pets from the kitchen. They accidentally may hurt themselves by getting into raw food, pulling hot pots down, and tripping you while you're carrying something heavy things.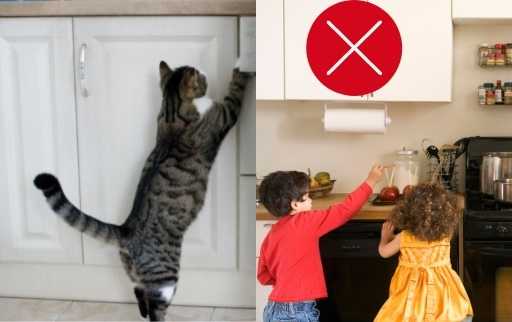 Another important thing is never to hold a baby while you are cooking, it is a very dangerous thing to do in the kitchen.
But, if you want to teach your kids about how to cook just start with quick and simple recipes that don't require lots of work.
| Also read : how to clean oven effectively
Kitchen safety rules for electrical equipment
Another important kitchen safety rules for electrical equipment. For this just re-check that all the wires, cords and plugs of your appliances are not frayed and have 3-prong grounded connections.
If you have any broken or damaged appliances in your kitchen, then you first repair them before using them.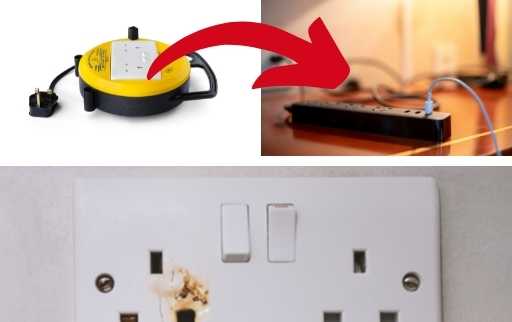 If you are using extension cords just discard them instead use a junction box with built-in GFI ( ground fault interrupters ) technology.
This not only helps you during a power shortage but also avoids any water or electrical shock-type accidents.
The last important thing is never to use your wet hands on electrical outlets, it may create fatal accidents.
| Also read : how to check plate and cutlery are germ free
You May Like
Use chef shoes and cloth



To make sure safety in the kitchen you should not wear any loose cloth or baggy sleeves even anything flammable or synthetic cloth while cooking in the kitchen.
If unfortunately, it catches fire these fabrics can easily melt your skin.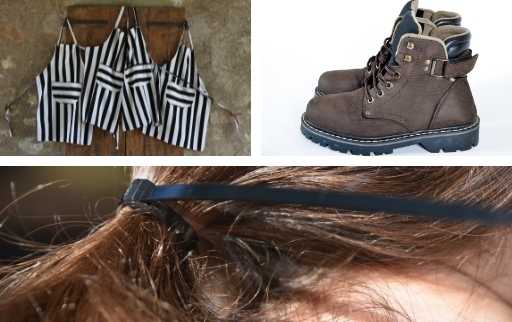 Make sure you always wear safe clothes. In general, tops with fitted sleeves or no sleeves work best.
On the safer side if you are a lady always tie your hair tightly towards the back and if you have an apron always wear it while cooking.
The last important thing is always to wear chef shoes or non-slip shoes for better kitchen safety, it will give you additional protection from any sharp objects which mistakenly fall on your foot and also from damaging you seriously.
Know your equipment and handle it properly
To maintain safety in the kitchen read the instructions that come with appliances and understand how to use them. Never use an appliance that has a frayed cord, and keep small appliances dry and away from water. And never use your fingers to release something caught in food processor blades or mixers.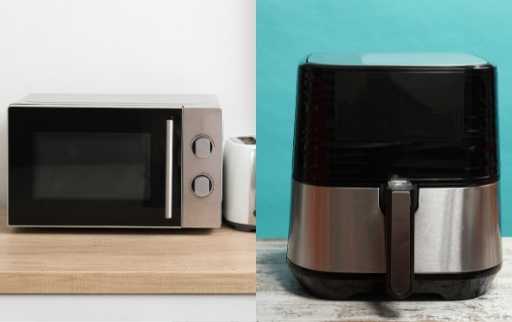 Be careful with the blades on food processors and blenders; they can be very sharp and can cut you if you just brush against them.
Let appliances cool down before cleaning them. And don't use an appliance for a purpose for which it wasn't created.
Learn how to use knives
Another important safety rules in kitchen are to use a sharp knife because dull knives can slip and cut. Learn how to chop and slice as chefs do, first place foods on a chopping board then hold the food with your non-dominant hand, fingers curled under. Go slow until you are confident, and always pay attention.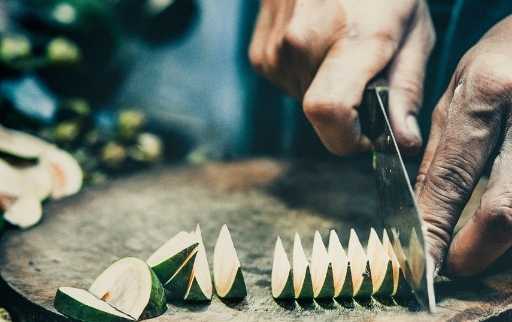 Always clean the knives properly after using then let them dry completely before using them.
| Also read : how to wash fruits and vegetables
​Using the stove
Take extra precautions while using the stove always switched off the stove after cooking. If using multiple burners at the same time, be vigilant that you don't touch a hot pot by mistake.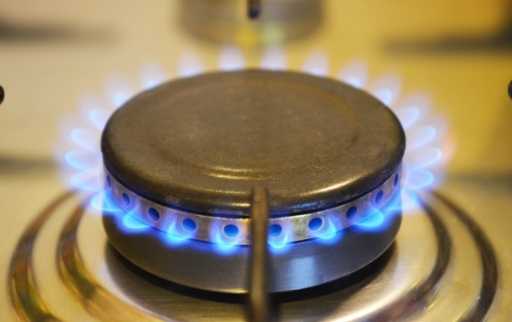 Push back your sleeves when cooking food on the stovetop. And keep pot covers handy to smother flames.
| Also read : how to peel ginger easily
Learn how to extinguish fire
Always have a fire extinguisher handy in your kitchen, and be sure that you know how to use it before you need it.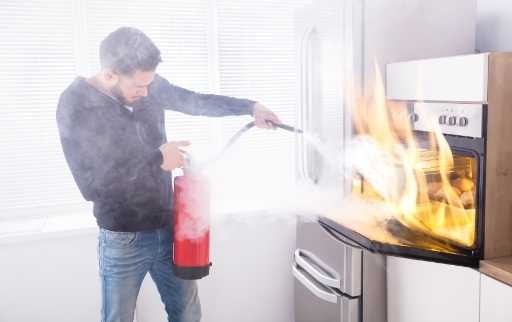 Never try to extinguish grease and electric fires with water; baking soda or a pan cover works best. Smothering a fire by removing air is the best way to put the most out. Use a pot cover, baking soda, or salt, not water.
A fire in the microwave can be put out just by turning the appliance off and keeping the door closed. A fire in the oven should be extinguished with baking soda or a fire extinguisher.
If you can't douse the fire in a few seconds, call the fire department. Fires can spread so quickly and can get out of control in minutes.
Always keep a first aid kit in the kitchen
The last important kitchen safety rules is always to keep first aid kit items in the kitchen for immediate use. 
Just stock basic items including gauze, burning cream, scissors, Dettol or any germ-cleaning liquid, adhesive tape, and the phone number for your doctors and nearby hospitals.