Chicken sandwich recipe | Chicken mayo sandwich
Chicken sandwich recipe is one of the simplest but delicious sandwich recipes which usually made from shredded chickens, mayonnaise, fresh veggies.This chicken mayo sandwich recipe can be made easily at home without any extra hassle.To cook this delicious mayo chicken sandwich recipe at home follow below step by step instructions on how to make chicken sandwich?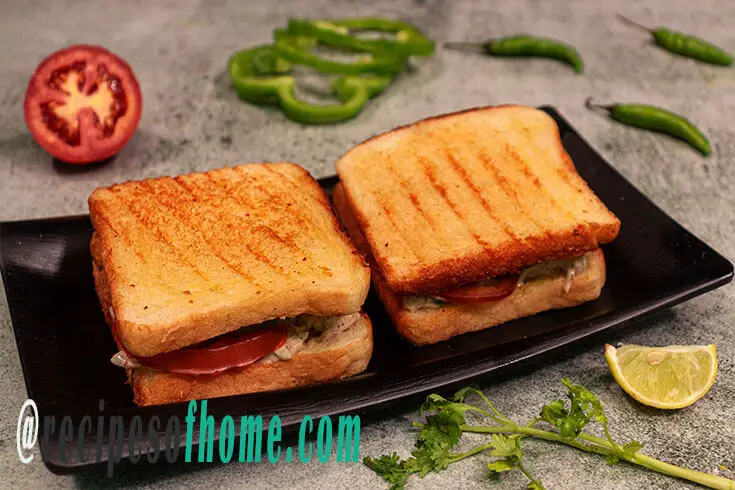 Though there are various ways you can prepare chicken sandwich recipes at home either making grilled chicken sandwich or just eat as cold chicken sandwich using a lot of cheese sauces etc.
But if you are looking for delicious but simple chicken sandwich recipe for your breakfast then this mayo chicken sandwich recipe is the best option for you.
To cook sandwich at home follow bellow tips and trick and step by step instructions.
Note : if you are in a hurry, feel free to click on the following links to check your desired topic.If you'd like to see our in-depth step by step recipe preparation keep reading!
What is chicken sandwich?
Chicken sandwich or chicken mayo sandwich is a popular sandwich recipes usually made from toasted bread filled with cooked mayo chicken stuffing and circular cut veggies like tomatoes and capsicum.
.
Must Check Recipes
What to serve with chicken sandwich?
After assembling chicken mayo sandwich you should serve it immediately with soup , salads or soft drinks.

Tips to make mayo chicken sandwich recipe



Choice of bread : You can use any type of bread from white bread to whole grain bread to prepare sandwich recipe.

Mayonnaise : Make sure don't increase the quantity of mayonnaise for mentioned amount chickens because it will make your chicken sandwich soggy quickly.Serve them immediately after preparing them.
Vegetables : You can use thinly sliced circular cut veggies including capsicum, tomatoes while assembling chicken sandwich.
Cooking Method : Traditionally breads for sandwich recipes are toasted in oven or griller but for our homemade recipe we use grilled pan, where buttery bread are toasted in medium flame to get perfect grilled line on sandwich.
Add on : If you want you can add green chutney , mozzarella, or cheddar cheese on your chicken sandwich.
More Recipes You May Love
How to make chicken sandwich?
Here, the complete recipe of chicken sandwich preparation classified into three simple categories first one is preparing chicken mayo sandwich,
second one is toast bread and last one is assembling chicken sandwich.
so, let's make it now.
Preparing chicken mayo sandwich
1. Now for preparing mayo chicken for sandwiches place 200 grams shredded boil chicken in a bowl, also cut tomatoes , capsicum in circular way.
2. Then heat 2 tablespoon oil in a pan and spread it evenly.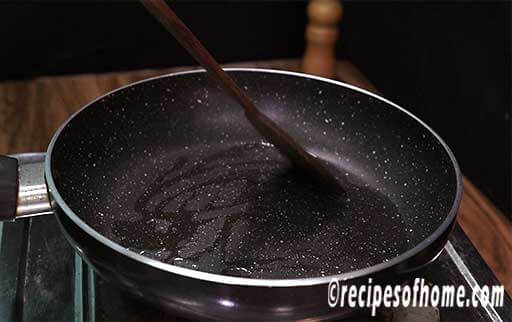 3. After that add 1 tablespoon ginger garlic paste, saute in medium flame for 2 min.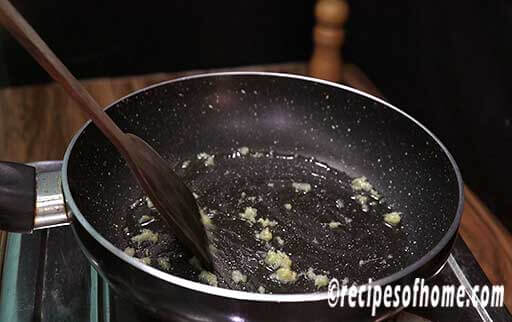 4. Next add shredded chickens cook for 3 mins.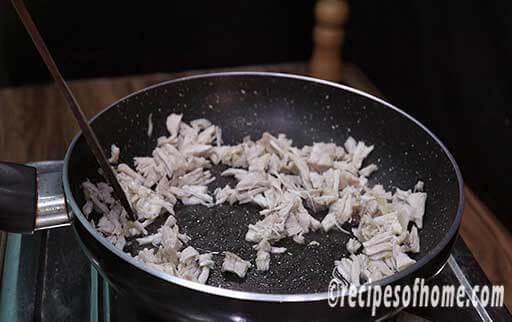 5. Furthermore add 2 teaspoon salt ,  1 teaspoon black pepper , 1/2 teaspoon coriander powder , 1/2 teaspoon cumin powder, 1 teaspoon red chili powder.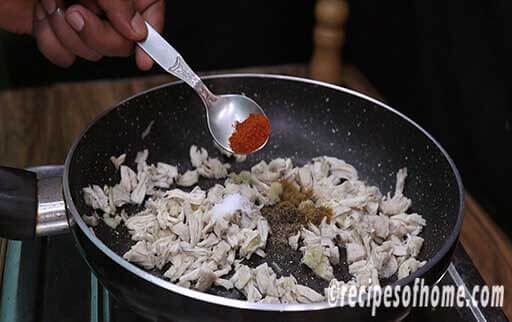 6. Now cook them further 5 min in medium flame till all the spices mix properly with chickens.
8. Finally pour the cooked chickens in a large mixing bowl.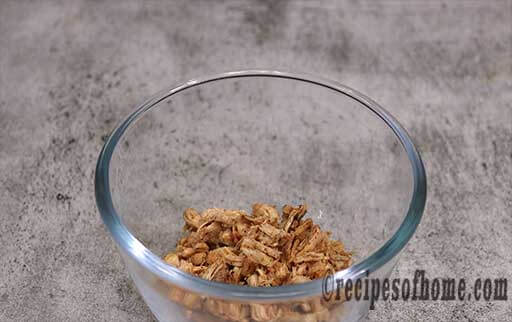 9. Now add 3 to 4 tablespoons mayonnaise.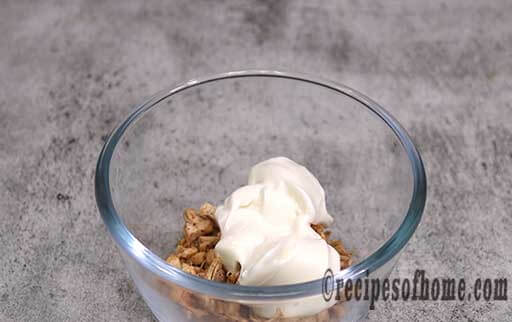 10. Then add 1 teaspoon black pepper and 2 teaspoon crushed mustard seed powder.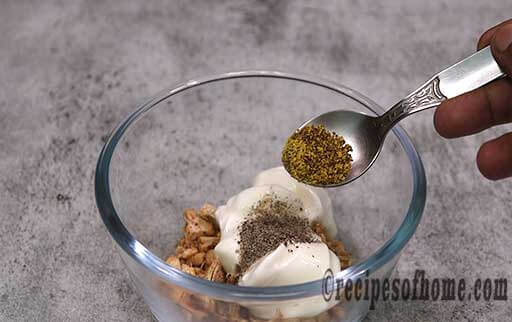 11. Also add 1 medium size chopped onions, 3 tablespoon freshly chopped coriander leaves.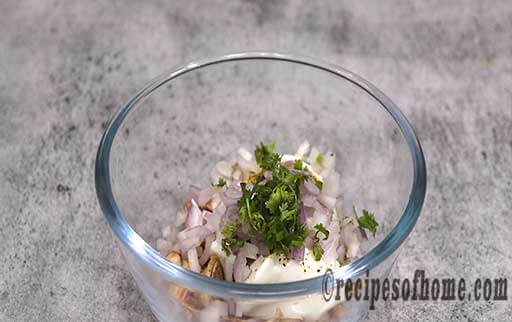 12. Furthermore squeeze 1 tablespoon lemon juice.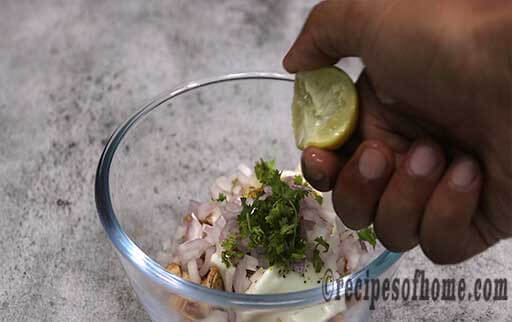 13. Now mix everything together and our mayo chicken is ready for sandwich recipe.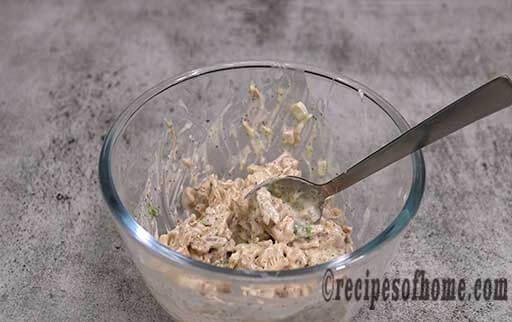 Toast bread for chicken sandwich recipe



1. At first to toast bread for sandwich recipe apply butter to both the bread slices.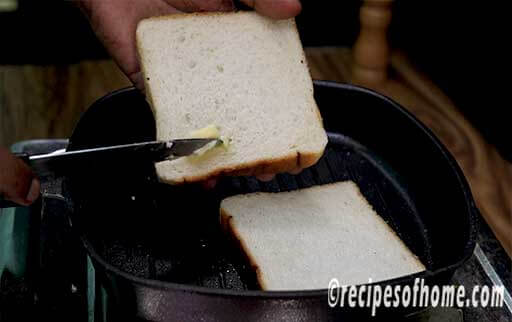 2. Now heat a grill pan on medium flame and place the sandwich with the butter side down. Cook for 2 mins or until crispy and golden brown from both sides.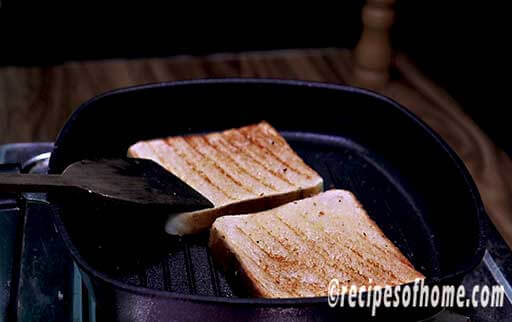 Note : you can press top sides of sandwich with a flat spatula or large plate to get properly grilled of bread.
Assembling chicken sandwich



1. Now for assembling mayo chicken sandwich recipe first place the toasted bread on a plate.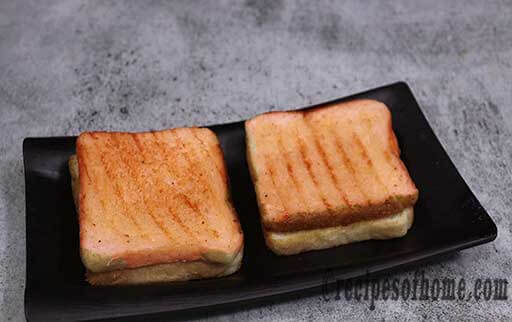 2. Then apply mayo chicken mixtures on bread, make sure don't wait too much because the breads will become soggy.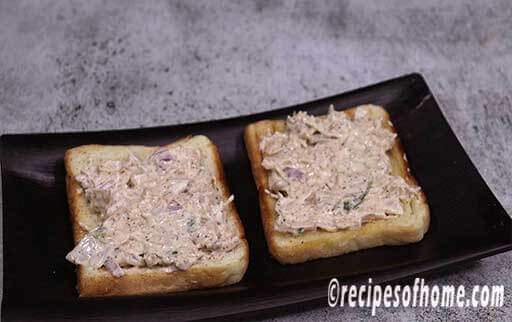 3. After that add circular cut tomatoes , and capsicum.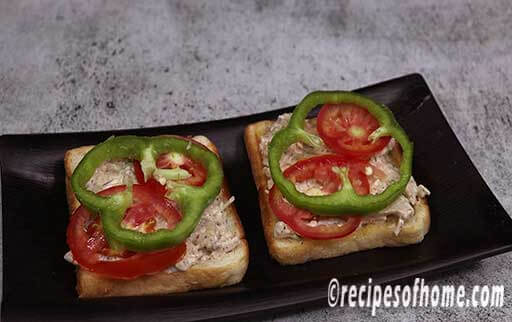 4. Now again apply chicken mayo sandwich mixture on the top of veggies.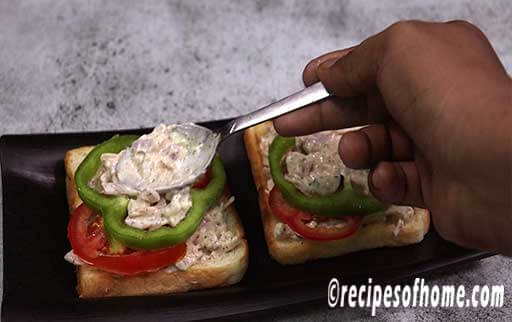 5. Finally place the other part of toasted bread on this mixture. Finally our chicken sandwich recipe is completed, serve it immediately.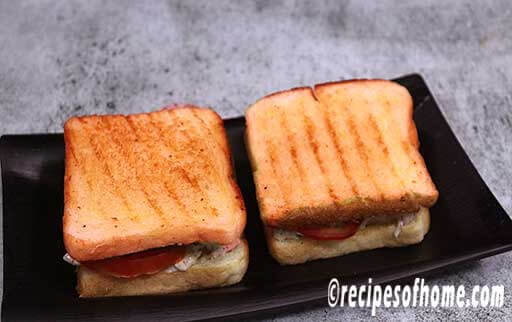 Chicken sandwich recipe card

Here is a quick overview of all the chicken sandwich ingredients including quick step by step preparation of chicken mayo sandwich recipe shown in the recipe card.
Take note of all ingredient lists.