Chicken curry recipe | Indian chicken curry recipe | How to make chicken curry
Chicken curry recipe is one of the popular indian chicken recipes from Indian cuisine. There are different recipes of chicken curry available on the web but if you want to cook authentic indian chicken curry recipe then you are in the right place. In this post, you will learn how to make chicken curry which is only prepared with onion and tomato gravy flavoured with some Indian spices.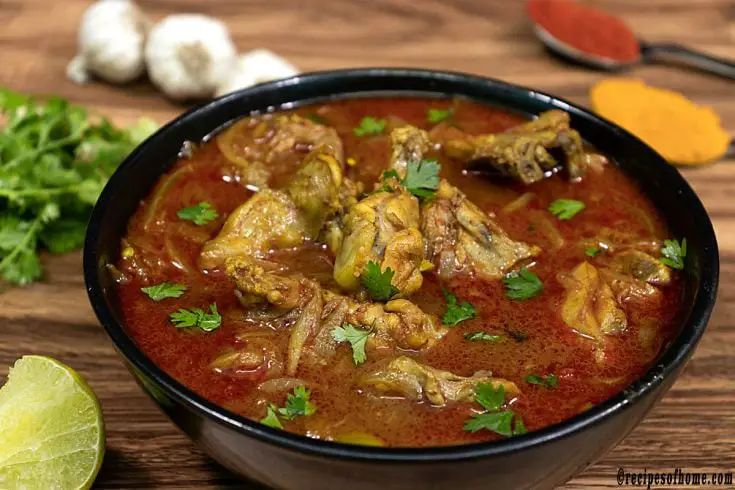 Though this is a very tasty and simple chicken curry recipe without using any cashew paste and curd, it's so easy and delicious that even beginners can cook this chicken masala curry easily at home.  
Note: if you are in a hurry, feel free to click on the following links to check your desired topic.If you'd like to see our in-depth step by step recipe preparation keep reading!
Where does the chicken curry recipe come from
The recipe of chicken curry basically originated from the Indian subcontinent, where chicken is cooked in onion and tomato gravy flavoured with various powder spices including red chili powder, coriander powder, turmeric powder, and some whole spices including bay leaf, cardamom, cinnamon, cloves, cumin seed.
This spicy chicken curry recipe is also popular outside the Indian subcontinent which is usually called curry chicken and often prepared with curry powder.
Types of chicken curry recipe
Though there are various types of chicken curry recipe available in India but differs in each state by just varying the process of making.
For example, you can find north indian chicken curry recipe which is mostly made from tomato onion base and uses lot's spices in their curry recipes.
But if you look at south indian chicken curry recipe then most of the curry's base is made from coconut, coconut milk or cream, which are mostly termed as less spicy chicken curry.
| Must check below recipes :

What serves best with chicken curry recipes
Chicken curry with rice is the best complementary Indian dish that everyone wants in their dining. It also goes well with butter naan , roti, paneer paratha.
Tips to make best indian chicken curry recipe

Garam Masala Powder

: One of the main ingredients of indian chicken curry recipe is garam masala powder so choose either homemade or store-bought garam masala from any popular brand.
Bone-In-Chicken :

In most Indian chicken curry is usually made from bone in chicken which ultimately provides authentic flavour in a curry dish.
Cooking Time :

To cook the best chicken curry you have to saute the marinated chicken with spices and tomato onion gravy for some time before simmering the gravy.
You May Like
What to choose garam masala or curry powder?
To prepare spicy chicken curry you need good quality spice powder which gives an actual aroma to the chicken curry recipe. Most of the Indian chicken curry recipe is prepared with garam masala powder either homemade or good quality store-bought powder from any popular brand.
Note : if you want to use curry powder instead of garam masala powder you can use it but it does not have same aroma as
garam masala powder which lacks flavour to prepare authentic Indian chicken curry. 
What to choose bone-in or boneless chicken
Most Indian chicken curry is prepared with bone-in chicken as it gives authentic flavour to a curry dish, if you like boneless you can make boneless chicken curry.
To maintain authenticity In this chicken curry recipe i use bone-in chicken. 
How to prepare chicken curry without yogurt and cashew paste
yes,
as the traditional Indian chicken curry is made only onion-tomato gravy flavoured with some whole spices and powdered spices
without using any yogurt and cashew paste.
Note: at the end of this detailed step by step chicken curry preparation I put all the chicken curry ingredients list including a quick overview of chicken curry step by step with pictures in the recipe card.
How to make chicken curry
To cook authentic Indian chicken curry recipe you have to follow two easy processes,
first one is the chicken curry marinade with some Indian spices
and
the second one is preparing a mouthwatering chicken gravy recipe.
So, let's make it.
How to marinate chicken for curry
1. The first step of preparing chicken curry is marination, so for this take a medium-size bowl to add 500 gm of bone-in chicken.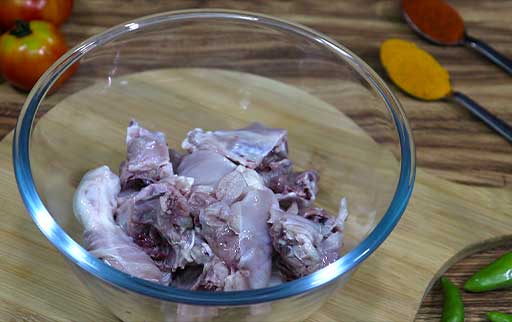 2. After that, add ½ tsp salt [adjust as per need].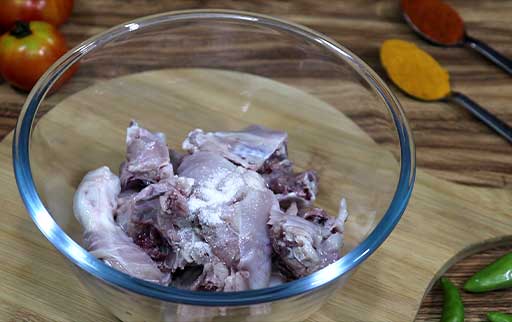 3. Next, add 1 tsp black pepper powder 
.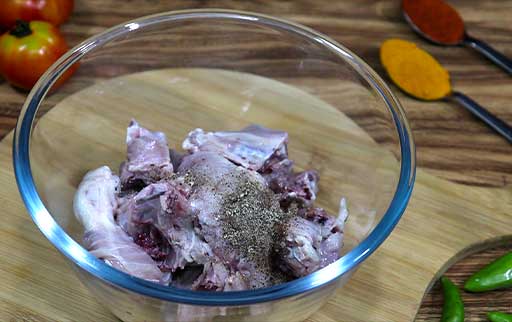 Note : If you want to add curd or yogurt add it now. As I want to make my chicken gravy recipe simple so i didn't use that.

4. Add 2 tsp vinegar or lemon juice.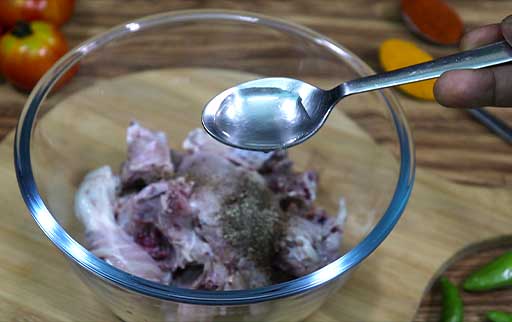 5. Also, mix 1 tbsp oil with chicken.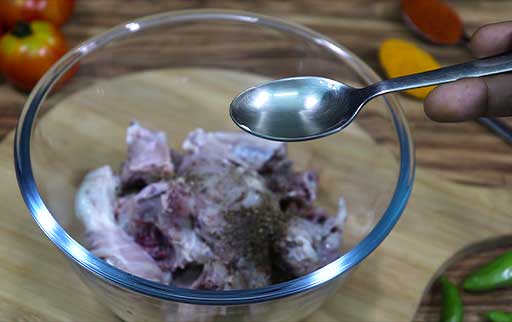 6. Now, mix everything and set aside marinated chicken in the refrigerator for up to 1-2 hours or for tender and juicy chicken curry.
Note : While, marination is going on chopped 3 medium size tomatoes, de-seed them and make a smooth tomato puree in a blender.
If you want to use cashew in your chicken curry recipe soak them in hot water for at least 20 min, then make a smooth paste by adding a little water. 
Cooking indian chicken curry recipe
1. Now, for cooking indian chicken curry recipe we first need to prepare spicy masala for chicken gravy for this heat 4 tbsp oil in kadhai or pan and spread it evenly.
2. Then, add some whole spices including,1 bay-leaf or tej-patta, 2-inch cinnamon or dalchini ,3-4 green cardamom or elaichi,2-3 cloves or laung and saute them in medium flame for 45 sec to 1 min.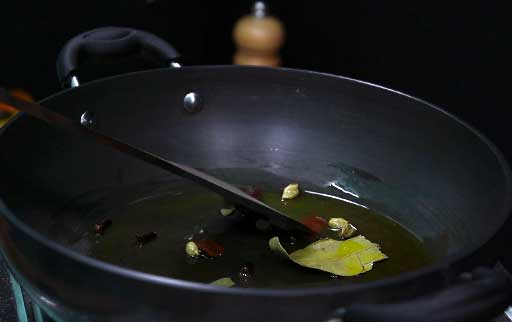 3. Next, add 3 medium size chopped or sliced onions.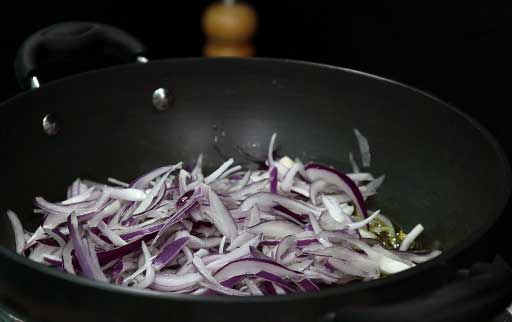 4. Now, saute them on medium flame until onions turn slightly golden brown.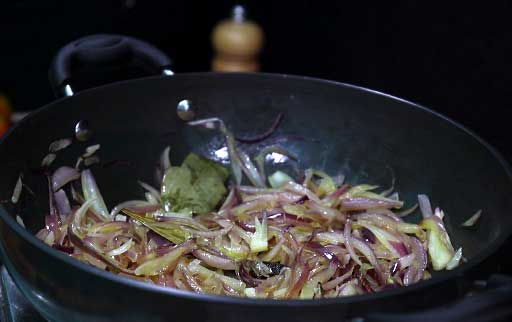 5. After that, add 3 vertically sliced green chili.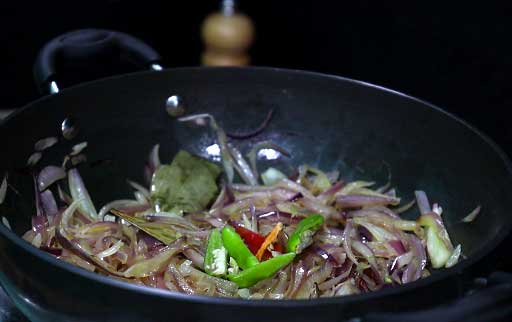 6. Add 1 tbsp ginger garlic paste and saute them in medium flame until the raw smell goes away.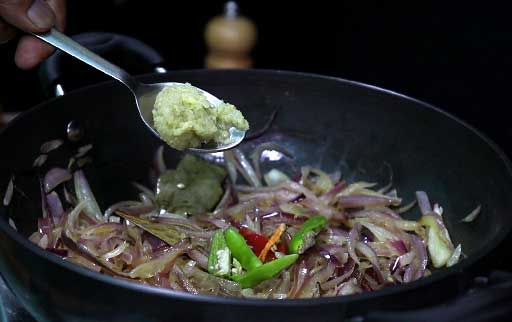 7. Now, pour the tomato puree into Kadai.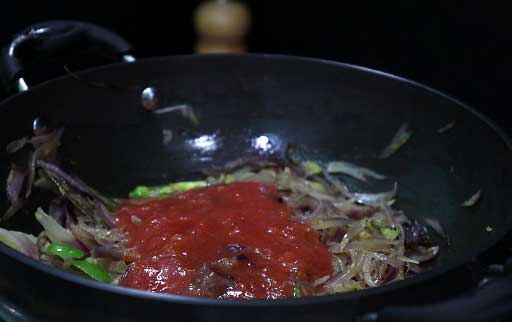 8. Now mix it with fried onion and cook on medium flame for up to 3-4 min.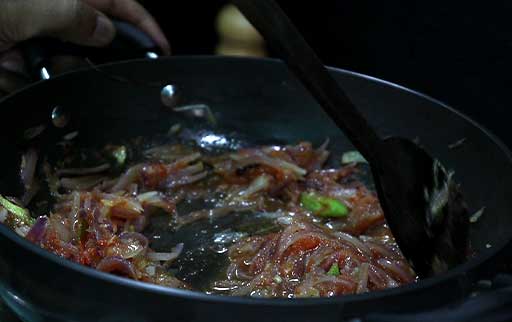 9. Next add, a few spices for chicken curry including 1/2 tsp turmeric powder, 2 tsp red chili powder, and 1/2 tbsp salt. [adjust later after adding water].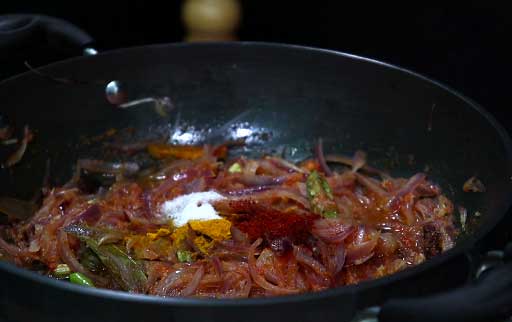 10. Now, saute them in medium flame until the raw smell of all spices completely disappears.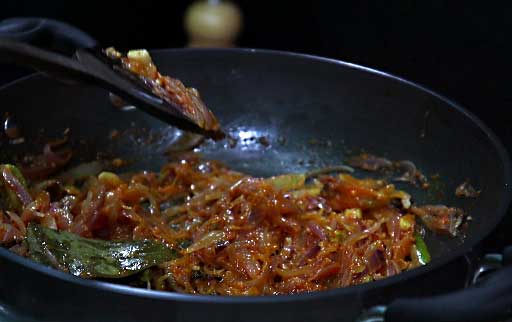 11. Pour a little water and saute another 2 to 3 min on medium flame.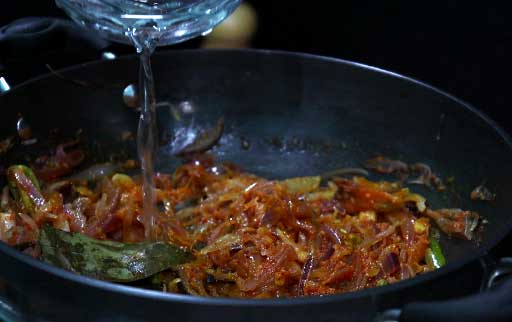 12. Next, add marinated chickens in Kadai.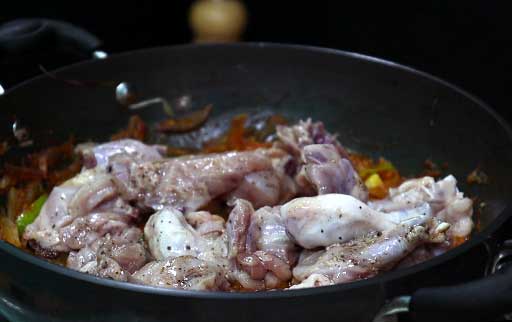 13. Now, mix everything with chicken masalas and cook for 8 to 10 min in medium to low flame.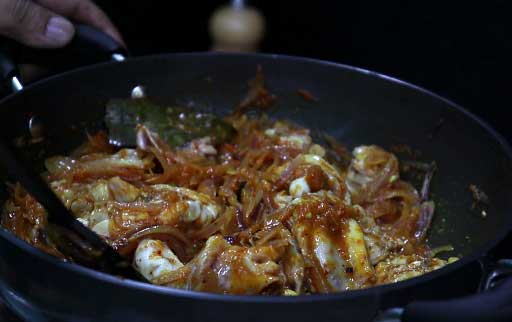 14. For, preparing chicken gravy add 2 cup water in Kadai and mix everything.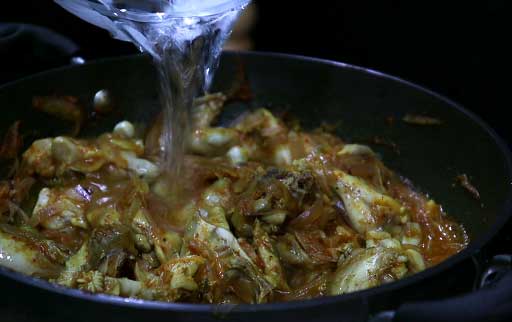 15. Now mix all the chicken pieces in this gravy. Also check the taste of salt, if required add it now.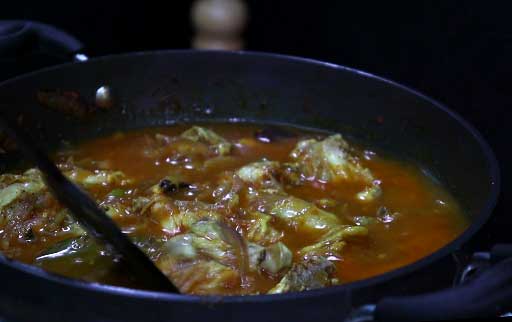 16. Also add 2 tsp garam masala powder.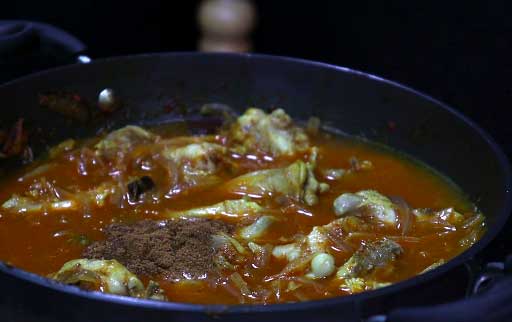 17. For the vibrant red colour just like dhaba style chicken curry add 2 tsp Kashmiri red chilli powder.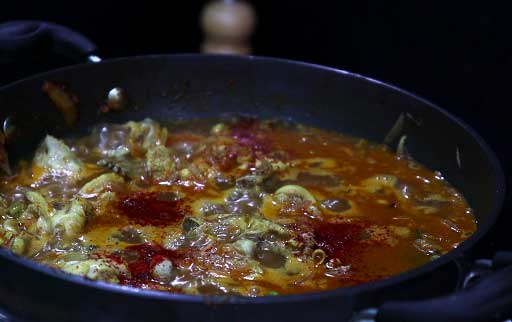 18. Now mix everything in this curry.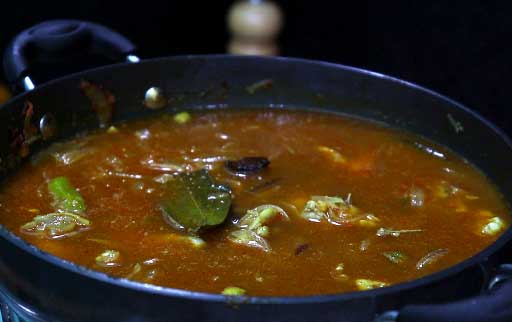 19. Then cover and cook chicken gravy on medium to low flame for up to 10 min to 15 min.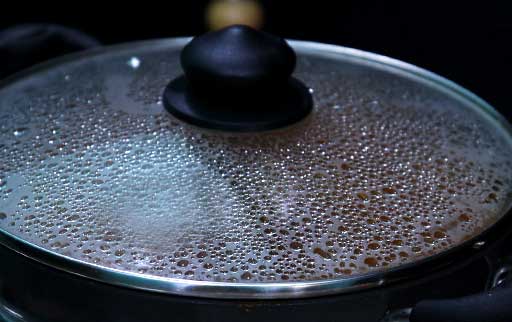 Note : If you want to use curd and cashew paste in your chicken curry recipe, you can add it after 10 to 12 min when the chicken becomes tender and juicy.
Chicken Curry Recipe Card
Here is a quick overview of all the chicken curry ingredients including quick step by step preparation of chicken curry recipe shown in the recipe card.
Take note of all ingredient lists.