Aloo chaat recipe | Potato chaat recipe | How to make aloo chaat
Aloo chaat recipe is one of the delicious Indian street food where crispy fried potatoes tossed with a few Indian spices and garnish with curd and sev.This aloo chaat is widely served as evening snacks across India. This tasty potato chaat recipe will surely impress your guest. In this post, you will learn how to make aloo chaat?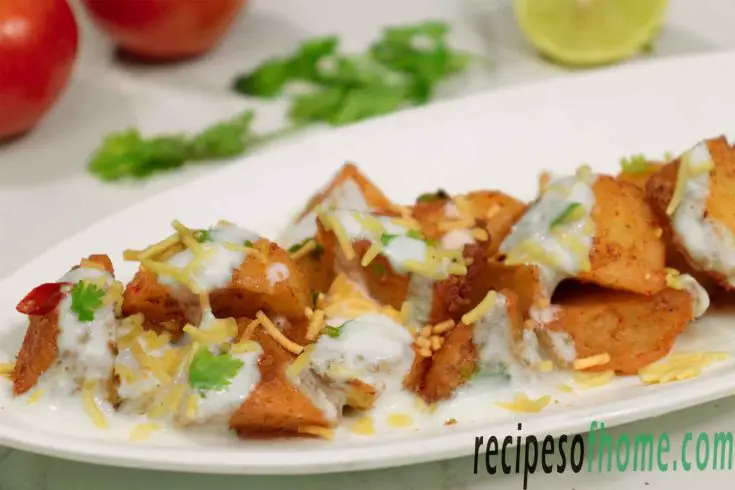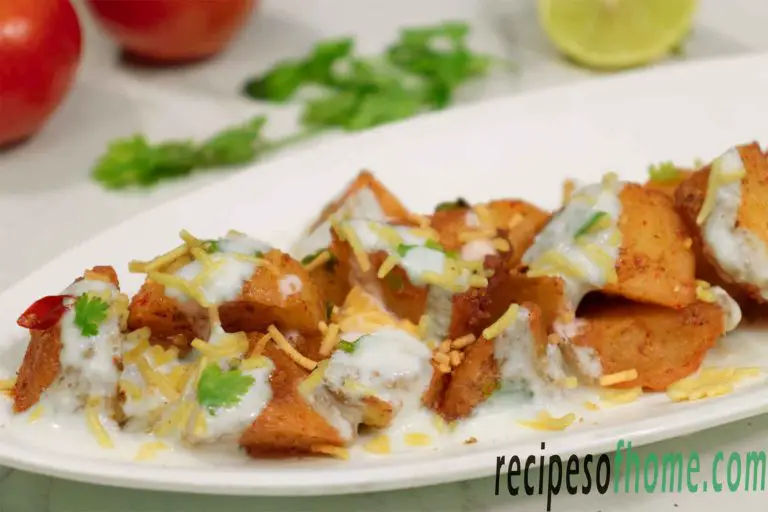 Note: if you are in a hurry, feel free to click on the following links to check your desired topic.If you'd like to see our in-depth step by step recipe preparation keep reading!
Though there are various ways of making this easy potato chaat at your home.But this aloo chat recipe is not only super tasty but also very easy to prepare. This one of the easiest chaat recipes that you will ever make.
You can do some variation of this aloo chaat recipe for example you can use sweet tamarind chutney, coriander chutney even dahi just like my recipe.
What is aloo chaat?
" Aloo Chaat " is nothing but a popular fried potato snack dish mostly served as a street food across india.Here aloo means potato and chaat refers to mixed flavor of sweet,tangy and spicy.
To prepare this potato chaat parboiled potatoes first shallow or deep-fried in oil then tossed with a few Indian spices and garnish with curd, sev, and freshly chopped coriander leaves.  
What to serve with aloo chaat?
Either you can serve this aloo chaat as it is or you can serve this with masala chai as your evening snacks. 
⇒ Must Check Recipes :
Tips to make aloo chaat recipe
Size of Potato: To make the best aloo chaat cut the potatoes in 1/4th inch which not only fried well but also tastes good.It is advice to choose high starchy potatoes for example Russet potatoes, Idaho etc as these will give a crispy crust from outside with a soft, tender texture from inside.
Cooking Method: In this recipe, I do shallow frying methods but you can also deep-fried just like delhi style aloo chaat , even air fried, or grill in an oven whatever you like.
Secret Flavor: To enhances the flavor of this chaat recipe just like street style, you must use chaat masala powder, roasted cumin powder.
For Garnishing:

For garnishing you must use curd on the topping, sprinkle sev, and freshly chopped coriander leaves, If you have tamarind and green chutney then sprinkle them also.
More Recipes You May Love
How to make aloo chaat?
Here, the complete recipe for aloo chaat preparation classified into three simple categories first one is preparation for potato chaat,
the second one is making aloo chaat .
so, let's make it now.
Preparation for potato chaat



1. At first, for preparing aloo chaat wash potatoes, cut into quarter shape then parboil in a pressure cooker up to 3 to 4 whistle, cool them a little bit, peel them and set them aside for later usage.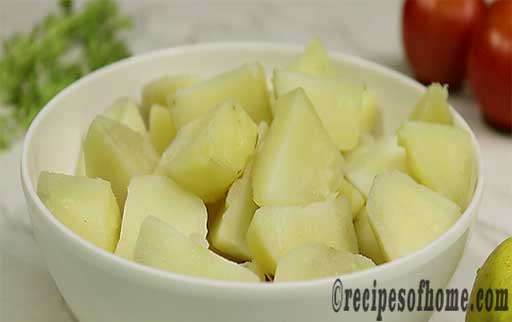 . 
2. Now, for frying aloo, heat 150 to 200 ml oil in a frying pan or if you want shallow frying you can use 8 to 10 tablespoon oil.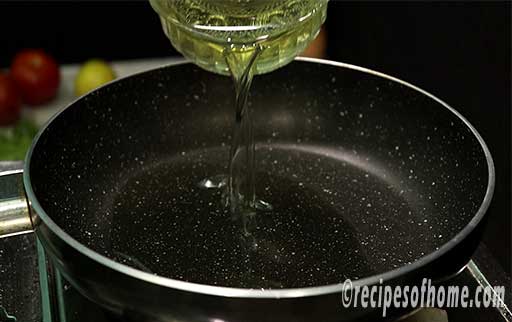 3. Check whether the oil is hot enough place potatoes one by one on oil and fry them in medium to high flame.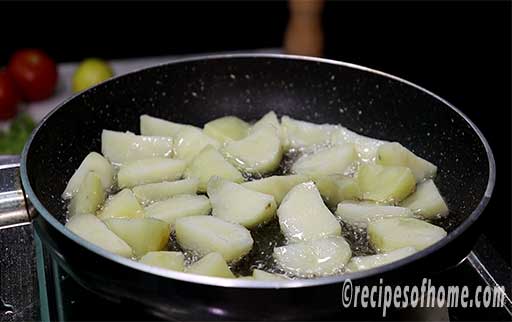 4. When one side of potatoes slightly becomes golden brown flip the other side and fry that side also.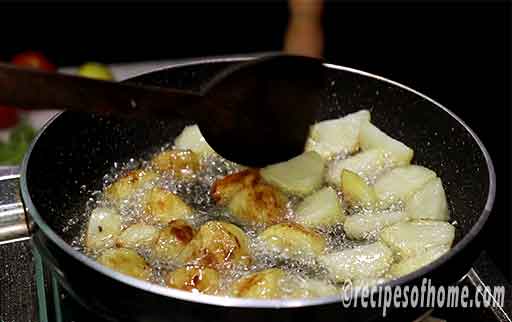 5. After some time when potatoes become completely golden brown and crispy turn the flame off immediately and placed these crispy fried potatoes on kitchen tissue to drain excess oil.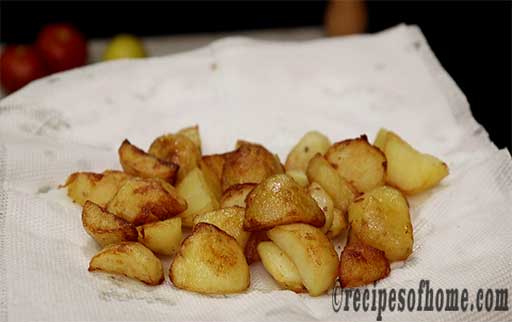 Making aloo chaat




1. Now for assembling the potato chaat pour these fried potatoes in a large mixing bowl and add 1 teaspoon black salt.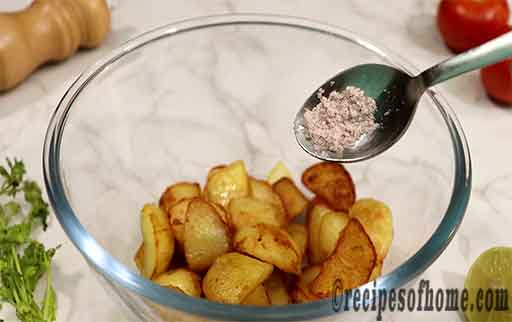 2. Next sprinkle 1 tsp white salt.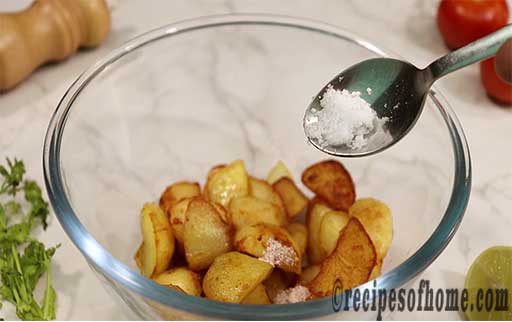 3. Next sprinkle 1/2 tsp red chili powder and 1/2 tsp cumin powder.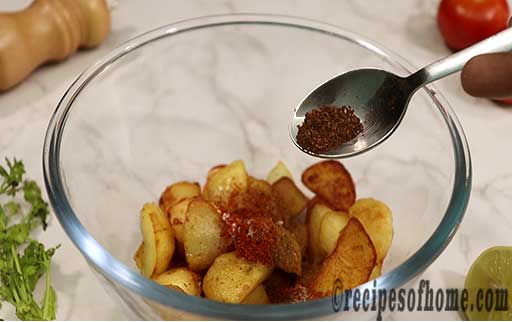 4. Sprinkle 2 tsp chaat masala powder.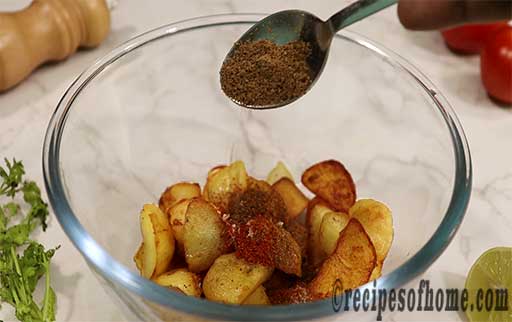 5. 1/2 tsp red chili flakes.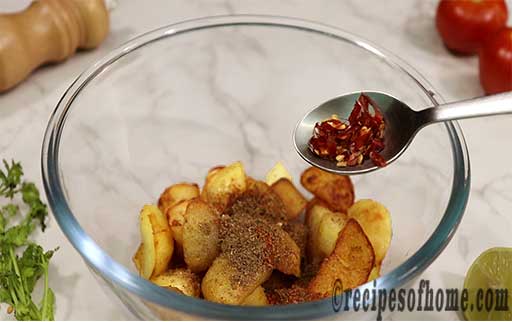 6. After that, sprinkle a few teaspoons of lemon juice or 1/2 tsp of amchur powder on potatoes and mix them properly.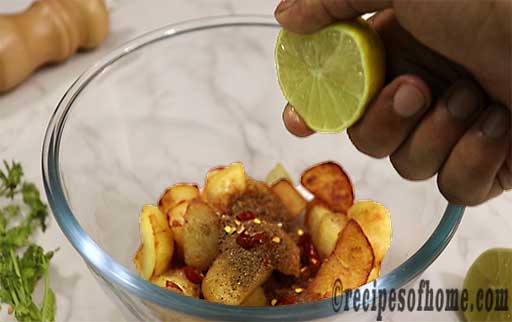 7. Now place this masala aloo on a serving plate.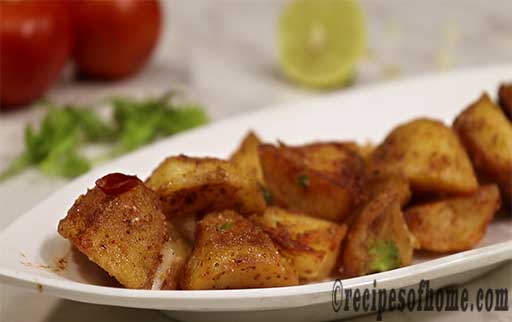 8. Then garnish with 3 tbsp curd on top of it.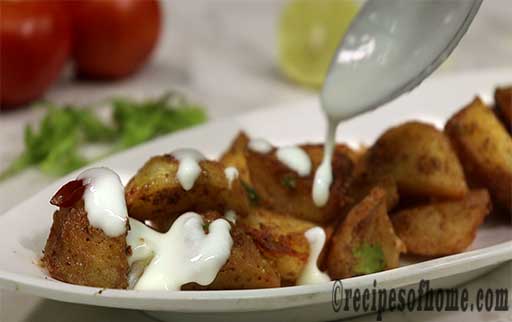 9. If green chutney and tamarind chutney available then add it now, otherwise, leave it. Sprinkle 3 tbsp bhujia or sev on top of it.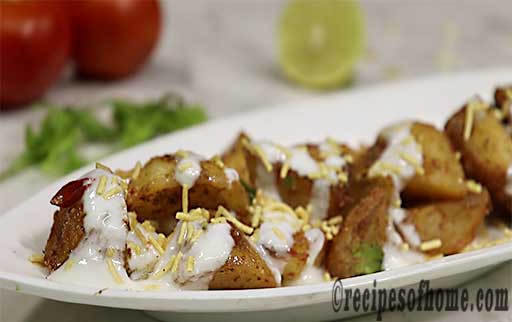 10. Finally sprinkle 3 tbsp freshly chopped coriander leaves and serve hot this crispy aloo chaat as your best evening snacks.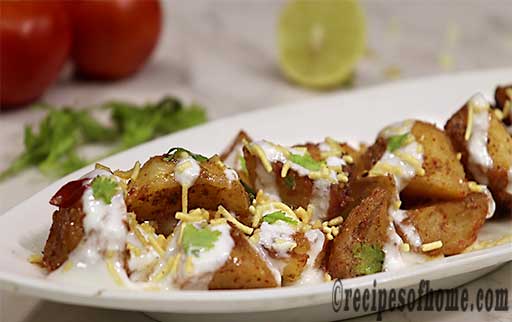 Aloo Chaat Recipe Card
Here is a quick overview of all the potato chaat ingredients including quick step by step preparation of aloo chaat recipe shown in the recipe card.
Take note of all ingredient lists.