Chicken manchurian recipe | Chicken manchurian gravy and dry
Chicken manchurian recipe , crispy, fried chicken Manchurian balls tossed in hot and spicy Manchurian gravy is one of the popular chicken recipes in Indo-Chinese cuisine.Just like Veg manchurian and chilli chciken recipe we use this same manchurian recipe to cook both chicken manchurian dry and chicken manchurian gravy recipe. This recipe of chicken manchurian is not only tastes very delicious but also very easy to cook at home. In this post you will learn how to make chicken manchurian?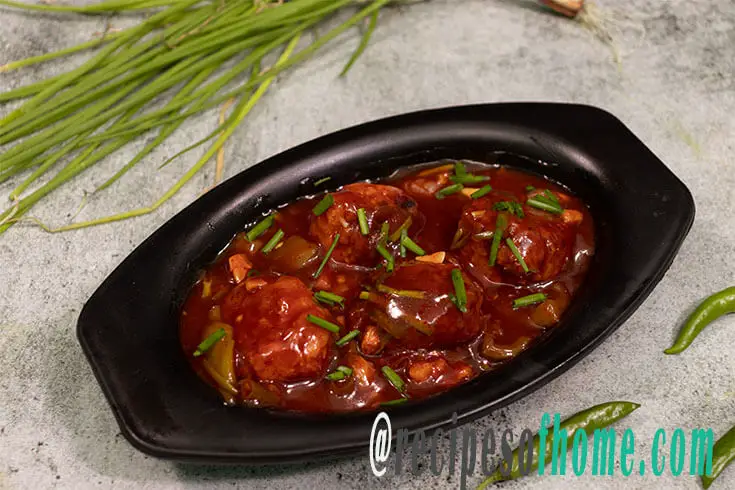 Note : if you are in a hurry , feel free to click on the following links to check your desired topic.If you'd like to see our in-depth step by step recipe preparation keep reading!
What is chicken manchurian
Chicken manchurian is a famous chicken dish from Indo-Chinese cuisine. Here " Manchurian " means native or inhabitant of Manchuria ( a famous place in northeast of China ).
It is just like traditional Northeastern Chinese cuisine where crispy fried chicken is tossed in hot and spicy Manchurian sauce.
What is the origin of chicken manchurian
It is believed that chicken manchurian was first invented in 1975 by Nelson Wang, a cook at the Cricket Club Of India in Mumbai.
What to serve with chicken manchurian gravy

For the main course chicken manchurian gravy and fried rice is the best combo dish that is widely served in India, otherwise, as a starter, if you prefer chicken manchurian dry then go with any type of noodles you like.
Chicken manchurian vs chilli chicken
The main difference between chilli chicken and chicken manchurian is the ways of cooking. In chilli chicken, small boneless chicken pieces are first fried in a batter of cornflour and then tossed in spicy capsicum, and onion sauce.
But in chicken manchurian minced chicken first, coat with cornstarch batter and breadcrumb then deep fried til crispy. after that tossed in manchurian sauces.
Tips to make chicken manchurian gravy recipe
Crispness : To make your chicken manchurian balls crispy after frying then after marinating deep into maida slurry and coat with breadcrumbs or cornflakes mixture before frying.
Marination :

Marination is the most important thing in this chicken manchurian recipe, it helps to get tenderised chicken and enhances flavour of the dish.

Type of chicken :

In this chicken manchurian recipe if you mince chicken in a food processor or grinder it works well.
Vibrant Colour : To get the vibrant colour in chicken manchurian gravy , we simply use good quality kashmiri red chili powder and cornstarch slurry which is easily available at our home.
You May Like
How to make chicken manchurian
The complete recipe of chicken manchurian is classified into three simple categories,
first one is making marination for chicken manchurian, second one is frying chicken for manchurian recipe,
and
the last one is preparing delicious chicken manchurian gravy. 
so, let's make it now.
Marination for chicken manchurian
1. At first, marinate for chicken manchurian in a bowl and add 300 grams of chicken keema from the breast.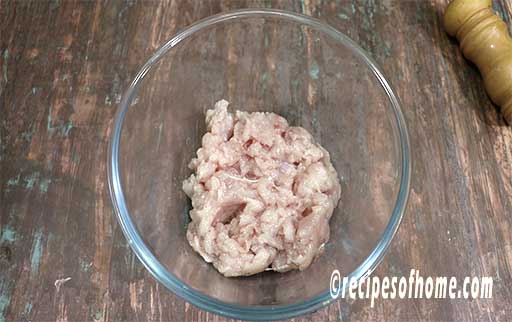 2. Now, add 1/2 tablespoon ginger garlic paste, 2 teaspoons red chili powder, 1 teaspoon salt and 2 teaspoon oil.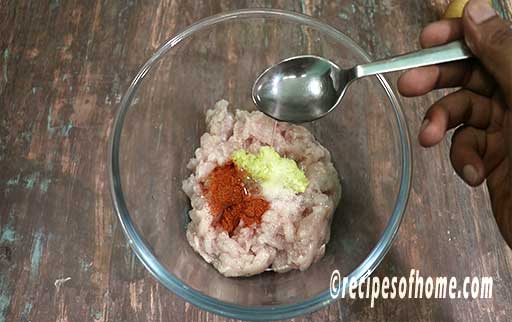 3. After that add 2 teaspoon soy sauce and 1 tablespoon red chili sauce.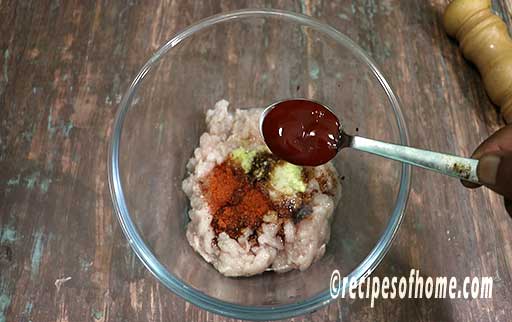 4. Furthermore add 3 tablespoons all-purpose flour and 3 tablespoons of cornstarch powder.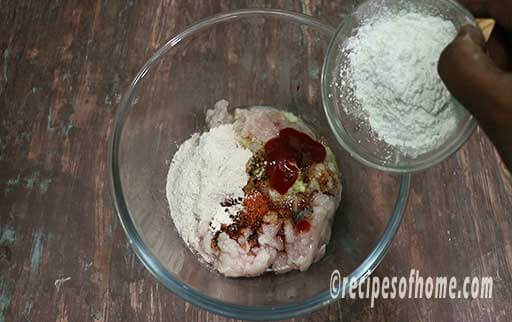 5. For proper binding all of the ingredients add 1 egg white.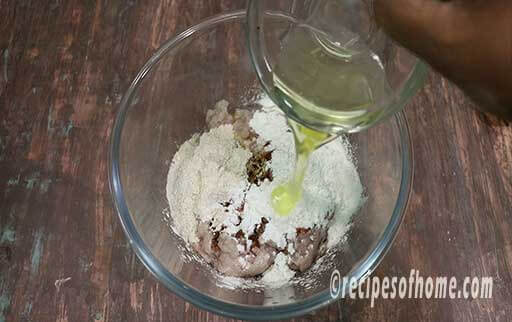 6. Finally mix everything together and set aside marination in the refrigerator for at least 1 hour.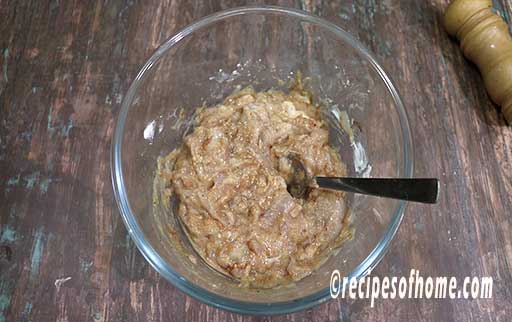 Frying chickens for manchurian recipe
1. Now to make crispy fried chickens make a slurry of 3 tablespoons of maida and 200 ml water. The consistency will be slightly thick.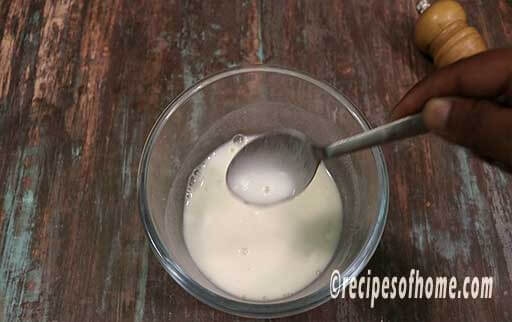 2. Next in a separate bowl mix 5 tablespoon bread crumb or crushed cornflakes and 4 tablespoon maida.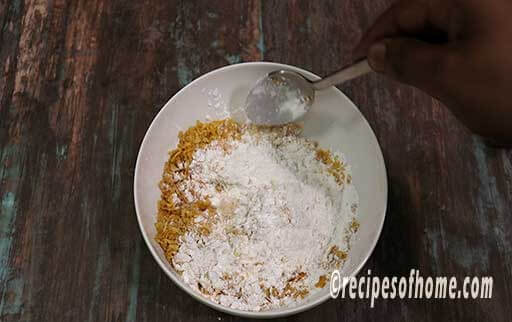 3. Now deep manchurian ball in maida slurry then give a coat of maida and cornflakes mixture. Keep them on a plate for frying.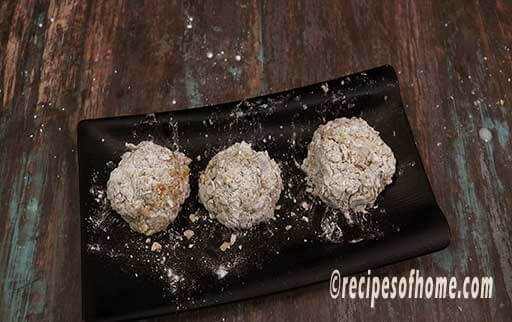 4. Heat oil in a pan, when oil is hot add chicken manchurian balls one by one and shallow fry in medium high flame.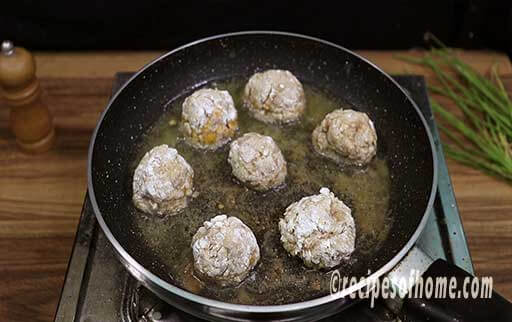 5. Properly fry both sides of chicken to get perfectly crispy and golden brown chicken.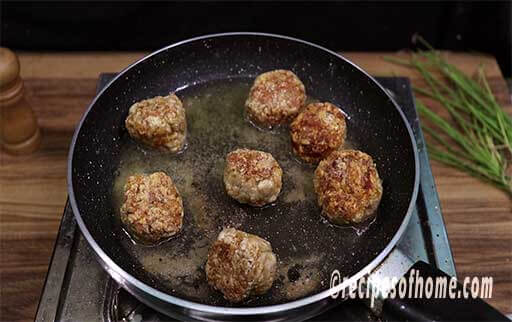 6. After that take out fried crispy chicken balls and drain excess oil in kitchen tissue.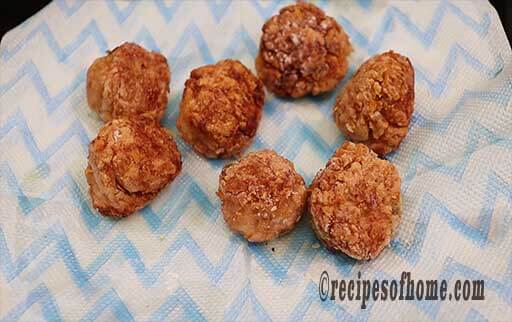 Make chicken manchurian gravy
1. Now to make chicken manchurian gravy heat 4 to 5 tablespoons of oil in a pan then saute 1 tablespoon chopped ginger-garlic in medium flame until the raw smell completely goes away.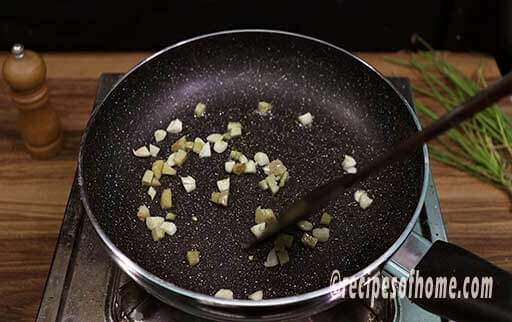 2. Next cooked 1 medium size chopped onion and 4 chopped green chili till translucent.

3. Then saute 1 medium size cube capsicum.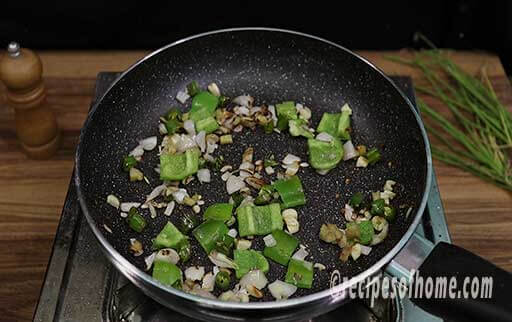 4. After that pour 1 tablespoon soy sauce, 1 tablespoon vinegar, and 2 tablespoons red chili sauce.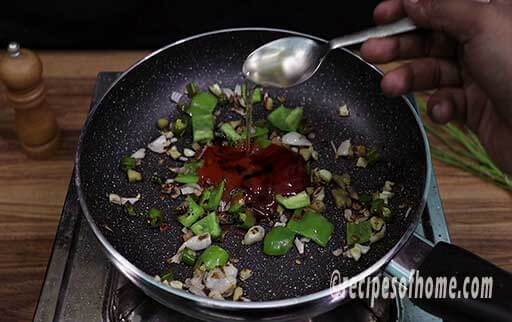 5. Next add 1 teaspoon red chili powder, a pinch of salt, and 1 teaspoon sugar to balance the taste of manchurian sauce.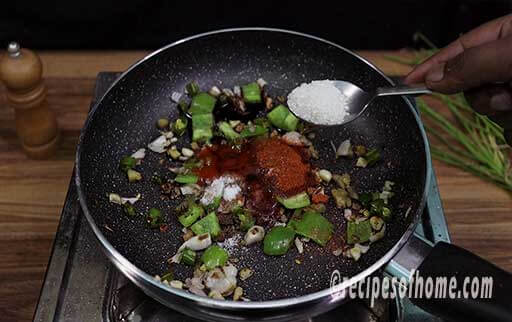 6. Now, pour 150 ml water, and make a quick stir.

7. Then simmer the manchurian sauce in medium to high flame for 5 min.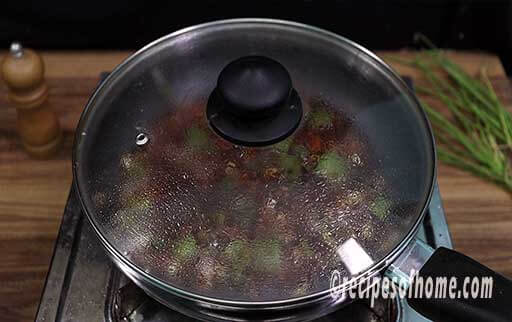 8. To get glossiness in your chicken manchurian gravy we add the 2 teaspoon cornstarch and 100 ml water mixture.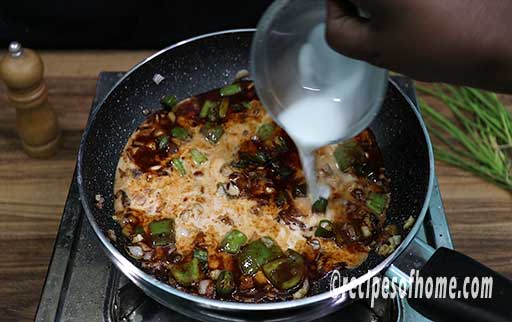 9. Finally, mix the fried chicken manchurian ball and gently mix in this spicy gravy for another 2 to 3 min in medium to low flame.

10. In the end, garnish this chinese chicken manchurian with 3 tablespoons of chopped spring onions sprinkles at the top.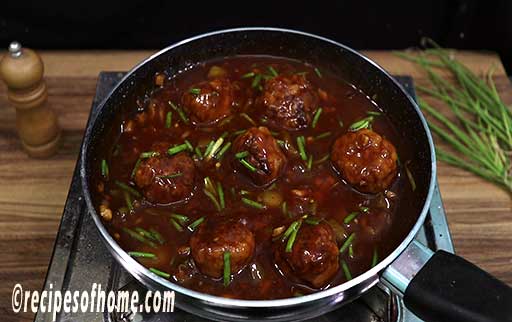 How to make chicken manchurian dry
If you want to cook chicken manchurian dry recipe we first ooze out the manchurian gravy to half of its quantity.
The recipe for manchurian gravy is the same as above.
Then add fried crispy chicken manchurian balls and gently tossed them in medium flame.
The rest of the preparation is absolutely the same as chicken manchurian gravy mentioned above.
Chicken Manchurian Recipe Card
Here is a quick overview of all the ingredients of chicken manchurian including quick step by step preparation of chicken manchurian recipe shown in the recipe card.
Take note of all ingredient lists.