Chilli potato recipe is one of the popular Indo Chinese recipes where fried crispy potatoes are tossed in sweet and sour spicy sauce, along with onion and capsicum gravy. This honey chilli potato recipe is not only very delicious but also very easy to make at home. In this post, you will learn how to make chilli potato?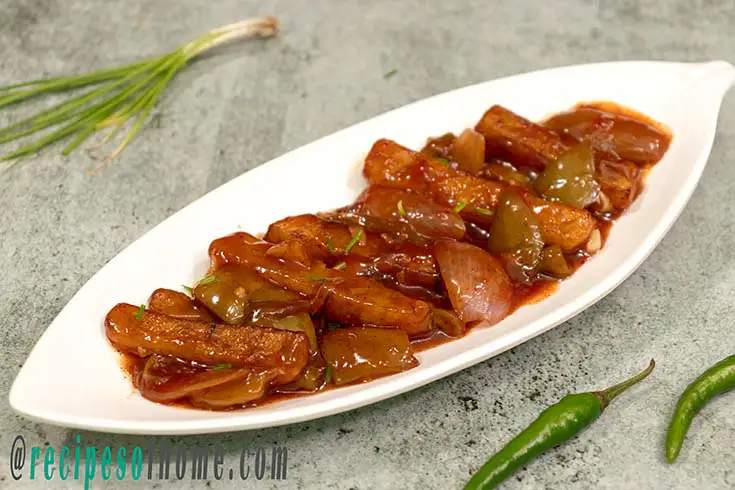 The method of this honey chilli potato recipe is the same as other indo chinese recipes including chilli paneer, chilli chicken, veg manchurian etc.
If you are a beginner and want to cook indo chinese recipe first time then you are in right place, here you will know how to make chilli potato at home.
Note : if you are in a hurry, feel free to click on the following links to check your desired topic.If you'd like to see our in-depth step by step recipe preparation keep reading!
What is chilli potato
Chilli potato or honey chilli potato recipe is one of the popular indo chinese recipes made with crispy fried potato sticks tossed in a sweet and sour spicy sauce made with red chili sauce, soy sauce, a pinch of salt, sugar, vinegar, a slurry of cornflour-water and cubed onion, capsicum.
Though this recipe is a semi dry chilli potato version, however, if you want to cook chilli potato gravy as a main dish with fried rice or noodles, just increase the cornflour slurry, spices, sauces and proportion amount of water.
What to serve with chilli potato
Chilli potato and veg fried rice  or veg noodles is the best combo dish you can prefer otherwise it also serves best with roti, paratha, naan.
⇒ Must Check Recipes
Tips to make honey chilli potato recipe
Best Potatoes: The best potatoes to cook honey chilli potato recipe is the gold standard russet potato or choose any starchiest potatoes, which generally have tough thick skins. Avoid wax potatoes, as these have a lower starch content and become hollow when fried as the water evaporates.
Soak Potatoes: Soaking potatoes in cold water help potatoes to remove excess starch from the exterior and it also helps in creating the crisp exterior in our french fry.
Cooking Method: For crispy honey chilli potato fry the potatoes at 300 F to make them crispy and slightly golden brown from the outside. Make sure don't burn the potato fries.

Choice of Oil:

I suggest you can use any type of odourless and high smoke point oil for example vegetable oil, sunflower oil, peanut oil, canola oil etc. Never use mustard oil which we most use in indian kitchen it drastically changes the flavour of french fries.
You May Like
How to make chilli potato
Here, the complete recipe for chilli potato preparation is classified into three simple categories first one is preparing potatoes for chilli potato,
the second one is frying potatoes for chilli potato recipe and the last one is making honey chilli potato recipe. 
so, let's make it now.
Preparing potatoes for chilli potato
1. At first, thoroughly wash 4 large potatoes then peel the potatoes with a peeler for chilli potato.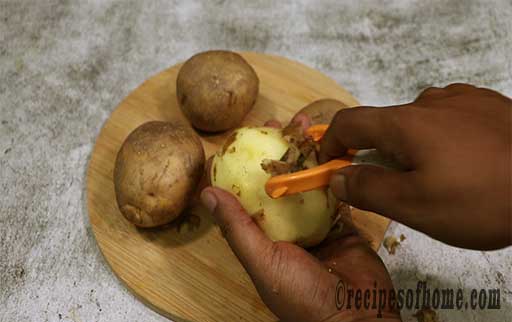 2. After that hold each potato in one hand and cut the potatoes vertically slice off 1/2 inch thickness,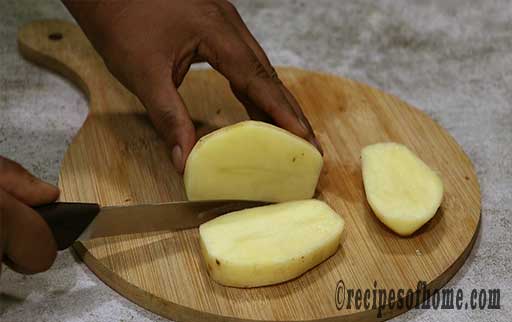 3. Then rest the flat sides and cut each side into vertical sticks or lengthwise into equal thickness.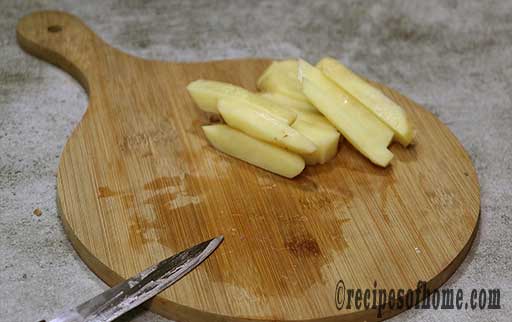 4. To make crispy honey chilli potato pour these potatoes into a large bowl of water and soak them in the refrigerator for at least 1 hour to remove extra starch from them.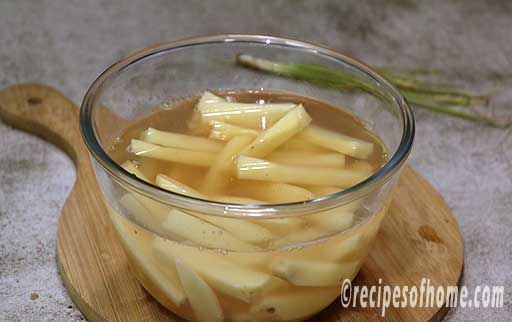 5. Now pour water into a large Kadai , sprinkle a pinch of salt and boil the water for some time, when the water starts boiling, take out the potatoes from the refrigerator place them in hot water and blanch the potatoes for at least 3 min.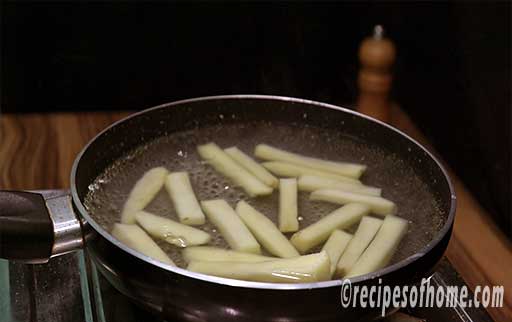 6. Next drain the water and place the blanched potatoes on a kitchen cloth and completely dry the blanched potatoes with this cloth.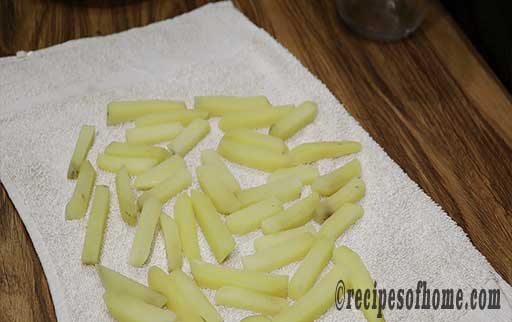 7. Now in a large bowl add this blanched potato, sprinkle 4 tbsp cornstarch powder in it, a pinch of black pepper powder, salt and 1/2 tablespoon of red chili powder, and a pinch of yellow food colour.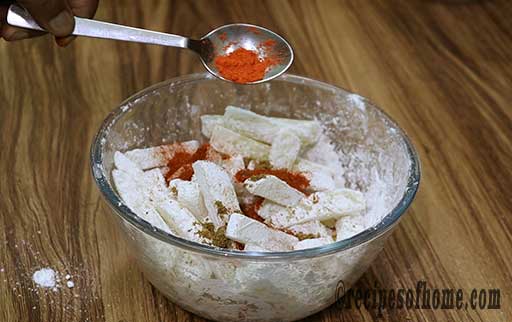 8. Now mix all of the ingredients properly, if possible don't use your hand, just shake the bowl with two hands.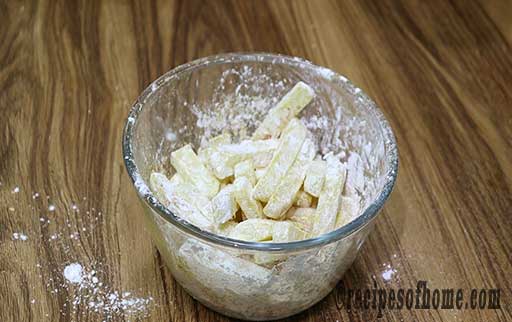 Frying potatoes for chilli potato recipe
1. Now for frying potatoes for chilli potato recipe heat 600 ml oil in a large Kadai.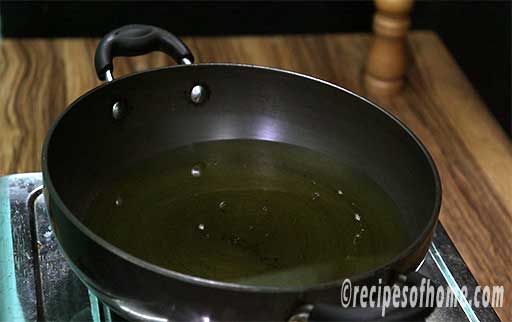 2. When oil is hot gently put coated potatoes in oil one by one. Now fry the potatoes in medium flame till they become completely crispy from the outside and juicy from the inside.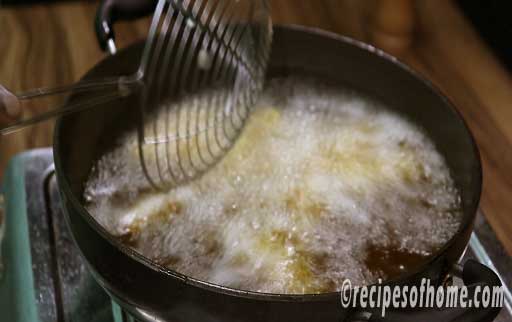 3. After that take them out and drain the french fries on kitchen tissue. Finally our fried potatoes are ready for crispy honey chilli potato.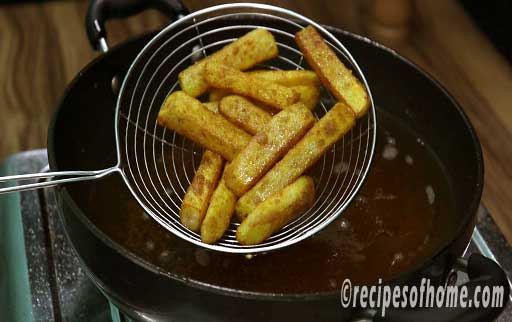 How to make honey chilli potato
1. At first for making honey chilli potatoes recipe, heat 4 to 5 tbsp oil in a pan and spread it evenly in medium flame.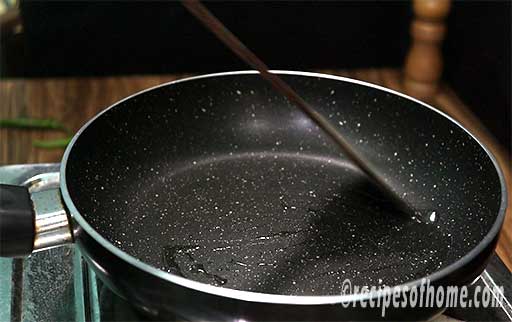 2. Next add 1 tbsp chopped ginger-garlic. Saute in medium to low flame until the raw smell of ginger-garlic goes away.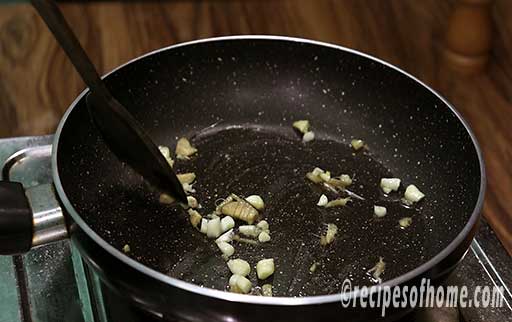 3. Now add a layer of separated onion add cube of cut capsicum and fry for another 3 to 4 min in medium flame then cook in medium flame for 5 min until the onion becomes slightly golden brown and capsicum becomes soft but crunchy.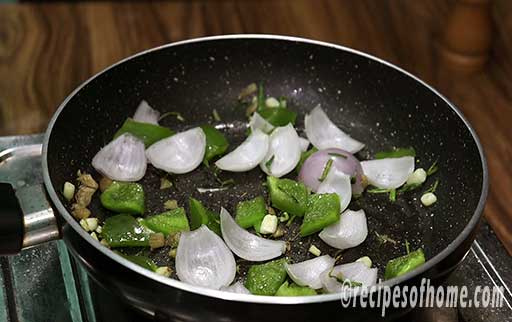 4. Also add chopped green chilli.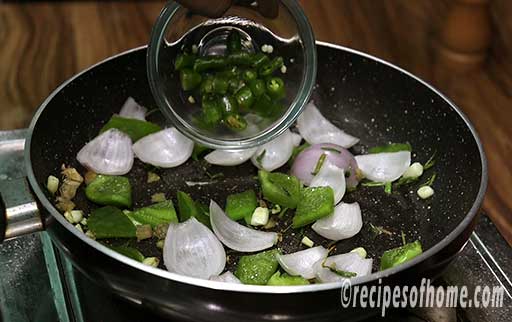 5. Next add 1 teaspoon red chili powder, 2 tablespoons red chili sauce, and 1 tablespoon soy sauce.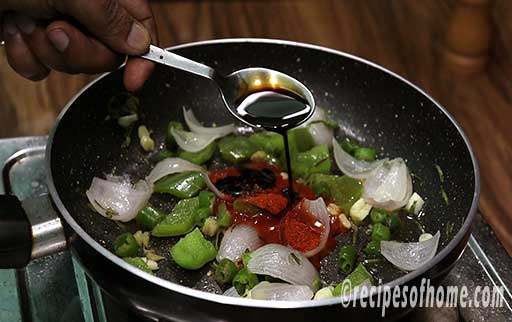 6. Also add 2 teaspoons vinegar and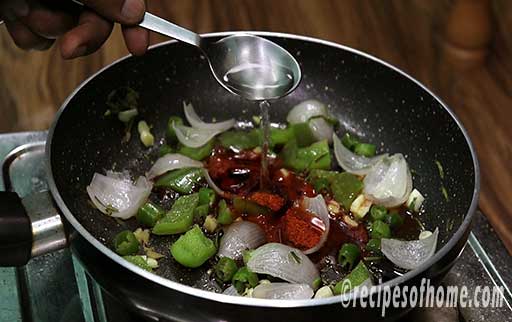 7. Pour a dash of water, and mix everything for 1 to 2 min in medium flame.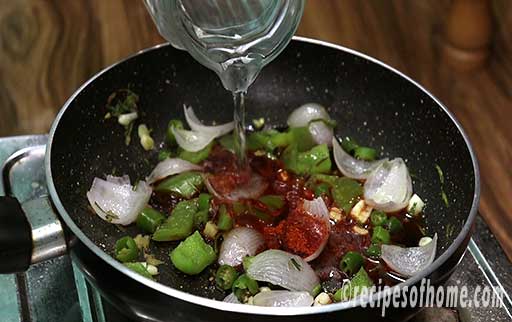 8. Now make a quick stir of everything and simmer the sauce for another 3 to 4 min in medium to low flame.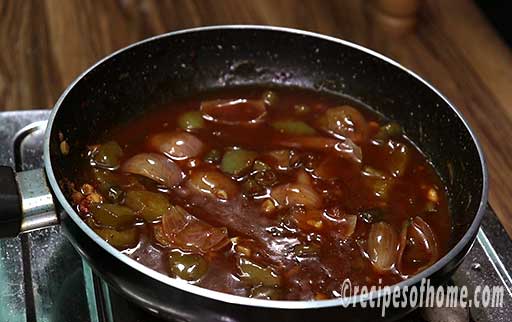 9. Next pour cornflour slurry made of 1 tablespoon cornstarch and 6 tablespoons water and mix properly.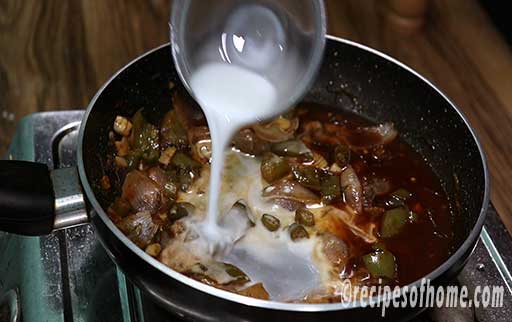 10. Now add 1 teaspoon salt and adjust later if required.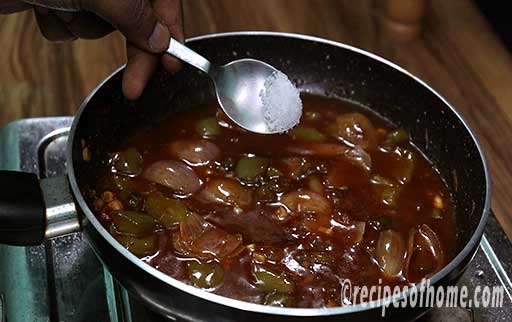 11. To balance out the taste of chilli sauce adds 2 tbsp honey and for bright colour 1 teaspoon kashmiri red chili powder.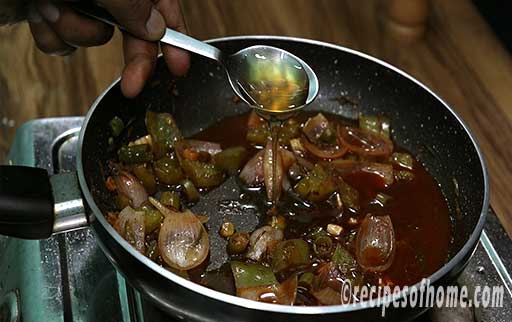 12. Finally, add fried potatoes to this chili gravy.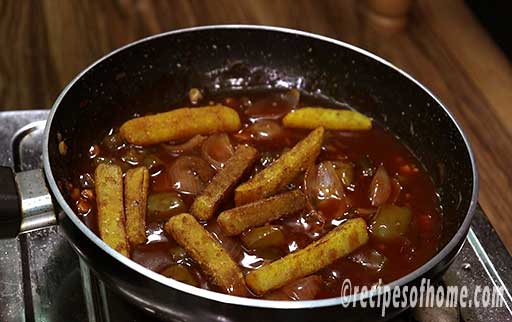 13. Mix everything in medium to high flame for up to 2 to 3 min until all the fried potatoes mix completely in gravy, for garnishing this chilli potato recipe add spring onions and chopped coriander leaves.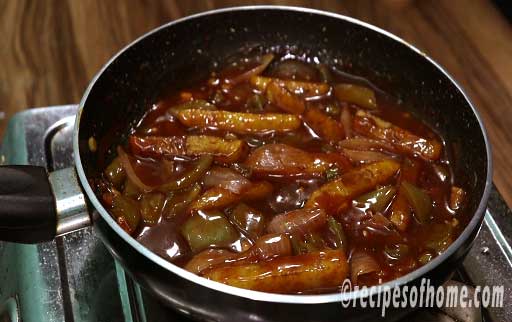 Chilli Potato Recipe Card
Here is a quick overview of all the ingredients of chilli potato recipe including quick step by step preparation of honey chilli potato recipe shown in the recipe card.
Take note of all ingredient lists.