Lemon rice recipe | Chitranna recipe | How to make lemon rice
Lemon rice recipe is a popular south indian rice recipe where cooked rice mixed with aromatic tempering, roasted nuts, lemon juice, herbs and spices.Lemon rice also known as chitranna recipe or nimmakaya pulihora a crunchy, flavorful dish.To cook lemon rice recipe follow below step by step instructions on how to make lemon rice?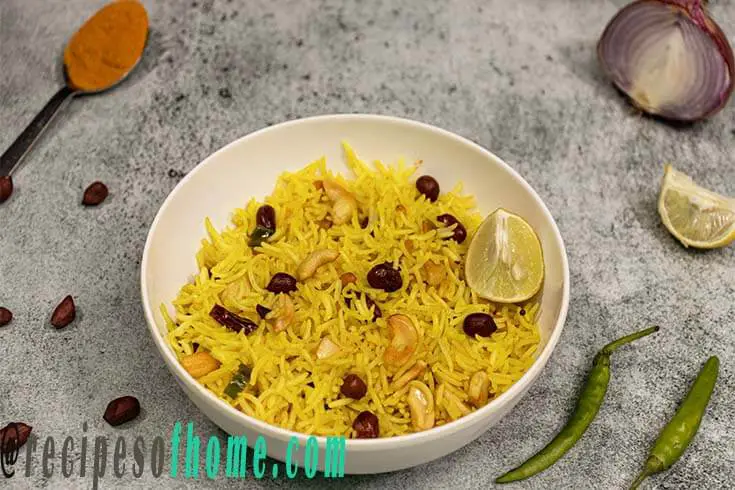 If you want to cook delicious dish from south indian cuisine.Then i will suggest try this super easy and aromatic lemon rice recipe.

Note : if you are in a hurry, feel free to click on the following links to check your desired topic.If you'd like to see our in-depth step by step recipe preparation keep reading!
What is lemon rice?
Lemon rice recipe or Chitranna recipe is the most popular rice recipes from the south indian cuisine.
In this lemon rice recipe first tempering is prepared with fried mustard seeds, urad dal, chilies, herbs and spices then pour steamed rice on it along with fried peanuts and cashews, lemon juice, and everything is mixed together.
Must Check Recipes
Side dish for lemon rice
The side dish for lemon rice or chitranna is vegetable salad, papad, and plain yogurt.
Tips to make lemon rice recipe



Choice Of Rice : Always use non sticky, less starchy short grain rice for lemon rice where cooked rice can easily separate without being mushy.Make sure you soak the rice in water for 30 mins before cooking.
Tempering :

To enhances flavor in chitranna recipe tempering is must with urad dal , chana dal , mustard seeds, cashew nut , dried red chili,green chili, fresh ginger garlic , hing and turmeric.
Nuts : To make lemon rice more flavorful add roasted peanuts and cashew nuts in butter, then add when lemon rice is ready.
Lemons : For refreshing lemon rice try to use fresh ripe lemons.If you want you can also use limes.
Choice Of Oil :

Lemon rice can be made from any types of oil including sunflower oil, peanut oil, sesame oil etc.
You May Like
How to make lemon rice
Here, the complete recipe for lemon rice preparation is classified into three simple categories first one is frying nuts,
second one is cooking rice for chitranna recipe and last one is make lemon rice.
so, let's make it now.
Frying nuts
1. At first for a frying nut for lemon rice recipe, melt 2 tablespoons of butter in a pan.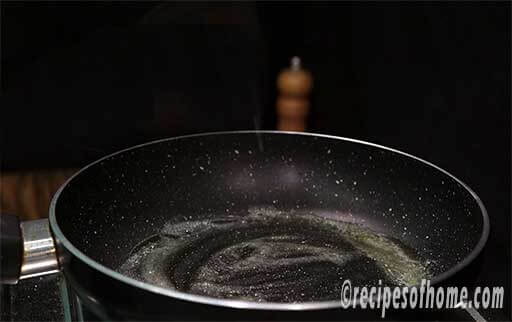 2. Now roast 50 grams of peanuts and 15 cashews on medium flame.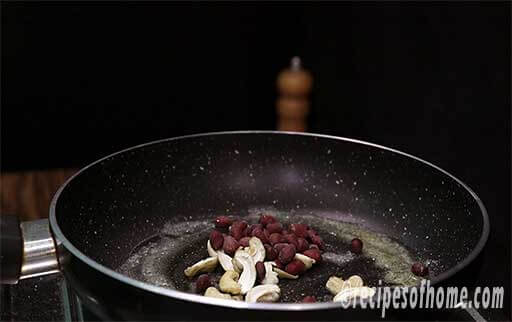 3. At this stage nuts become golden and crunchy. Transfer them to a separate plate.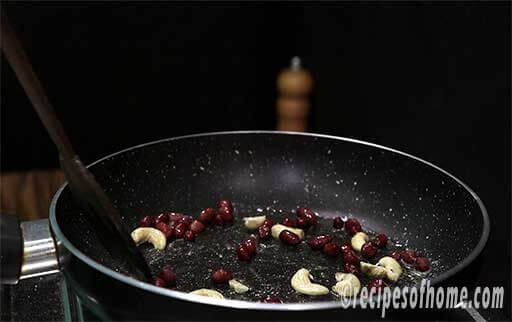 Cooking rice for chitranna recipe
1. At first cooking rice for chitranna recipe rinse 200 grams white rice then soak in sufficient water for 30 min.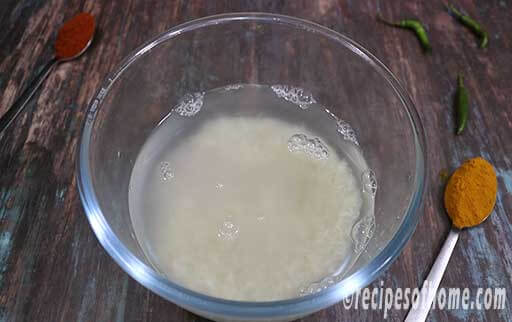 2. Now pour 500 ml water along with a pinch of salt and 1 teaspoon oil into a kadai.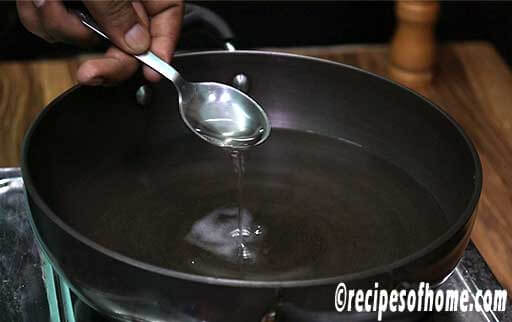 3. When water starts boiling add drained rice, cover the lid and cook rice on medium flame for 15 min till all the water has been absorbed and rice grains are tender and fluffy.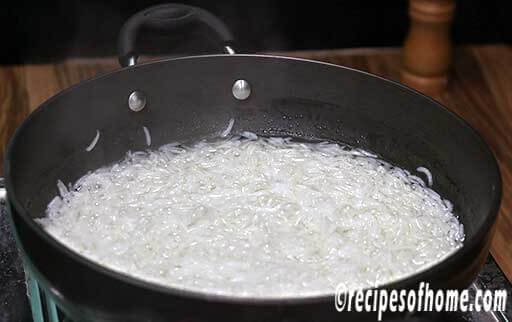 Note : If you are using a pressure cooker then pressure cook for 8 to 10 minutes or for 3 to 4 whistles on medium to medium-high heat. When the pressure settles down on its own in the cooker, open the lid.
4. Now transfer the rice to a bowl or plate and set it aside to become cool at room temperature.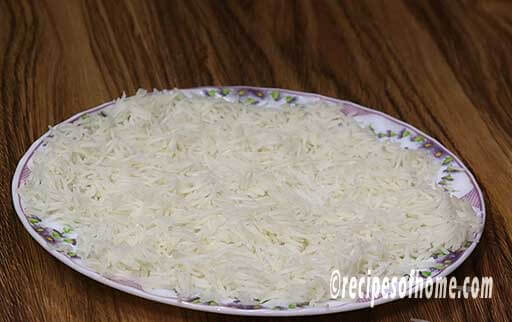 Making lemon rice recipe
1. Now to prepare lemon rice recipe heat 2 tablespoons of oil in a pan and spread it evenly.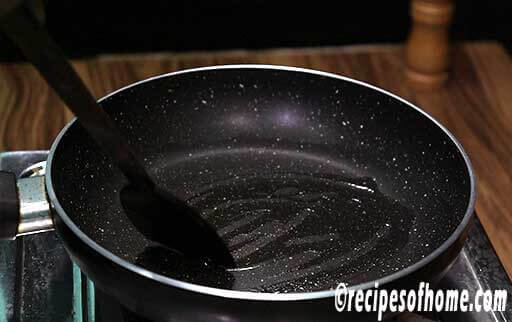 2. When oil becomes hot add 1 teaspoon mustard seed, 1 teaspoon urad dal and 1 teaspoon chana dal, saute them in medium flame till dal becomes golden.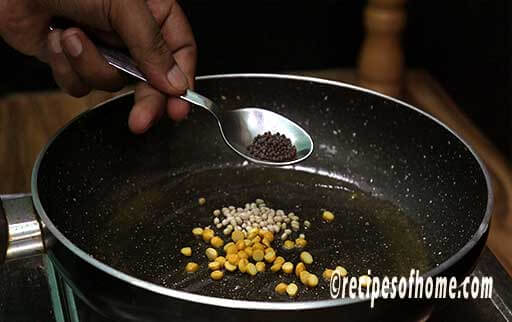 3. Now add 1/2 tablespoon chopped ginger, 1/2 tablespoon chopped garlic and 2 chopped green chili, 2 dried red chili and saute them for 1 min.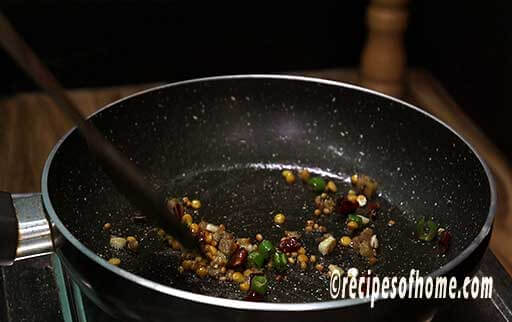 4. Next add pinch of hing, 1/2 teaspoon turmeric and salt and a dash of water.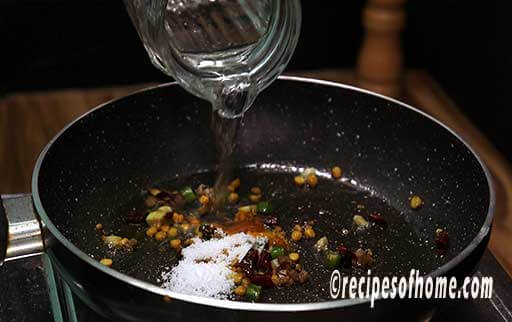 5. After that mix quickly and water starts evaporating, at this stage mixture becomes aromatic as well as chana dal and urad dal become soft but crunchy. Finally, turn off the stove.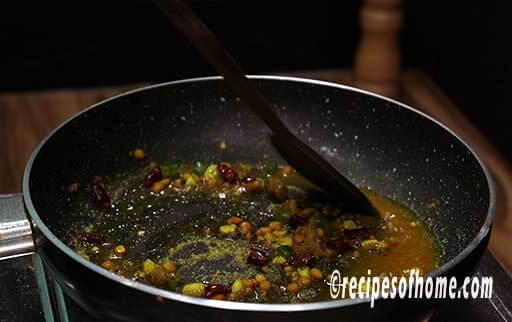 6. Now add cooled cooked rice on tempering.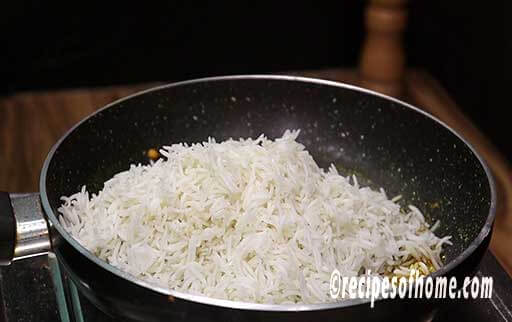 7. Gently mix the rice without breaking it.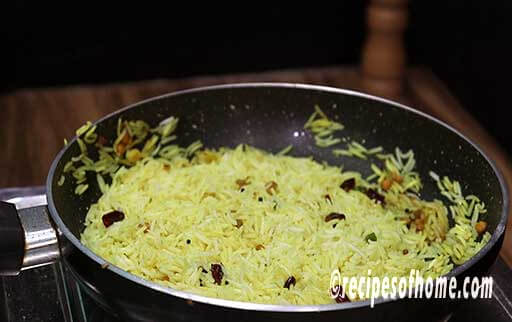 8. After that add fried peanuts and cashew on lemon rice.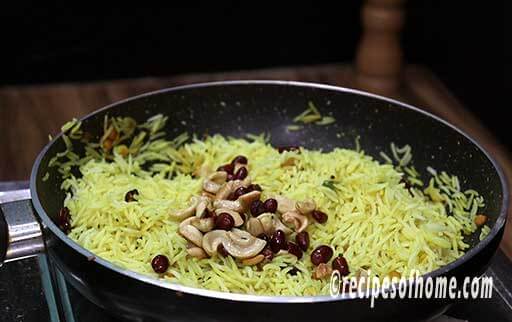 9. Squeeze 2 teaspoon lemon juice and a pinch of salt on lemon rice. Finally, Keep the lemon rice or chitranna covered for 5 minutes to get flavour.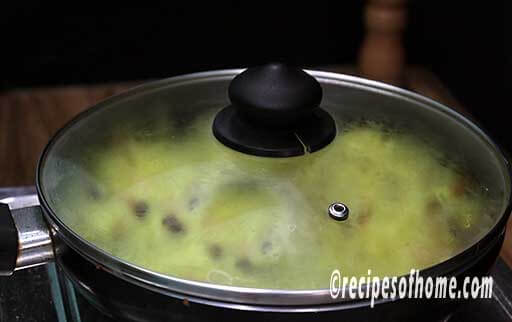 Lemon rice recipe card
Here is a quick overview of all the lemon rice ingredients including a quick step by step preparation of lemon rice recipe shown in the recipe card.
Take note of all ingredient lists.