Garlic naan recipe | Butter naan recipe | How to make garlic naan
Garlic naan recipe – is the most popular Indian leavened flatbread made with flour, minced garlic, kalonji seeds, freshly chopped coriander leaves and butter. This butter naan recipe is usually served as a main dish along with most Indian curries and gravies. Try this super delicious and fluffy garlic naan at home with the below step by step instructions. In this post, you will learn how to make naan at home?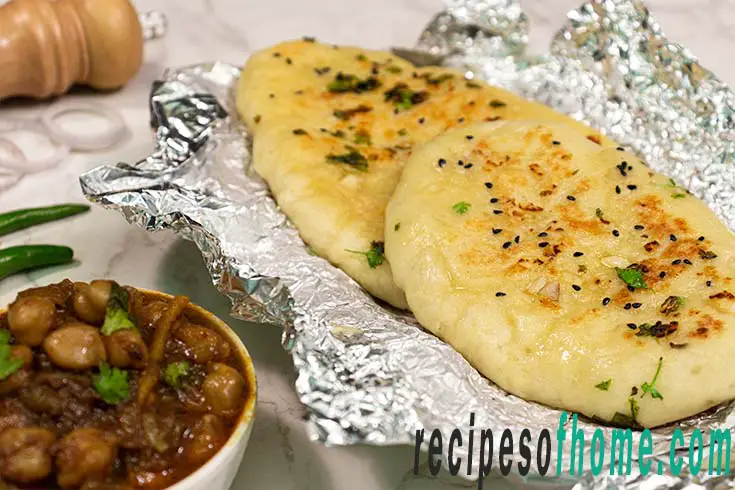 This soft and fluffy butter naan recipe is usually prepared in the tandoor, but in most of our homes, we don't have any tandoor so I made it on Tawa.

I am sure if you properly follow step-by-step instructions you can make a super delicious homemade garlic naan recipe.
Note: if you are in a hurry, feel free to click on the following links to check your desired topic.If you'd like to see our in-depth step by step recipe preparation keep reading!
What is garlic naan
Garlic naan recipe is one of India's popular leavened flatbread variants, it is usually made with flour, yeast, yogurt kneaded with warm milk to become soft then stretched in an oval shape sprinkled with some coriander leaves, kalonji seeds, chopped garlic and garnish with butter.
Finally cooked in a tandoor or griddle to make soft and fluffy bread.
What is the side dish of butter naan?
You can serve butter naan with butter chicken, shahi paneer, paneer butter masala, punjabi chole whatever you like.
| You can also check this
Tips to make garlic naan recipe

Choice of Flour : To make the perfect butter naan recipe at home, I use all-purpose flour or maida and whole wheat flour or atta in a 3:1 ratio.
Thickness : Traditionally in the butter naan recipe soft, fluffy and medium thickness size naan are made, for this perfectly knead the naan dough with warm milk and apply oil to the dough and rest it for some time before using.

Fluffing Ingredients : To make fluffy and light garlic naan at home must use yeast, yogurt in the naan dough and rest it at least 3 hours before cooking naan.

Cooking Method : For the homemade garlic naan recipe you can either use an iron griddle or a non-stick pan. For non-stick pan place, naan on a griddle sprinkle some water around it and immediately cover it with a lid for some time until bubbling from the top.
You May Like
How to make garlic naan

Here, the complete garlic naan preparation is classified into three simple categories first one is preparing the yeast for butter naan recipe,
the second one is preparing dough for butter naan recipe, third one is making garlic naan shape, and the last one is cooking garlic naan recipe.
so, let's make it now.
Preparation of butter naan recipe with yeast
1. In a bowl add 2 tsp active dry yeast then add 80 ml lukewarm water.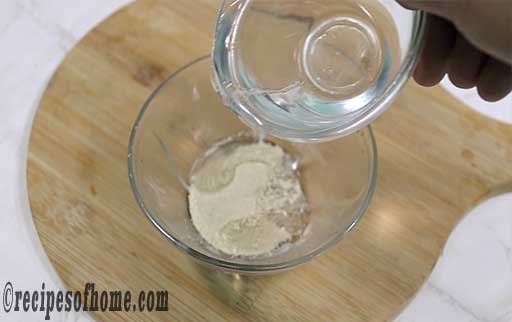 2. After that add 1 tbsp sugar to the bowl and mix them together.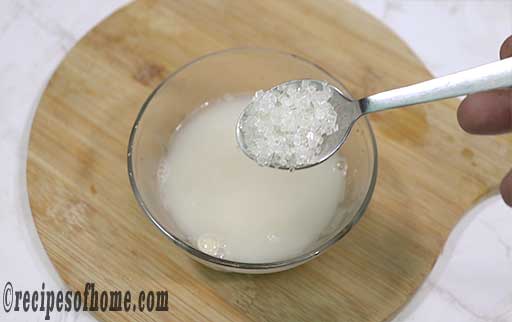 3. After 5 to 10 min you will see yeast is activated and a bubbly texture from the top.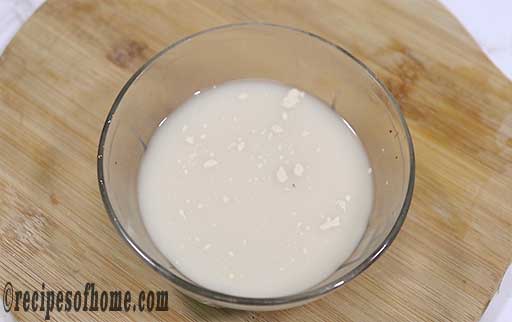 Dough for butter naan recipe



1. Now to make dough for butter naan recipe, add 375 grams of maida or all-purpose flour and 125 grams of whole wheat flour also add 2 tbsp salt in a large mixing bowl.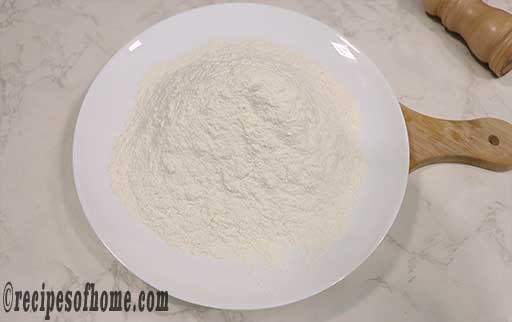 2. Then add 4 tbsp yogurt.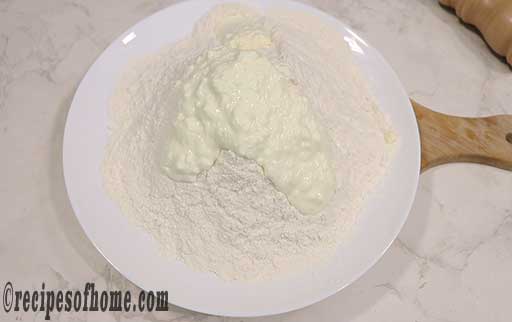 3. After that pour activated yeast into this mixture.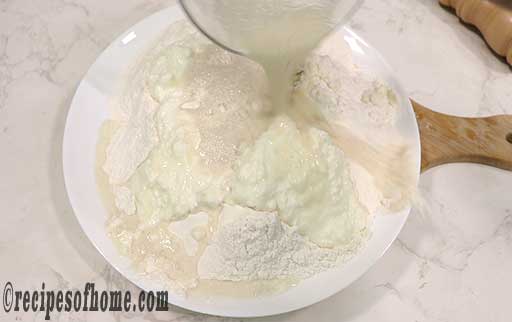 4. Next add 5 tablespoons of oil to the dough.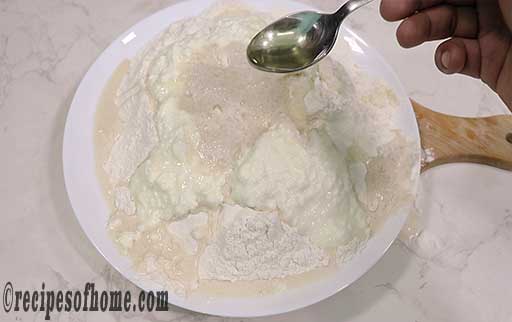 5. Now add 100 ml lukewarm milk at intervals and knead the dough thoroughly to make smooth naan dough.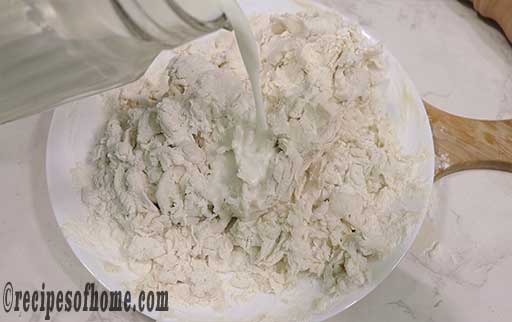 Note: At this stage dough becomes a little bit sticky because you add yeast and sugar to it. If it is too sticky then sprinkle some all-purpose flour in it.
6. Furthermore take a bowl and grease oil in it.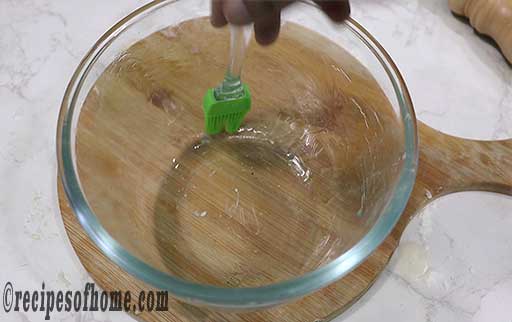 7. Now place naan dough in it and also apply some oil to it.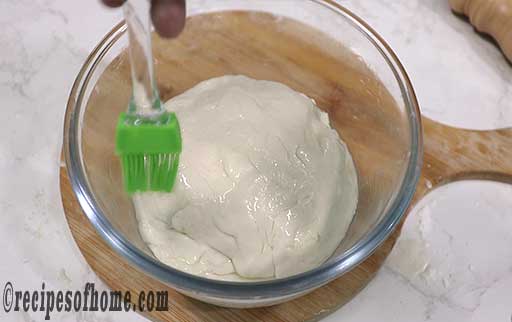 8. Next cover the wet cloth on top of it and rest the naan dough for at least 3 to 4 hours until it becomes double.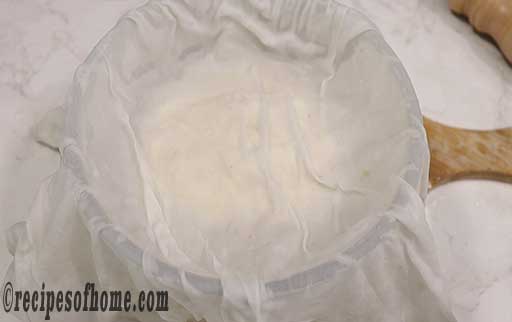 Preparing naan shape




1. Now before starting butter naan recipe first ready some butter, kalonji seeds, freshly chopped coriander leaves, chopped garlic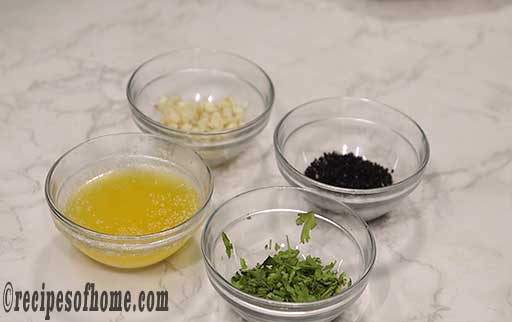 2. Then apply some oil to the palm and divide the dough into 5 equal sizes and rest them for another 15 mins.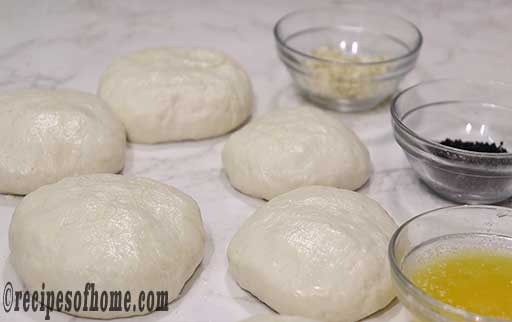 3. Now gently stretch the naan dough either circular or oval shape and apply some chopped garlic, and coriander leaves and sprinkle some kalonji seeds on top of it, then gently press the rolling pin on top of them, and apply some butter on it.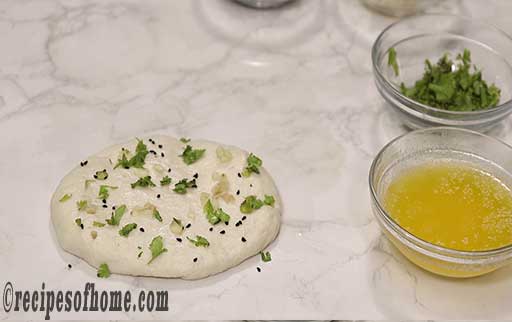 Cooking garlic naan recipe

1. Now for making the naan at home first add our naan shape on non-stick tawa or griddle.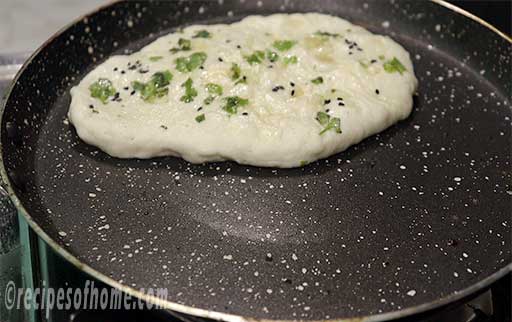 2. Then sprinkle some water around it, and it instantly generates steam.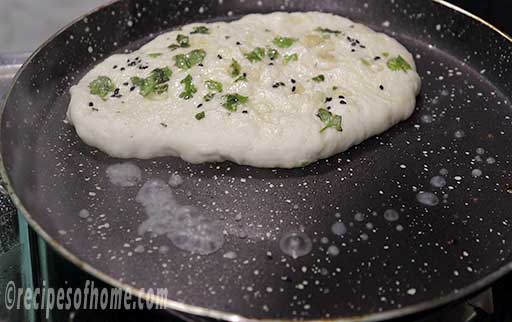 3. Immediately cover the naan with a lid and cook for 2 min on medium flame.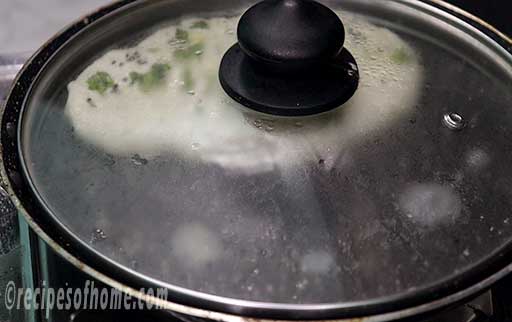 4. At this stage you will see brown patches at the boom and bubble on the top side of the naan which means your naan is cooked from the bottom side, now apply butter on the top side.
5. Then using a tong flip the naan and do the same thing as above, sprinkle some water around it and cover it immediately to perfectly cook this restaurant style garlic naan recipe.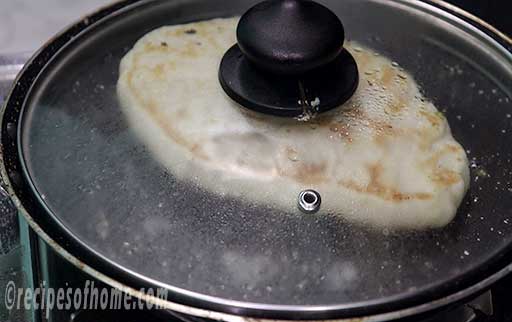 6. Finally our homemade garlic naan recipe is ready to apply some butter on top of it and serve it hot with your favourite gravy dish.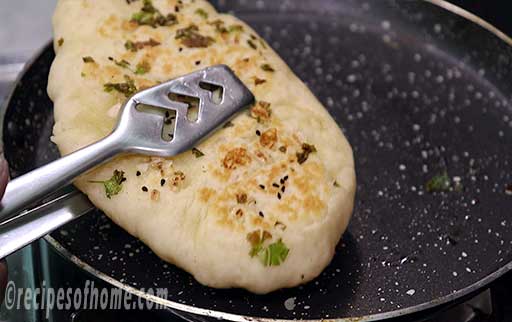 Garlic Naan Recipe Card
Here is a quick overview of all the ingredients of butter naan recipe including quick step by step preparation of the garlic naan recipe shown in the recipe card.
Take note of all ingredient lists.