Moong dal recipe | Moong dal tadka recipe | Yellow moong dal recipe
This moong dal recipe is very healthy , rich in protein but it simple indian dal recipe where yellow moong dal or split petite yellow lentils tempered with mustard seeds, cumin seed, hing, garlic curry leaves and a few aromatic spices. This moong dal recipe is also known as the moong dal tadka recipe or yellow curry recipe. To cook the best dal recipe follow the below step by step instructions on how to make moong dal tadka?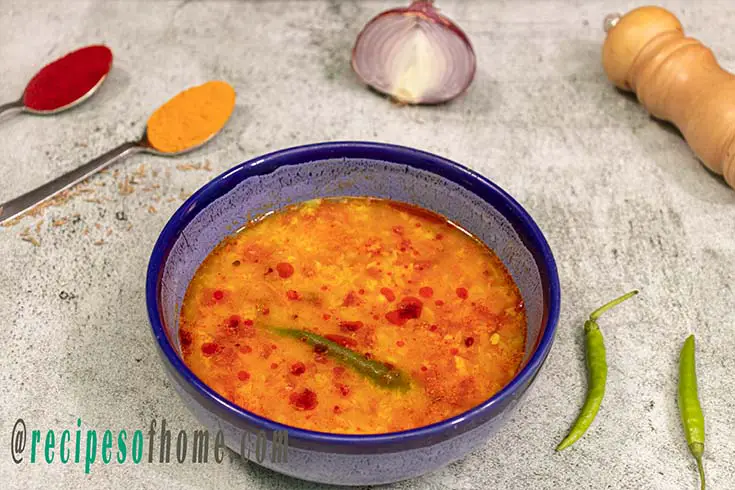 Are you frustrated about the boring moong dal recipe? don't worry just give a try this Punjabi moong dal tadka recipe which not only tastes very good but also it will change your mind about moong dal in future.
In indian cuisine, mung beans are mostly used as a staple. There are two types of moong dal available in india one is whole mung beans also known as green gram and when husks are removed or you can say split moong dal, also known as yellow moong dal or yellow petite lentils.
We all know mung lentils have a lot of benefits they are nutritious and easy to digest and it also uses to balance disturbances of the body.
But most people hate it because they don't know how to make moong dal delicious at home.
Note: if you are in a hurry, feel free to click on the following links to check your desired topic.If you'd like to see our in-depth step by step recipe preparation keep reading!
What is moong dal tadka recipe
Moong dal tadka recipe is a very simple dal recipe when soaked moong dal first pressure cooked with fried onions, tomatoes, ginger, garlic and green chillies.
After that tempering spices like cumin seeds, mustard seeds, garam masala, red chili powder, and a pinch of hing and garlic are fried in oil or ghee and then added to the cooked dal.
⇒Must Check Recipes
What to serve with moong dal tadka
Serve this moong dal tadka with some steamed basmati rice or jeera rice even roti goes well accompanied by a side vegetable dish or raita and some roasted papad and pickle also by the side.
Tips to make best yellow moong dal recipe



Soaking lentils: If you soak moong lentils for some time before cooking then it will reduce your cooking time.

Cooking method: You can cook yellow moong dal either in a pressure cooker or in kadai, for kadai you have to add more water such that the dal cooks properly. While cooking makes sure the lids are open otherwise dal will be overflown.

Spices:

Use only the required amount of spices including ginger, garlic, green chili, cumin seed, and turmeric powder. For bright colour, I use kashmiri red chili powder.

Tempering: Though it is not necessary if you give tadka to your moong dal it will surely enhance the flavour.

You May Like
How to make moong dal tadka
Here, the complete preparation of the moong dal recipe is classified into three simple categories first one is soaking yellow moong dal,
second one is making moong dal tadka recipe and the last one is cooking moong dal recipe.
so, let's make it now.
Soaking yellow moong dal




1. At first, in a mixing bowl pour 200 grams of yellow moong dal or yellow lentils, then pour water into it and wash the dal thoroughly, if any impurities are there you can easily remove them.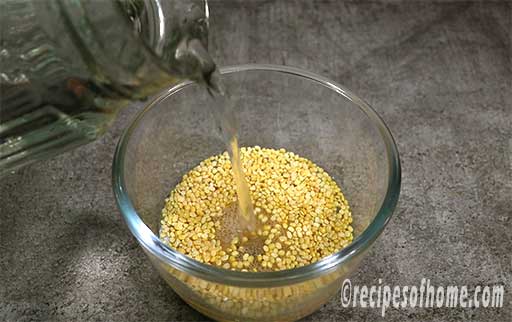 2. After that drain water completely and again pour water and soak dal for at least 30 min to 45 min.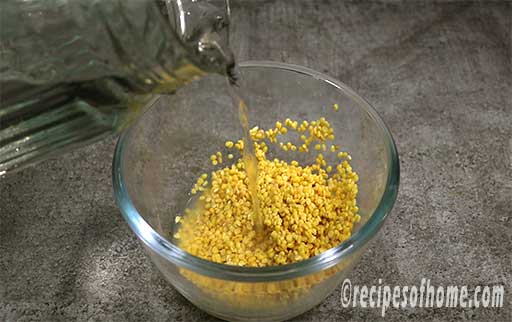 Making moong dal tadka recipe



1. Now for cooking moong dal tadka recipe heat 2 tablespoons of oil in a pan, and spread it with a spatula.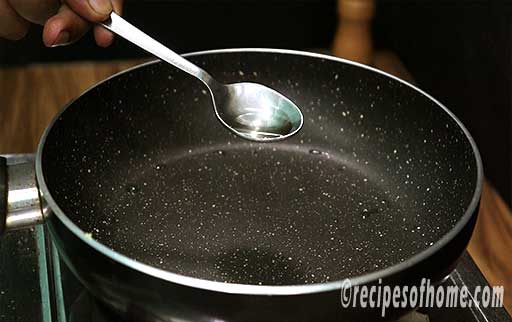 2. Then add 1 teaspoon cumin seed, and stir it on low flame until cumin seed began to splutter.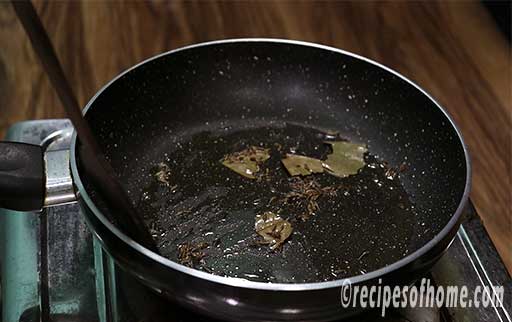 3. Next add 1 medium size chopped onion.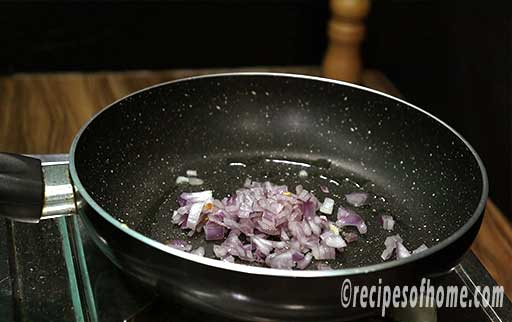 4. Saute the onions for 4 to 5 min until it gets completely translucent and slightly golden brown.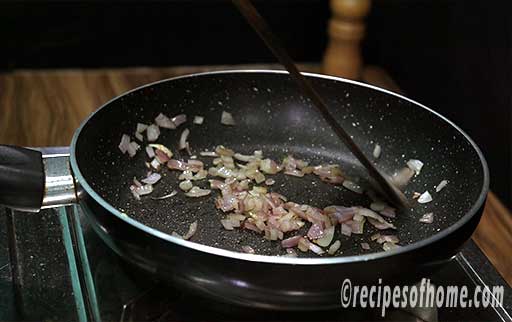 5. After that add 1/2 tablespoon chopped ginger, and 2 chopped green chili, and saute them for 1 to 2 min on medium to low flame.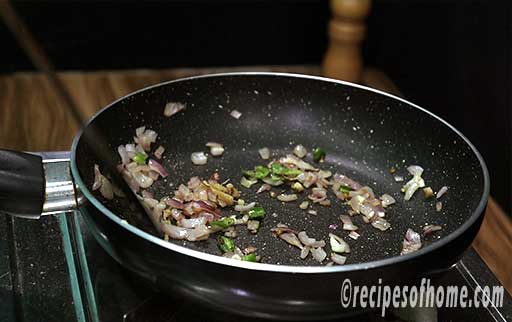 6. Next add 2 medium sizes de-seeded chopped tomatoes.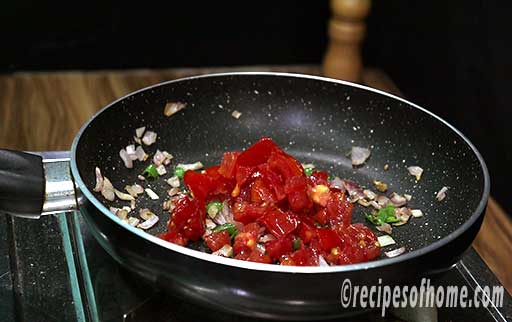 7. Now saute tomatoes for 5 to 6 min until it gets slightly mushy.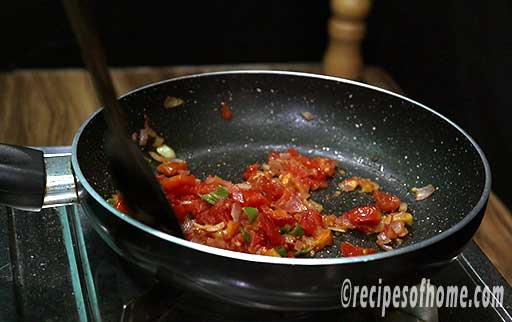 8. Then add 1 teaspoon red chili powder, 1/8 teaspoon turmeric powder, and a pinch of salt.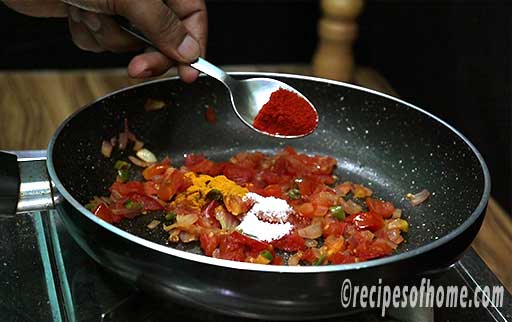 9. Cook this mixture for a further 4 to 5 min on medium to low flame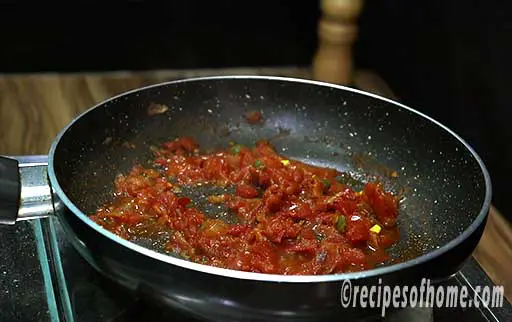 Pressure cooking moong dal
1. Now for pressure cooking moong dal, in a pressure cooker pour 500 ml of water.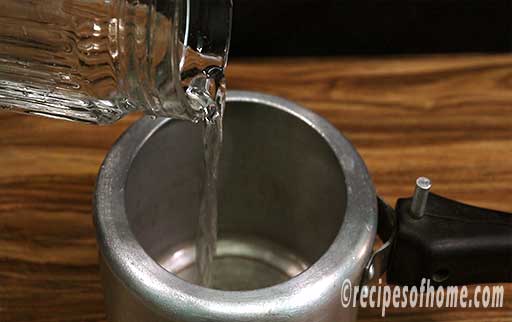 2. Then add soaked moong dal which we did earlier.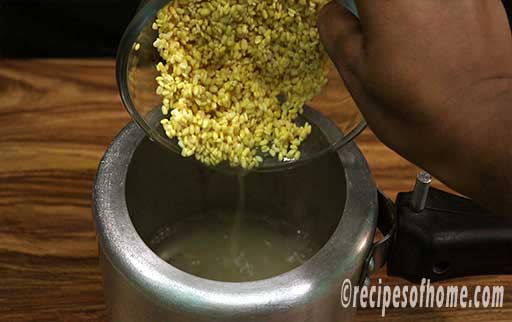 3. Next add the spicy tomato-onion mixture that we recently made recently.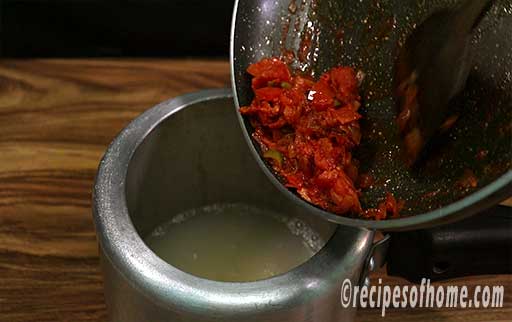 4. Close the lid of the pressure cooker and pressure cook moong dal for 5 to 6 whistle on medium flame.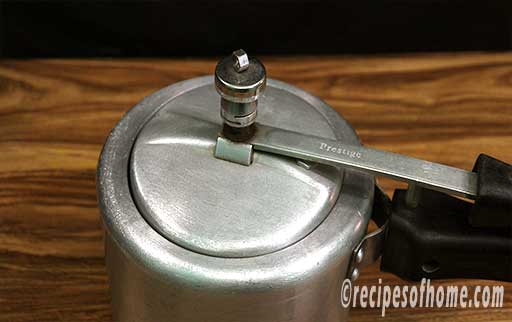 5. After that release pressure, open the lid and check whether the dal is cooked or not. If it is fine then proceed next step otherwise give one more whistle.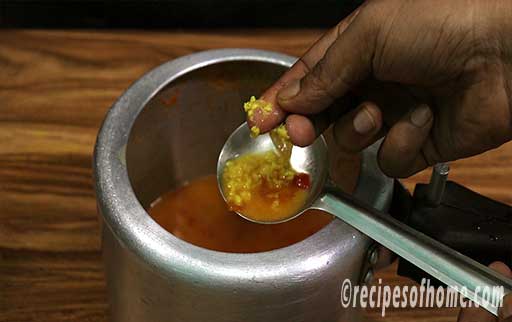 6. Now transfer the cooked moong dal to a kadai and simmer for some time. If you need thinner consistency then pour some water don't add too much.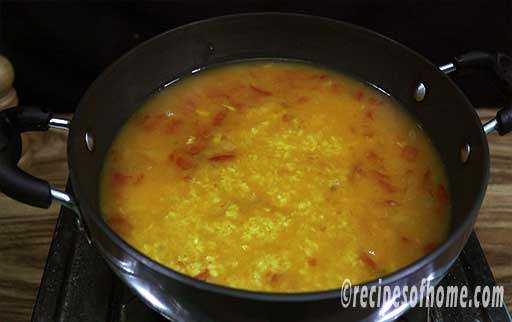 7. Also sprinkle 1 teaspoon garam masala powder.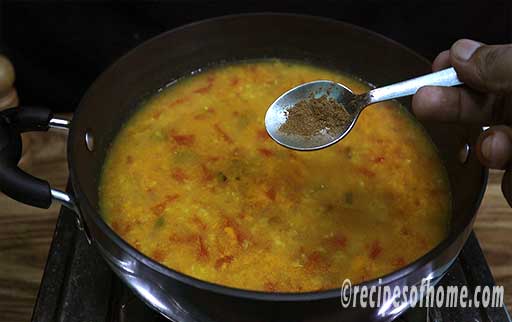 8. Check the taste of salt if required add more.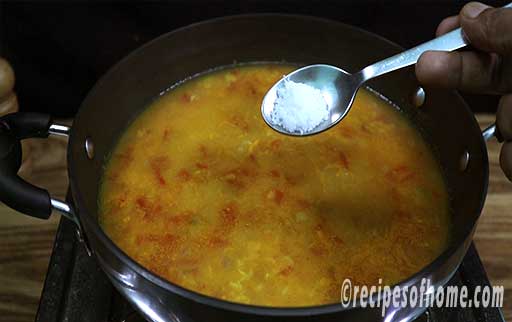 Tempering for moong dal recipe
1. Now tempering for the moong dal recipe add 2 tbsp ghee or oil in a pan.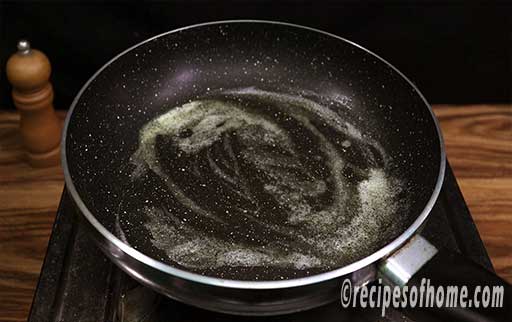 2. Add 1 tsp cumin seed 4 to 5 garlic and 2 vertically slit green chilli to make the flame low and fry them don't burn them.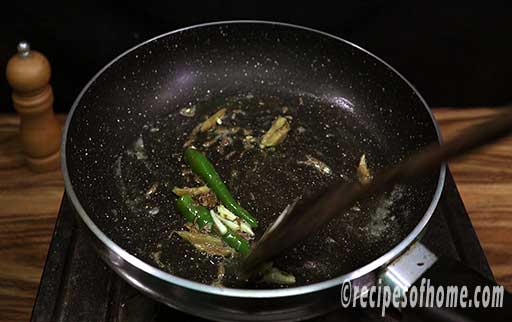 3. Furthermore switch off the flame and add 1/4 tsp red chili powder, 1/4 tsp garam masala powder, and pinch of hing.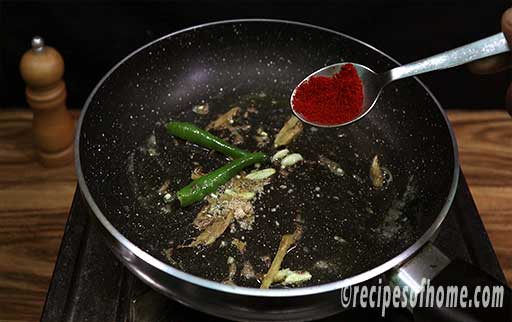 4. Quickly stir everything.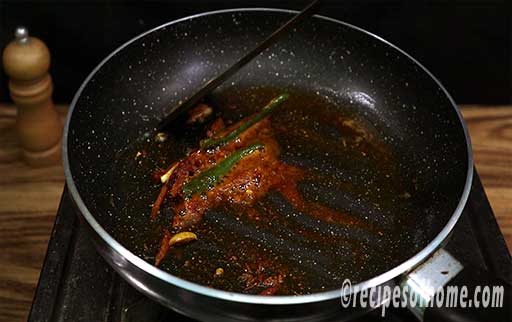 5. Then pour this mixture on cooked yellow moong dal.Finally, our simple but aromatic moong dal recipe is completed.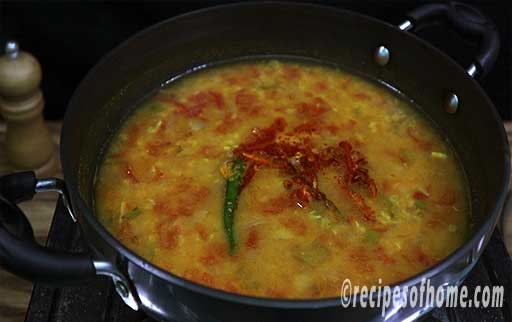 Moong Dal Tadka Recipe Card
Here is a quick overview of all the ingredients of moong dal tadka including quick step by step preparation of moong dal recipe shown in the recipe card.
Take note of all ingredient lists.