Paneer paratha recipe – a spicy mixture of crumbled paneer, and grated cheese stuffed inside Indian flatbread are one of the popular paratha recipes in India. This cheese paneer paratha is served as a breakfast dish. In this post, you will learn how to make paneer paratha?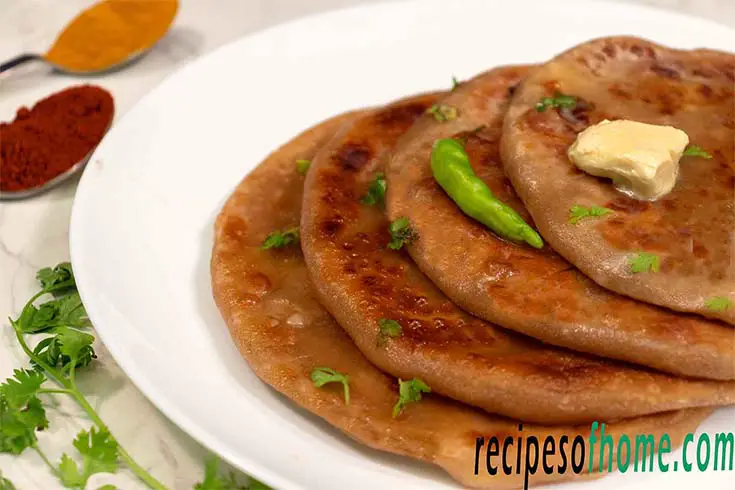 This paneer stuffed paratha recipe is the same as other stuffed paratha, it will be the best variation dish of breakfast bread recipes.
Note: if you are in a hurry, feel free to click on the following links to check your desired topic.If you'd like to see our in-depth step by step recipe preparation keep reading!
What is paneer paratha
Here " Paneer " is " Indian cottage cheese" and " paratha " means " Indian flatbread ", which means whole wheat dough first filled with spicy cheese paneer mixture, then rolled in a circular shape and pan-fried on oil.  
What is the side dish of paneer paratha
Hot chai or any vegetarian gravy dish including dum aloo, aloo matar, or any chutney recipes mango pickle, tomato chutney etc will be the best side dish of paneer paratha.
| You can also check the below recipes :
Tips to make cheese paneer paratha recipe
Paneer Cheese Filling : To avoid any stuffing coming out easily while rolling paratha just adds a little amount of filling inside the dough, apply water on the edges of the dough, and seal it properly.
Thickness :

To cook the best paneer paratha recipe you have to knead the dough thoroughly until it becomes soft and non-sticky, must apply oil to the dough and rest it for some time before using while shaping paratha make sure to roll them in medium thickness size.
Cooking Method : Before frying the paratha just check whether the pan is hot or not, then place the paratha on it and fry paneer paratha on medium-high flame, after some time apply butter on both sides of the paratha, fry until brown bubble shows on the paratha.
You May Like
How to make paneer paratha
Here, the complete cheese paneer paratha recipe is classified into three simple categories first one is preparing dough for paneer paratha,
the second one is filling for paneer cheese paratha and the last one is cooking paneer paratha.
so, let's make it now.
Dough for paneer paratha
1. At first, make dough for stuffed paneer paratha, add 300 grams of whole wheat flour, and 1 tbsp salt in a large mixing bowl.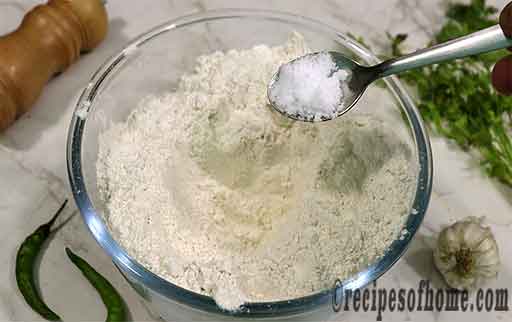 2. Then pour 4 tbsp oil and gently mix maida to oil just like bread crumbs.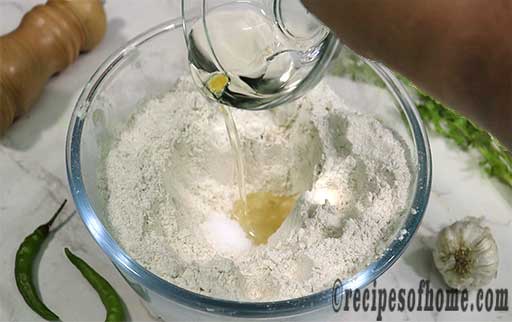 3. After that pour water in batches and knead thoroughly until the dough becomes soft and nonsticky.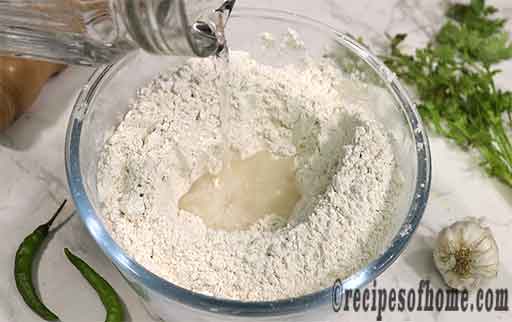 4. At this stage, apply a tablespoon of oil to the dough and rest it for at least 30 min.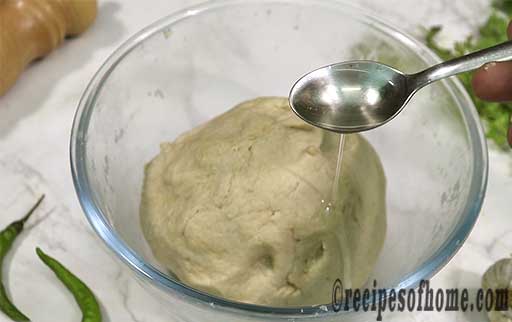 Filling for cheese paneer paratha

1. At first for making filling for cheese paneer paratha, in a mixing bowl add 200 grams of grated paneer,1/2 tsp red chili powder,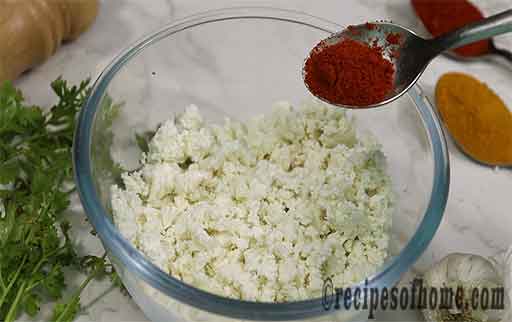 2. Furthermore, sprinkle 1/2 tsp garam masala powder,1/2 tsp amchur powder,1/2 tsp black salt,1/2 tsp roasted cumin powder, and 1/2 tsp coriander powder.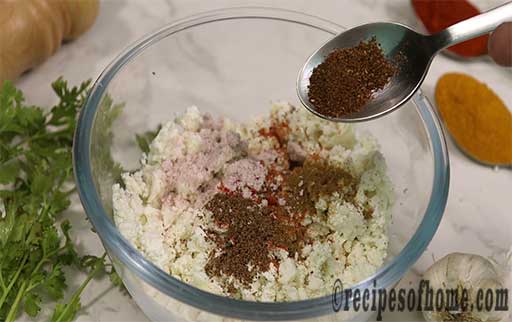 3. Also 2 chopped green chili in a mixing bowl.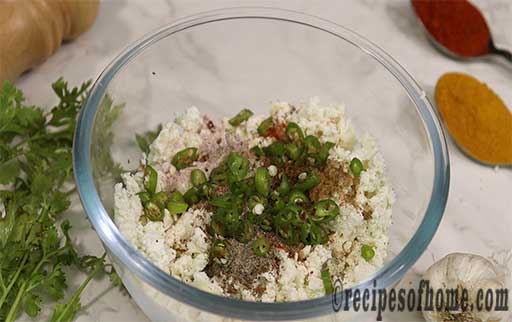 4. After that, add 3 tbsp freshly chopped coriander leaves.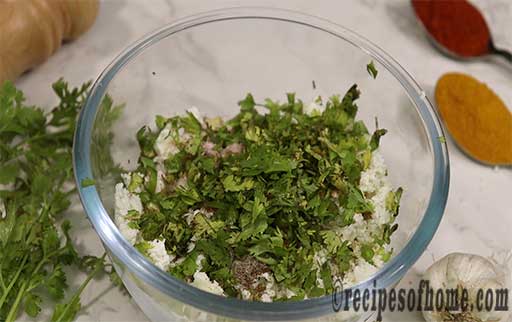 5. Additionally add 50 grams of grated cheese.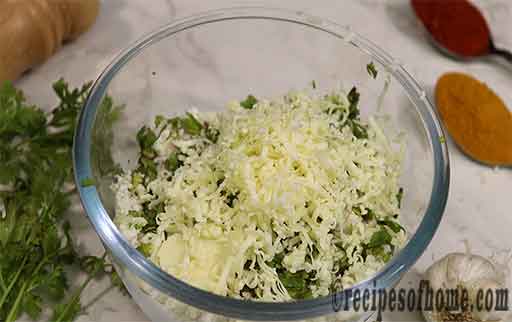 6. Finally Mix all of them together and set aside this stuffing for later usage.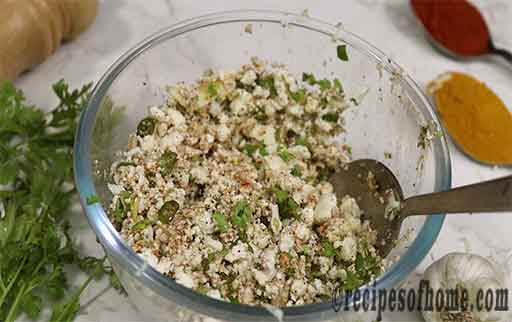 Cooking paneer paratha recipe
1. Now for making the paneer paratha recipe first cut the dough into equal sizes, dust some flour on the table, and using a rolling pin roll the paratha into medium thick circular sizes.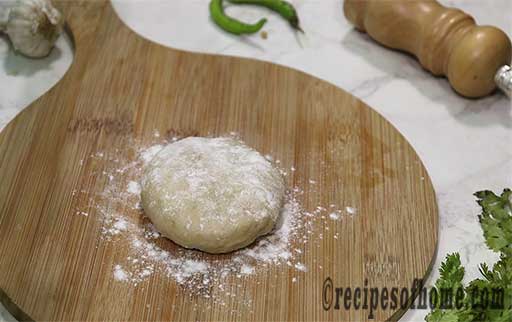 2. Then add 1 to 2 tbsp paneer stuffing mixture in it, make sure don't add too much stuffing otherwise it may come out while rolling the paratha.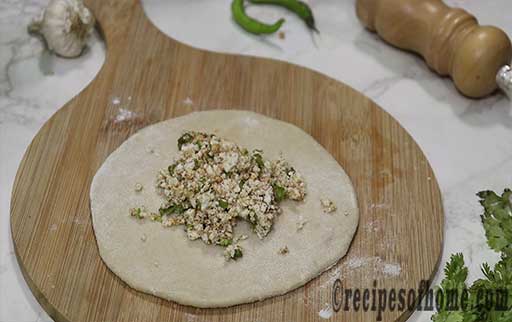 3. Now, bring the edges together and seal the dough properly, and remove the extra part just like this.
4. Furthermore, place this stuffed dough on the table, sprinkle some flour on it, using a rolling pin make a circular roti shape, and make sure the stuffing doesn't come out from paratha.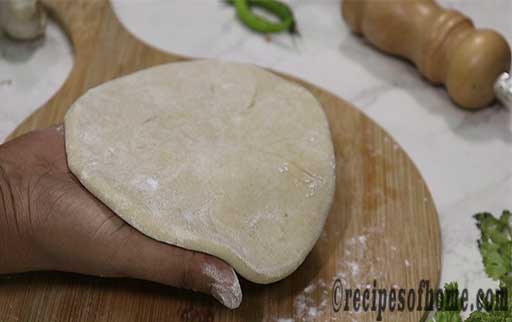 5. Now for frying paneer paratha heat 4 tbsp oil in a pan then transfer this paneer paratha to a hot griddle or Tawa.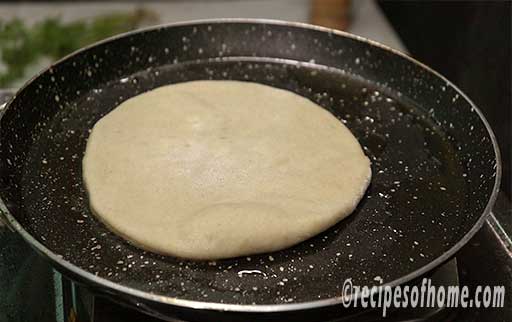 6. Cook both sides of the paratha for 1 min on a medium-high flame, and apply butter on both sides of the paratha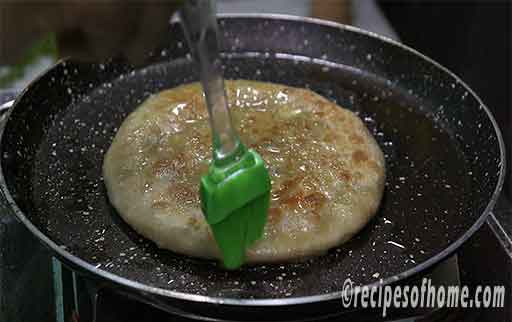 7. Gently press the edges with a spatula and cook until golden brown spots are visible on the paratha.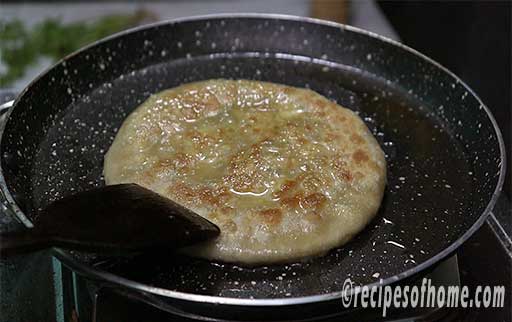 8. Finally, our stuffed paneer paratha recipe is complete, serve this hot immediately with chai or any gravy dish whatever you like.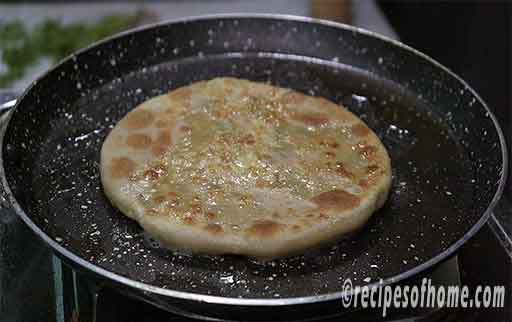 Paneer Paratha Recipe Card
Here is a quick overview of all the stuffed paneer paratha ingredients including quick step by step preparation of the paneer paratha recipe shown in the recipe card.
Take note of all ingredient lists.