Chana masala recipe | Chana masala curry | How to make chana masala
Chana masala recipe – boiled chickpeas or chana cooked in spicy tomato onion gravy, flavoured with a few Indian spices, is one of the delicious indian vegetarian gravy dishes. This lip-smacking chana masala curry will sure a hero at the dinner table. In this post, you will learn how to make chana masala?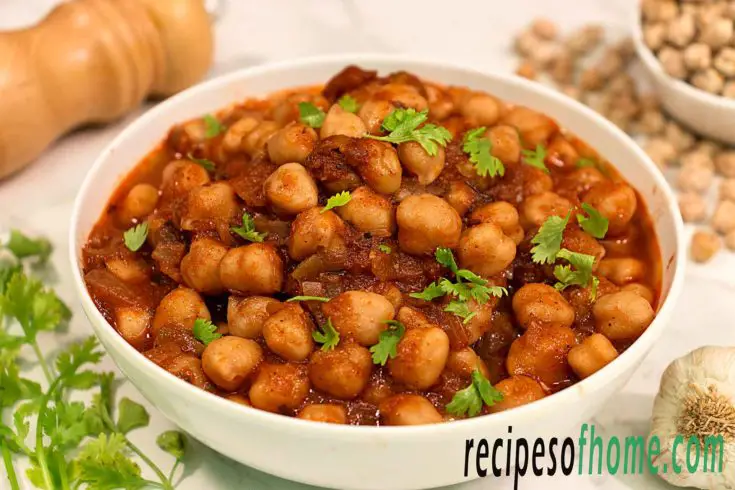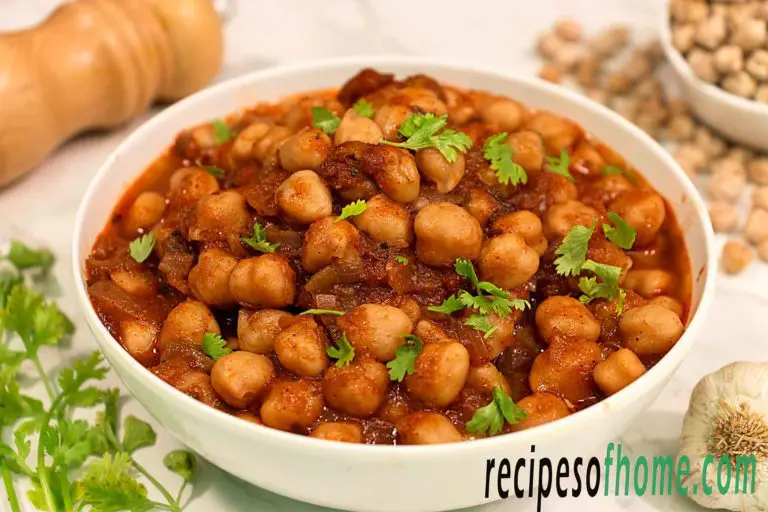 Though, there is a various popular recipe of chana masala available like punjabi chana masala, restaurant-style chana masala,dhaba style chana masala etc. 
But this is a very quick and simple chana masala recipe that can be made easily at home by using only a few ingredients
If you are going to make chana masala the first time then follow the below step by step instructions before making it.
Note: if you are in a hurry, feel free to click on the following links to check your desired topic.If you'd like to see our in-depth step by step recipe preparation keep reading!
What is chana masala
" Chana " means " chickpeas " and "masala" means " spicy mixture "; basically it means soaked chana first boiled and then cooked in a spicy tomato onion mixture flavoured with a few Indian spices.   
What to serve with chana masala curry
You can serve this chana masala for poori otherwise it also goes well with roti, naan, paratha, and jeera rice.
⇒ You can also check below recipes:
Tips to make restaurant style

chana masala recipe
Soaking Chana : To cook an authentic chana masala recipe soak the chana in sufficient water for at least 12 to 15 hours, this lighter texture chana is not only easy to cook but also very easy to digest.
Use Of Spices : Must add coriander powder, a pinch of amchur powder, roasted cumin powder, and kashmiri red chili powder for vibrant red colour curry, make sure to cook the spices with tomato onion puree until the mixture becomes thick and starts leaving the side of the pan.
Cooking Method : Cook the chana in a pressure cooker till it becomes soft, then cook the spicy tomato-onion mixture for at least 12 to 15 min to remove tanginess from it before simmering with chana.
Secret Flavor :

For enhancing the flavour must sprinkle crushed kasuri methi and chopped coriander leaves at the end of the recipe.
You May Like
How to make chana masala
Here, the complete recipe of chana masala preparation is classified into three simple categories first one is preparation for chana masala recipe,
the second one is cooking chana masala gravy and the last one is making chana masala curry. 
so, let's make it now.
Preparation for chana masala recipe
1. At first, for preparing chana masala recipe, we soak 250 grams of chana or chickpeas in sufficient water for at least 12 to 15 hrs.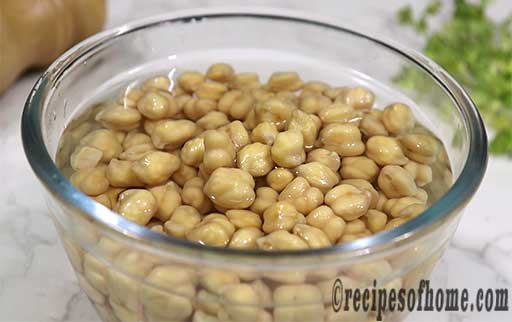 Note : If you don't have enough time for soaking chana dal, you can pour 1 litre of hot boiling water on this chana, cover it, and rest it for at least 2 to 3 hours.
Though this method works chana dal lacks its texture and flavour compared to overnight soaking.
 2. Now, drain the water, and add soaked chana along with water to cook in a pressure cooker.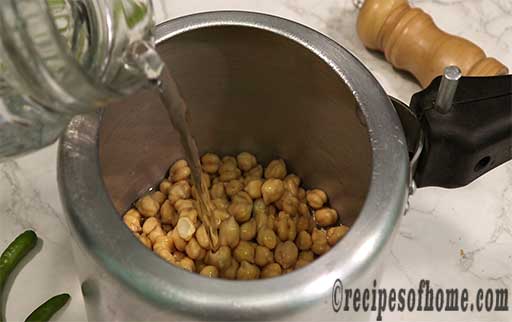 3. Then, sprinkle 1 tsp baking soda.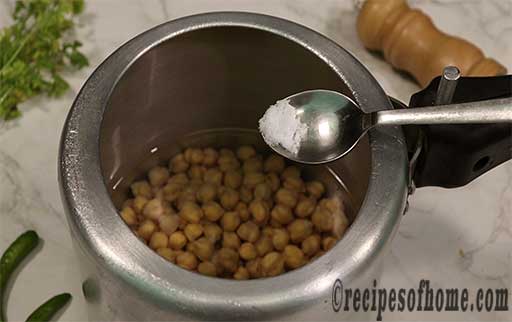 4. Also, sprinkle 1 tsp salt in it.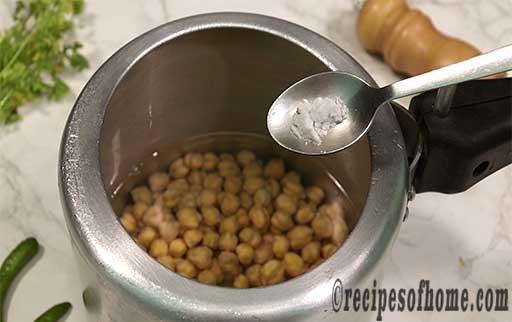 5. Now cover the lid and pressure cook this chana dal for 6 to 7 whistles on medium flame.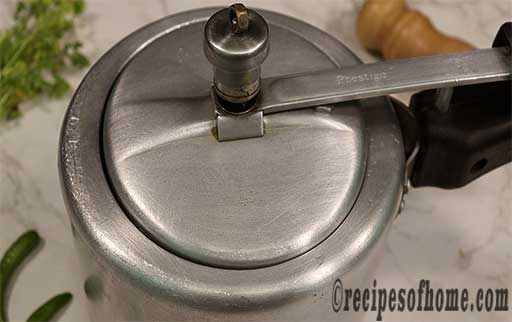 6. Check chana dal whether is soft or not does have a bite while eating, if not give another 2 to 3 whistles.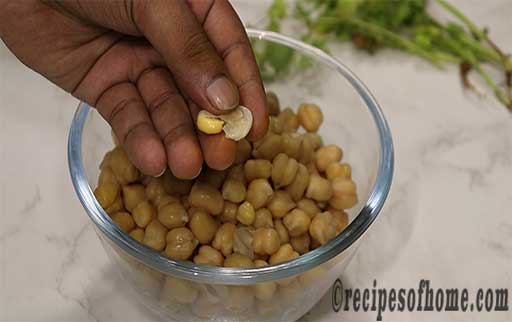 Cooking chana masala gravy 
1. Now for cooking chana masala gravy heat 3 to 4 tbsp oil in a pan, and spread it evenly.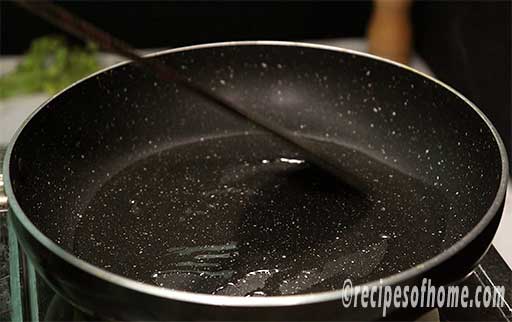 2. Then add some whole spices including 1 small bay leaf,1 tsp cumin seed,4 cloves,4 green cardamoms, and 1-inch cinnamon.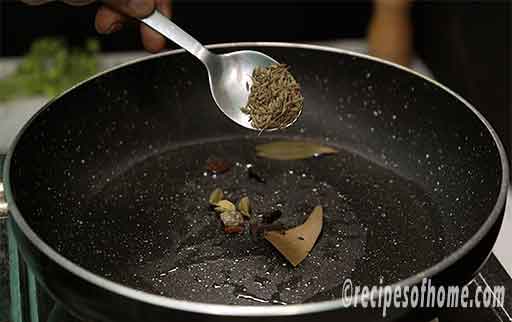 3. Saute them for up to 1 min on medium flame until you get a beautiful aroma.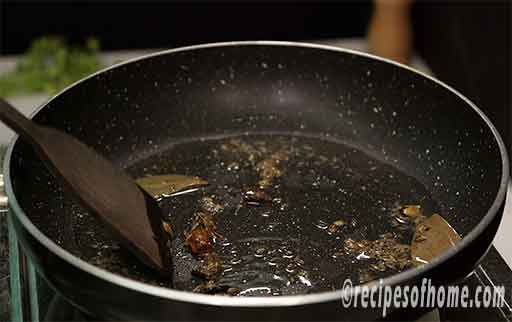 4. Next add 3 medium size chopped onions, and saute them until it becomes slightly golden brown.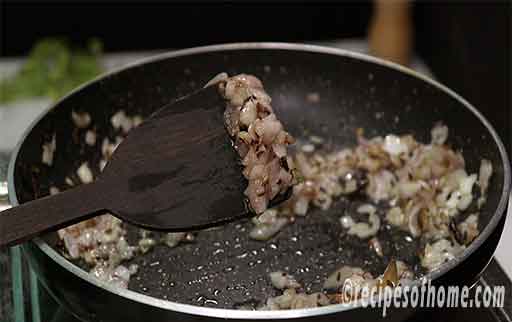 5. Furthermore add 3 chopped green chili, and 1 tbsp ginger garlic paste cook a further 2 to 3 min on medium flame.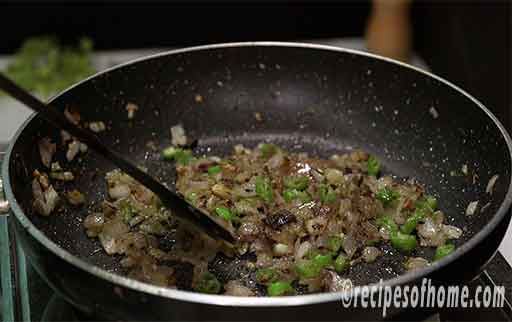 6. After that, pour 5 medium size tomato purees additionally sprinkle 2 tsp salt in it.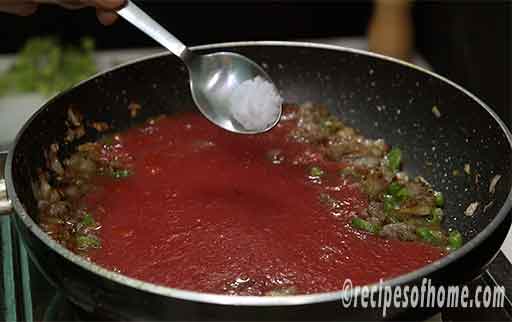 7. Now sprinkle 1 tsp roasted cumin powder.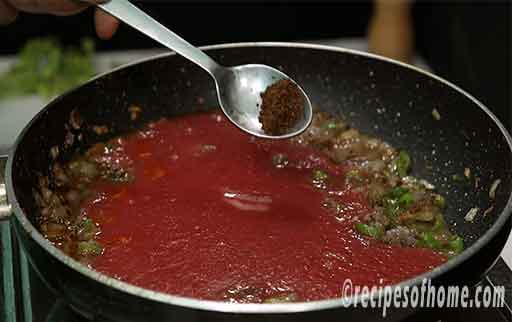 8.1 tsp coriander powder.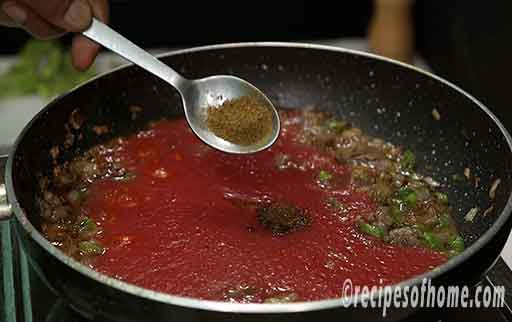 9.1 tsp black pepper powder.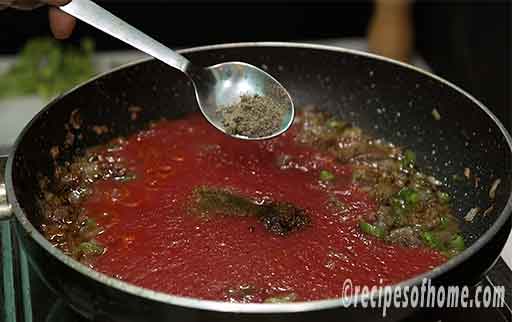 10. Also sprinkle 1/2 tsp amchur powder or dry mango powder.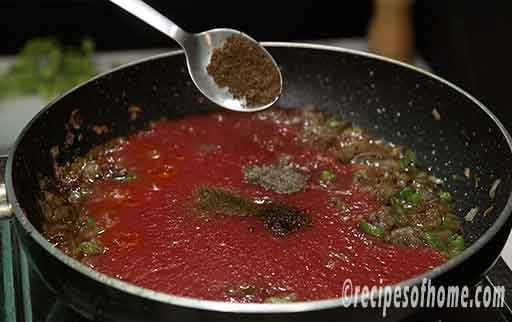 11. Finally sprinkle 2 tsp kashmiri red chili powder.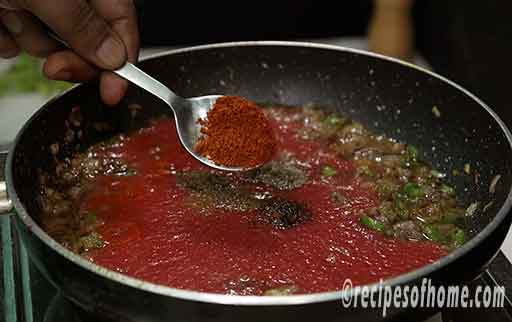 12. Furthermore mix all the spices together and cook this chana masala mixture on medium to low flame for up to 10 to 12 min until it becomes thick and starts leaving the side of the pan.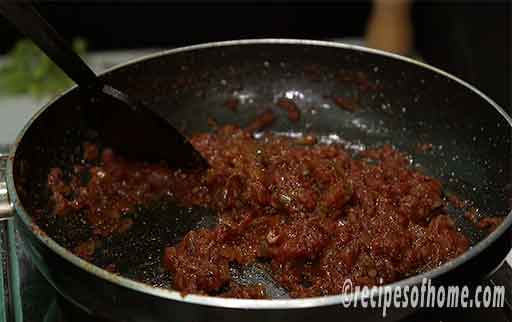 Making chana masala curry
1. Now for cooking chana masala curry, pour the boil chana that we made earlier, along with water into this pan.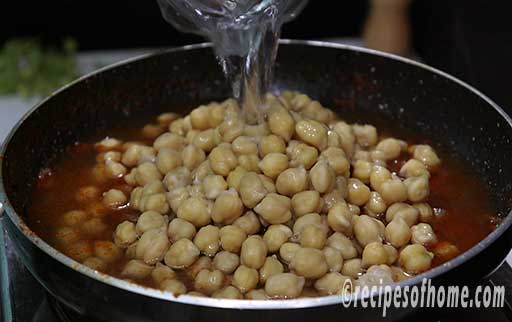 2. Mix all the ingredients together, and sprinkle 1 tsp garam masala powder.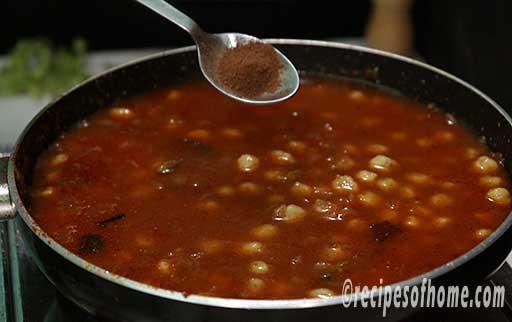 3. Cover the pan and simmer this chana masala gravy on low flame for 10 to 12 min, until it becomes thick.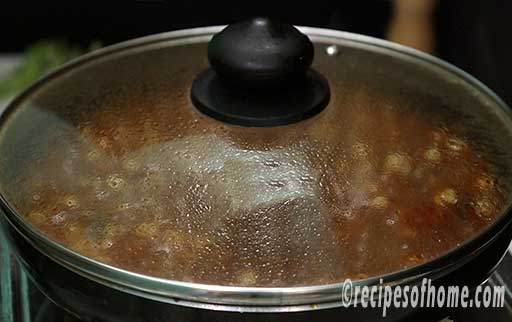 4. At this stage, check the taste of salt, if required add now, additionally sprinkle 1 tsp kasuri methi, and mix it properly.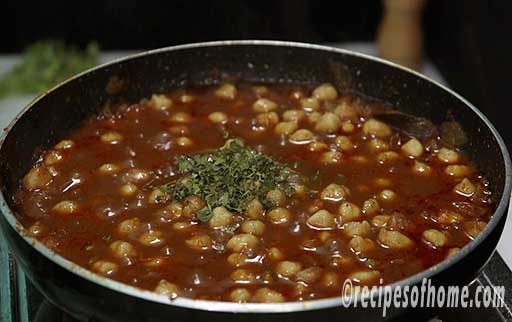 5. Finally, chana masala recipe is completed, now garnish with 3 tbsp freshly chopped coriander leaves, mix them together and serve hot puri, butter roti naan even plain rice goes well.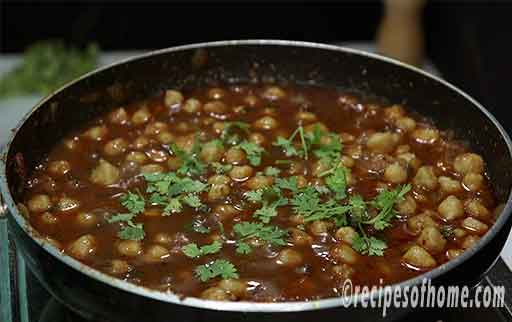 Chana Masala Recipe Card
Here is a quick overview of all the ingredients of chana masala curry including quick step-by-step preparation of chana masala recipe shown in the recipe card.
Take note of all ingredient lists.