Punjabi rajma recipe | How to make rajma masala
Rajma recipe is one of the delicious vegetarian curry dishes in India where boiled red rajma beans or kidney beans are slowly cooked in creamy tomato onion gravy flavour with a few Indian spices. This punjabi rajma recipe is popularly known as rajma chawal recipe as it is often served with chawal or rice in north India. In this post, you will learn how to make rajma masala?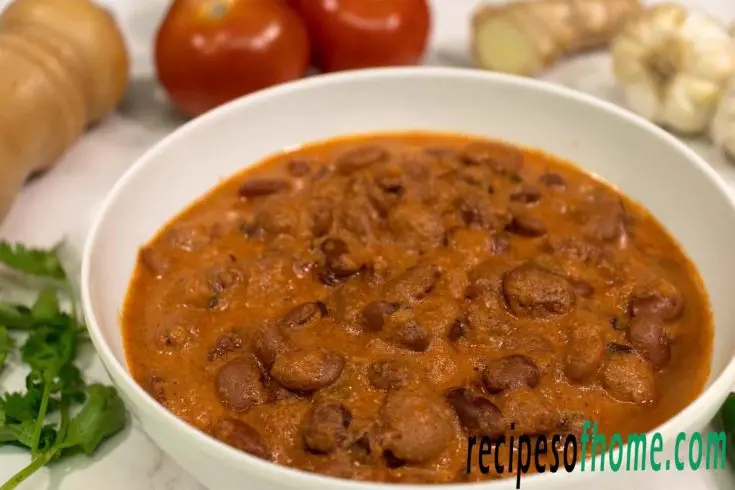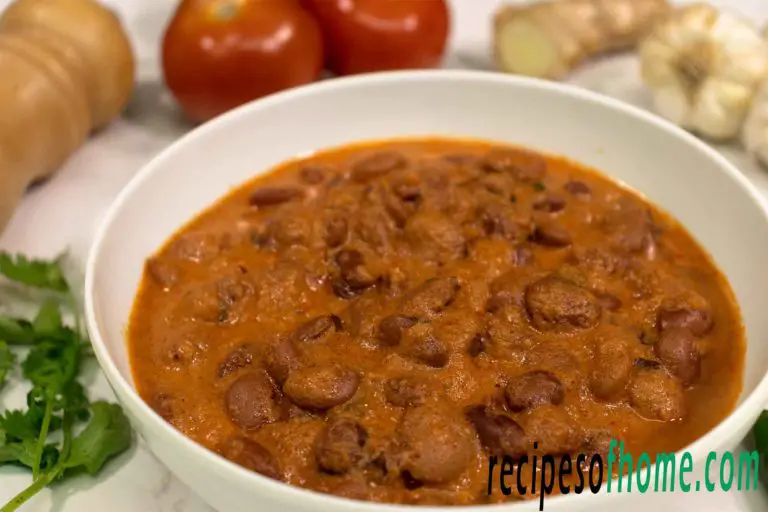 This rajma masala is also known as kidney beans curry which is not only tastes very delicious but also very easy to cook at home, I am sure you can cook delicious rajma curry if you follow each instruction properly mentioned below.
Note: if you are in a hurry, feel free to click on the following links to check your desired topic.If you'd like to see our in-depth step by step recipe preparation keep reading!
What is rajma masala
Rajma masala is one of India's most delicious vegetarian curry dishes, where pressure cooked red rajma or kidney beans cooked in buttery onion-tomato gravy flavored with a few Indian spices and garnish with cream.  
What to serve with the rajma recipe
Rajma chawal recipe is the best combo dish you have to taste. Otherwise, you can serve plain roti, naan, and jeera rice with this rajma recipe.
| check the below recipes

How to store rajma curry
As we use cream and tomatoes so you can safely store this rajma curry in the refrigerator for at least 2 to 3 days.
But before using make sure you reheat this rajma curry with a dash of water then serve it.
Tips to make punjabi rajma recipe
Choice of Dal:

To cook soft and tender rajma curry use red colour rajma or kidney beans from the latest packet, not the old one. Make sure you soak them in sufficient water for at least 10 to 12 hours before using them.
Choice Of Tomato:

As tomato is one of the main ingredients of the kidney beans curry, so to avoid any tangy flavour, choose a large, red, ripe one before making puree at home. If fresh tomato is not available you can use canned tomato puree.
Cooking Method: While pressure cooking make sure rajma is properly mashed and simmer them for at least 30 min to get the awesome flavour from rajma curry
Richness Of Gravy:

For a rich, thick rajma curry you can add cream and topping butter or ghee at the end of the recipe as mentioned below.
You May Like
How to make rajma masala
Here, the complete recipe of rajma masala preparation is classified into three simple categories first one is cooking rajma beans,  second one is making rajma masala and third one is cooking rajma curry

so, let's make it now.
Cooking red kidney beans

1. At first, for cooking red kidney beans wash thoroughly red rajma dal or kidney beans in water then soaked in sufficient water for at least 10 to 12 hours, until they absorb water and become larger size.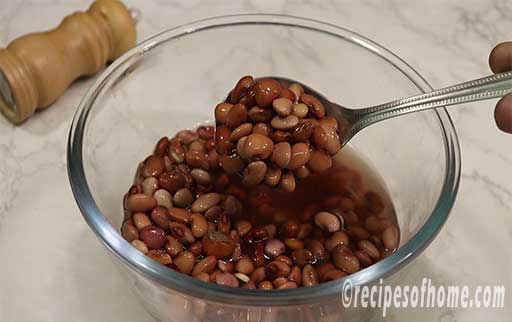 2. Now pour the soaked rajma into a pressure cooker, sprinkle a pinch of salt, and pressure cook for 7 to 8 whistles in medium to high flame and check whether rajma beans mashy or not, if not give another 2 whistles.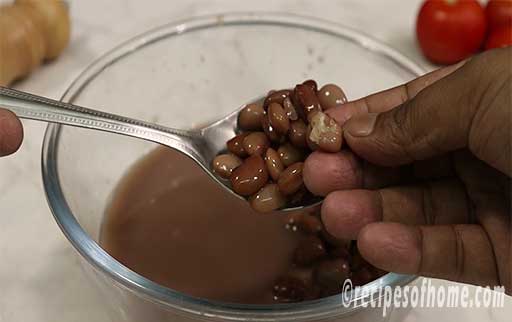 Making rajma masala
1. Now before making rajma masala cut 5 to 6 tomatoes into quarter shape, deseed them then make a puree.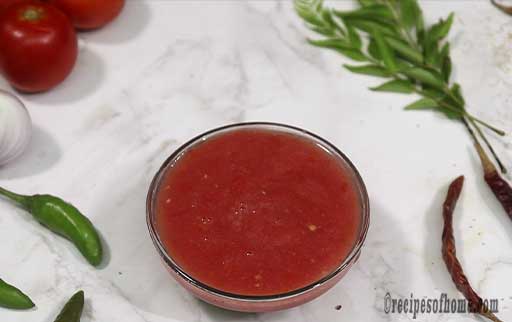 2. Next for cooking punjabi rajma masala melt 4 tablespoons of butter in a large pan on low flame.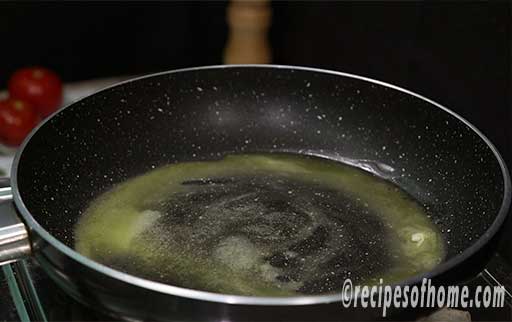 3. Then add some whole spices including 1 small bay leaf,1/2 tsp cumin seed, and saute on low flame.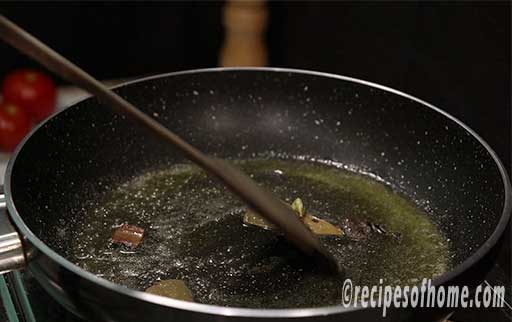 4. Next add 3 to 4 onion puree,2 to 3 chopped green chili, and 1/2 tbsp ginger garlic paste, and saute in medium flame until onions become slightly golden brown.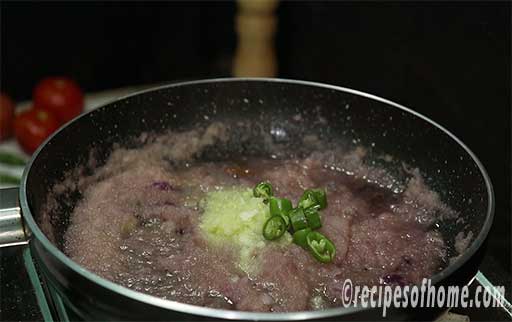 5. Now pour 5 to 6 tomato puree and mix it properly with the rest of the ingredients for another 3 to 4 min in medium to low flame.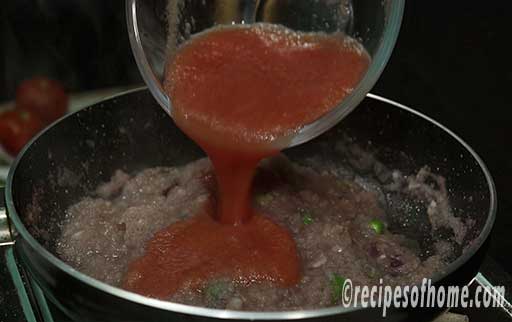 6. Furthermore sprinkle 1/4 tsp turmeric powder,1 tsp red chili powder,1 tsp garam masala powder,1/2 tsp coriander powder, and a pinch of salt and gently mix all the spices in this buttery tomato-onion puree.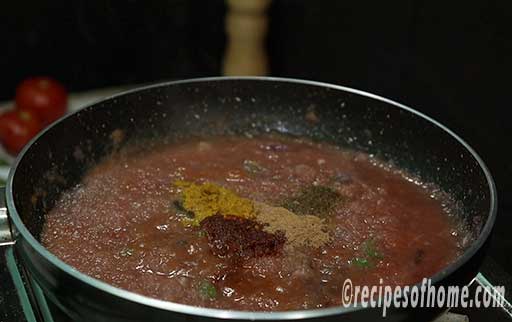 7. Now saute all of them together for up to 10 to 12 min on medium to low flame until the gravy thickens and leaves the side of the pan.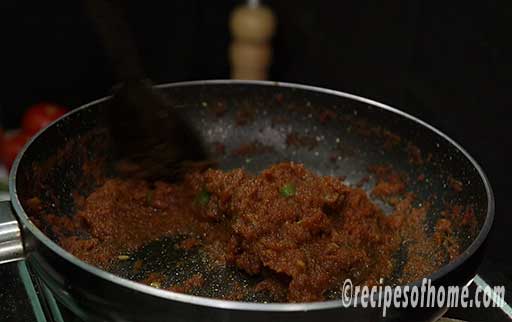 Cooking punjabi rajma recipe
1. Finally for cooking punjabi rajma recipe add boiled rajma beans with 400 ml of water.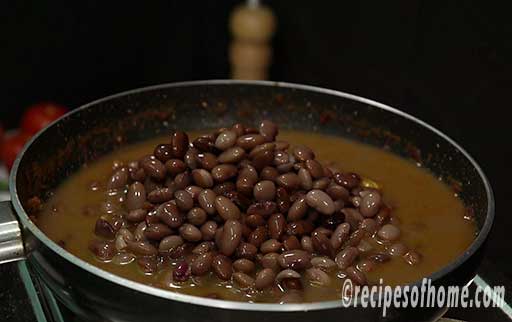 2. Mix all of them properly with the rest of the spices.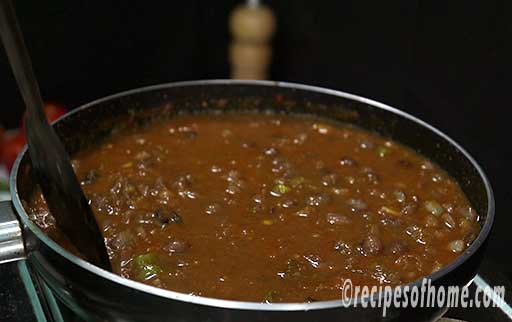 3. Next cover the pan with a lid and simmer this rajma curry for 35 to 40 min on low flame. After that period check whether rajma is cooked and becomes soft, otherwise pour more water and cook for more time.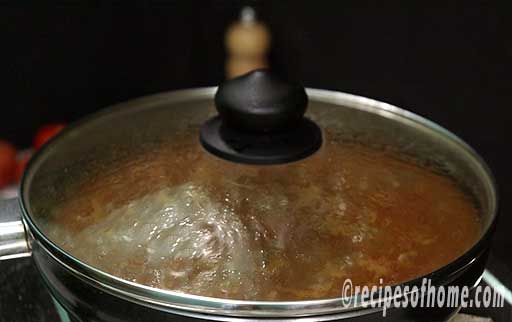 4. Now, sprinkle 1tsp Kasuri methi and mix them together.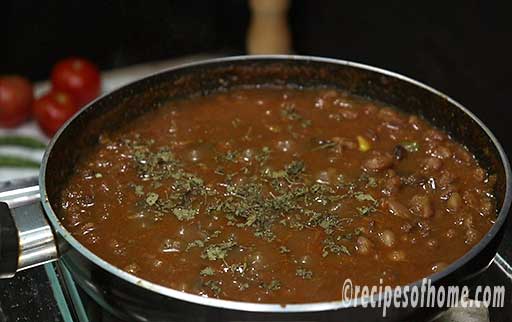 5. Also sprinkle 3 tbsp freshly chopped coriander leaves and mix them properly.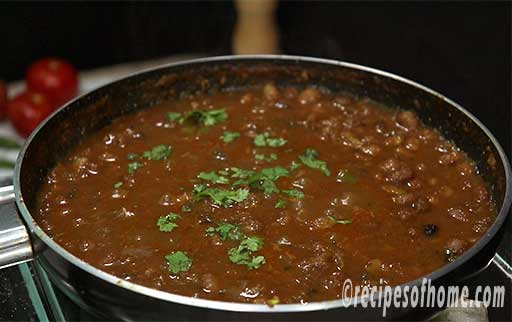 6. Finally for add 60 ml cream to this rajma curry.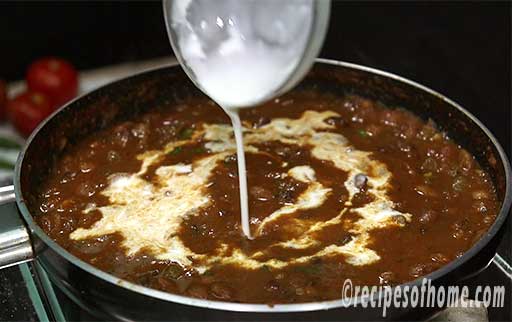 7. Gently mix them together for another 3 to 4 min on low flame and our punjabi rajma recipe is complete.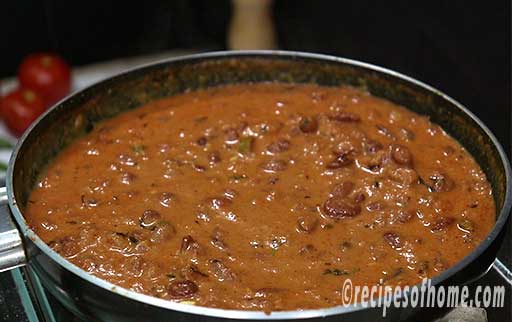 Rajma Masala Recipe Card
Here is a quick overview of all the rajma masala ingredients including quick step by step preparation of the punjabi rajma recipe shown in the recipe card.
Take note of all ingredient lists.