Onion pakoda recipe is deep fried Indian snack dish. These tasty Indian fritters are made with onions, gram flour or besan, and a few aromatic indian spices and herbs. Onion pakora also known as Pyaz Pakora is one of the popular monsoon as well as winter snacks across the entire Indian subcontinent. To cook this crispy onion pakora recipe at home follow the below step-by-step instructions on how to make onion pakoda.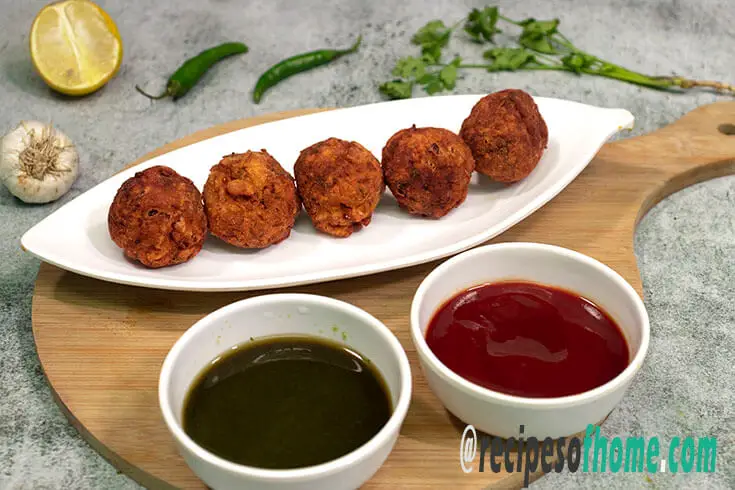 Pakora is the most popular spiced fritter from the Indian subcontinent. There are various ways you can cook these indian fritters from pyaz pakora to vegetable pakora, paneer pakora, chicken pakora , cauliflower pakora and many more.
They are very quick as well as easy to cook dish and very popular as a snack on their own or to accompany hot tea.
They are also commonly served on occasions like kitty parties, picnics, small gatherings and as a light snack at family ceremonies in India.
Note: if you are in a hurry, feel free to click on the following links to check your desired topic.If you'd like to see our in-depth step-by-step recipe preparation keep reading!
What is onion pakoda
Side dish for onion pakoda
There are various ways you can serve this crispy onion pakoda. For example, you can serve hot this onion pakoda with coriander chutney, tamarind chutney, and coconut chutney.
Otherwise, you can also serve inside a piece of bread or pav just like famous street food in Maharastra such as Kanda Bhaji and Pav.
Apart from these in mostly winter and rainy seasons, we prefer this crispy onion fritters with hot masala chai.
Must Check Recipes
Tips to make onion pakoda recipe



Onions:

You can use either red or yellow onions to make onion fritters. Just make sure you have to slice or chop the onions thinly this will not help you to get a crisp texture but also your onion pakora will get cooked faster.

Texture of pakora:

For the crispy onion pakora, use only thinly chopped or sliced onions and add less water to the batter. But if you want to make soft pakoda, then add some more water to the batter.
Cooking temperature: The perfect temperature for cooking indian fritters in medium flame. Because if the oil is too hot, then the outside of the pakoda will get fried but the inside will be undercooked. Similarly, if the oil is not hot, then the pakoda will absorb oil while frying.
Add on: You can use various herbs and spices along with gram flour for example crushed coriander seeds, red chilli flakes, ginger-garlic paste, and mint leaves. You can also add some rice flour or semolina to the batter which makes the pakoda crunchy.

Baking onion pakoda:

For baked onion pakoda make sure to add 2 tablespoons of oil and less water to the batter just enough to coat the onion slices then bake them at 180 degrees celsius in a preheated oven till the pakora become crisp and golden brown.
Air fried onion fritters:

  For air-fried onion fritters make sure you preheat the air fryer for 10 minutes then air fry at 180 degrees celsius till crisp. Make sure in between remove the air fryer pan and shake the pakoda well then re-fry them.
You May Like
How to make onion pakoda



Here, the complete onion pakoda recipe is classified into three simple categories first one is making batter for onion pakora,
second one is frying onion pakora.

so, let's make it now.
Making batter for onion pakora
1. At first, making batter for onion pakora in a mixing bowl add 2 large size chop onions. You can also use slice onions.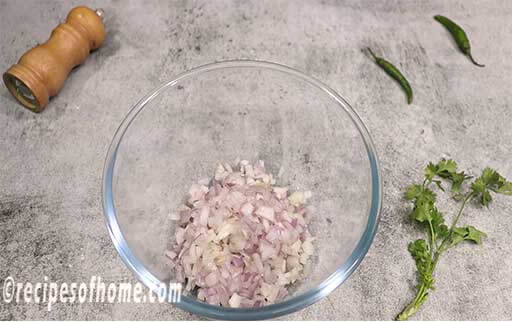 2. Then add 3 tablespoons of freshly chopped coriander leaves, 3 to 4 chopped green chili and 2 teaspoons ginger garlic paste.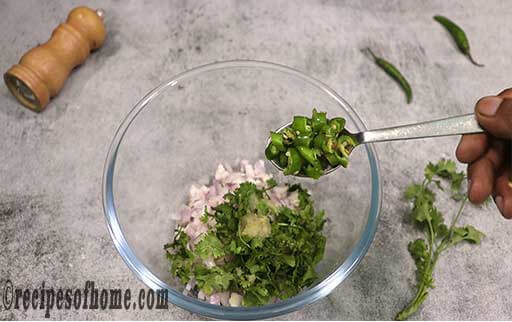 3. Now add 200 grams gram flour or besan, and 4 tablespoons of semolina.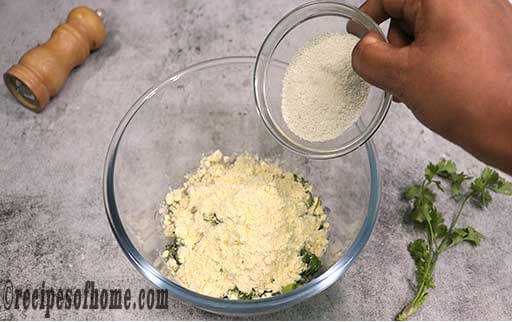 4. Also sprinkle 1 teaspoon salt.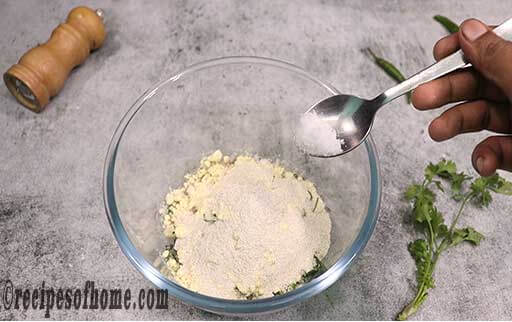 5. After that sprinkle 1/4 teaspoon turmeric powder, 1 teaspoon red chili powder, 1/2 teaspoon garam masala powder, 1/2 teaspoon chaat masala powder and 1/2 teaspoon ajwain.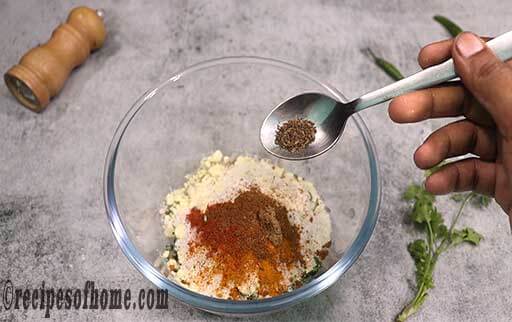 6. Next mix everything with a spoon you will get dry mixture first.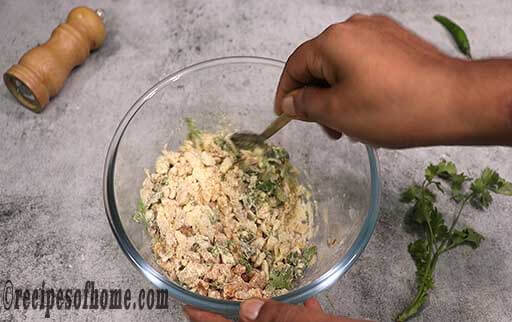 7. Now pour water at intervals, and mix with dough to make a moist dough.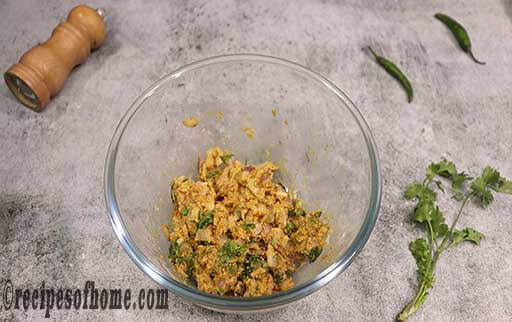 Note: Make sure don't pour a lot of water to make soggy dough because it ends up soaking a lot of oil while frying and never become crispy.
8. After that apply oil in palm, make circular pakora ball and place on a plate for frying later.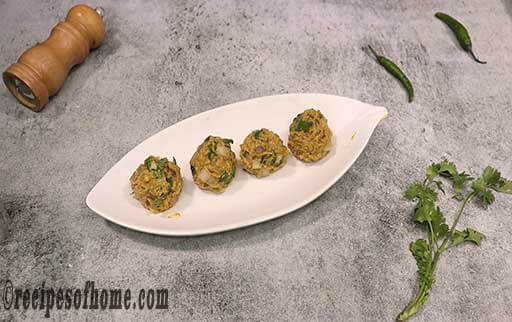 Fry onion pakoda
1. Now pour 500 ml oil in a deep bottom pan or kadai.
Note :  When oil becomes medium hot, place a small pakoda dough if it rises easily without sinking and browning then it is the right temperature to fry pakoda.
2. Gently deep fry onion pakoda in medium flame.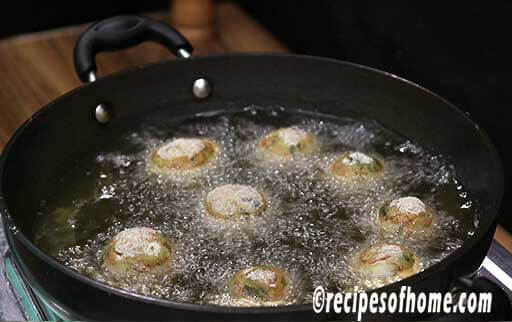 3. After sometime turn on the other side and fry them till become crispy and golden brown from both side.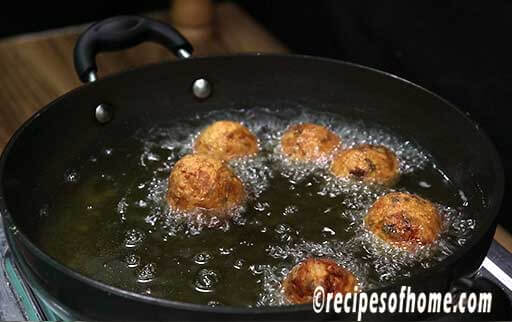 4. Finally our onion pakoda recipe is completed take them out from the pan and serve it hot with tomato ketchup, coriander chutney whatever you like.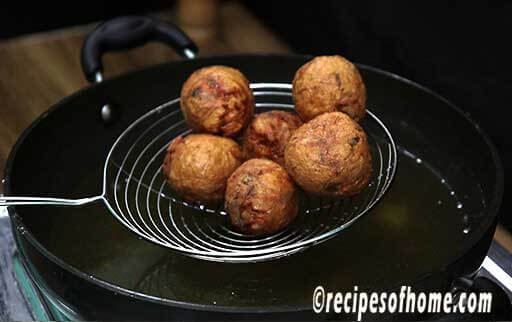 Onion pakoda recipe card

Here is a quick overview of all the onion pakoda ingredients including quick step by step preparation of onion pakoda recipe shown in the recipe card.
Take note of all ingredient lists.