Rava upma recipe | Suji upma | How to make upma
Upma recipe is the most popular south indian breakfast recipe which is made with roasted rava, flavoured with ghee, dry fruits, urad dal, chana dal, fresh herbs and some indian spices. This famous suji upma recipe is also known as rava upma. To cook this rava upma recipe at home follow the below step-by-step instructions on how to make upma.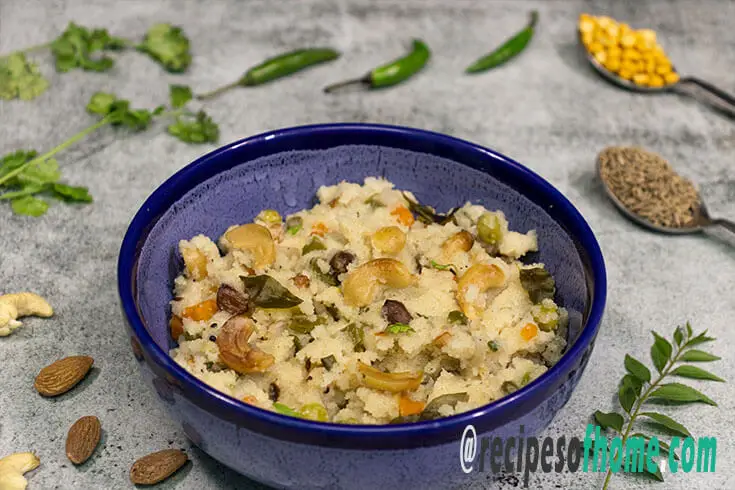 Though you can make a lot of variations in upma recipe by including different ingredients which you will find below.
But I stick to the traditional upma recipe which not only tastes delicious but is also very easy to cook at home.
If you are very hungry and want to cook a quick but delicious homemade breakfast recipe then this rava upma recipe is your life-saver dish.
Note : if you are in a hurry, feel free to click on the following links to check your desired topic.If you'd like to see our in-depth step-by-step recipe preparation keep reading!
What is upma



What is rava upma
Rava upma is a traditional south indian breakfast dish, where rava is a type of granulated wheat which means suji or sooji in hindi and semolina in english.
This sooji upma is made first by roasting rava in ghee for sometime later it is flavoured by ghee, roasted cashews, raisins, urad dal, chana dal, onion, ginger, sugar, a few fragrant indian spices and some freshly chopped coriander leaves.
Side dish for suji upma



You can serve hot this suji upma as a breakfast dish. While serving garnish with some grated coconut, sev or bhujia, and squeeze some lemon juice on it. You can also serve it with your favourite Coconut Chutney, lemon pickle.
How to store rava upma



Must Check Recipes
Tips to make rava upma recipe



Non-sticky upma : For the best non-sticky upma recipe you have to choose a fine variety rava then roast rava in ghee on a low flame until you see the rava granules become slightly brownish and it starts to separate each other along with a nice toasted aroma.
Oil or ghee : To prepare rava upma recipe you can use either good quality ghee from any popular brand or any neutral flavour oil like sunflower oil, peanut oil etc
Rava upma water ratio :

The most important factor in upma recipe is the rave upma water ratio which is 3: 1, which means for 3 cups of water I add 1 cup of fine rava.You can scale up the recipe by following this ratio.
Lumps free upma :

While cooking suji upma recipe make sure to mix the roasted rava into the boiling water in batches then mix it evenly with the water otherwise your upma will not soft and becomes lumpy.
Variation of upma recipe
Apart from the traditional upma recipe there are various ways you can prepare upma at home. Just add various ingredients depending upon your likes for example tomato upma recipe, vegetable upma or even ragi rava upma. Below i show you some variations you can try.
Vegetable upma : To prepare vegetable upma you can add vegetables in two ways first one is add the veggies including finely chopped carrots, capsicum ,reddish, french beans, green peas, first saute for sometimes then cover and cook.Second one is to steam the vegetables separately and add them before mixing rava with the water.

Ragi rava upma : To cook ragi rava upma first roast ragi and rava separately just like mentioned in this recipe. Depending on the amount of ragi and rava add water, when water comes to a rolling boil, add the rava and ragi and immediately mix with the rest of water.

Tomato upma : For tomato upma you can add tomatoes when onions become translucent. After that saute the tomatoes until the soft and raw smell of the tomatoes completely goes away. Then follow the rest of the recipe as mentioned above.
You May Like
How to make upma



Here, the complete recipe of upma is classified into three simple categories first one is preparation for rava upma recipe,
second one is tempering spices for suji upma recipe and last one is to make rava upma

so, let's make it now.
Preparation for rava upma recipe
1. At first for cooking rava upma recipe in a pan melt 3 tablespoons desi ghee on low flame.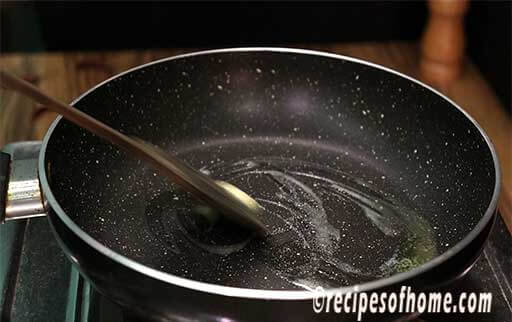 2.  Next add 1 cup of rava or 200 grams suji to the pan.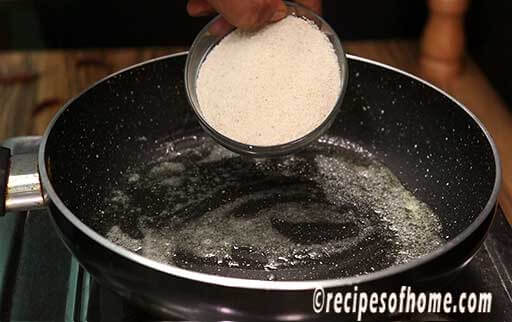 3. Now stir often and roast the rava in lower flame for 5 min.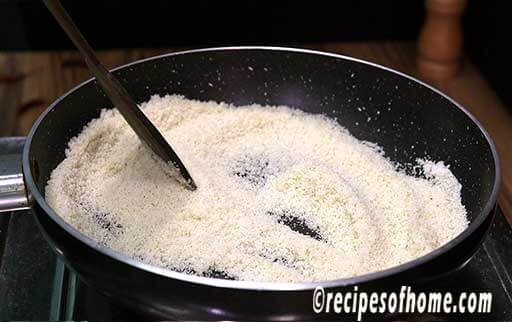 4. At this stage rava or sooji grains become fragrant, dry and separate from each other.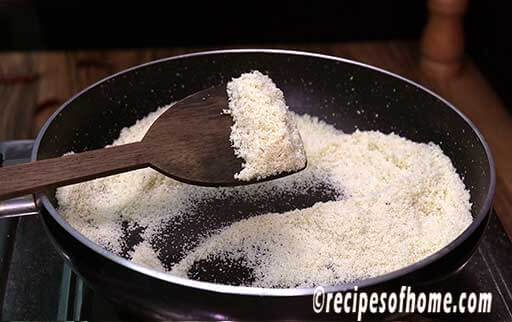 5. Switch off the gas and immediately transfer the roasted rava to a separate plate.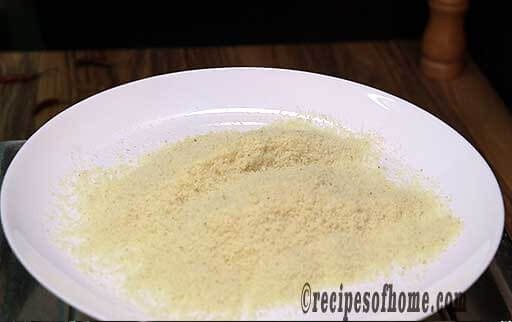 Tempering spices for suji upma
1. At first, for tempering spices for suji upma recipe in a pan melt 3 tablespoons ghee or clarified butter on low flame.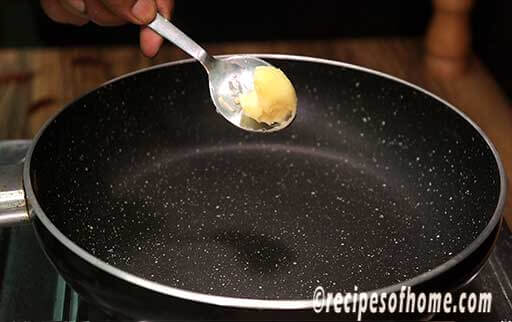 2. Next add 1 teaspoon mustard seed, and 1 teaspoon cumin seed.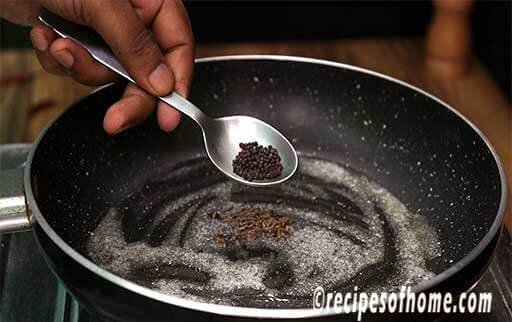 3. After that saute them on low flame till you hear the crackling sound of mustard seed.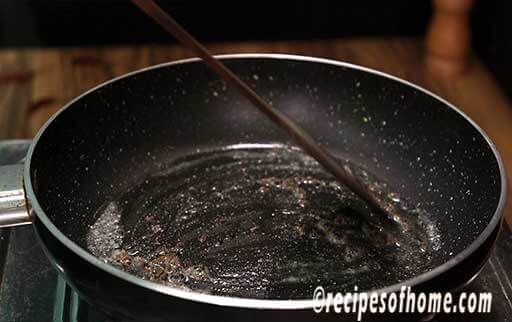 4. Now add 1 teaspoon chana dal and 1 teaspoon urad dal.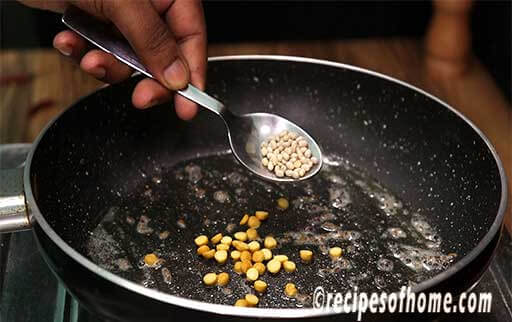 5. Stir the chana dal and urad dal till they become brown a little bit.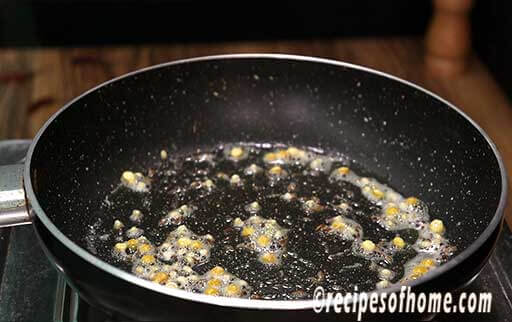 6. Then add 10 to 12 cashew nuts and 2 tablespoons peanut, and saute them in medium flame till they become slightly golden brown.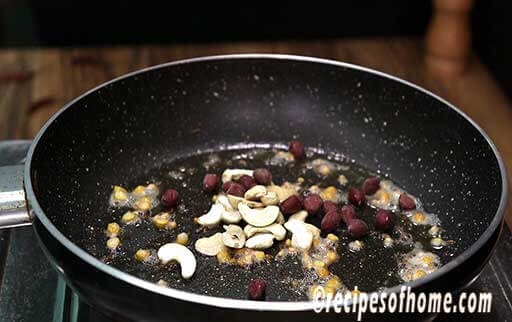 7. Next add a pinch of hing.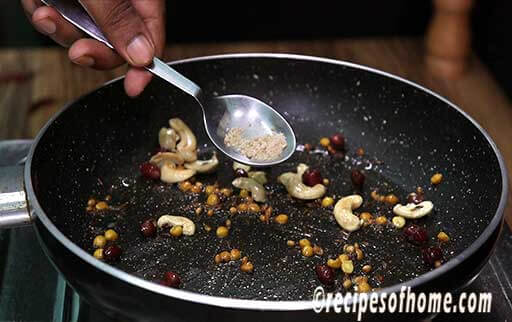 8. Also add 8 to 10 fresh curry leaves and saute for some time til they become crispy.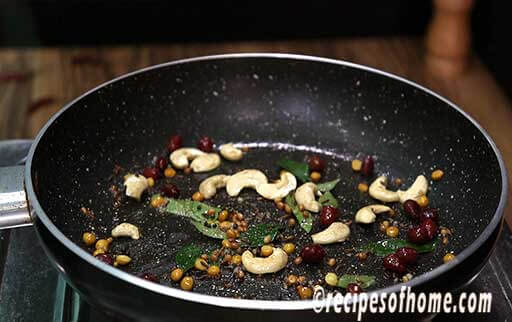 9. Now add 1 medium size chopped onion, and saute them in medium to low flame till they become translucent.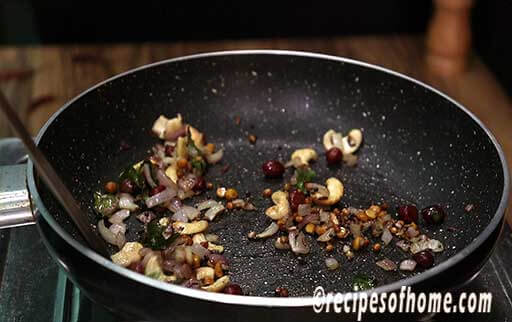 10. Then add 4 chopped green chili and 1/2 tablespoon chopped ginger, and cook them further sometime.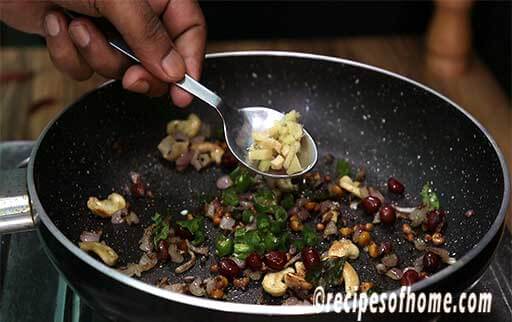 11. Now for the vegetable upma recipe add 1 medium size chopped carrots, 1 medium size chopped reddish, and 4 tablespoons chopped french beans.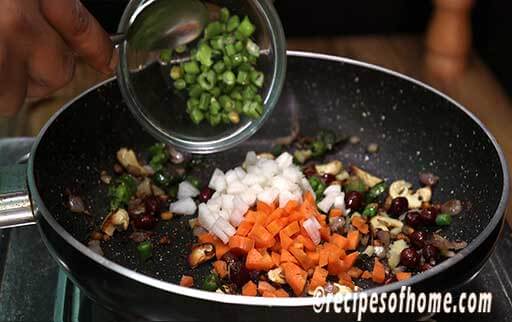 12. Cover and cook the veggies for sometime till they are slightly tender.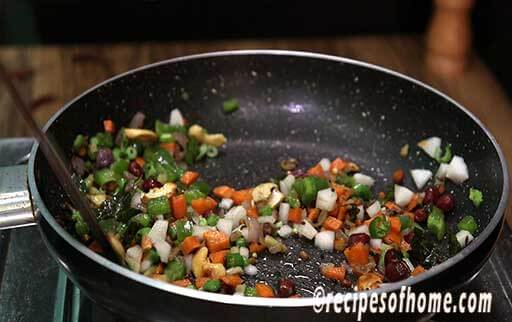 13. Next add 3 tablespoons of green peas and saute them further for 2 min on medium flame.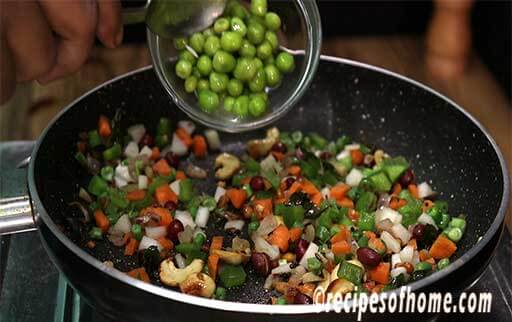 14. Finally add 3 tablespoons of freshly chopped coriander leaves and mix properly.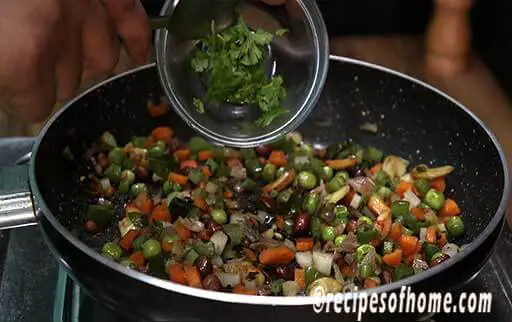 How to make rava upma
1. Now to make rava upma recipe pour 500 ml of water into the pan.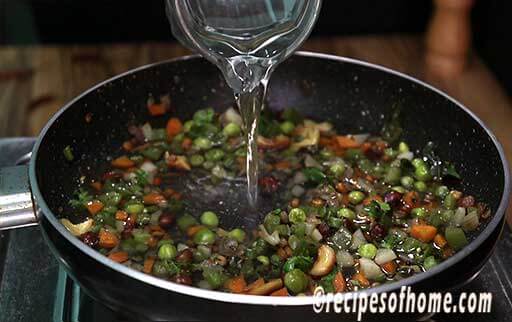 2. After that add 1 teaspoon black pepper powder and 1 teaspoon salt, adjust the salt quantities if required add more.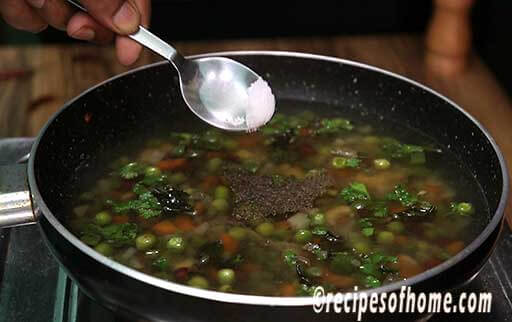 3. Also add 2 teaspoons of sugar to balance the taste of the spices.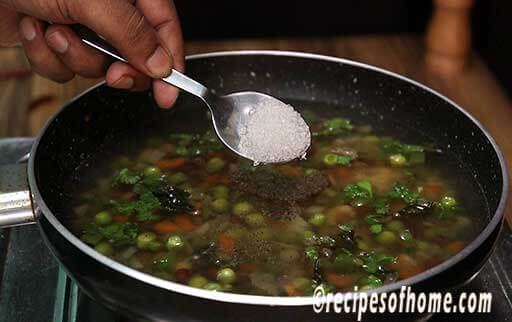 4. Next bring the water to a rolling boil on medium-high flame.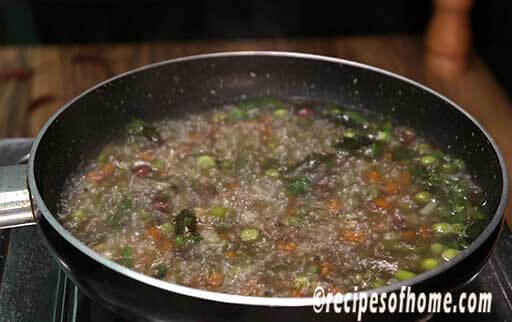 5. When water becomes rolling boil make the flame low and add the roasted rava in intervals, immediately stir and mix the rava with the boiling water, this technique helps you to get lump-free rava upma.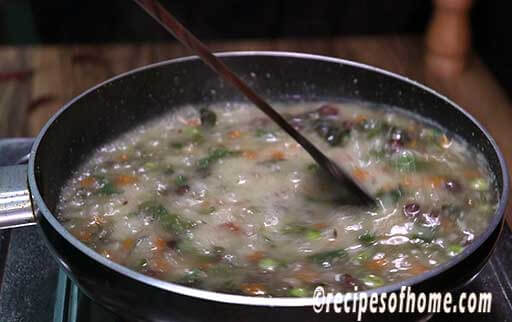 6. At this stage you will see all the rava grain absorbs water and it gets cooked well and our suji upma recipe is complete.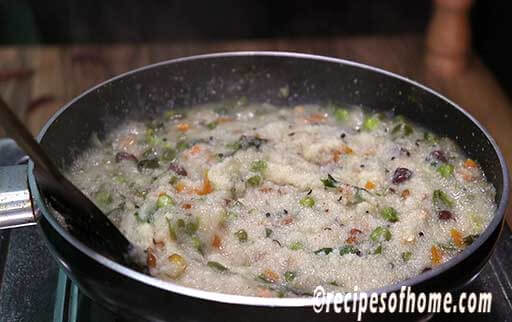 Upma recipe card

Here is a quick overview of all the upma ingredients including quick step by step preparation of rava upma recipe shown in the recipe card.
Take note of all ingredient lists.