Besan ladoo recipe | Besan laddu | How to make besan ladoo
Besan ladoo recipe is one of the popular sweet recipes in India during most of the festive seasons made of gram flour, ghee, powdered sugar, and dry fruits. This recipe of besan ladoo is not only very delicious but also very easy to make at home. Must try this besan laddu with the below step by step instructions. In this post, you will learn how to make besan ladoo?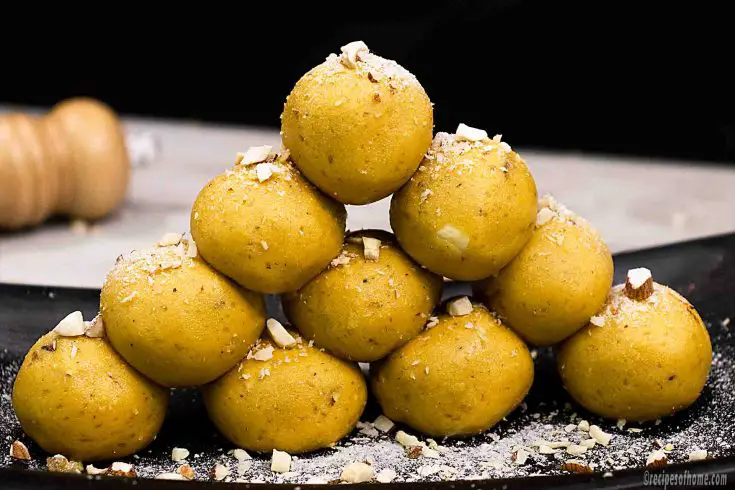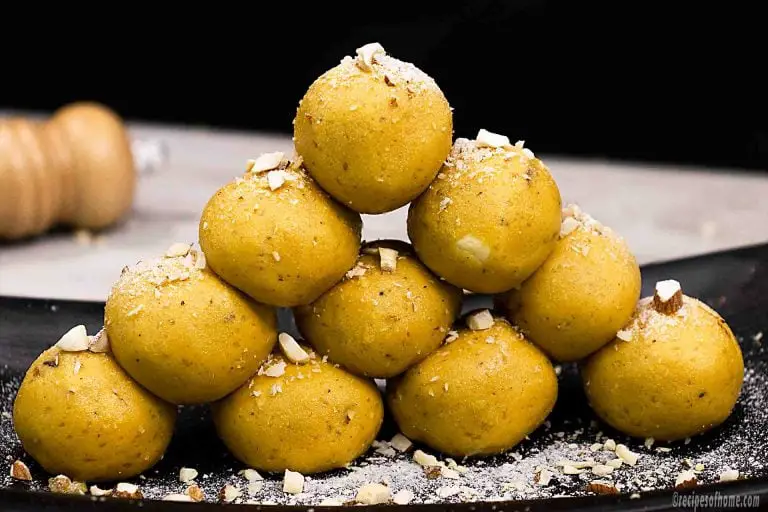 Though to prepare this besan ke laddu it takes a little bit of hand exercise to roast besan mixture except this it is one of the mouth-watering and very easy besan laddoo recipe that anyone can make at home.
If you want to try besan ladoo first time then follow the below step by step instructions carefully before making it.
Note: if you are in a hurry, feel free to click on the following links to check your desired topic.If you'd like to see our in-depth step by step recipe preparation keep reading!
What is besan ladoo
Besan ladoo is made of gram flour popularly known as besan in Hindi, first, besan powder is roasted in ghee, then pour powder sugar, cardamom powder, and a few chopped dry fruits.
After Cool this mixture and make round balls or laddu by rotating the mixture in between greasing palms.
You can check this easy sweet recipes collection:
How to store besan laddu

Yes,
If you want to eat this besan laddu later, you can keep this besan ladoo in an air-tight container and safely keep it in the refrigerator for at least 2 weeks. 
Can besan ke laddu be made with jaggery
Yes,
You can make besan ladoo with jaggery as an alternative to sugar but it lacks the textures and deliciousness compared to sugar. 
How to fix besan ladoo mistakes
If your besan laddu mixture is so soft can't make a proper round shape.
You mistakenly disproportion ingredients, either use a lot of ghee than required or never cool the mixture for some time.
So, to fix this issue first step dry roast some besan or gram flour without using any ghee and then mix with your previous mixture, proportionally add powder sugar.
Now cool this mixture for at least 15 to 20 min in the refrigerator, to make properly besan laddu.
Tips to make besan ladoo recipe

Choice Of Besan : To avoid any bitterness, in homemade besan ladoo recipe always use good quality gram flour or besan from any popular brands.
Cooking Method :

Continuously roast the

gram flour on low flame

, until it changes colour from yellow to light brown also gives a nutty fragrance that completely fills in your kitchen.
Choice Of Ghee : To make authentic besan ke laddu only use good quality ghee or clarified butter from any popular brand available in the market.
 

Additional Flavors :

For enhancing more flavour in the besan ladoo recipe just sprinkle some cardamom powder and a few chopped cashew, almonds, and raisins in a hot besan mixture.
You May Like
How to make besan ladoo
The complete besan ladoo recipe is classified into three simple categories,
first one is Preparation for besan laddu,
and
the second one is Roasting besan with ghee,
and the last one is Making besan ke ladoo. 
so, let's make it now.
Preparation for besan laddu
1. Before preparing besan ke laddu to pour 100 grams to 150-gram sugar into a blender to make smooth powder sugar. Also, make cardamom powder from 5 to 6 green cardamom pods.
Roasting besan with ghee
1. Now for roasting besan with ghee, pour 50 ml melted ghee or clarified butter into a non-stick pan.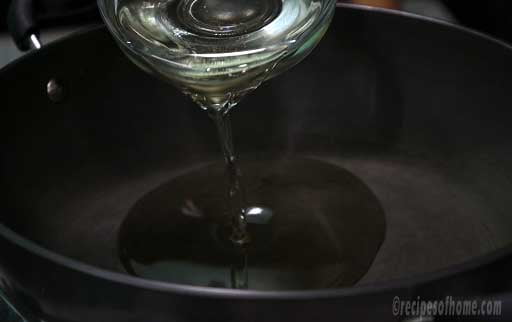 2. Then, mix 200 grams of besan or gram flour in this ghee.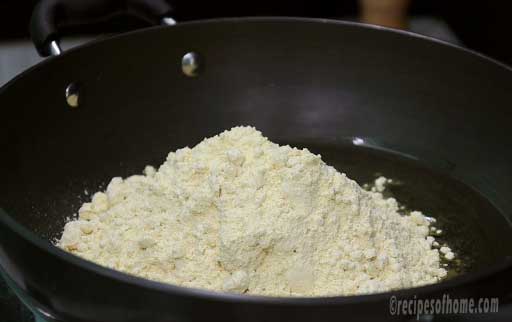 3. Though initially, it will form a clump, continuously roast the besan in ghee on low flame.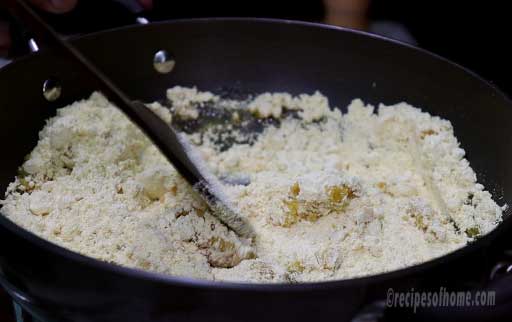 4. At this stage, besan starts changing its colour from light yellow to slightly brown.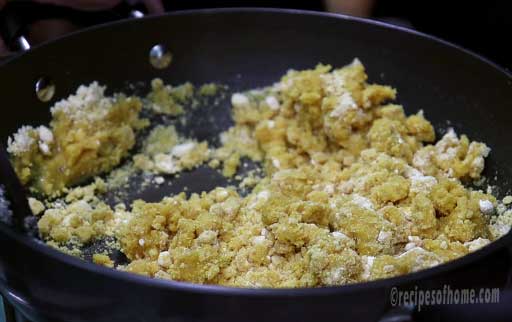 5. Continuously roast the besan on low flame until the besan mixture will release a beautiful nutty fragrance that completely filled in the kitchen.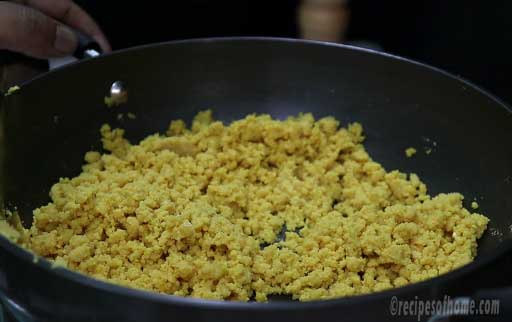 6. At this stage besan mixtures start releasing ghee, now turn off the gas and cool down the besan mixture for some time. 
Note: To achieve this stage it takes almost 30 to 40 min, depending upon your besan quality and cooking utensil.
7. When the besan mixture is cool a little bit, add 100 to 150-gram powdered sugar.
8. Then, mix the sugar completely with besan.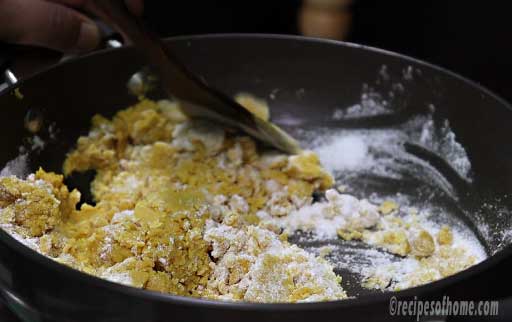 9. After that, for more fragrance, add 1 tsp of cardamom powder.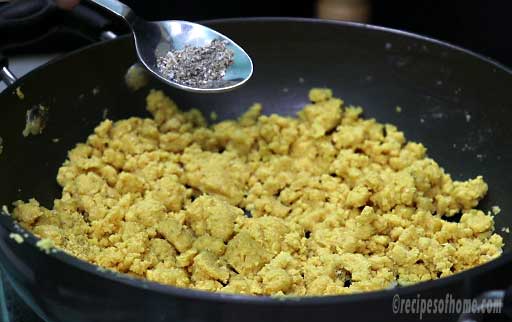 10. Also add 10 to 12 chopped dry fruits including cashew nuts, almonds, and golden raisins.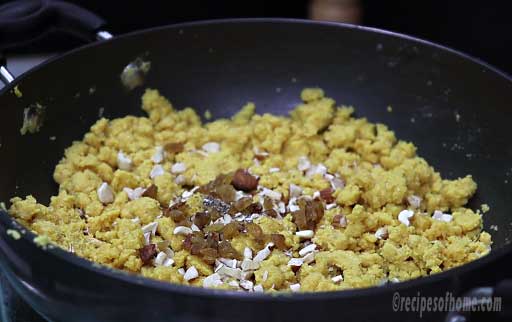 11. Now, mix everything for another 2 to 3 min.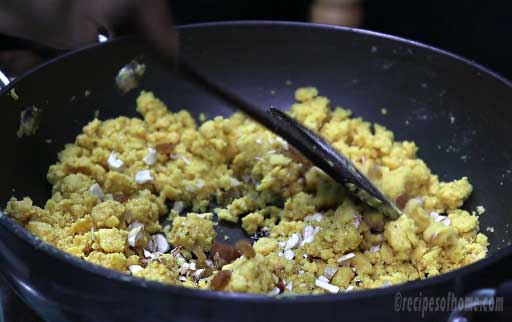 How to make laddu 
1. Now, to give a proper laddu shape first grease your palm and pick a small portion of the besan mixture on hand.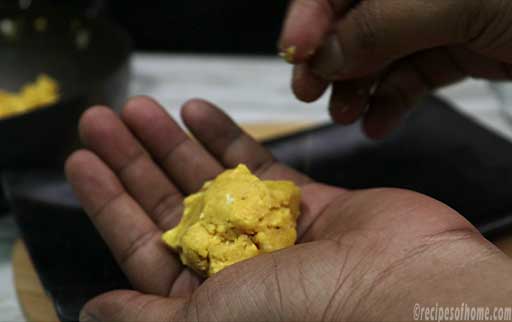 2. Then gently press the mixture in between the palm and rotate it in a circular motion until it gets a perfect round shape.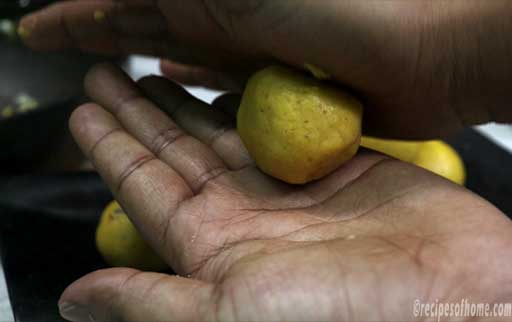 3. Here is the final look of a quick and tasty homemade besan ladoo recipe.

Besan Ladoo Recipe Card
Here is a quick overview of all the ingredients for besan ke ladoo list including quick step-by-step preparation of besan laddoo recipe shown in the recipe card.
Take note of all ingredient list.