Sponge rasgulla recipe – made of soft chenna ball and cook in boiling sugar syrup till they are soft and spongy, are one of the popular sweet recipes in India. This bengali rasgulla recipe is usually prepared during most festive seasons and weddings. In Bengal this white rasgulla sweet popularly known as rosogolla.In this post, you will learn how to make rasgulla?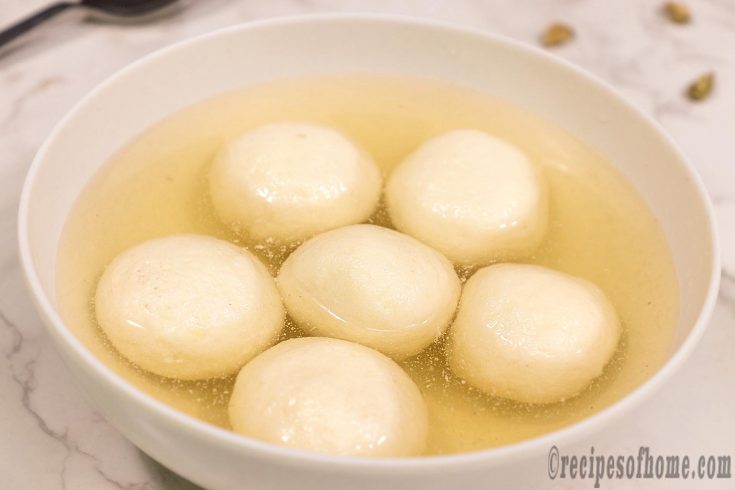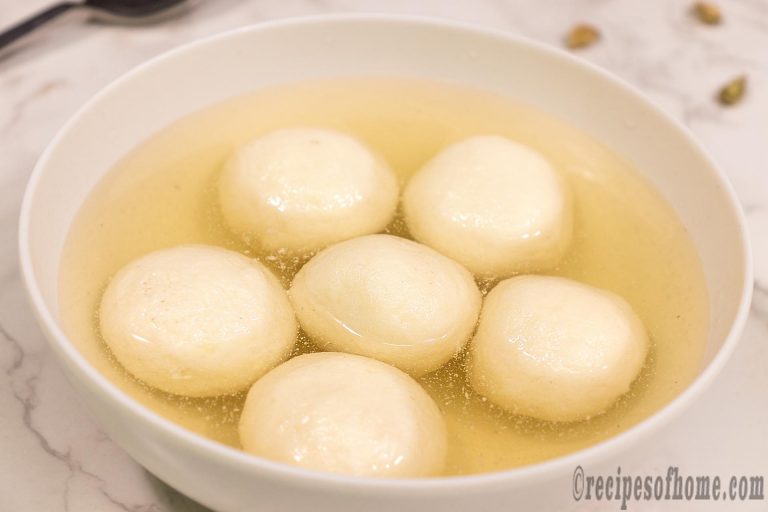 Note: if you are in a hurry, feel free to click on the following links to check your desired topic.If you'd like to see our in-depth step by step recipe preparation keep reading!
Though there is a various recipe of rasgulla available in India including chhena rasgulla, suji ka rasgulla, rasgulla with milk powder, etc, this bengali rasgulla sweet soft, spongy and very easy rasgulla recipe that can be made easily at home by following proper instruction.
If you beginner wants to make rasgulla at home then you are in right place to get the best result to follow the below step by step instructions thoroughly.
Who invented rasgulla
The white rasgulla was invented in 1868 by a famous sweet maker from West Bengal Nobin Chandra Das.
| You can also check below recipes

How rasgulla is made
Rasgulla is made by curdling the full-fat milk and then kneading the chenna or milk solid to make crack free white rasgulla ball which is cooked in rolling boil sugar syrup until light and spongy.
Why rasgulla get flat

Rasgulla gets flattened after cooking and cooling means chenna is dry which means moisture in chenna is very less, to fix this sprinkle 1 to 2 tsp water in it while kneading the chenna.
Why rasgulla turn yellow
Rasgulla turns yellow because of two reasons either milk is not suitable to make white chenna for rasgulla or you use organic,unsulphured sugar instead of white refined sugar.
Why rasgulla becomes hard
Rasgulla becomes hard and rubbery because of two reasons either you add more cornflour or maida and semolina than required while kneading, or mistakenly overcooked them at very high temperatures.
Tips to make sponge rasgulla recipe
Type of milk : To make a soft and sponge rasgulla recipe always use fresh full-fat milk or whole milk. You can also use non-homogenized unpasteurized milk from milkman.
Soft Chenna : To make soft, non-sticky, and smooth chenna for the bengali rasgulla recipe you have to knead it thoroughly for at least 6 to 7 min until you achieve that stage. 
Cooking Temperature : For cooking a soft and sponge rasgulla recipe you have to maintain uniform heat, and continuously boil the rasgulla ball in medium to high flame sugar syrup.
Sugar Syrup Consistency : Here we don't need any sticky consistency sugar syrup just follow simple water to sugar ratio i.e 3:1.
You May Like
How to make rasgulla
Here, the complete preparation of rasgulla recipe is classified into three simple categories first one is chenna for bengali rosogulla,
the second one is making crack-free white rasgulla ball and the last one is making sponge rasgulla recipe
so, let's make it now.
Chenna for bengali rasgulla recipe
1. At first, make soft chenna for rasgulla, pour 1 liter full-fat milk in a non-stick kadhai or deep bottom pan.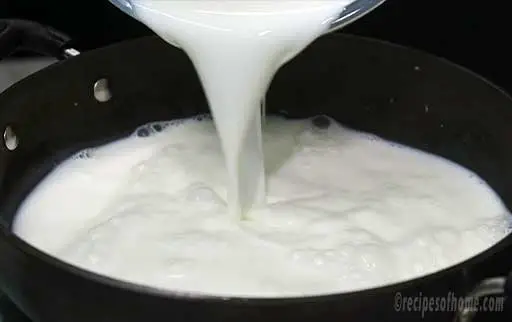 2. Let the milk comes to a boil on a medium to high flame.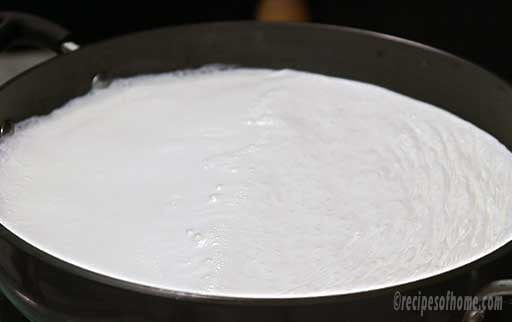 3. When the milk starts boiling turn the flame low and sprinkle 4 to 5 tbsp lemon juice or vinegar in it.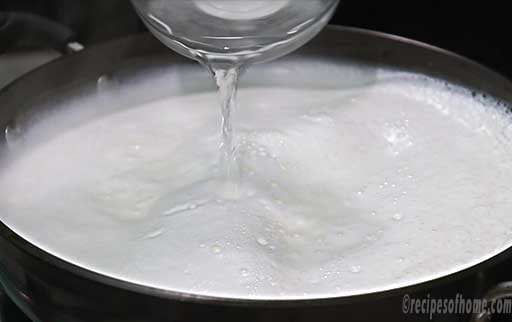 4. Now, gently stir the milk until it starts to curdle.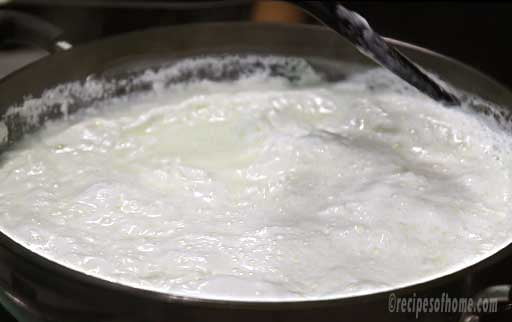 Note : If milk is unable to curdle then add more vinegar or lemon juice and continuously stir until it gets curdled.
5. When you saw white protein or chenna get completely separated from greenish water.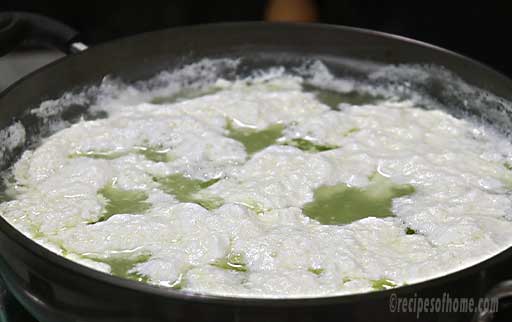 6. Then immediately turn off the flame and drain the chenna in a cloth over a colander.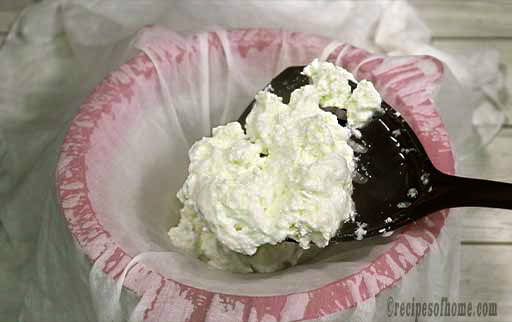 7. Now, rinse the chenna thoroughly with icy cold water which not only removes its acidic flavour but also makes the chenna soft.
8. Next, wrap the chenna in a cloth and gently squeeze it to remove excess water from it.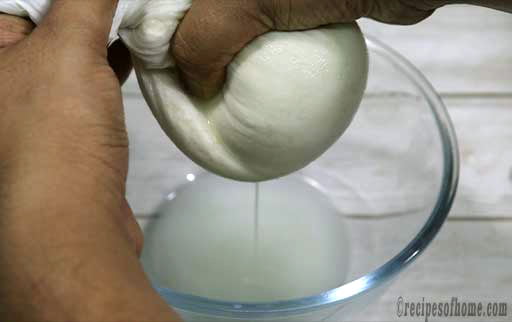 Note : Don't squeeze the chenna completely and make it completely dry which makes your rasgulla hard and rubbery. The chenna should be soft, and smooth and no dripping water from it.
9. Furthermore, hang the chenna in that cloth for 50 to 60 min.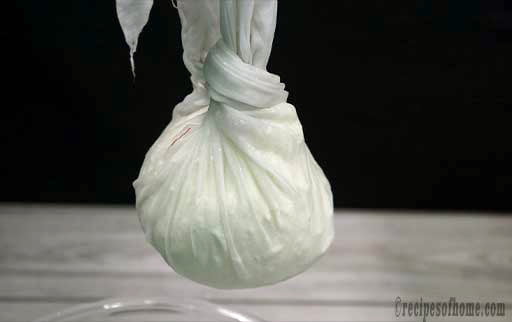 Crack free white rasgulla ball
1. For making crack free white rasgulla ball, take out the chenna from the cloth and keep it on a large plate or food plater for kneading.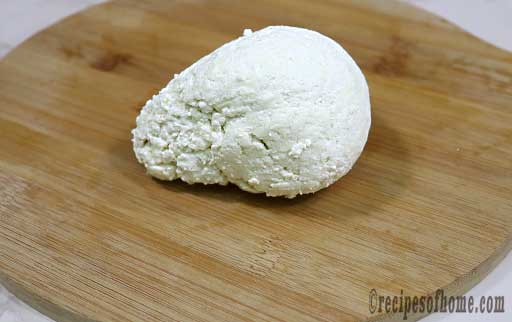 2. Now, sprinkle 1 tsp cornflour powder or maida which helps to make the rasgulla proper shape.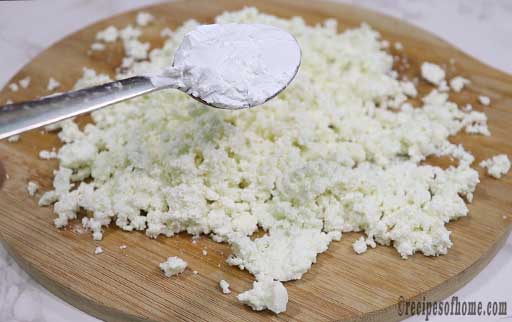 3. Next, gently knead the chena thoroughly with the help of the palm.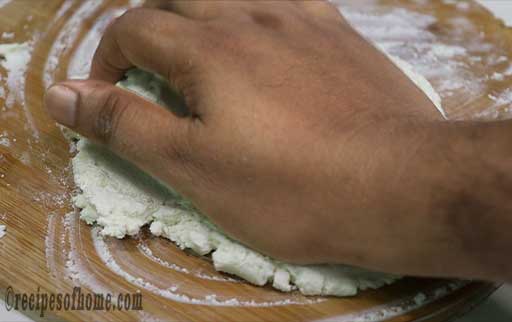 4. At this stage, you get soft, non-sticky, and smooth chena. It takes almost 6 to 7 min.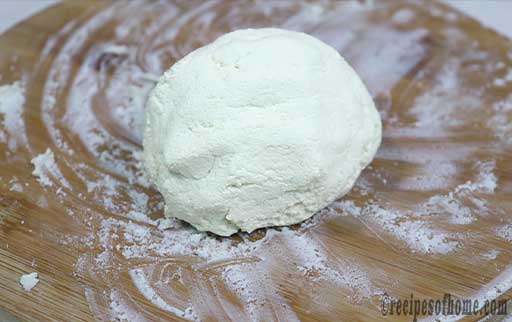 5. Furthermore, pick a small portion of chena.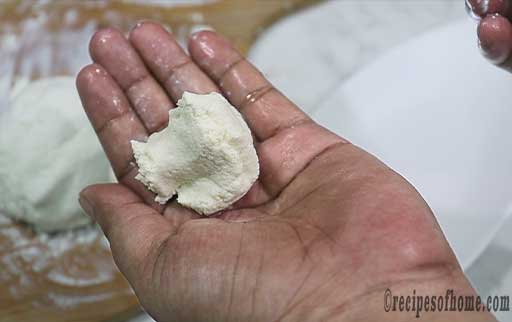 6. Gently rotate it round wise direction between the palm and make crack-free rasgulla ball.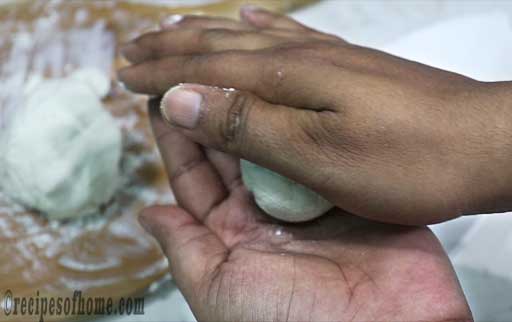 7. Have a look at this, if your pan is not very big don't make a very large rasgulla ball as it will become double in size when cooked.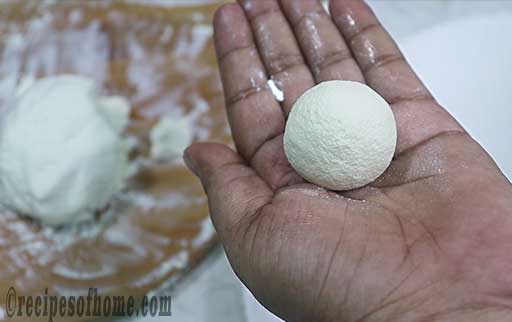 8. Now set aside this white rasgulla ball for later usage.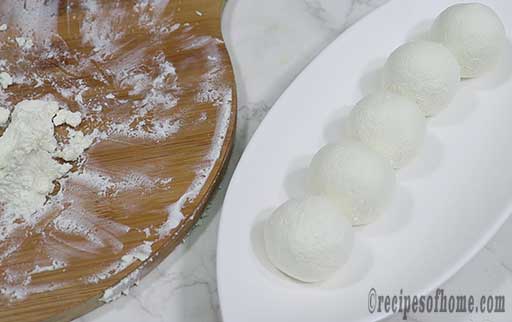 Making sponge rasgulla recipe
1. Now for making the sponge rasgulla recipe we first make a sugar syrup for this pour 1 litre of water into the pan.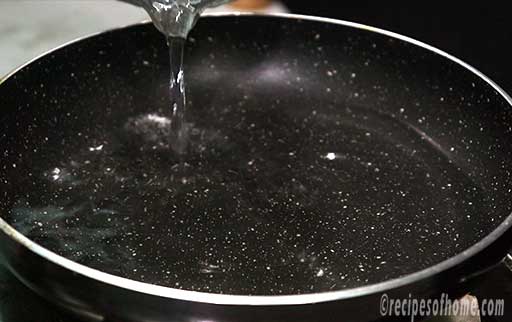 2. Then add 350 grams of white sugar to it.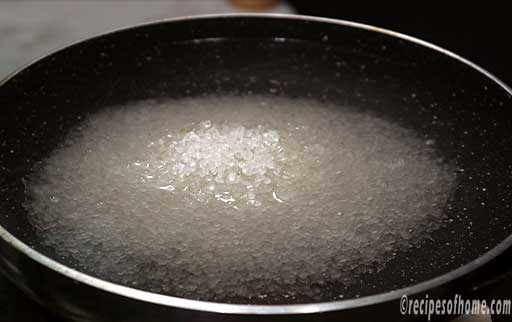 3. Next, stir gently and dissolve the sugar completely in medium to high flame.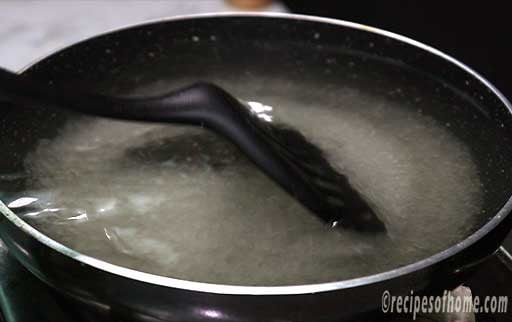 4. After 3 to 4 min, sugar syrup starts boiling, make sure the flame is medium-high.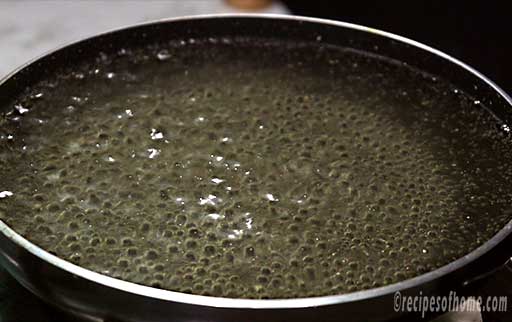 5. Now add 3 to 4 green cardamom pods.

6. After 4 to 5 min when sugar syrup becomes a rolling boil.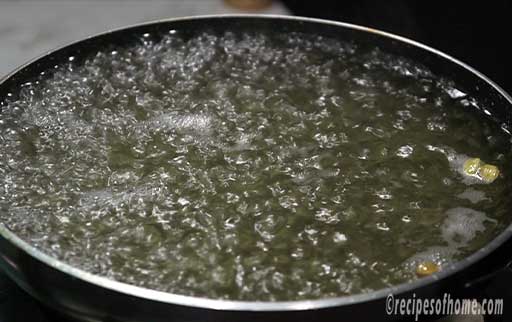 7. Gently add a sponge rasgulla ball to this boiling sugar syrup.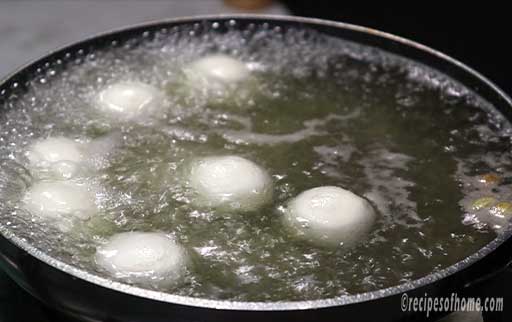 8. Now cover the lid and boil the rasgulla ball on medium to high flame for at least 10 to 12 min.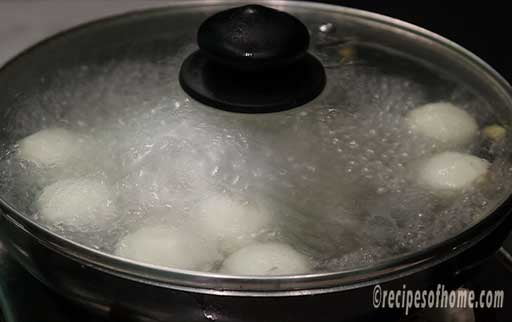 9. After 10 to 12 min this white rasgulla becomes double in size.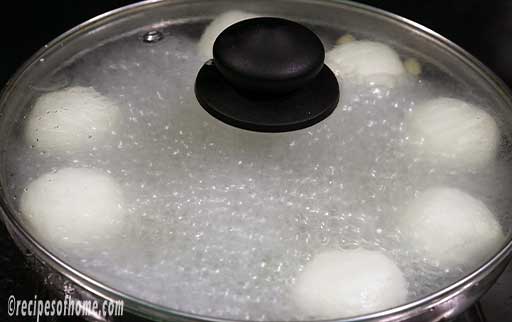 Note : Turn off the gas but don't open the lid at this stage, wait for a further 5 to 6 min to reduce the temperature, it helps to avoid shrinking the rasgulla.
10. Cool this hot white rasgulla ball in icy cold sugar syrup which helps to retain its shape.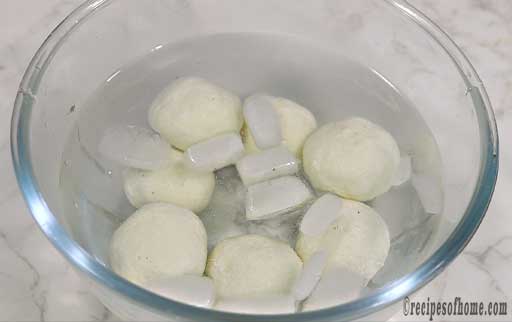 Rasgulla Recipe Card
Here is a quick overview of all the ingredients for rasgulla recipe including a quick step by step preparation of bengali rasgulla recipe shown in the recipe card.
Take note of all ingredient lists.