Basundi Recipe | How to make basundi sweet
Basundi recipe is one of the popular Indian sweet recipes in which a mixture of full-fat milk and condensed milk slowly cooked until it gets thickens, flavored with some cardamom powder and saffron and garnish with some chopped dried fruits. This thick basundi sweet dish is one of the popular sweet recipes in Indian festive seasons. In this post, you will learn how to make basundi sweet ?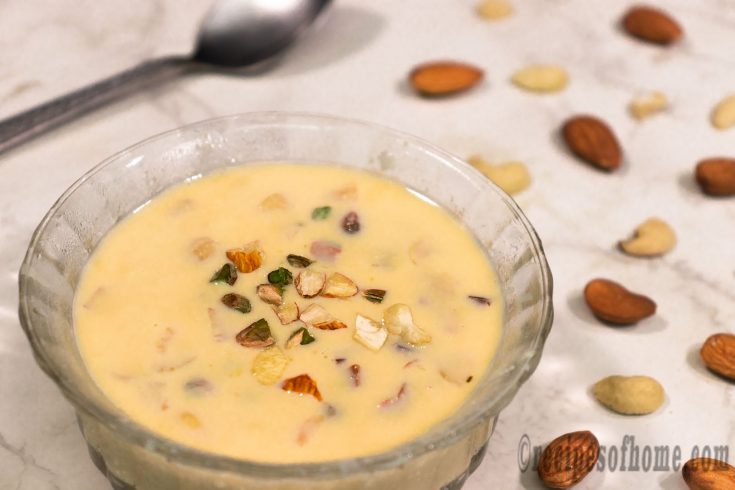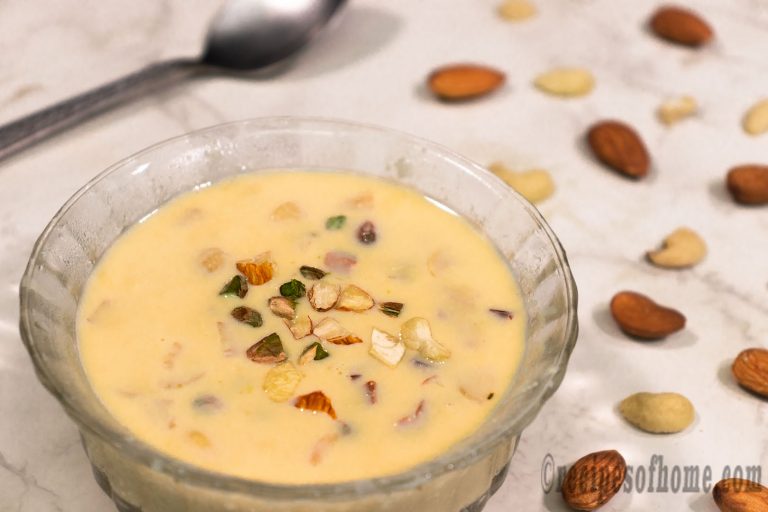 Note: if you are in a hurry, feel free to click on the following links to check your desired topic.If you'd like to see our in-depth step by step recipe preparation keep reading!
This recipe for basundi sweet is very delicious and very easy to cook at home by only using a few ingredients. This basundi recipe with condensed milk is one of the simplest sweet dishes in the Indian subcontinent, that usually made during most of the festive seasons.
What is basundi

The recipe of basundi is made of full-fat milk, condensed milk flavored with green cardamom powder, a pinch of nutmeg powder, saffron, and garnish with some chopped dried fruits including pistachios, almond, cashew nut.
|You can also check below recipes

What is the difference between basundi and rabri
Though basundi and rabri made of the same ingredients but the main difference is consistency in basundi consistency of milk is comparatively thinner than rabri.
How to serve basundi sweet
The best way to serve milk basundi as a chilled dessert.with topping some chopped dried fruits on it.
Tips to make basundi recipe

 
Type Of Milk : To make the basundi recipe only use full-fat milk which ultimately helps to thickens this delicious dessert.
Cooking Method :

To perfectly cook milk basundi without burning and sticking at the bottom of the pan, stir continuously in medium to low flame.
 Additional Flavors :

For enhancing flavor in basundi sweet add a few teaspoons of cardamom powder, nutmeg powder, a few strands of saffron, garnish with chopped dried fruits.
You May Like
How to make basundi
Try this delicious sweet dish with complete preparation of basundi recipe step by step with photo
Making basundi recipe 
1. For making these delicious basundi sweets pour 500 ml full-fat milk in a nonstick heavy bottom pan,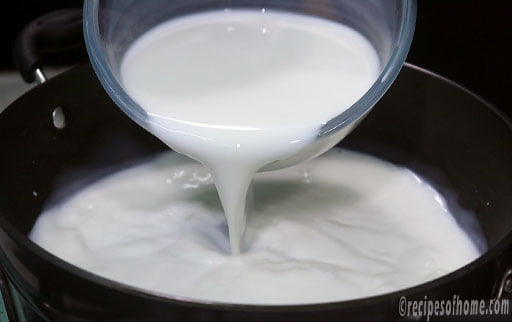 2. Boil the milk in medium flame.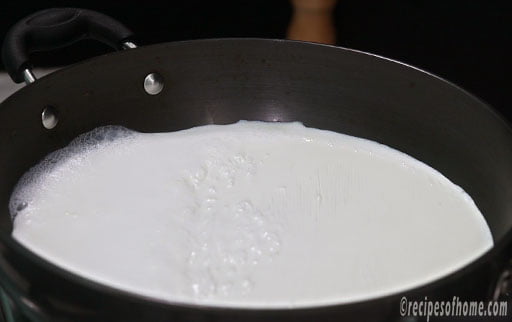 3. When milk is boiling stir the milk every 1 to 2 min which helps to prevent the burning of milk from the bottom of pan.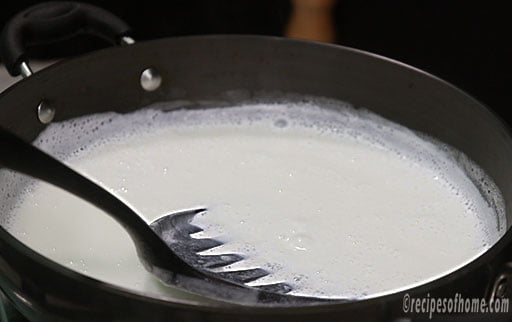 4. At this stage take out a small amount of hot milk and add 6 to 7 strands of saffron in it. Keep it at the side for later usage.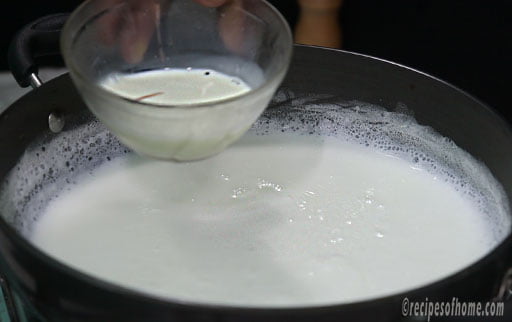 5. Keep boiling the milk for 8 to 10 min and stir continuously.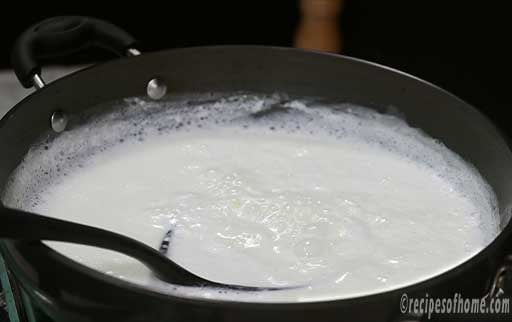 6. Now add 200 ml condensed milk in it.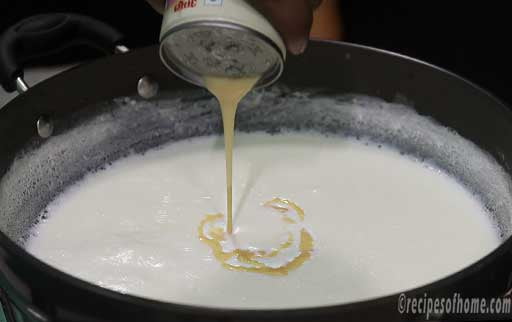 7. Boil this mixture for at least 8 to 10 min in medium to low flame.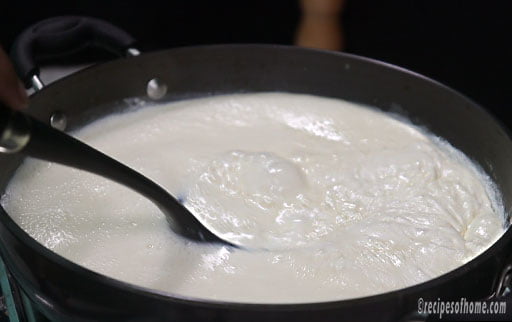 8. Keep string in between which prevents any stickiness at the bottom of the pan.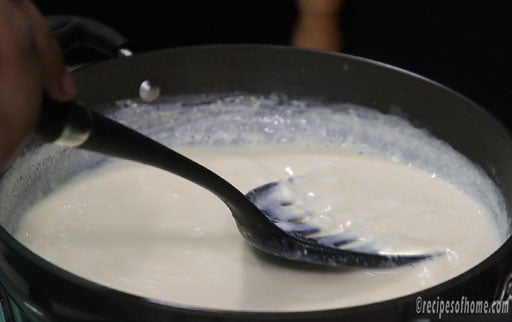 9. At this stage, basundi gets thicken and reduced half of its quantity.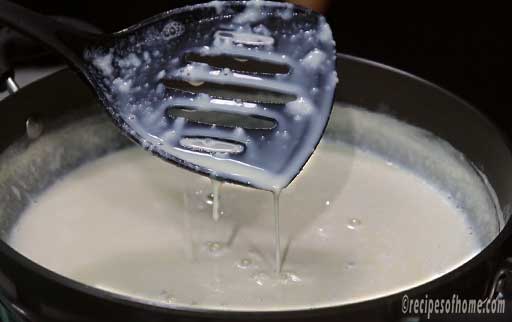 10. Don't forget to scrap side of the pan and add it with milk.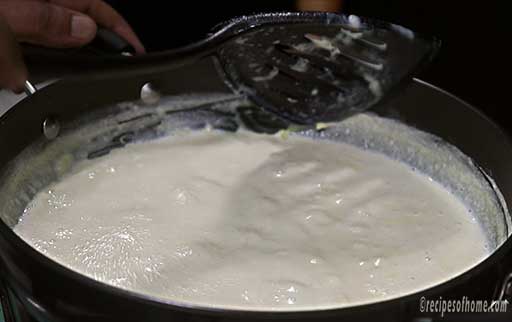 11. Now pour saffron milk in it.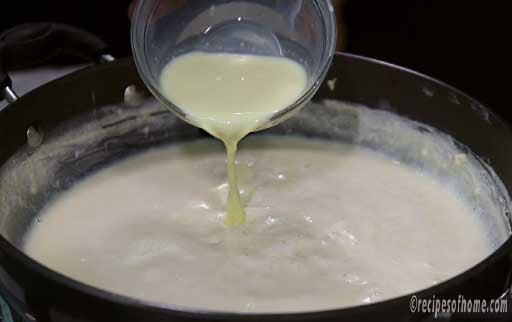 12. Also, add 1 tsp green cardamom powder.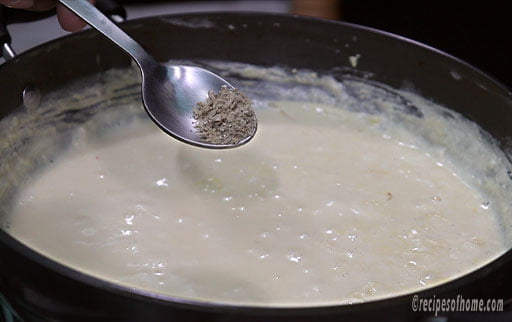 13. Furthermore add some chopped dried fruits including 1/2 tbsp almonds,1/2 tbsp cashew nut,1/2 tbsp pistachios.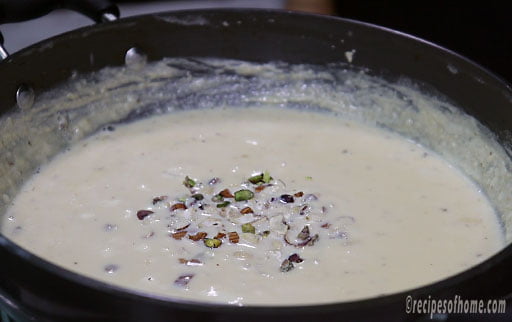 14. Now, mix everything and simmer for another 2 to 3 min. Then turn off the flame.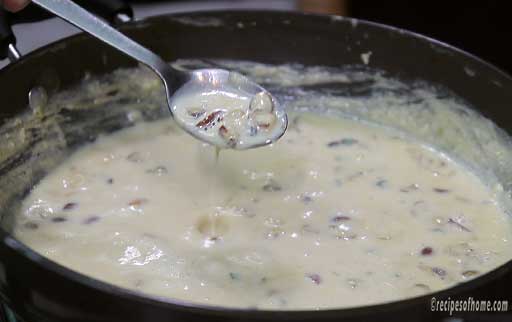 Note : You can transfer it in a bowl and cool completely in the refrigerator for at least 2 to 3 hours to eat as a chilled basundi sweet. 
Easy Basundi Recipe Card
Here is the quick overview of all the basundi ingredients list including quick step by step preparation of milk basundi shown in the recipe card.
Take note of all ingredient lists.