Chicken burger recipe is one of the delicious burger recipes among various fast food lovers where homemade chicken patties place inside a toasted burger bun with veggie slices and mayonnaise dressing. If you really want to cook chicken burger at home just like fast food restaurants then you are in right place. To cook the best burger recipe follow the below step by step instructions on how to make chicken burger?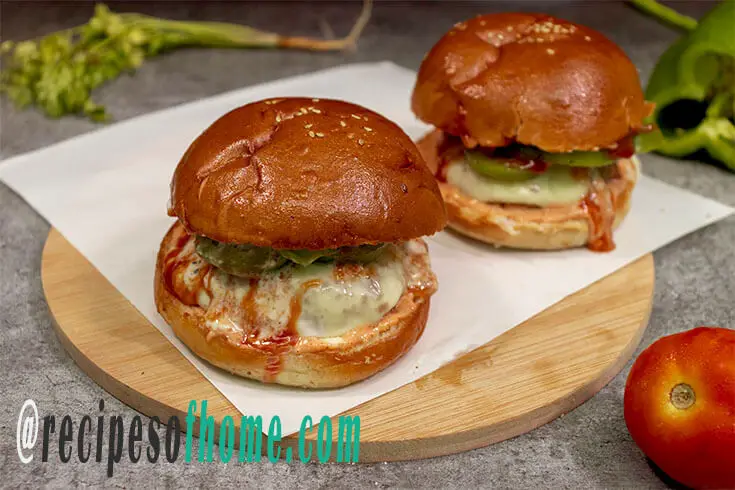 If you are beginner and want to cook chicken burger first time then don't worry you are in right place. Here I will show you step by step instructions to prepare chicken burger recipe.
Note : if you are in a hurry, feel free to click on the following links to check your desired topic.If you'd like to see our in-depth step by step recipe preparation keep reading!
What is chicken burger
Chicken burger recipe is one of the popular burger recipes among fast food lovers.
This homemade chicken burger recipe can be made with crispy chicken patties, a mayonnaise dress, circular-cut veggies.
Sometimes chicken patties can be made through baking, but I prefer the frying method either shallow fry or deep fry, as it makes the chicken patty super crisp.
Must Check Recipes
What to serve with chicken burger
This chicken burger recipe is the best snack dish for your family. Make sure after assembling chicken burgers serve them immediately with tomato ketchup, mustard sauce and some french fries, soft drinks.
Tips to make homemade chicken burger recipe



Cooking Chicken Patty : For cooking chicken for chicken patty make sure you use minced or keema chicken and after shaping the chicken patty keep them in the freezer to get the proper shape.

Crispy chicken patty :

To prepare crispy chicken patty to make sure to add the required amount of breadcrumb, semolina, all-purpose flour or maida and cornstarch flour in chicken mixture. Also, dip in flour slurry and crumb coat making them crispy while frying.
Sauces For Burger : To enhances the flavour in your homemade burger recipe I show you two best burger sauce recipe which I like most and you can easily make it at home.
Topping : I like cheesy chicken burger recipe so i add cheese slices to chicken patties after cooking. I also circular cut capsicum and tomato, onion add on chicken patty while assembling.
You May Like
Preparation for chicken burgers recipe
For preparing the chicken burger recipe first prepare bread crumbs then make batter for chicken patties.
Prepare bread crumbs
1. In a large bowl add 50 grams of maida and 50 grams of cornstarch powder.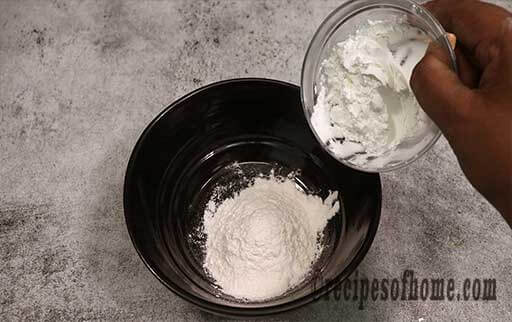 2. Then add 100 grams of bread crumbs.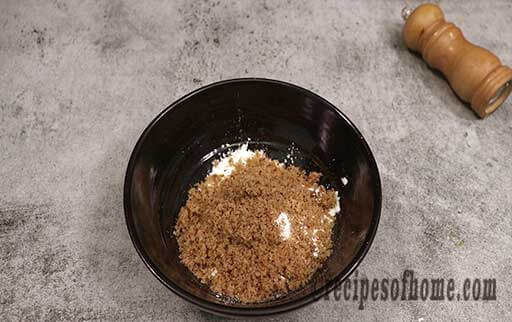 3. Now mix them properly.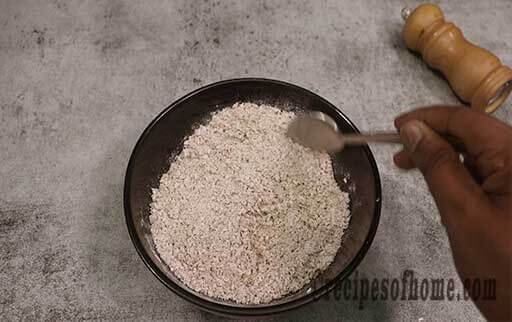 Making batter
1. Now to make the batter for chicken burger in a separate bowl pour 3 tablespoons of cornstarch powder, 3 tablespoons all-purpose flour, and 2 tablespoons of sooji or semolina.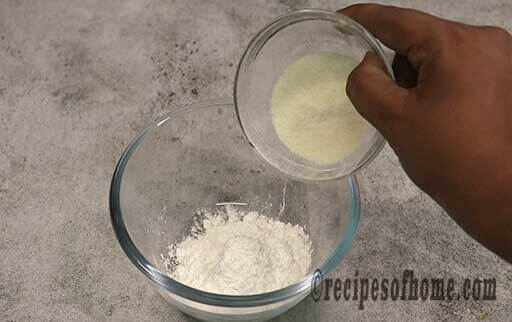 2. Then add 1 whole egg for proper binding.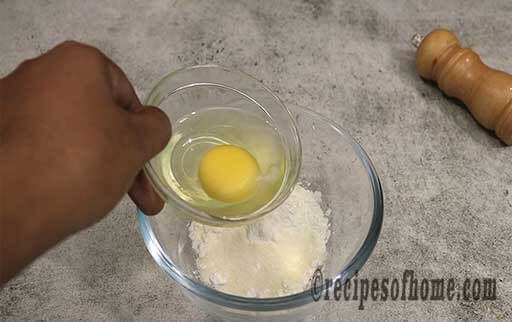 3. Next pour 100 ml water stir and mix everything to get lumps free batter should be medium consistency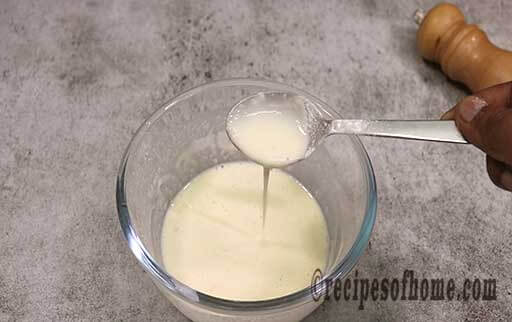 How to make burger sauce
Burger sauce is the most important thing in any burger recipe, it not only tastes delicious but also gives texture to your burger. Here have shown two easy burger sauce recipe one is mayo mustard sauce and the second one is chilli mayo sauce
Homemade burger sauce recipe
1. At first for making a simple but tasty homemade burger sauce recipe in a bowl add 4 tablespoons of mayonnaise, and 2 teaspoons of granulated sugar.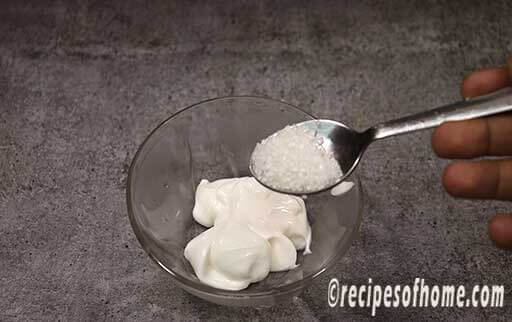 2. Now add 1 teaspoon crushed muster seed,  1 teaspoon black pepper powder and 1 tablespoon oil.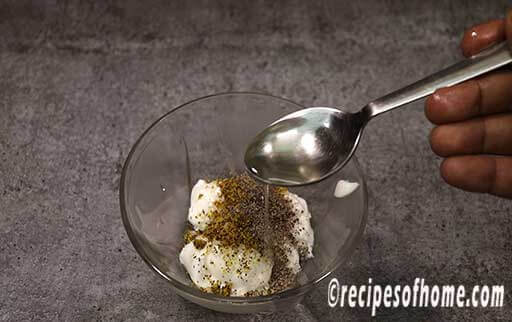 3. After that add 2 tablespoons of grated cabbage, 1 tablespoon of lemon juice and 2 teaspoon salt.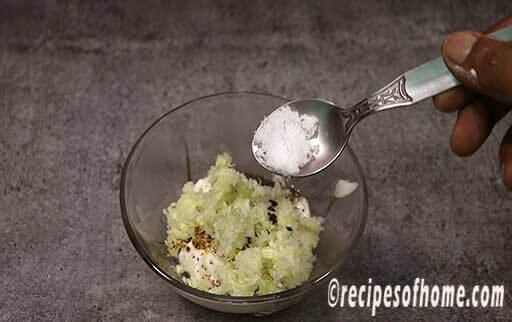 4. Now mix everything and our simple burger sauce recipe is complete. Check the taste of burger sauce if anything is required add it. Set aside for later usage.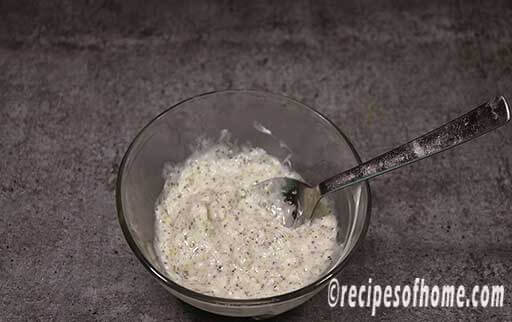 Spicy burger sauce recipe
1. Now for making a spicy burger sauce recipe in a bowl add 5 tablespoons of mayo, 2 tablespoons of tomato ketchup and 2 teaspoons red chili powder, 2 teaspoons of lemon juice.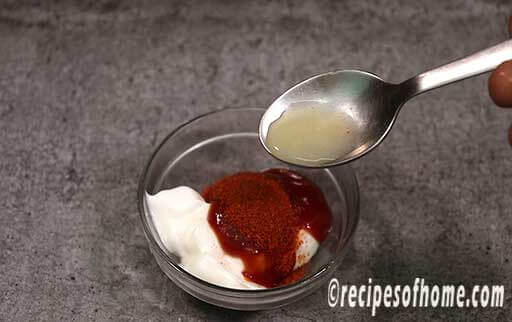 2. Now mix them together and our spicy burger sauce recipe is ready.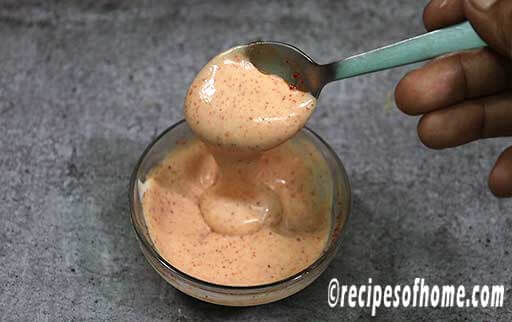 How to make chicken patty



Here to make crispy chicken patties for burgers we first prepare a patty mixture then crumb coat before frying.
Making chicken patty mixture
1. Now for making the chicken patty mixture in a large bowl add 400 grams of chicken keema from chicken breast, 4 tablespoons of cornstarch powder, 2 teaspoons of black pepper powder, and 2 teaspoons of salt.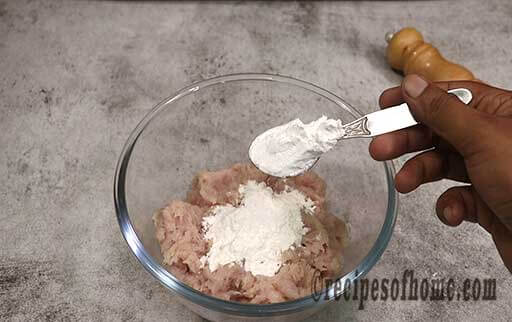 2. After that add 2 teaspoons red chili powder, 1 tablespoon ginger garlic paste, and 3 tablespoon coriander leaves.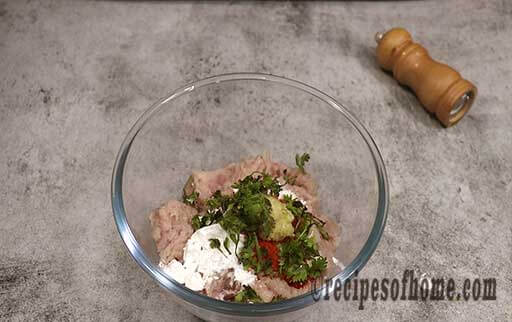 3. Now mix everything properly and our chicken patty mixture is ready.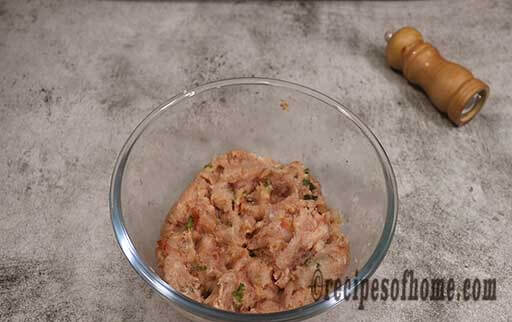 Breading for chicken patties
1. Now for breading chicken patties first apply oil on the palm and make a Tikki shape from the chicken patties mixture then gently place on a plate and keep it freezer for at least 3 hours.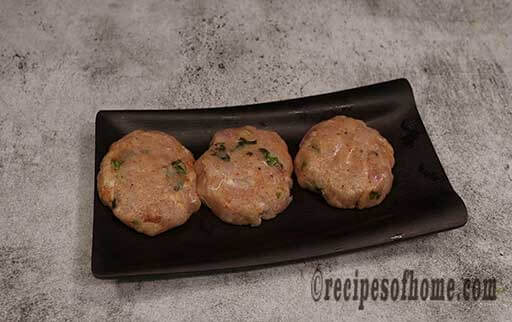 2. After taking out chicken patties from the freezer dip them on the batter which we made earlier.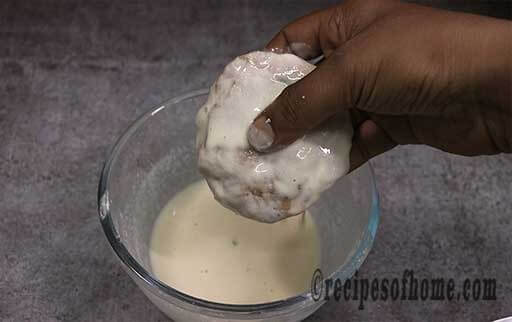 3. Then immediately place in breadcrumb bowl and coat chicken patties evenly set aside for frying.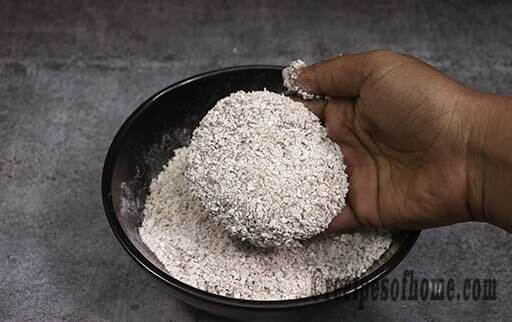 How to make chicken burger
Here, the complete recipe of chicken burger preparation is classified into three simple categories first one is frying chicken patties,
second one is assembling chicken burger recipe.
so, let's make it now.
Frying chicken patties for burger recipe



1. Now for frying chicken patties for the burger recipe heat 3 tablespoon oil in a pan, place at least 2 chicken patties and shallow fry on medium-high flame.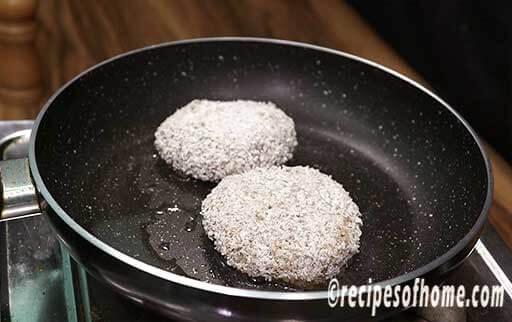 2.  When one side is completely cooked, crispy and golden brown flip the chicken patties to the other sides. At this stage, you can see our chicken patties become golden brown from both sides.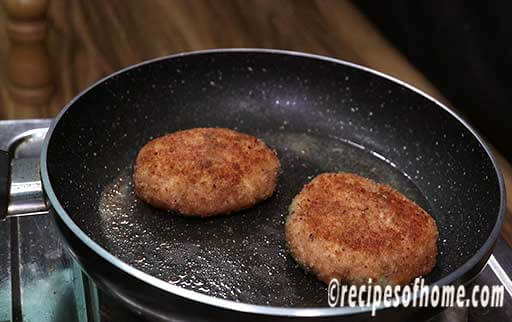 3. After that put a cheese layer on the veggie patties. Then cover the pan for 3 min till the cheese melt on the patties.
Assembling chicken burger
1. Now for assembling chicken burger recipes first toast the burger bun in butter.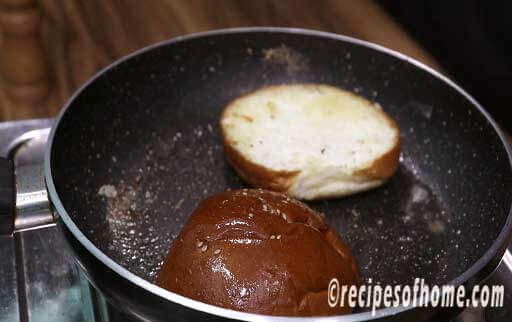 2. Then apply spicy burger sauce on the lower part of the burger bun.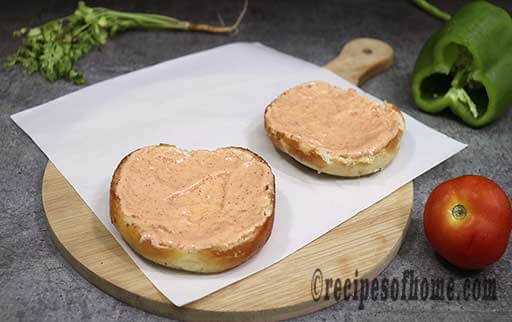 3. Then place the crispy chicken patty on spicy burger sauce.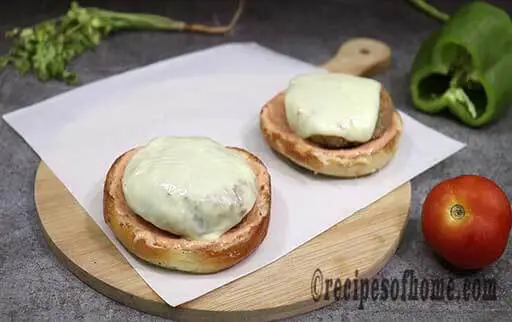 4. After that add slice of capsicum, tomato and mayo mustard sauce on top of the veggies.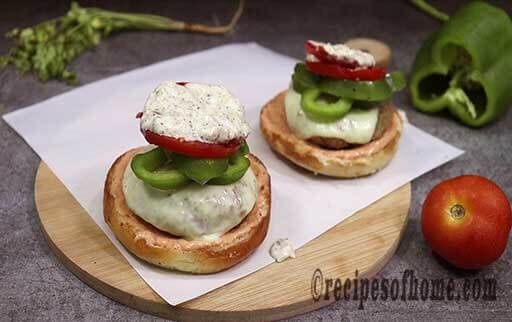 5. Apply tomato ketchup on the top layer of the burger bun.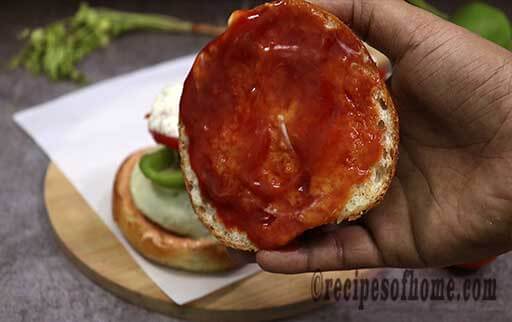 6. Finally place the top layer burger bun and gently place all of the ingredients together and our homemade chicken burger recipe is completed.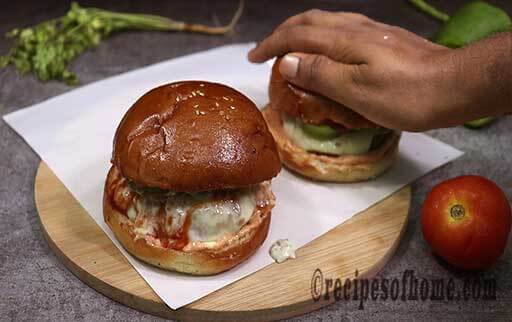 Chicken burger recipe card
Here is a quick overview of all the ingredients of chicken burger including quick step by step preparation of chicken burger recipe shown in the recipe card.
Take note of all ingredient lists.