Chicken vindaloo recipe is a popular Portuguese influenced Indian chicken curry dish where chicken is first marinated with spicy vindaloo paste and then slowly cooked in.This chicken vindaloo curry is not only tastes delicious but also very easy to cook at home. To cook this delicious goan chicken vindaloo recipe at home follow the below step-by-step instructions on how to make chicken vindaloo.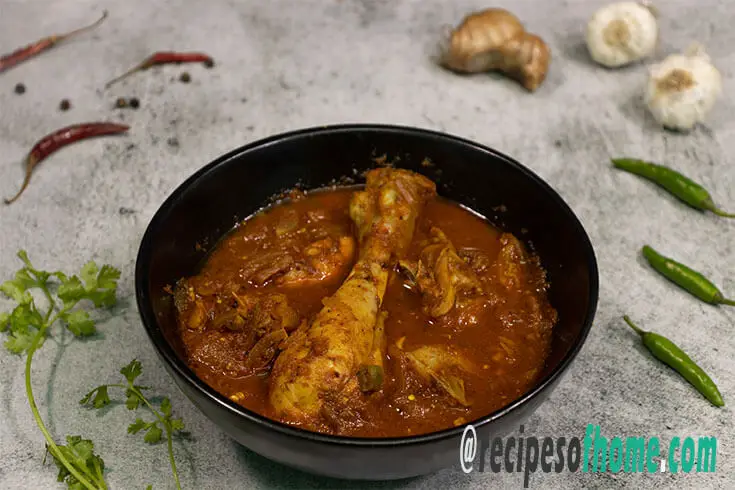 The unique thing about this chicken vindaloo curry is the freshly made Vindaloo paste, which is made with dry kashmiri red chili, white vingar, and a few aromatic whole spices.
Note : if you are in a hurry, feel free to click on the following links to check your desired topic.If you'd like to see our in-depth step-by-step recipe preparation keep reading!
What is vindaloo
' Vindaloo ' is a popular spicy Indian curry dish from Goa, that is completely inspired by Portuguese cuisine. In vindaloo curry meat is first marinated in a highly flavorful spicy mixture with vinegar, then slowly cook them properly.

Though there are various types of vindaloo recipes you can easily find depending upon your choice of meats, for example, pork, chicken, goat, and beef, and even for vegetarian versions potatoes are also used.

What is the vindaloo origin
Though there are different stories regarding Chicken vindaloo origin. The name ' Vindaloo ' is actually coined from the Portuguese dish called carne de vinha d'alhos which translates to ' meat in garlic wine marinade '.
The story belongs to the 15th century, at that time a group of Portuguese sailors carried pork to sustain them on their long journey to Goa ( state on the western coast of India )
To preserve the pork properly, they marinate it in garlic and wine.

Over a period of time, Goan gave this dish an Indian touch by introducing onions, tomatoes, palm vinegar instead of wine, and spices to this dish to create what we now call Vindaloo or Vindalho.
Must Check Recipes
What to serve with chicken vindaloo



Though traditionally, in Goa, chicken vindaloo is served with a bread name Poi. If you want to do the same you can also serve it with dinner rolls, pav, or white bread.
Otherwise, you can serve chicken vindaloo with steamed basmati rice or jeera rice even roti, butter naan, and paratha goes well.
How to store chicken vindaloo
You can safely store chicken vindaloo in an airtight container in the refrigerator for 2-3 days.
Make sure you add some water depending upon consistency and reheat it in a pan or microwave before serving.
Tips to make goan chicken vindaloo recipe



Vindaloo masala: To cook the best goan chicken vindaloo recipe you must use properly blended vindaloo masala which is made from whole spices, red chillies and vinegar
Choice of tomato: Though in authentic vindaloo recipe tomato is not used, but i use it here as a tomato puree to balance the extreme hotness of the spices.

Choice of chicken: You must use young bone-in chicken to prepare this dish at home.

Type of vinegar: Traditionally in goan chicken vindaloo recipe palm or coconut vinegar is used. But i don't have it in my pantry so i use plain white vinegar. To balance the taste i add a tablespoon of sugar.
Marination: Matination plays a very important role to prepare chicken vindaloo curry. It not only helps to cook chicken faster but also enhances the flavour. The best marination time is overnight marination if not possible you can do at least 2 hours of marination in the refrigerator.

You May Like
How to make chicken vindaloo



Here, the complete recipe of chicken vindaloo preparation is classified into three simple categories first one is preparation for vindaloo masala,
second one is marination for chicken vindaloo curry, and third one is cooking goan chicken vindaloo recipe.

so, let's make it now.
Preparation of vindaloo masala
1. At first for preparing vindaloo masala in a small mixing bowl first add 15 to 20 dried red chilli, and 50 ml warm water.

2. Then add 3 tablespoons of vinegar to it. Mix properly and keep them aside for later usage.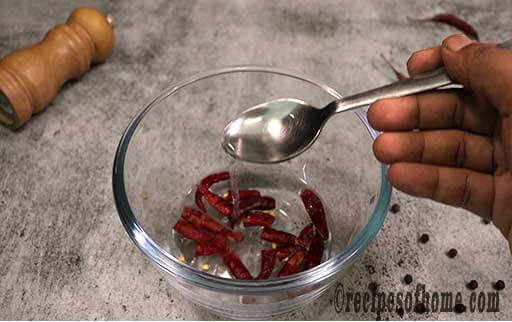 3. Now in a frying pan add 2 tablespoons coriander seed, 10 to 15 peppercorns, 1/2 teaspoon mustard seed, 4 cloves, 4 green cardamoms, and 2-inch cinnamon.

4. After that dry roast the whole spices on medium to low flame till you can feel the raw smell of the spices.

5. Furthermore in a blender jar pour soaked red chili along with vinegar, water and roasted whole spices.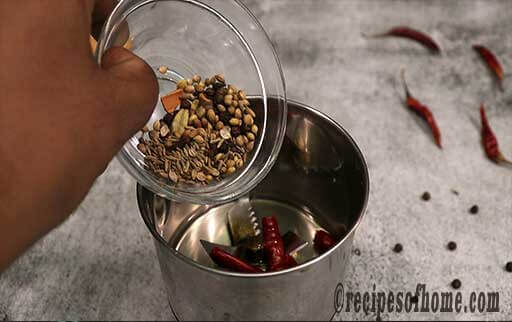 6. Next blend them to make fine vindaloo masala.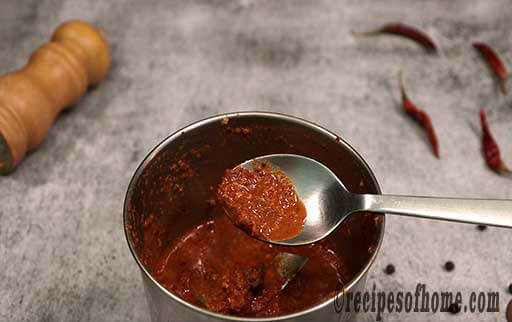 Marination for chicken vindaloo curry
1. Now marinate for chicken vindaloo curry in a large mixing bowl add 600 grams of bone-in chicken, 1 tablespoon oil and 2 tablespoons of vindaloo masala.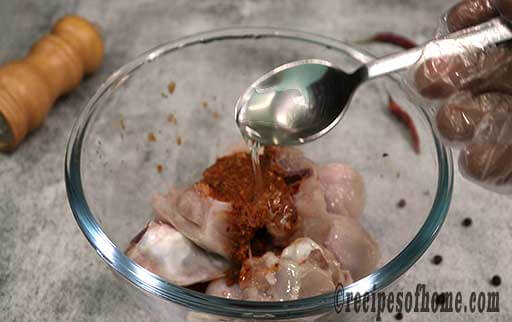 2. Then mix all of them together. You can keep this chicken marination in the refrigerator for at least 1 hour. If you have time then you can keep them overnight.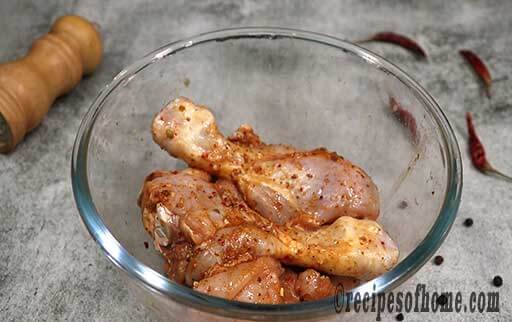 Cooking goan chicken vindaloo recipe
1. Now for cooking goan chicken vindaloo recipe first add 3 tablespoons of oil, and spread it properly.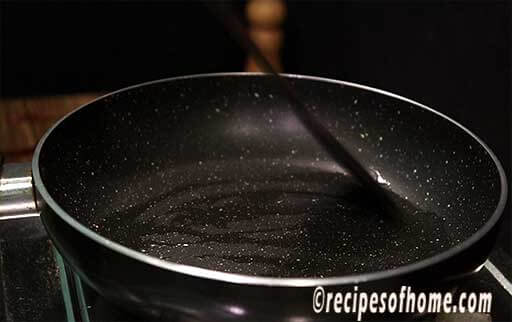 2. Then add 2 large slices of onions in the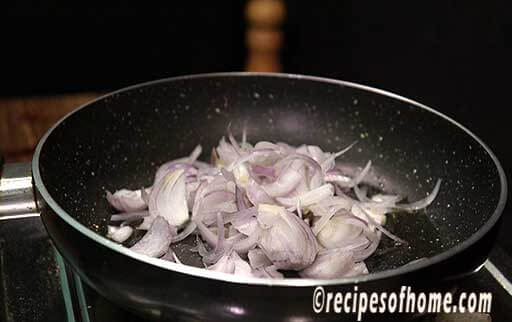 3. Saute the onions in medium to high flame till the onions become golden brown.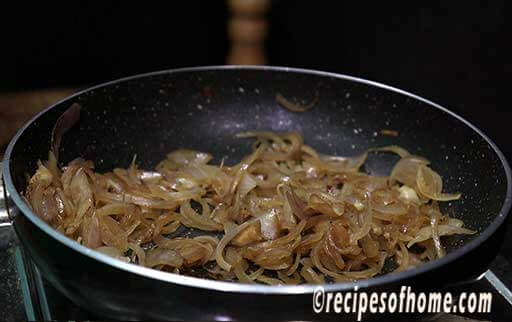 4. After that add 1 tablespoon of ginger garlic paste, and 4 to 5 chopped green chilis cook them for 2 min till raw smell of ginger garlic paste completely goes away.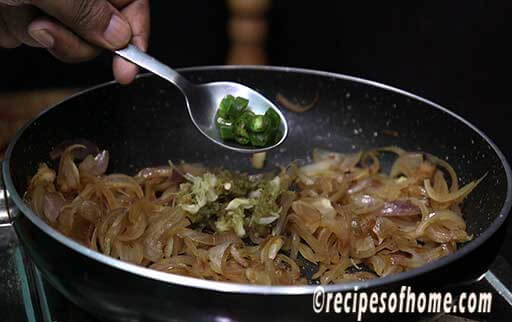 5. Next pour 3 large tomato puree, Cook tomato puree further 10 to 15 min till the raw smell of tomatoes eventually vanishes.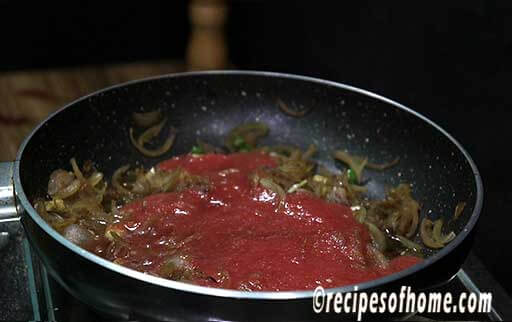 6. Now add marinated chicken to pan, Pour a dash of water then saute the marinated chicken for 10 min in medium flame.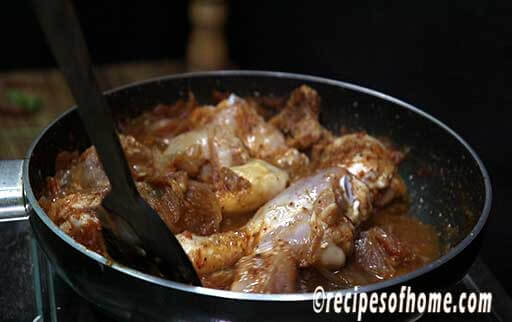 7. After that add the remaining vindaloo masala and cook this chicken vindaloo curry for further 5 min on medium flame.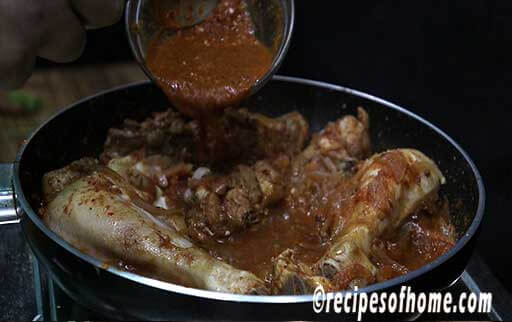 8. Also add 1 tablespoon of vinegar.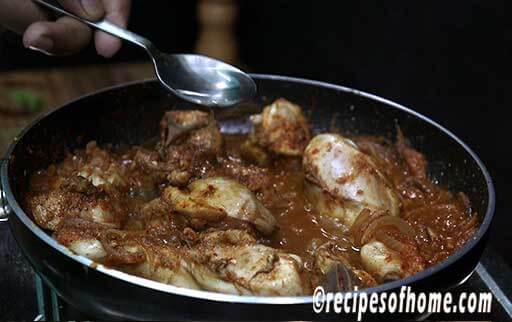 9. Sprinkle 1/2 tablespoon of sugar to balance the taste of chicken vindaloo curry.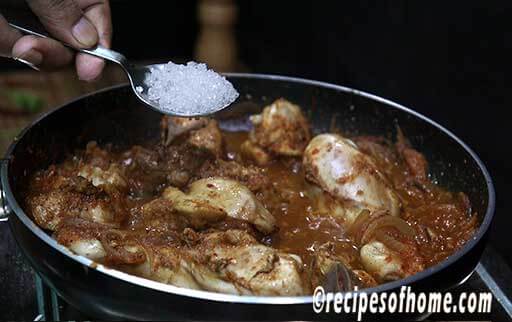 10. Next sprinkle 1/2 teaspoon of turmeric powder, and salt to taste.

11. Now pour 250 ml water, you can adjust the water quantity depending upon the vindaloo curry requirement.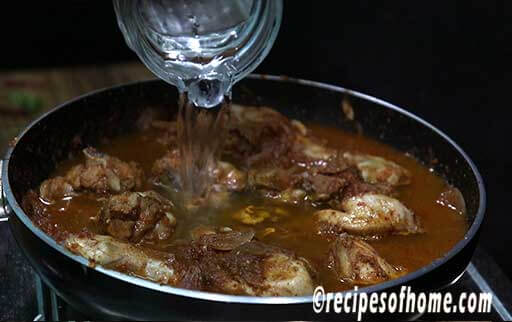 12. Finally cover and cook chicken vindaloo curry on medium to low flame until chickens are properly cooked.It usually takes 20 to 30 min.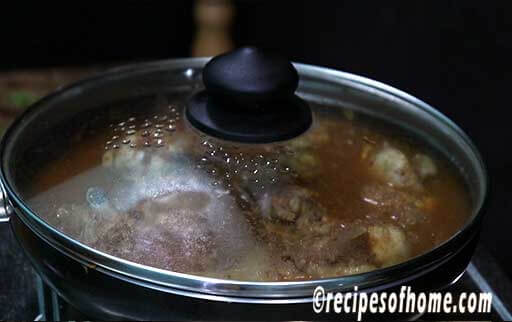 13. Our chicken vindaloo recipe is completed before serving sprinkle some fresh coriander leaves on it.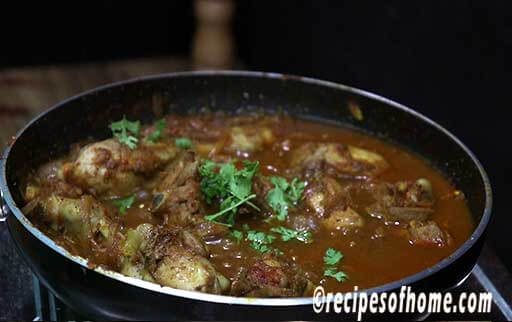 Chicken vindaloo recipe card

Here is a quick overview of all the chicken vindaloo ingredients including quick step by step preparation of chicken vindaloo recipe shown in the recipe card.
Take note of all ingredient lists.