Chana dal recipe | Chana dal fry recipe | How to make chana dal recipe
This chana dal recipe made with bengal gram which cooked with onion, tomatoes and some aromatic spices to make flavorful.If you want to eat aromatic but high in protein packed indian lentils without much effort then must try this chana dal fry recipe. Follow below step by step instructions on how to make chana dal recipe?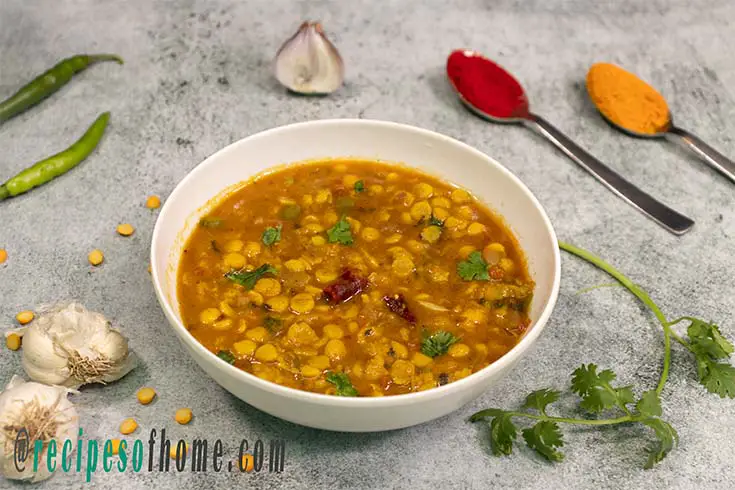 This chana dal fry recipe is not only tastes delicious but also very easy to cook at home.To cook perfectly chana dal recipe, you have to properly follow the below step by step instruction.
Note : if you are in a hurry, feel free to click on the following links to check your desired topic.If you'd like to see our in-depth step by step recipe preparation keep reading!
What is chana dal?
In indian chana dal popularly known as bengal gram or split chickpeas. These chana dal comes from whole black chickpeas or kala chana where outer husk is removed and split into pieces.
Besides this chana dal has lots of benefits as they are rich source of protein ,high in fiber and zinc and almost fulfills our daily protein intake in low carb diet.
What to serve with chana dal fry recipe?
If you cook this simple chana dal fry recipe for your family then chana dal is best served with steamed basmati rice or jeera rice even rotis or naan goes well along with cucumber raita and some papads and some vegetable dish.

Tips to make best chana dal fry recipe



Choice of lentils : Always try to buy fresh lentils available from the market don't buy any old lentils because it will take to much time to cook.
Choice of veggies : Always try to use fresh ripe tomatoes either chopped or puree for the base of this chana dal fry recipe.For veggies like carrots, ridge gourd , bottle gourd try to cook them with lentils in pressure cooker.
Cooking method :

If you soak chana dal for at least 1 to 2 hours then it will cook faster.First pressure cook the chana dal and mashed it them add in tempered masalas in pan.
Spices : Use only good quality spices from any popular brand available in the market.For bright color i use kashmiri red chili powder, some kasuri methi and coriander leaves for enhancing aroma of chana dal recipe.
Tadka and Smoke : Though it is not necessary but if you give tadka or smoke in using dhunagar method then the taste of your chana dal recipe will become any restaurant style dal recipe. 
More Recipes You May Love
How to make chana dal recipe?
Here, the complete preparation of chana dal recipe classified into three simple categories first one is cooking lentils ,
second one is cooking chana dal fry recipe and the last one is preparing tadka for chana dal.
so, let's make it now.
Cooking lentils




1. At first, in a large mixing bowl pour 200 grams chana dal.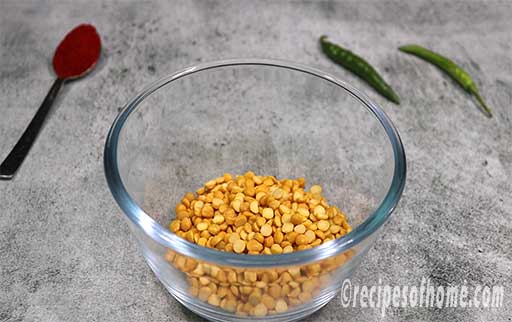 2. Then pour water in it to soak the chana dal for at least 1 hour.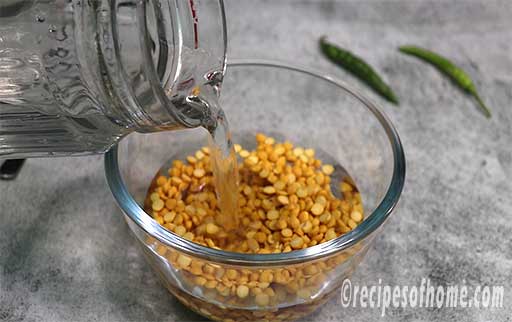 3. After that drain water and pour this soaked chana dal along with 1/4 tsp turmeric powder in a pressure cooker.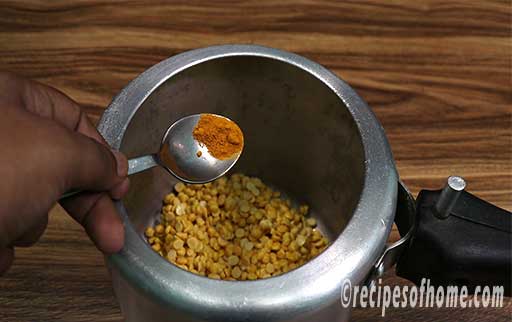 4. Also pour 600 ml water in it to cook the chana dal.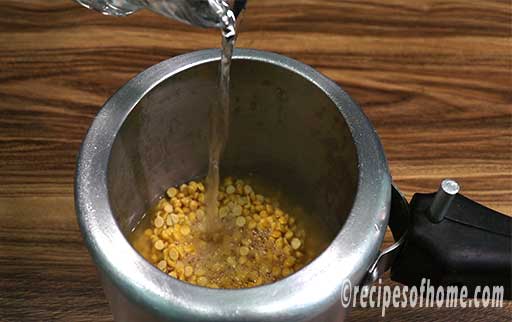 5. Now close the lid and pressure cook the chana dal for 5 to 6 whistle in medium flame.Check the chana dal if you can easily pressed it by your finger or not.If not then give at least 1 to 2 whistle.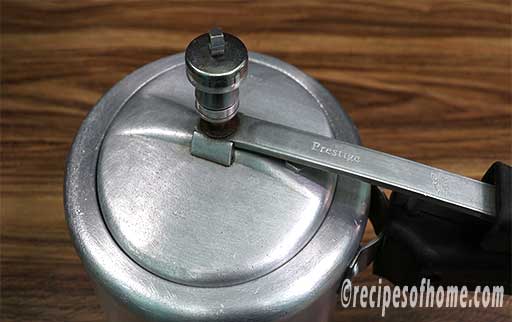 Cooking chana dal fry recipe



1. Now for cooking chana dal fry recipe heat 3 tbsp oil in a pan , spread it with a spatula.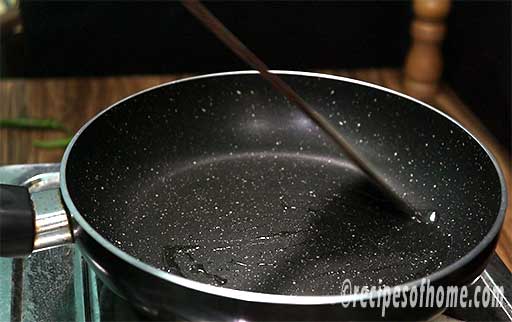 2. Then add 1 tsp cumin seed, stir it in low flame until it begun splutter.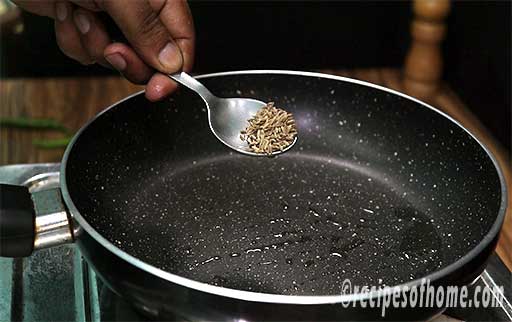 3. After that add 2 medium size chopped onions.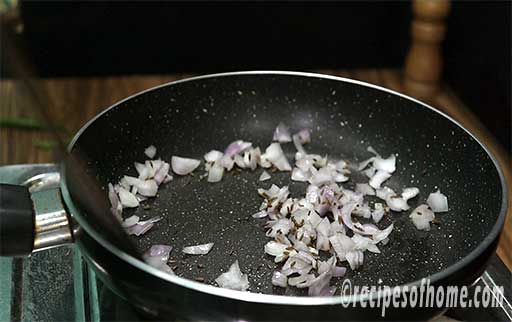 4. Also add 2 chopped green chili.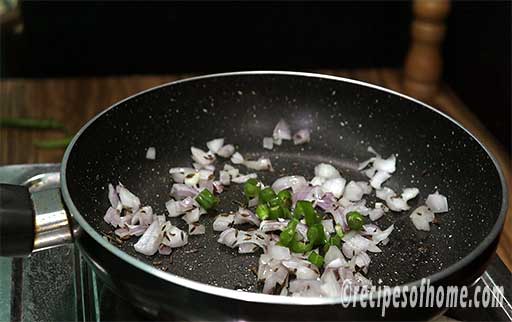 Note : If you simply want to avoid lot of oil in cooking onions then add a dash of water in pan, stir onions gently and immediately cover the pan for sometime in medium to low flame.
Don't forget to stir in interval.After sometimes you will see onions becomes translucent quickly.
5. Now saute the onions till translucent then add 1 tbsp ginger garlic paste, saute them for sometime.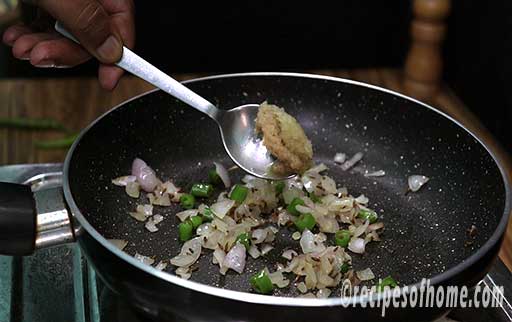 6. Next add 2 medium size chopped tomatoes.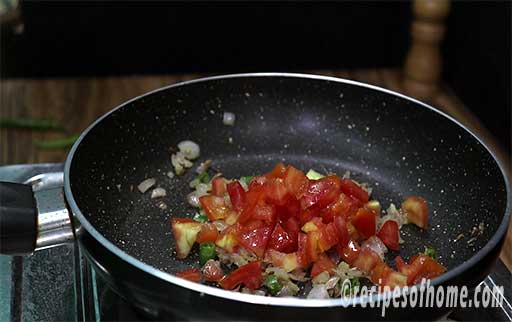 7. Saute this tomato onion mixture for at least 8 to 10 min in medium to low until raw smell of tomatoes disappear.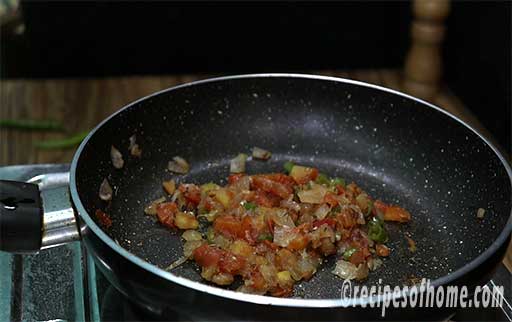 8. Furthermore add 1 tsp red chilli powder, 1 tsp garam masala powder, 1 tsp coriander powder, 1/4 tsp turmeric powder and salt to taste.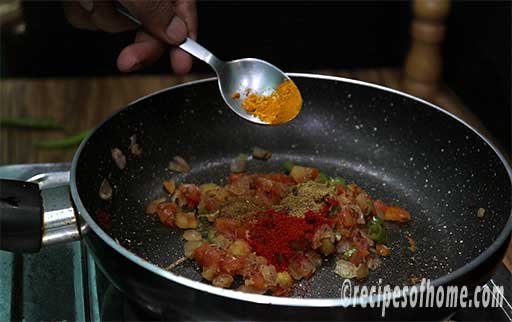 9. Now cook this mixture for another 4 to 5 min until mixture gets thicken and raw smell of the spices goes away completely.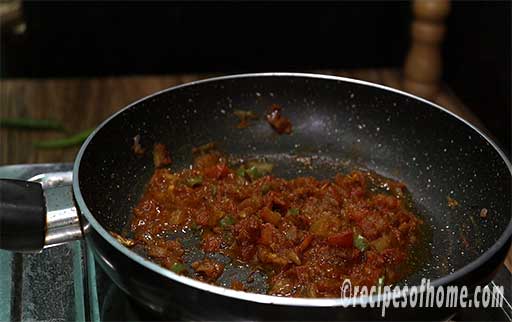 10. Now pour cooked chana dal along with stock.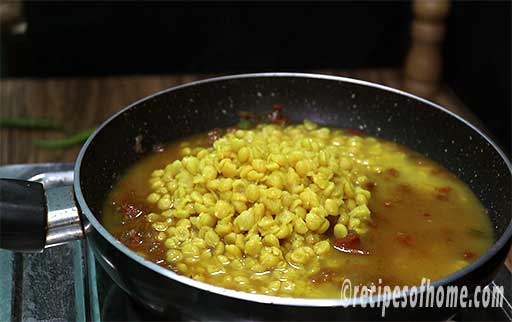 11. Also pour 125 ml water if required also sprinkle some salt check the taste.If required add more.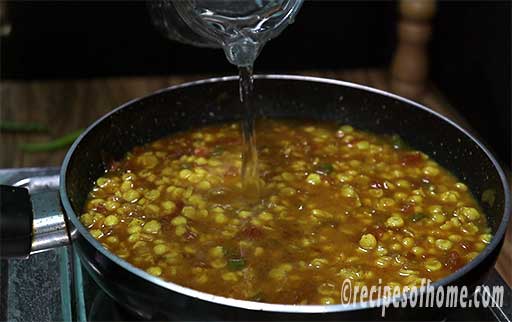 12. Now gently stir everything then cover and cook the dal for at least 10 min until dal gets slightly thicken.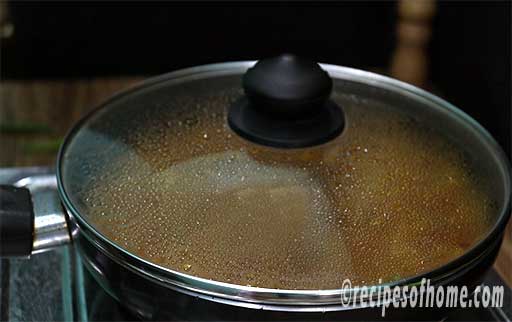 13.Check whether dal is cooked properly or not then add 1/2 tablespoon kasuri methi then mix it properly.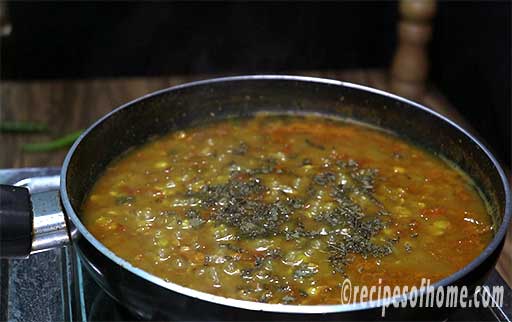 14.  Also sprinkle 2 tablespoon freshely chopped coriander leaves, and mix with dal.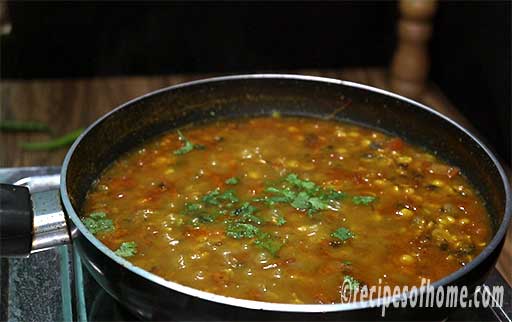 Tadka or tempering for chana dal



1. Now for giving tadka in your chana dal recipe heat 3 tbsp oil or ghee in a pan.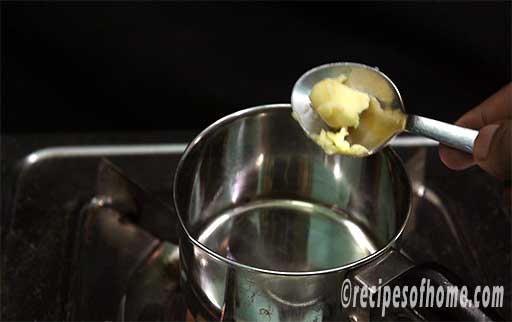 2. Then add 1/2 tablespoon of chopped ginger , garlic in it, 3 to 4 dried red chilli,1 tbsp kashmiri  red chili powder.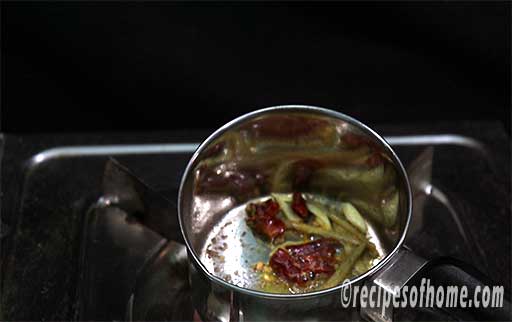 3. Cook them for sometime then add in dal.
4. Finally cover the lid for sometime,until aroma completely mix with chana dal fry.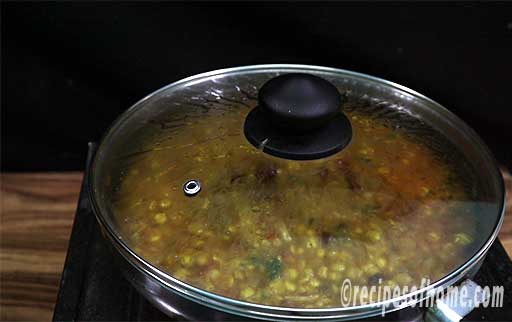 Chana Dal Recipe Card
Here is a quick overview of all the ingredients of chana dal recipe including quick step by step preparation of chana dal fry recipe shown in the recipe card.
Take note of all ingredient lists.