Dal fry recipe | Dal recipe | How to make dal fry
Dal fry recipe is one of the popular dal recipe in india where a mixture of tur dal or arhar dal and moong dal is cooked with onion, tomatoes and some aromatic spices. This dal fry recipe is not only very delicious but also very easy to cook at home for your family. To cook this simple dal recipe at home follow the below step by step instructions on how to make dal fry?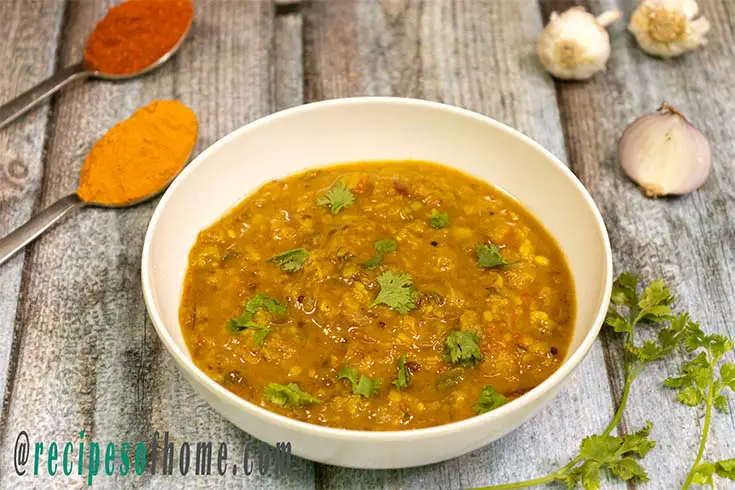 Though in india there are various ways dal fry recipe is made just like restaurant style dal fry, dhaba style dal fry but if you want to prepare simple dal recipe but best dal fry at home then must try this arhar dal recipe.
Note: If you are in a hurry, feel free to click on the following links to check your desired topic.If you'd like to see our in-depth step by step recipe preparation keep reading!
What is dal fry recipe
This dal fry is also known as arhar dal recipe, as it is usually prepared with tur dal or pigeon pea lentils.
Just like me, you can also prepare this dal recipe by mixing arhar dal and moong dal in a 3:1 ratio; though you can use any type of lentils.
What to serve with dal fry
Served this dal fry with steamed basmati rice or jeera rice even rotis , butter naan and paratha go well along with some papads and some vegetable dish.
Dal fry vs dal tadka
If you want to know what is the difference between dal tadka and dal fry recipe. Though both of these recipes use almost the same ingredients cooking methods is slightly different, which leads to different flavours and taste.
In a dal tadka recipe, dal or lentil is first cooked in a pressure cooker and then cooked with onions, garlic or ginger, turmeric and tomatoes. Finally, tadka or tempering mixture of cumin seeds, and dried chili is made in ghee and added to the cooked dal.
In dal fry recipe, first, saute the onion and tomatoes along with spices and finally add the cooked dal and further simmer.
Tips to make restaurant style dal fry recipe



Choice of lentils:

Always try to buy fresh lentils available from the market don't buy any old lentils because they will take too much time to cook. Choose unpolished dal for this recipe.

Choice of tomato: Always try to use fresh ripe tomatoes which are less tangy either chopped or puree for the base of this dal fry recipe.
Cooking method: If you soak dal for at least 1 hour then it will reduce cooking time. First pressure cooks the dal and mashes it then add tempered masalas to the pan.
Spices: Use only the required amount of spices mentioned in the recipe when dal is cooked properly add kasuri methi and coriander leaves for enhancing the aroma of dal fry.
Tadka and Smoke:

Though it is not necessary to give tadka or smoke in this simple dal fry if you like dhunagar method follow dal makhni recipe and for tadka follow chana dal recipe.

You May Like
How to make dal fry
Here, the complete recipe for dal fry preparation is classified into three simple categories first one is making cooking lentils for dal recipe,
the second one is cooking dal fry recipe.
so, let's make it now.
Cooking lentils for dal recipe

1. At first, for cooking lentils in a mixing bowl pour 200 grams of dal including toor dal or arhar dal and moong dal in a 3:1 ratio.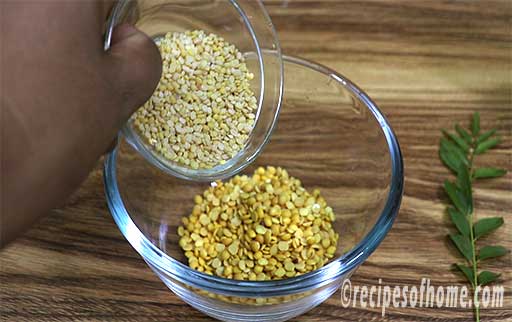 2. Then pour water into it and wash the dal thoroughly.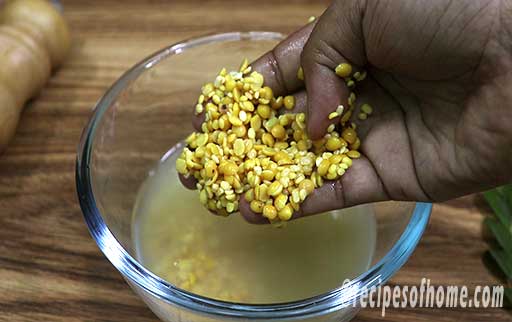 3. After that drain water and again pour water and soak this dal for at least 1 hour.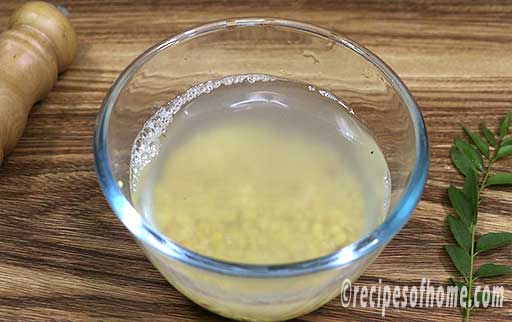 4. Then pour the soak dal into a pressure cooker along with a pinch of salt, turmeric powder and 600ml water.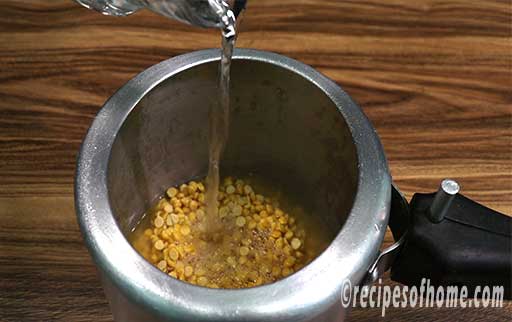 5. Next close the lid and pressure cook the dal on a medium flame for 5 to 6 whistles.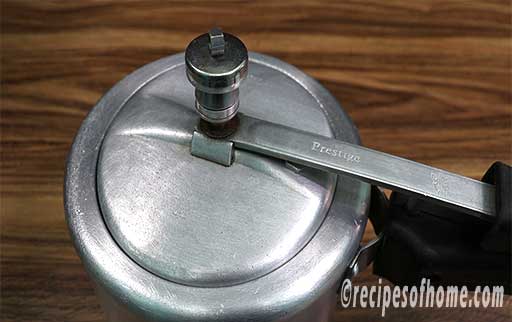 Cooking dal fry recipe
1. Now for the cooking dal fry recipe heat 2 tablespoons of oil in a pan, and spread it with a spatula.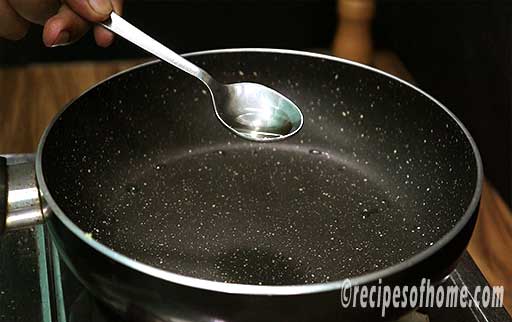 2. Then add 1/2 tsp of mustard seed, 1 tsp cumin seed, and 1 dry red chili stir them in low flame until spices splutter.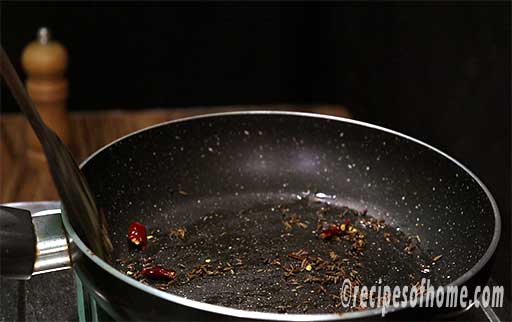 3. Then add 1/8 tsp Hing.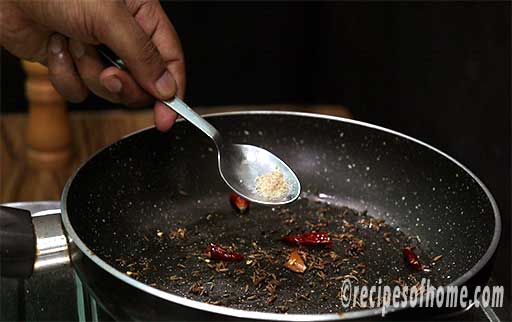 4. Also add 8 to 10 curry leaves and saute them till they are crisp.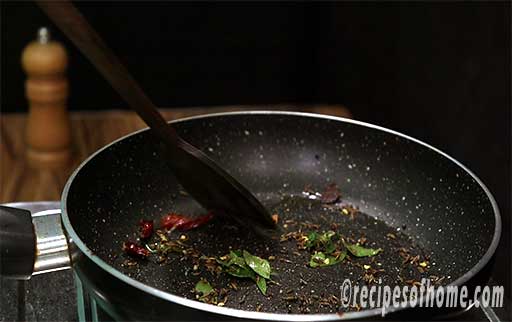 5. Add 1 large chopped onion and saute them till golden brown.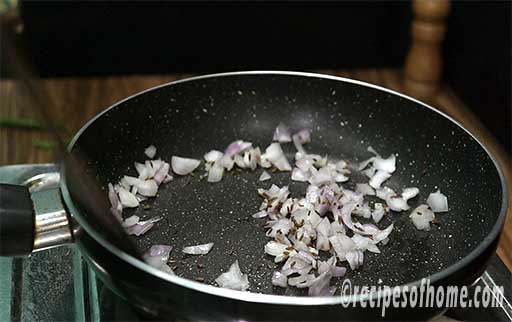 6. At this stage add ginger garlic paste and cook for some time until the raw smell completely disappears.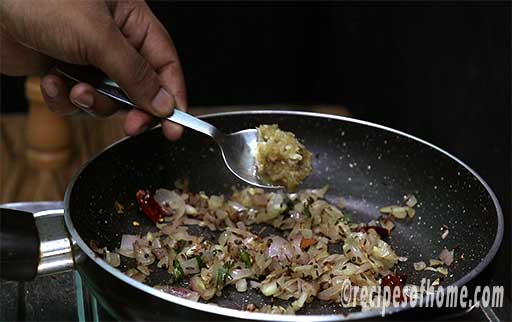 7. Next add 2 chopped green chili.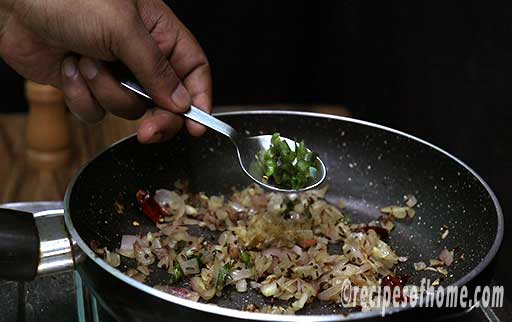 8. After that add 2 medium size chopped tomatoes and a pinch of salt.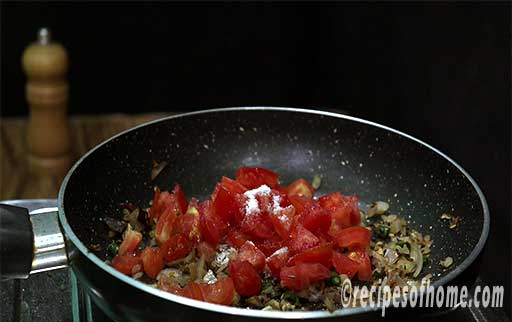 9. Next Saute this tomato-onion mixture for at least 8 to 10 min on medium to low until the raw smell of tomatoes disappears.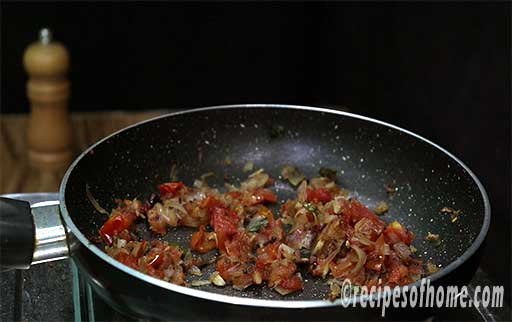 10. After that sprinkle 1 tsp red chilli powder, 1 tsp garam masala powder, 1 tsp coriander powder, 1/4 tsp turmeric powder and salt to taste.
11. Now cook this mixture for another 4 to 5 min until the mixture gets thickened and the raw smell of the spices goes away completely.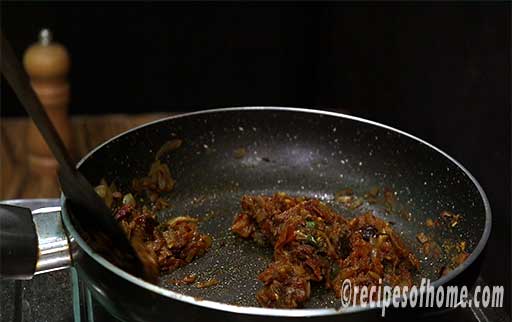 12. Finally pour the mashed dal into the pan.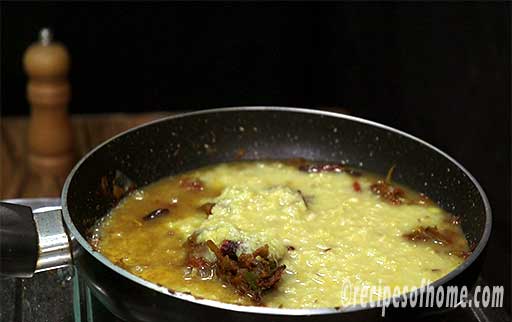 13. If it is thicker then add a little amount of water sprinkle a pinch of salt then simmer the dal for some time until thicker.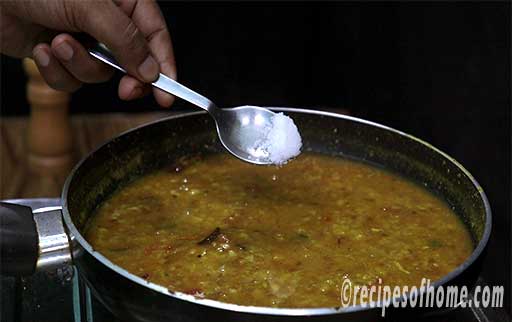 14. When dal gets thickened and cooked properly check the taste of salt, then sprinkle 1/2 tablespoon kasuri methi, and mix properly.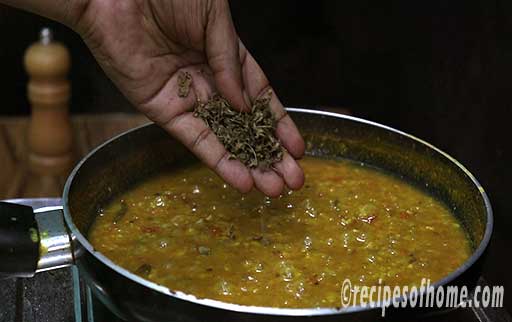 15. Also sprinkle 3 tablespoons of freshly chopped coriander leaves.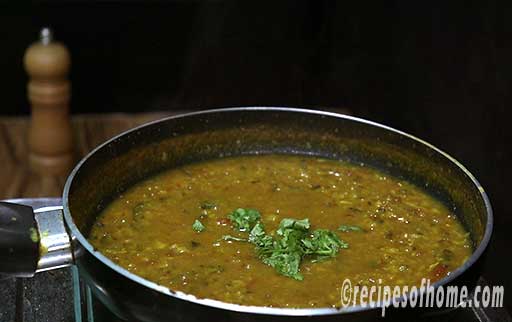 Dal Fry Recipe Card
Here is a quick overview of all the dal fry ingredients including quick step by step preparation of arhar dal recipe shown in the recipe card.
Take note of all ingredient lists.