Jeera rice recipe | How to make jeera rice | Cumin rice recipe
Jeera rice recipe is a flavorful indian rice recipes where long grain basmati rice cooked with ghee , cumin and other fragrant spices.This indian cumin rice recipe will not only love your family but also very easy to make at home.To cook restaurant style jeera rice follow below step by step instructions on how to make jeera rice?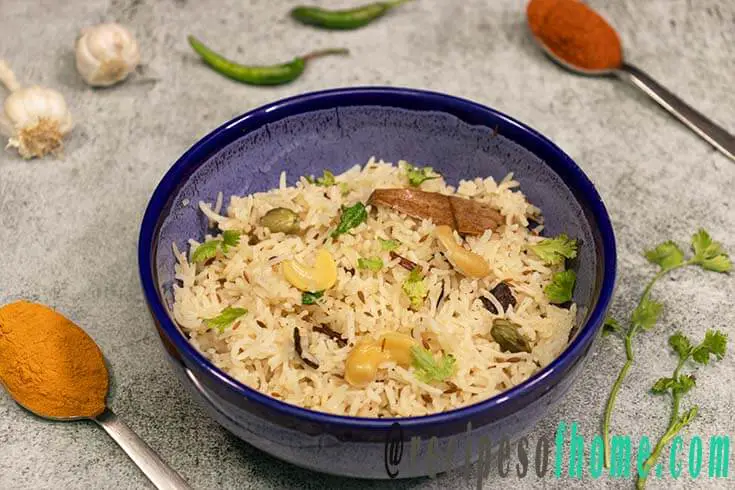 Note : if you are in a hurry, feel free to click on the following links to check your desired topic.If you'd like to see our in-depth step by step recipe preparation keep reading!
What is jeera rice?
Jeera rice is a popular indian rice recipes where " jeera " means " cumin " so it is also known as cumin rice.
So in this jeera rice recipe jeera along with some whole spices first tempered with butter or ghee , then fried basmati rice in it, pour some water and cook till it done.
Must Check Recipes
What is the side dish for jeera rice?
Serve jeera rice with dal fry , punjabi chole or chana masala. You can serve jeera rice with any vegetarian gravy or paneer gravy.
Tips to make restaurant style jeera rice



Choice of Rice :

For non sticky and fluffy jeera rice always choose long grain aged basmati rice which are less starchy and usually does not mush up after cooking.



Rinsing and Soaking :

Rinsing helps to remove excess starch from rice and makes them non sticky after cooking and soaking ricegrain helps them to expand and fluffy.
Spices :

To enhance flavor of jeera rice first saute whole spices in butter or ghee then fry drained rice in medium high flame without stiring much.
Cooking method :

Pour water as 1 : 2.5 ratio and cook jeera rice in low flame till rice are completely done.
More Recipes You May Love
How to make jeera rice?
Here, the complete recipe of jeera rice preparation classified into three simple categories first one is preparation for cumin rice recipe,
second one is frying spices for jeera rice and last one is making jeera rice recipe.
so, let's make it now.
Preparation for cumin rice recipe



1. At first in a mixing bowl add 200 grams long grain basmati rice.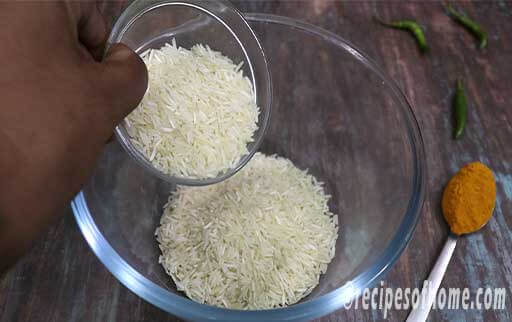 2. Then pour water and wash the rice thoroughly.Again pour water and soak the rice for at least 30 min.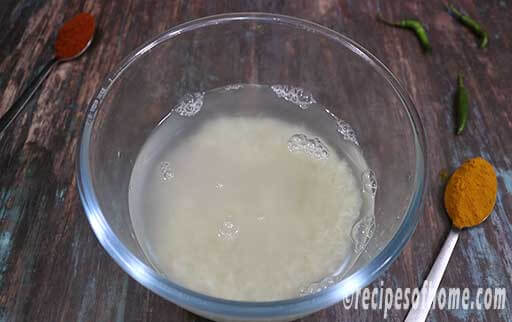 Frying spices for jeera rice
1. Now for frying spices for jeera rice heat 3 tablespoons butter in a kadai and melt it in low flame.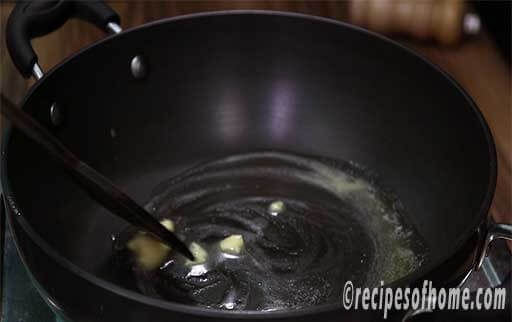 2. Then add 2 teaspoon cumin seed or jeera and 1 small bay leaf.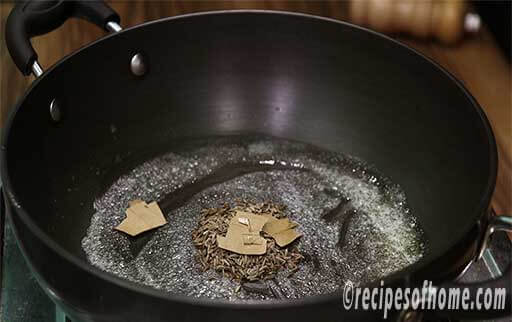 3. Also add 3 green cardamom , 3 clove , 2 inch cinnamon, 1 teaspoon mace.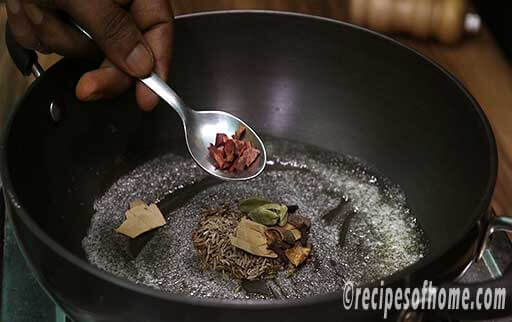 4. Now saute everything in medium to low flame until everything gets properly roasted and gives a beautiful aroma of spices. It takes 2 min.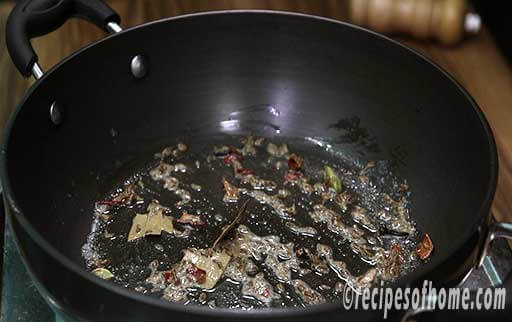 5. Next sprinkle pinch of hing.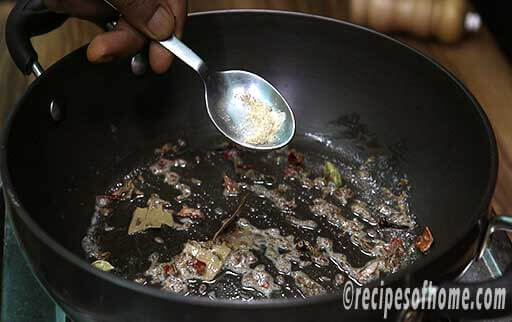 6. Finally add 12 to 14 cashew and fry in medium to low flame till cashew becomes light golden brown.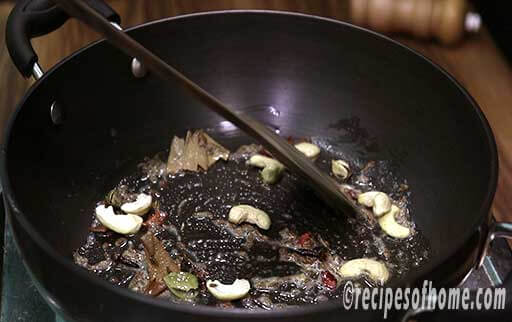 Making jeera rice recipe



1. Now for making jeera rice recipe add drained basmati rice in kadai.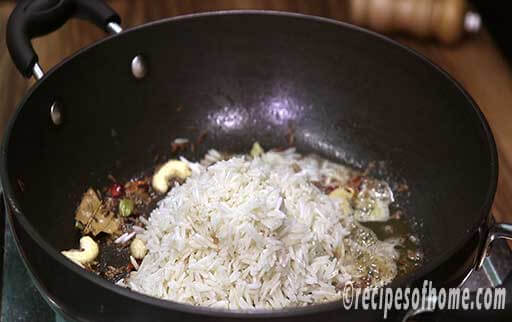 2. Next tossed rice with whole spices and cashew in high flame for 2 min.You can hold end of kadai and shake it properly to make jeera rice fluffy.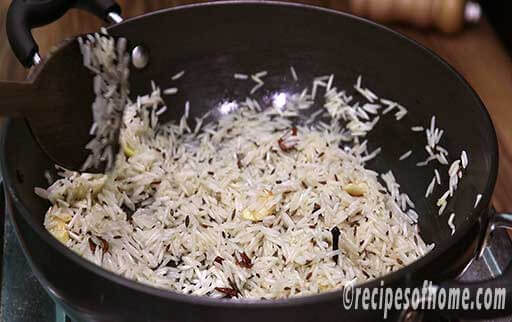 Note : Don't over use spatula because it may break the rice.
3. After that pour 500 ml water and pinch of salt in kadai.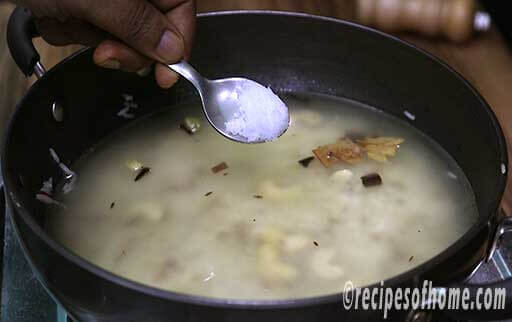 4. Next cover and cook jeera rice in low flame until all water are absorbed and rice are properly cooked .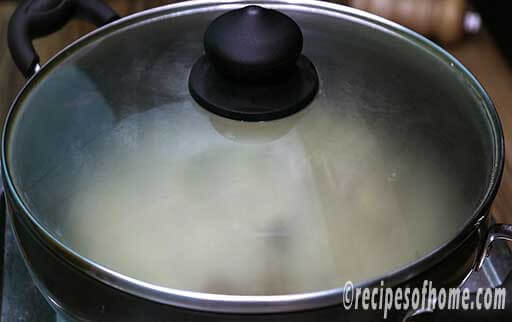 5. After that sprinkle 1 teaspoon nutmeg powder , 1/2 teaspoon black pepper powder.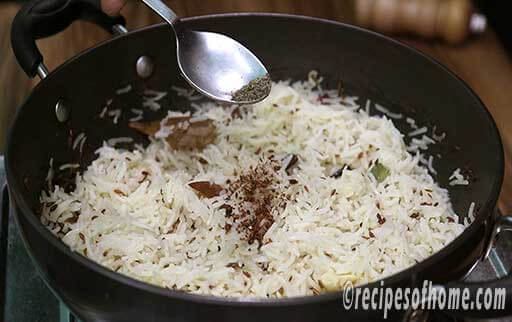 6. Also add freshly chopped coriander leaves.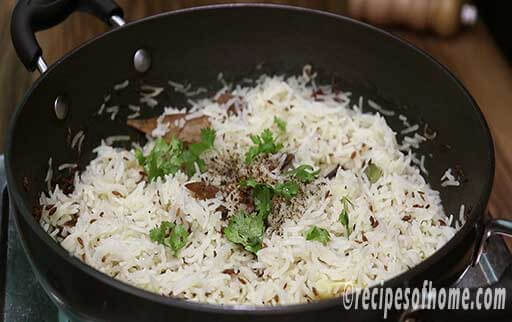 Jeera rice recipe card
Here is a quick overview of all the ingredients of jeera rice including quick step by step preparation of jeera rice recipe shown in the recipe card.
Take note of all ingredient lists.