Fruit custard recipe | How to make fruit custard
Fruit custard recipe is a famous indian desserts recipes. It is made by mixing fresh fruit in a creamy vanilla custard sauce. To cook this delicious custard recipe at home follow the below step-by-step instructions on how to make fruit custard.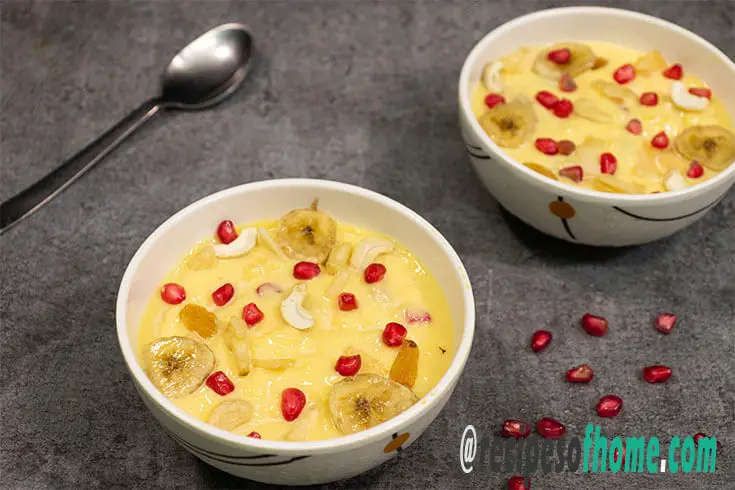 There are various types of custard recipes available based on the ingredients used like mango custard, chocolate custard, apple custard etc.
I usually make this fruit salad with custard when little kids usually come to my house, because it not only tastes delicious but is also very easy to make at home.
Note : if you are in a hurry, feel free to click on the following links to check your desired topic.If you'd like to see our in-depth step-by-step recipe preparation keep reading!
What is custard powder
Custard powder is a type of corn flour which is usually yellow in colour. Custard powder is usually made with corn flour, vanilla flavouring agent and dried milk powder.
What is fruit custard



Fruit custard recipe is a type of dessert recipe which is made by mixing fruits with chilled custard sauce.
Depending on your choice of custard pudding you can also feel free to add dried fruits like cashew, almond, pistachios, raisins and marshmallows.
Here I use vanilla flavour eggless custard powder that is free from any artificial colour and flavour.
What to serve with custard fruit salad



You can serve this fruit salad custard as a chilled dessert to your guest. Make sure garnish with some dried fruits before serving.

How to store fruit custsard



Variation of custard pudding recipe
After preparing basic custard sauce. There are various ways you can prepare fruit custard recipe. Remember one thing add less sugar when you mix fruit purees with the custard because fruit purees have a lot of sugar.
Mango custard : For the mango custard recipe you can mix 200 grams of mango puree with the custard sauce when it becomes chilled.
Chocolate custard : For making chocolate custard recipe you can add cocoa powder and brown sugar while preparing custard sauce.
Apple custard : In the apple custard recipe you have to add apple puree or apple sauce to the custard sauce and before serving mix it with fruits. 
Must Check Recipes
Tips to make fruit custard recipe



Type of fruits :

To cook the best fruit custard recipe you must use ripe and sweet fruits for example apple, banana, and cranberries along with some dry fruits. Never ever use any citrus fruits, melons, or pineapple because it may alter the taste of custard.
Sweetener :

In an authentic custard recipe white granulated sugar is used as a sweetener ingredient. But if you want to use jaggery instead of sugar then add it when the custard is warm otherwise milk may curdle.
Type of milk : You can make fruit salad with custard using full-fat milk either homemade or store-bought.
Custard consistency : To make smooth lumps-free custard consistency, make sure add the custard powder slurry to the warm milk, not the very hot or cold milk. In this way, you get lums-free custard.
You May Like
How to make fruit custard



Here, the complete recipe of fruit custard preparation is classified into three simple categories first one is on how to make custard at home,
second one is making fruit custard recipe.

so, let's make it now.
How to make custard
1. At first for making the custard recipe pour 500 ml of milk into a deep bottom pan and stir the milk continuously in medium to low flame.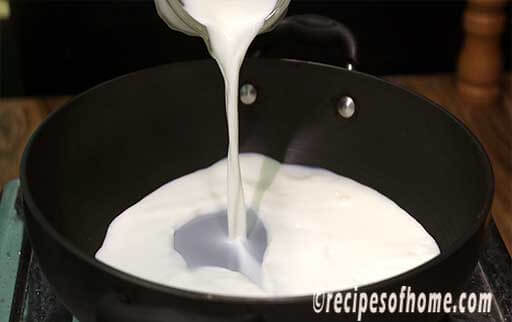 2. When milk becomes hot, gently take out 50 ml of warm milk from the kadai for later use.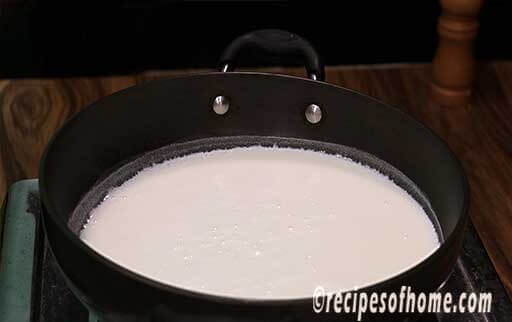 3. Now in a mixing bowl add 3 tablespoons of custard powder.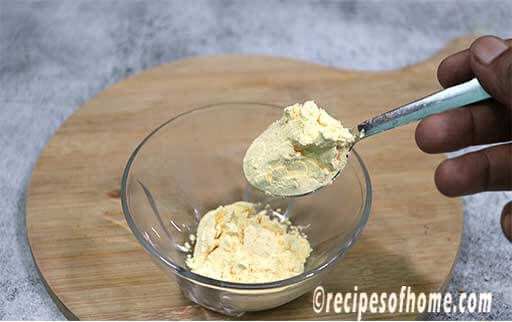 4. Next pour the warm milk into the bowl.
5. Mix it properly such that no lumps are formed.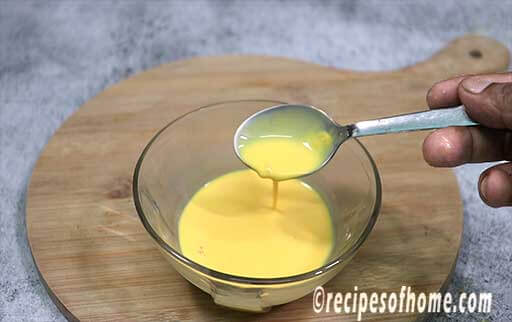 6. When milk is reduced to half of its quantities then add 5 tablespoons of sugar.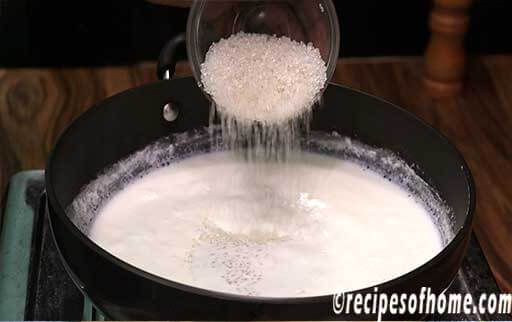 7. Also add 1/2 teaspoon of cardamom powder.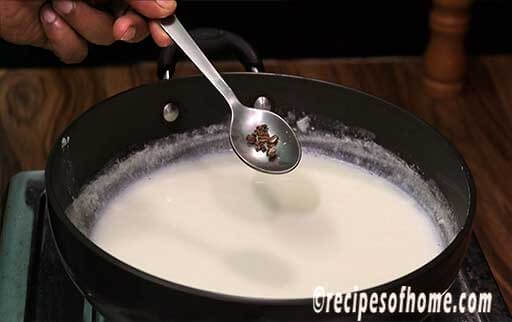 8. Now stir the milk continuously in medium to low flame till all of the sugar dissolved properly.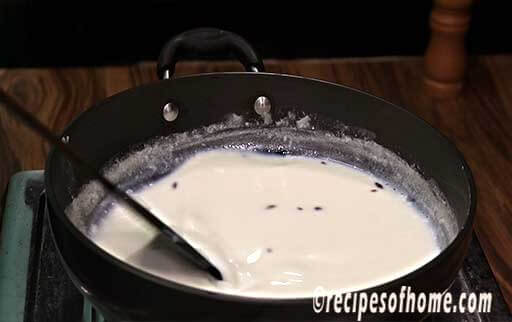 9. Next make the flame low and pour the custard slurry into the kadai.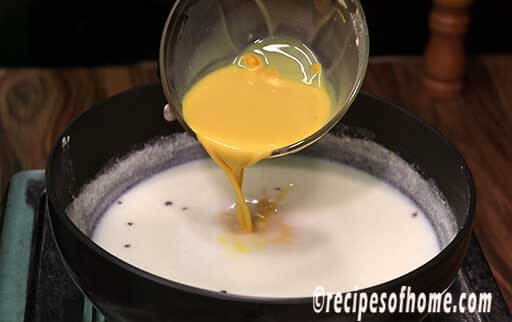 10. Immediately stir the mixture such that no lumps form. Make the flame medium and continuously stir the custard pudding until it becomes thick.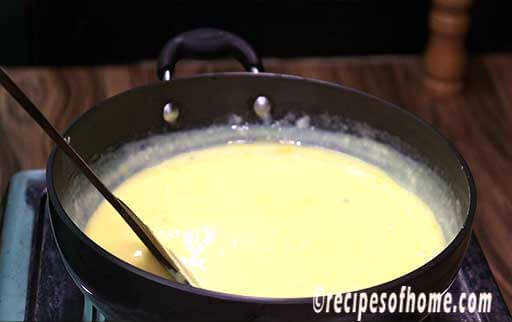 Note: After complete preparation of the custard recipe make sure you put a lid on kadai otherwise a thick layer will be formed on the custard. Don't forget to keep this custard in the refrigerator for the chilled fruit custard recipe.
Making fruit custard recipe
1. Now for making fruit custard recipe chop all of your favourite fruits. Here it uses 1 medium size grated apple, 1 small pomegranate, 2 bananas cut into circular slices and some dried fruits cashew nuts, raisins, almonds, and pistachios.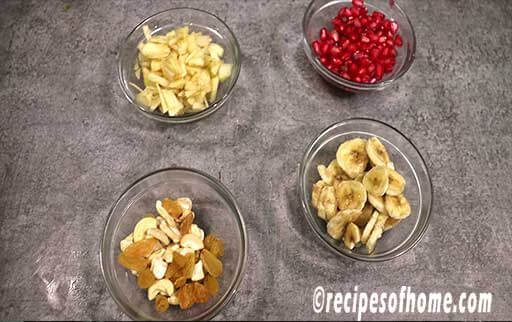 2. Then pour the chilled custard into a serving bowl.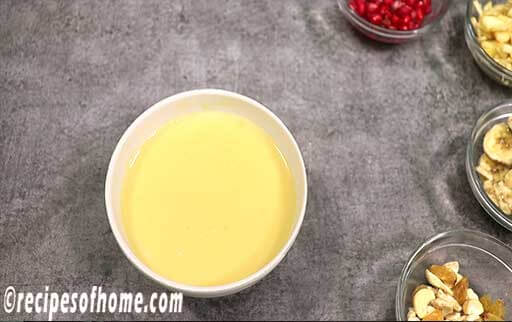 3. After that add all of the chop fruits with custard.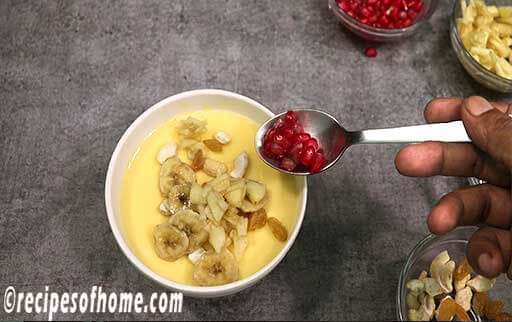 4. Finally mix all of the fruits properly and our fruit custard recipe is completed.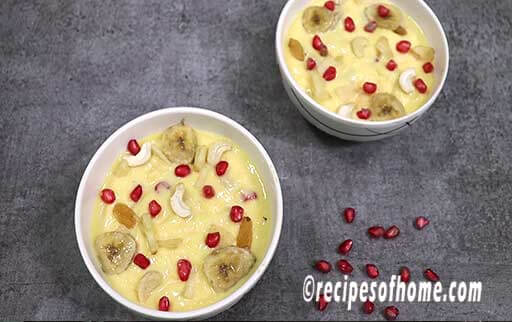 Fruit custard recipe card

Here is a quick overview of all the fruit custard ingredients including quick step by step preparation of fruit custard recipe shown in the recipe card.
Take note of all ingredient lists.