Khichdi Recipe | Moong dal khichdi recipe | How to make dal khichdi
Dal khichdi recipe – mixture of rice, fresh vegetable, and moong lentils cooked together flavored with some Indian spices, is one of the easiest and healthy moong dal khichdi recipe in India. In this post, you will learn how to make dal khichdi?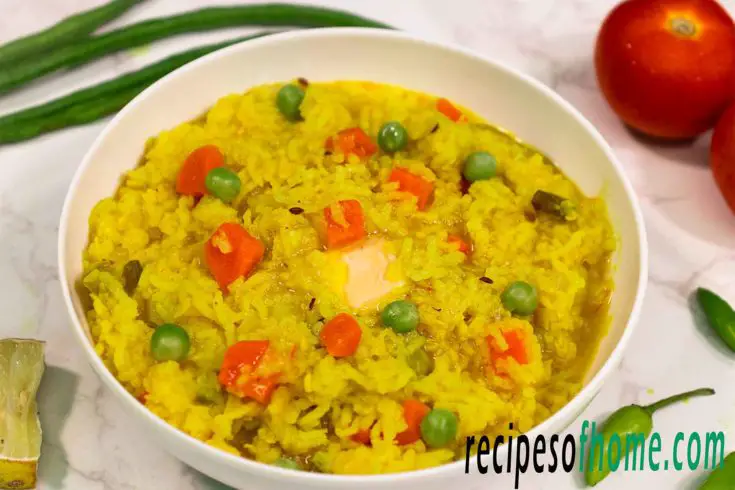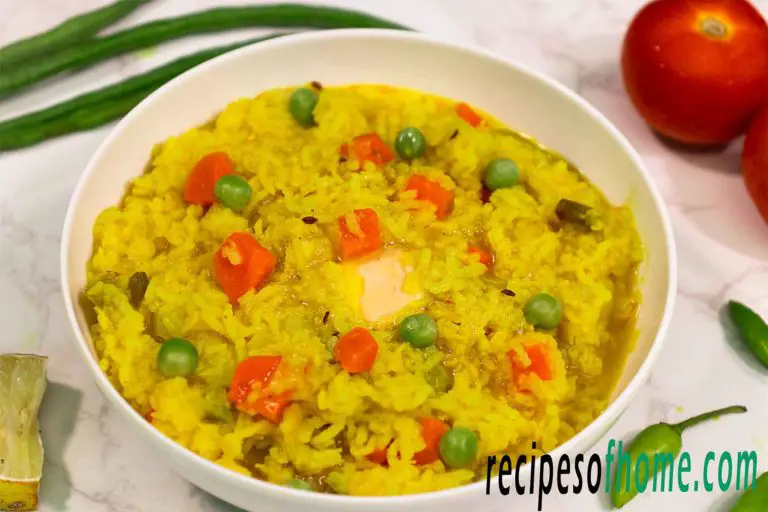 Note: if you are in a hurry, feel free to click on the following links to check your desired topic.If you'd like to see our in-depth step by step recipe preparation keep reading!
When we are not feeling well or have a very short time for preparing any healthy meal then most of us prefer dal khichdi recipe. This rice dish is popularly known as khichadi sometimes also refer as khichuri.
Though there are various recipes of khichdi available like sabudana khichdi, oats khichdi, palak khichdi, bajra khichdi recipe, but this moong dal khichdi is not only very delicious but also very easy to cook at home using only a few ingredients.
What is Dal khichdi?
" Dal Khichdi " is the mixture of dal or lentils of moong or mosur when simmered with soaked rice and partially cooked veggies flavor with some Indian spices.  
What to serve with khichdi?
You can serve this healthy nutritious moong dal khichdi with fried papad, potato chips as a side snack dish.
⇒ You can also check these tasty recipes :
Tips to make best moong dal khichdi recipe
Choice of Rice : You can either use long grain basmati rice or any normal rice to prepare dal khichdi recipe but make sure you soaked them in water for at least 30 min.
Choice Of Veggies :

 To make a more healthy and nutritious khichdi recipe I use here carrot, french beans, cabbage, green peas, and capsicum.

Cooking Method :

 You can cook this dal khichdi recipe either simmering for 25 to 30 min or in pressure cook for 3 to 4 whistle in medium to a low flame.
Use Of Spices :

 This vegetable khichdi recipe is the best for our daily needs but if you just recover from the illness you can simply discard spices add only salt and a pinch of turmeric, also add more healthy vegetables prescribed by the doctor.
More Recipes You May Love
How to make dal khichdi?
Here, the complete recipe of dal khichdi preparation classified into three simple categories first one is preparing moong dal khichdi,
and the second one is cooking vegetables for khichdi and the last one is making moong dal khichdi recipe. 
so, let's make it now.
Preparing moong dal khichdi recipe

1. At first, for preparing the daal khichdi recipe, thoroughly wash 150 grams moong dal or mung lentils and soak 150 grams rice in water for 20 to 25 min, then heat 3 tablespoon oil in a Kadai.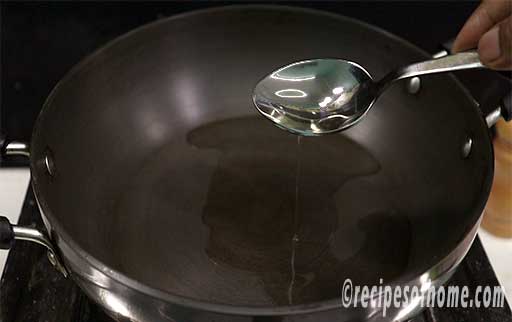 2. Next add soaked moong dal and saute it in low flame for 3 to 4 min.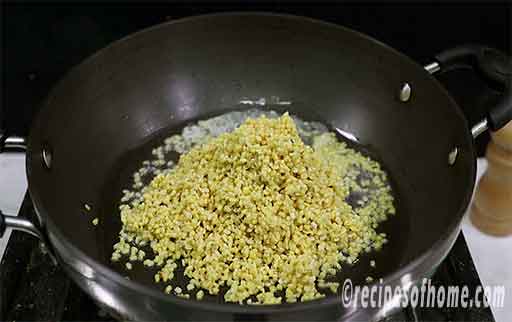 3. After sometime when moong dal becomes slightly golden brown, quickly transfer it to another plate.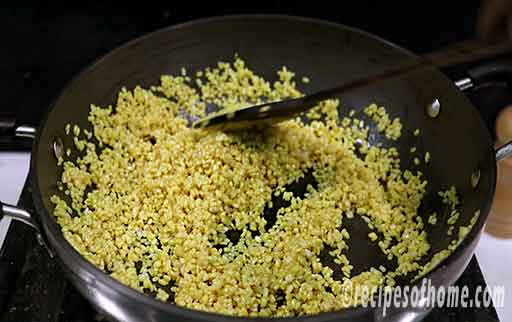 Note : While frying moong dal make sure the flame is low and you stir continuously otherwise it will become bitter mung dal khichdi.
Cooking vegetables for khichdi recipe

1. At first, for cooking nutritious vegetable khichdi heat 2 tbsp ghee or oil in a pan, spread it evenly in the pan.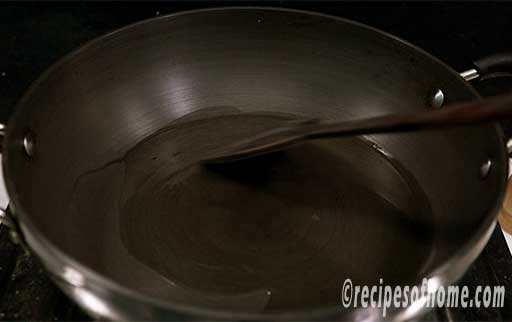 2. Now saute some whole spices including 1 small bay leaf, 1-inch cinnamon,3 to 4 cloves, 3 to 4 cardamom,2 tsp cumin seed.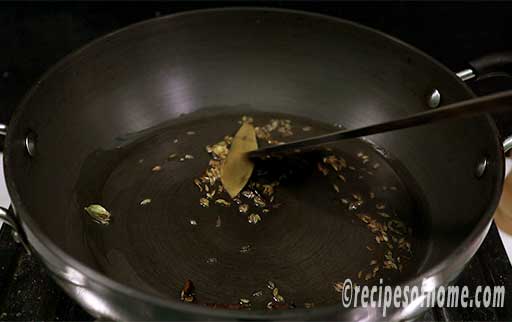 3. Next add 1 medium-size chopped onions,3 to 4 vertically sliced green chili, saute them in medium flame until onions become slightly golden brown.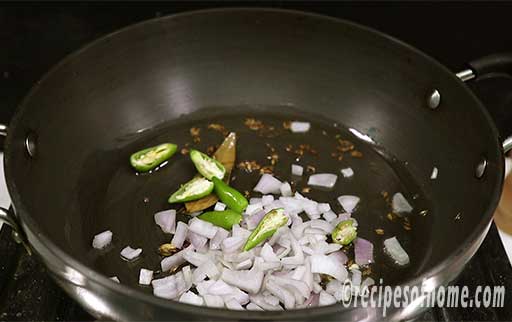 4. After that add 1 tablespoon of ginger garlic paste, saute until the raw smell disappears.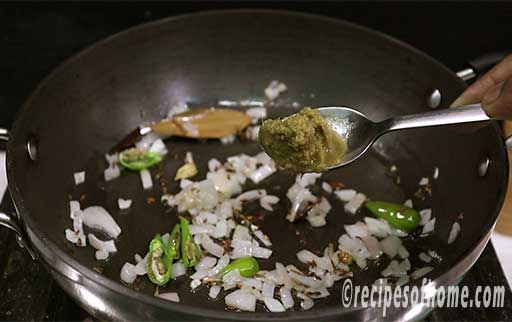 5. Then add veggies including 2 medium-size chopped potatoes,1 medium-size chopped carrots,2 to 3 chopped french beans.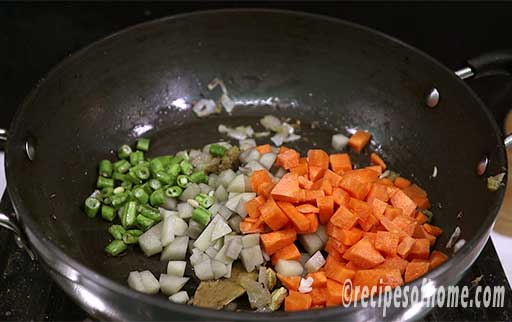 6. Saute them for 2 to 3 min on medium flame.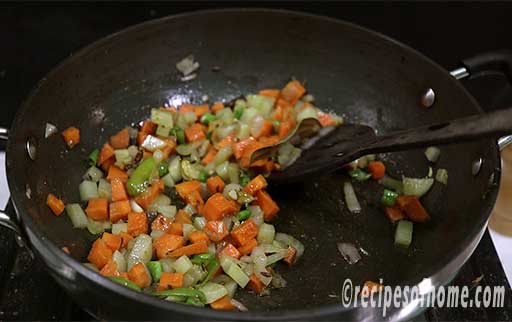 7. Next add 4 to 5 tbsp chopped cabbage,3 to 4 tbsp capsicum.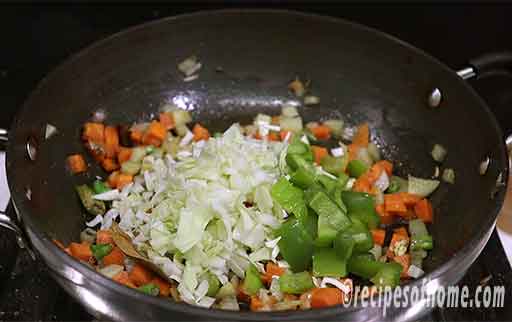 8. Now saute them for another 3 to 4 min in medium flame.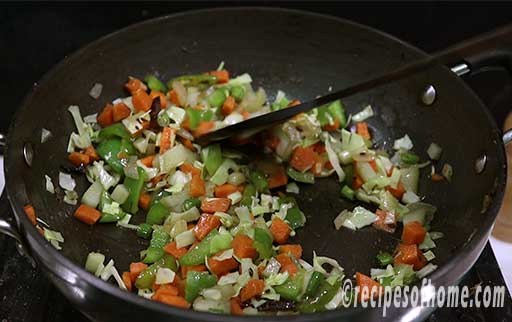 9. Then add 3 tbsp green peas and saute them further 2 to 3 min.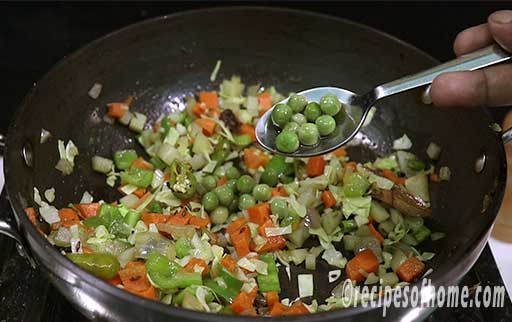 Note : While cooking vegetables make sure it must have a crunchy in taste, don't make these veggies mushy.
Cooking dal khichdi recipe
1. To make this masala khichdi more spicer sprinkle 1/2 teaspoon of turmeric powder,1/2 teaspoon of garam masala powder.
2. Also sprinkle 1/2 teaspoon of red chili powder, mix them properly.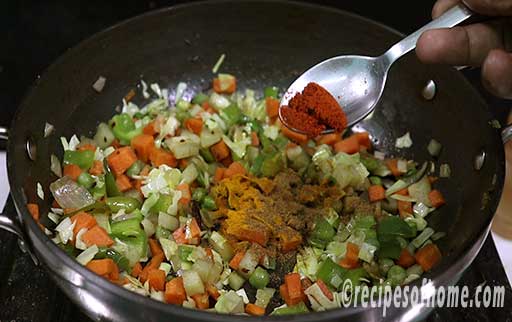 3. Now add fried moong dal which we did earlier and soaked rice.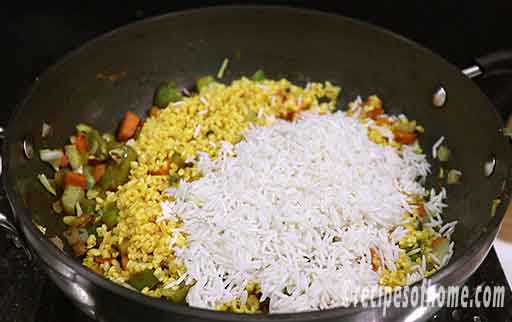 4. Then pour a sufficient amount of water to boil this moong dal khichdi.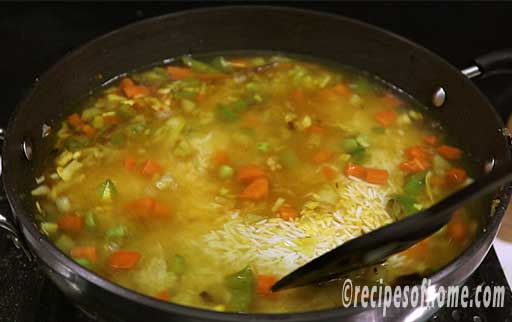 5. After that, sprinkle half a teaspoon of salt.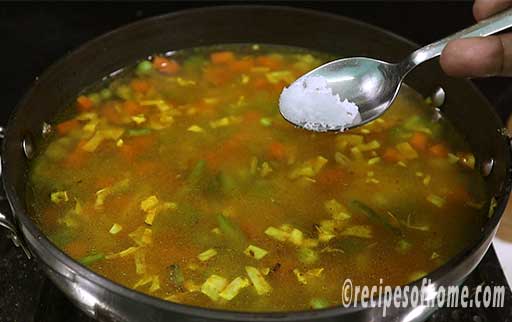 6. And 1/2 teaspoon of turmeric powder in it.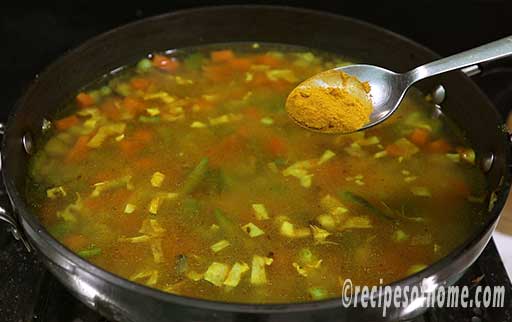 7. Cover the Kadai and cook this moong dal khichdi for 25 to 30 min on low flame.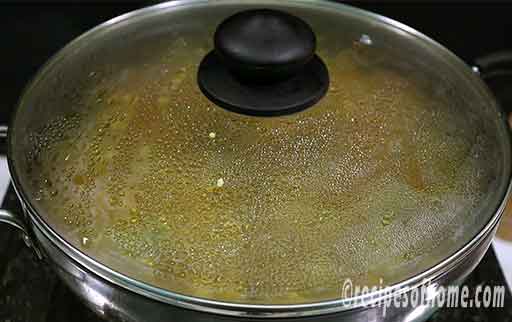 Note : You must check-in between if water required to add some hot water otherwise your khichdi will burn out from the bottom.
If you want to cook this moong dal khichdi in a pressure cooker pour everything into the cooker and let them cook for 3 to 4 whistles in medium to low flame.
8. Finally garnish this nutritious moong dal khichdi with a tablespoon of butter and serve hot with fried papad, potato chips, or mango pickle whatever you like.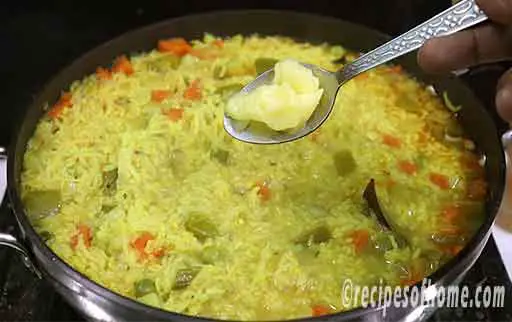 Moong Dal Khichdi Recipe Card
Here is a quick overview of all the ingredients of dal khichdi including the quick step by step preparation of mong dal khichdi recipe shown in the recipe card.
Take note of all ingredient lists.