Aloo tikki recipe is the most delicious and crispy Indian snack recipe made of boiled potatoes, a few Indian spices, and fresh coriander leaves. This crispy aloo tikki recipe is also popularly known as aloo patties recipe. In this post, you will learn how to make aloo tikki?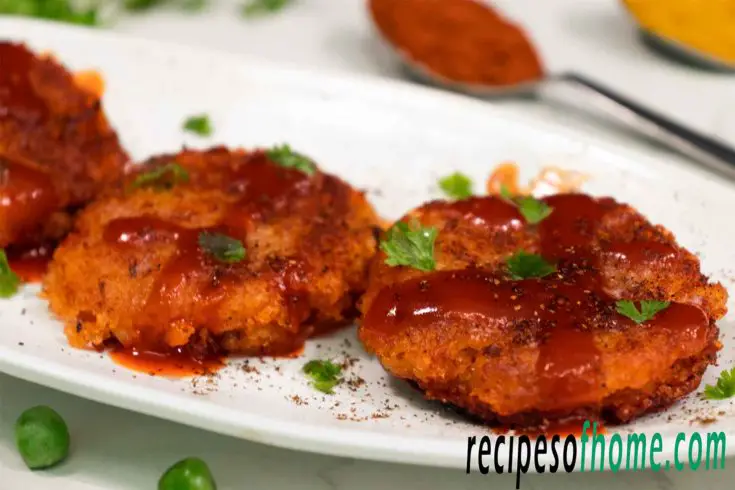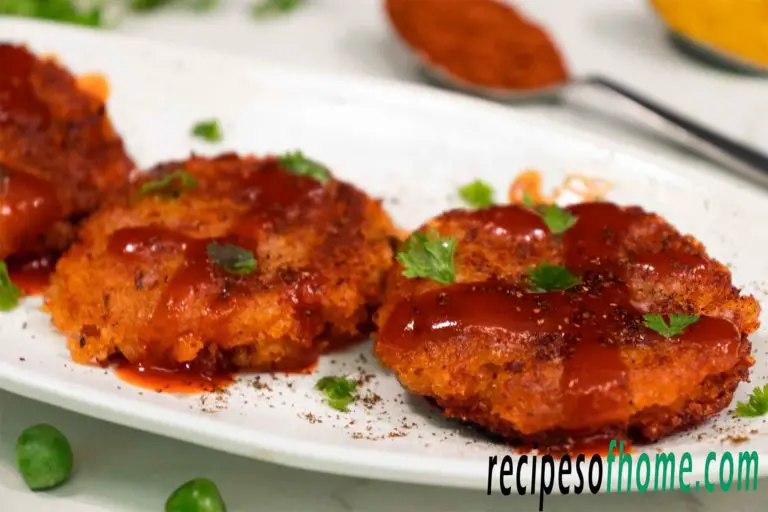 Note: if you are in a hurry, feel free to click on the following links to check your desired topic.If you'd like to see our in-depth step by step recipe preparation keep reading!
Though there is the various recipe of aloo tikki available those who like stuffed aloo tikki usually made a stuffing of scrambled panner, mashed green peas, cheese, ketchup, and cooked chickpeas.
If you don't like any stuffing, you can still make delicious aloo patties without using any stuffing. It is totally optional. 
This is aloo tikki recipe is very delicious and easy to cook at home it will be your best tea time snack.
What is aloo tikki
" Aloo Tikki " is a popular Hindi term for indian snack recipes which is meant " Potato Patties " or " Aloo patties " .

Aloo Tikki is nothing but a mixture of boiled potatoes, spices, and herbs which are the first mixed, create a flat shape then fried.  
What to serve with aloo tikki

This aloo tikki will taste better if you serve green chutney, tamarind chutney, or tomato ketchup along with it.
Note : You can also use this same aloo tikki recipe to prepare aloo tikki chaat and aloo tikki burger.
How to store aloo tikki

After filling and shaping aloo tikki, you can safely store it in a freezer in a zip lock bag and airtight container.
Before using this frozen aloo tikki make sure you thaw them first then dust some cornflour or chawal powder over it, and then fry them as mentioned above.
⇒ Check the below recipes :
How to make aloo tikki chaat recipe
For preparing aloo tikki for chaat you can follow this quick recipe.
For making chutney, especially tamarind and green chutney and thick yoghurt you can follow the Dahi vada recipe section.
Now for assembling aloo tikki chaat first place this aloo tikki on the serving plate then pour yoghurt, tamarind chutney, green chutney on top of it.
Finally sprinkle some Indian spices including 1 tbsp red chili powder,1 tbsp of cumin powder,1/2 tsp of amchur powder,1/2 tsp black salt,1/2 tsp black pepper, and 1 tbsp freshly chopped coriander leaves.
Tips to make crispy aloo tikki recipe
Crispiness : To make crispy aloo tikki just use coarsely blended rice powder instead of breadcrumb that not only keeps tikki in shape but also makes your tikki crispier than breadcrumb.
Cooking Method : Shallow fry this aloo tikki on a medium flame which helps you to make the perfect crispy aloo tikki at home. Don't need double frying here.
Stuffing Ingredients : If you want stuffed aloo tikki then you can use tomato ketchup, cheese, paneer, mashed green peas or spicy boiled chana dal as filling.
You May Like
How to make aloo tikki
Here, the complete recipe for aloo tikki preparation is classified into three simple categories first one is making dough for aloo tikki,
second one is filling and shaping aloo patties and the last one is making crispy aloo tikki recipe. 
so, let's make it now.
Making potato mixture for aloo tikki 
1. At first for making potato mixture for aloo tikki boil potatoes in a pressure cooker for up to 5 to 6 whistles.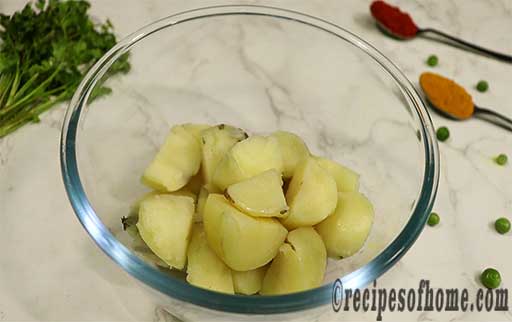 . 
2. Now, cool the potatoes for some time and peel and mash them using a masher or by hand.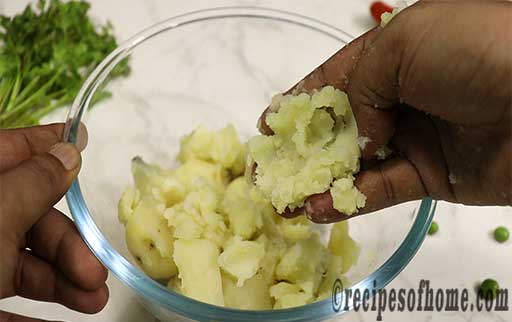 3. After that sprinkle 1 tsp white salt on it.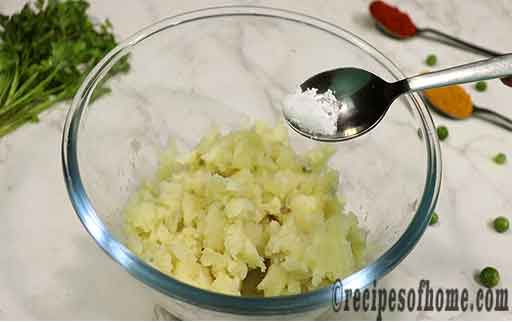 4. Add 1 tsp black salt.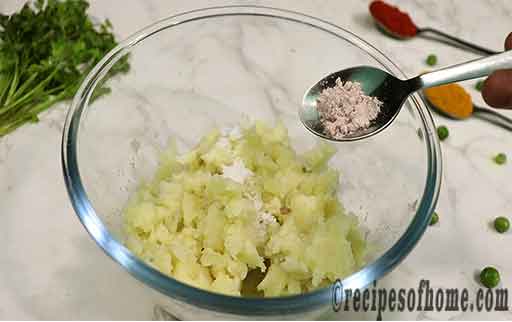 5. Now sprinkle some spices including 1 tsp coriander powder,1 tsp red chili powder, and 1/2 tsp amchur powder on the potatoes.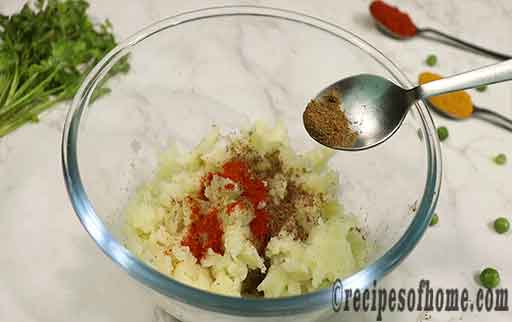 6. Next add 1 tbsp chopped green chili, and 1/2 tbsp red chili flakes.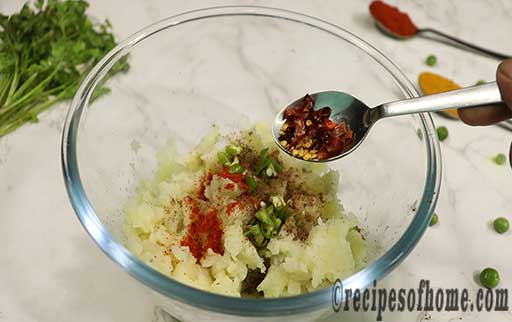 7. After that add 2 tbsp freshly chopped coriander leaves.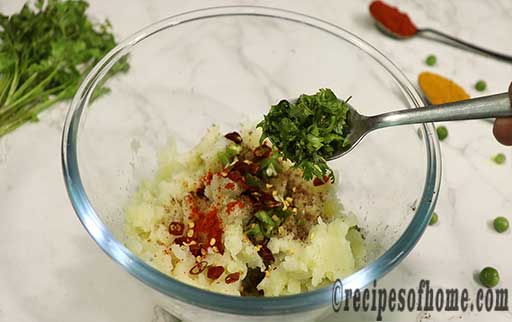 8. Also add 2 tsp lemon juice to it.
9. Now to make crispy aloo tikki i add 5 to 6 tbsp coarsely blended rice powder or chawal powder and 3 to 4 tbsp cornflour.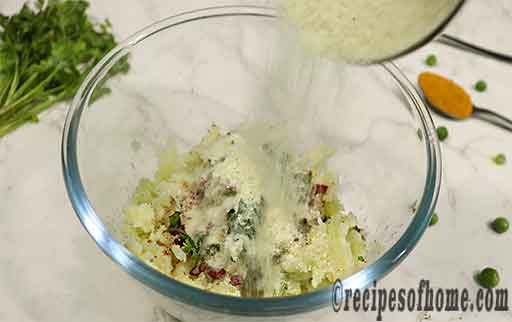 10. Next, mix everything with mashed potatoes and knead thoroughly just like dough of whole wheat flour.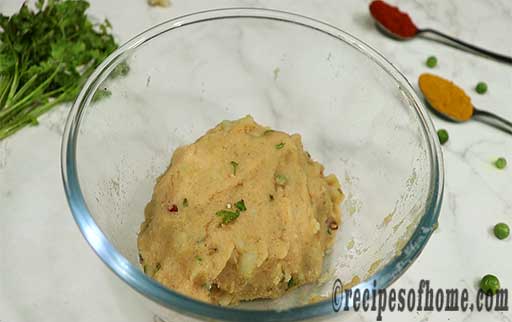 Filling and shaping aloo patties
1. Now for filling aloo patties take oil in your palm and pick a small amount of aloo dough.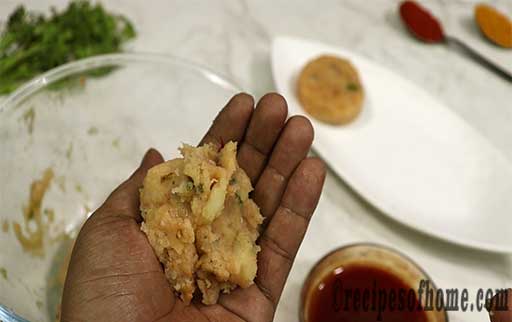 2. Then make a circular shape just like ladoo also create a small hole in it and pour a half tablespoon of tomato ketchup.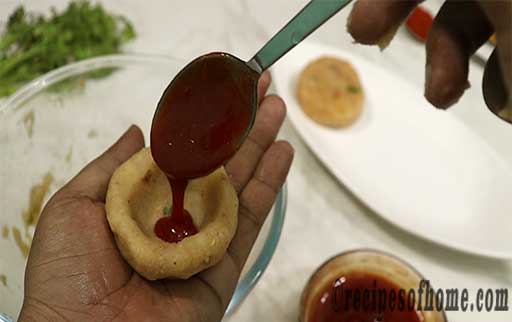 Note : If you are using any filling just like mashed green peas, scrambled panner, or cheese you can add it now.
3. Next cover the opening mouth with another layer of dough, seal every side properly and make sure there is no opening portion in your aloo tikki.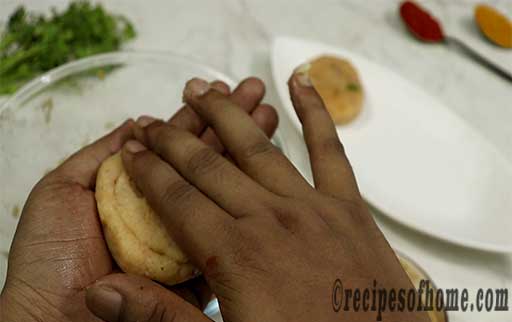 4. To give the proper shape you can just roll these aloo patties on your table.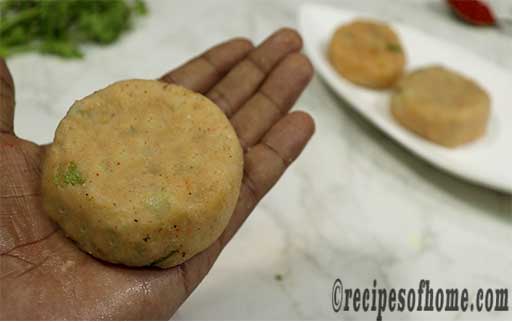 Making crispy aloo tikki recipe
1. Now for cooking aloo tikki recipe, heat 250 ml oil in a pan.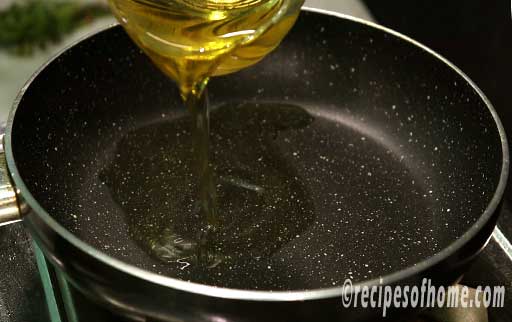 2. When the oil is hot enough gently fry aloo tikki one by one and fry them on medium flame.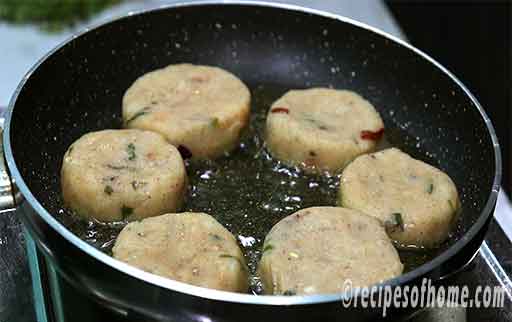 3. After some time one side of aloo tiki becomes slightly golden brown, then turn them on the other side and fry that side also.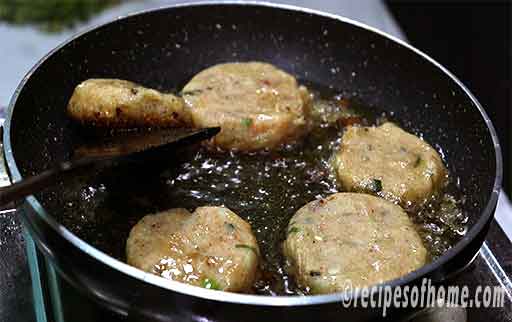 4. After some time when both sides become golden brown, turn off the gas.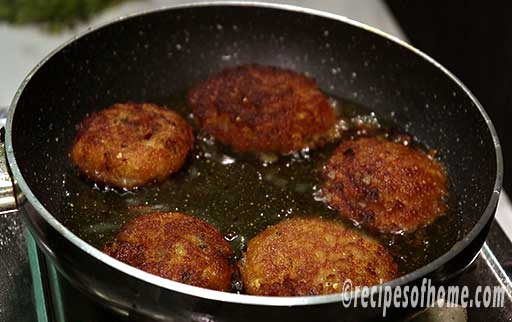 5. Take the aloo patties out immediately from the pan and place them on in kitchen tissue to drain excess oil and serve hot this crispy aloo tikki with masala chai as your combo evening snack.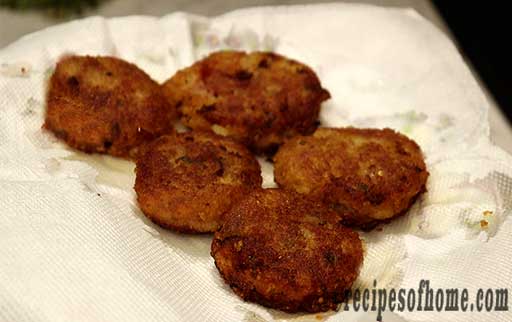 Aloo Tikki Recipe Card
Here is a quick overview of all the aloo ki tikki ingredients including the quick step by step preparation of aloo tikki recipe shown in the recipe card.
Take note of all ingredient lists.