Vegetable pakora recipe is a deep fried Indian snack recipe which is made with a few indian vegetables, besan and a few aromatic indian spices and herbs. This veggie pakora has a crispy, crunchy exterior with a soft interior texture. To cook this veg pakora recipe at home follow the below step-by-step instructions on how to make vegetable pakora.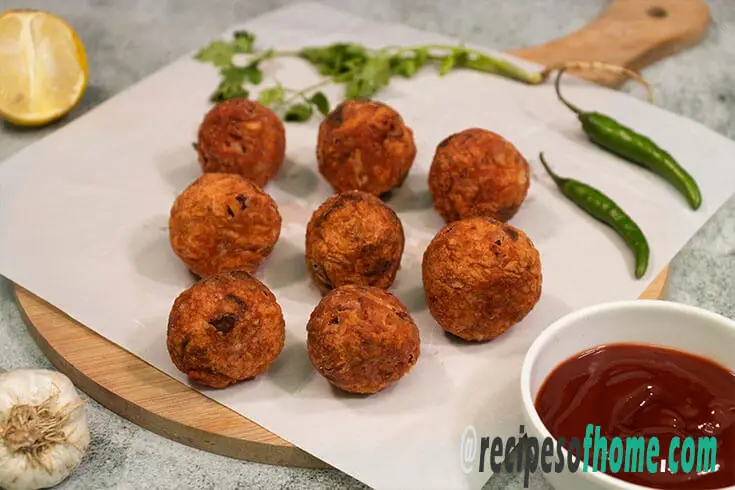 Though you can cook various ways veg pakora at home, here i only use easily cooked vegetables and spices which makes our mixed vegetable pakora recipe crispy from the outside and soft from the inside.
Note: if you are in a hurry, feel free to click on the following links to check your desired topic.If you'd like to see our in-depth step-by-step recipe preparation keep reading!
What is pakora
How to check oil temperature for deep fry
To check the hotness of the oil first add a small portion of the batter to it. If the batter comes up steadily but quickly, the oil is hot enough.
If the batter remains submerged inside the oil or comes up slowly, then the oil is not hot enough.
If the batter comes up rapidly and very fast, the oil is very hot.
Side dish for mix veg pakora
Serve hot these mix vegetable pakora as an appetizer with your favourite chutney or sauce like Green Chutney, Coconut Chutney, sweet tamarind chutney or Tomato Ketchup.
Not only these but also you can serve these crispy veggie fritters also a nice evening snack with a side of Masala Chai.
How to store veggie pakora



Must Check Recipes
Tips to make vegetable pakora recipe



Vegetables :

Apart from mentioned vegetables below you can add various veggies of your choice like boiled corn, cauliflower, grated potatoes, beetroot, chopped broccoli, spring onions, and french beans.From green leafy vegetables like spinach, amaranth or fenugreek leaves and from watery vegetables like zucchini, radish, pumpkin, and bottle gourd in your vegetbale pakora recipe.

Texture of pakora :

For the crispy vegetable pakora, use only thinly chopped or sliced veggies and add less water to the batter because veggies tend to release moisture when you keep them aside.
Cooking temperature : The best temperature for cooking pakora is medium flame. Because if the oil is too hot, then the outside of the veggie pakora will get fried but the inside will be undercooked. Similarly, if the oil is not hot enough, then the pakora will absorb a lot of oil while frying.
Spices :

You can use various spices along with gram flour for example grounded red chili powder, garam masala powder, ajwain, green chili, ginger-garlic paste.
You May Like
How to make vegetable pakora



Here, the complete recipe of vegetable pakora preparation is classified into three simple categories first one is making batter for veg pakora,
second one is frying vegetable pakora.

so, let's make it now.
Making batter for veg pakora
1. At first, for making batter for veg pakora, wash all the veggies thoroughly then in a mixing bowl add 1 cup shredded cabbage, 1/4 cup chopped capsicum, 1/3 cup chopped coriander leaves and 3 to 4 chopped green chilies.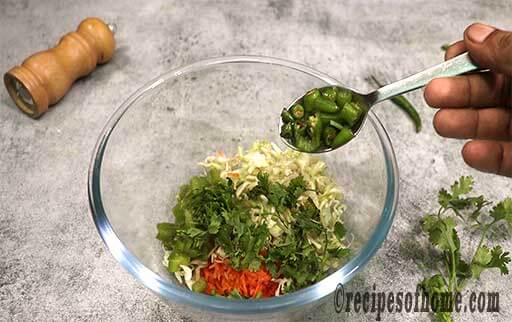 2. Then add 1 medium size chopped onion and 1/2 tablespoon teaspoon ginger garlic paste.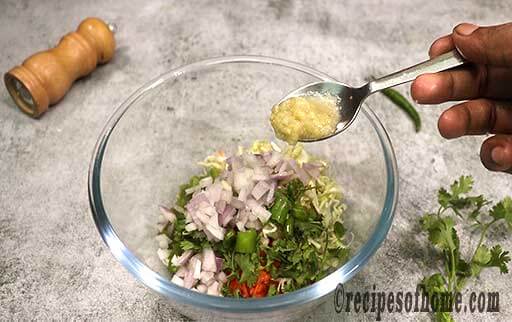 3. After that sprinkle 1/2 teaspoon kashmiri red chili powder, 1/2 teaspoon garam masala powder, and 1/2 teaspoon salt, and adjust later if required.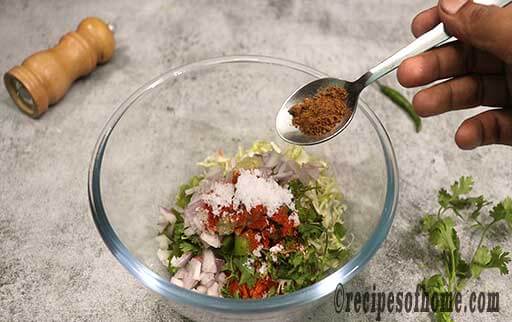 4. Now mix everything well with a spoon and keep it rest as it is for a further 10 min to 15 min.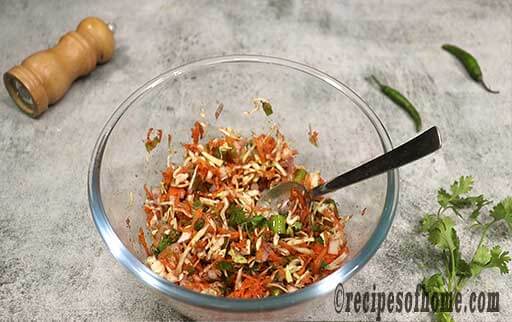 5. Now add 1/2 cup gram flour or besan to the bowl..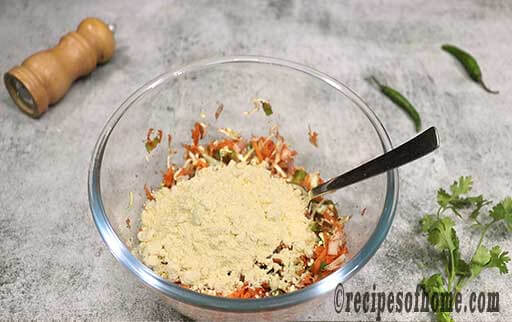 6. Then sprinkle 1/2 teaspoon ajwain or carom seed.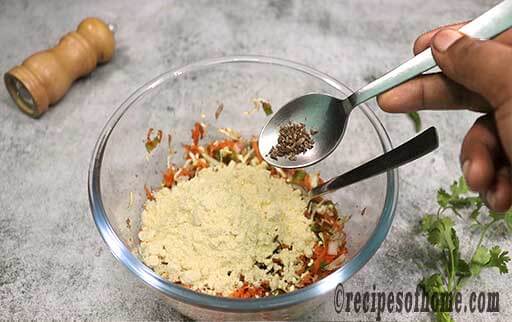 7. Also sprinkle 3 tablespoons of corn starch which helps to bind each ingredient together.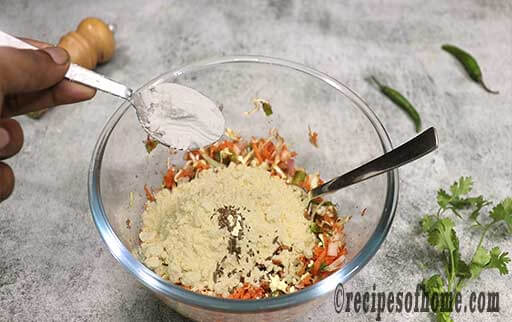 8. Finally mix everything together to make vegetable pakora dough. Make sure the dough should not too stiff or soft. Only sprinkle water is needed to bind the mixture together.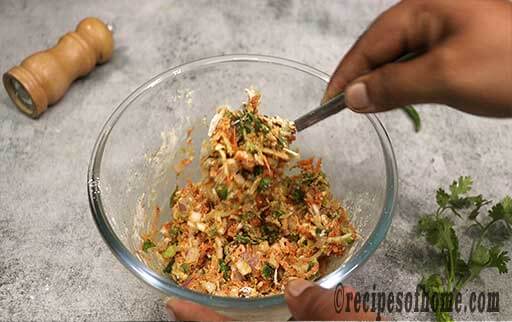 9. Apply oil on palm and make a circular mix veg pakora ball.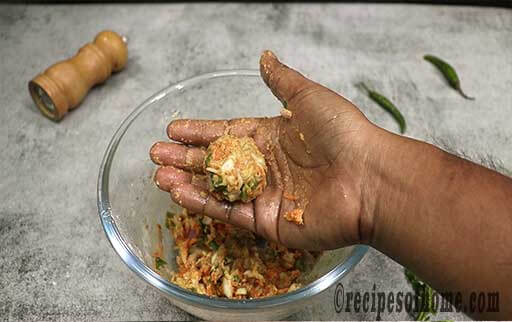 10. Set aside mix veg pakora on a serving plate to dry later.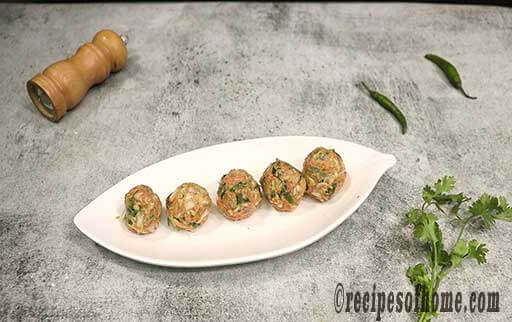 Fry vegetable pakora
1. Now pour 500 ml oil into a deep bottom pan or Kadai.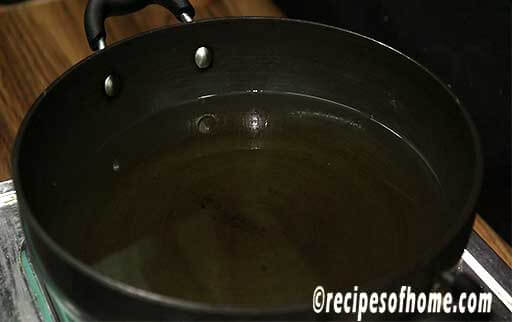 Note : When oil becomes medium hot, place a small veggie pakora dough if it rises easily without sinking and browning then it is the right temperature to fry vegetable pakora.
2. Gently deep fry vegetable pakora in medium to medium-high flame.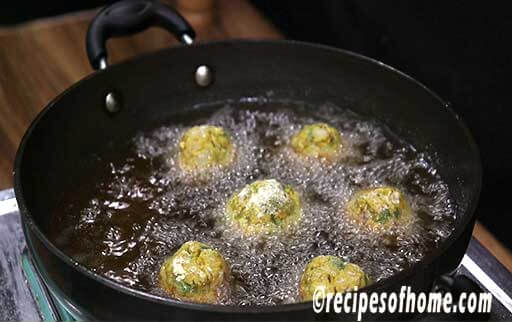 3. After deep frying sometimes you can see mix veg pakora become crispy and light golden brown from both sides.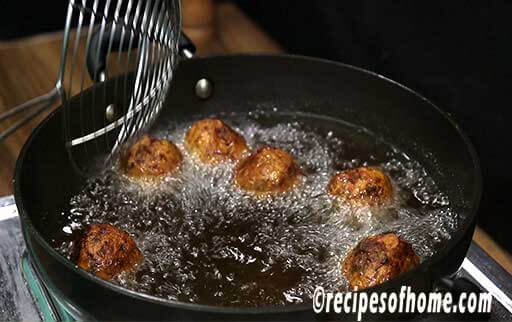 4. Finally our mix vegetable pakora is completed take them out from the pan and serve it hot with tomato ketchup, coriander chutney whatever you like.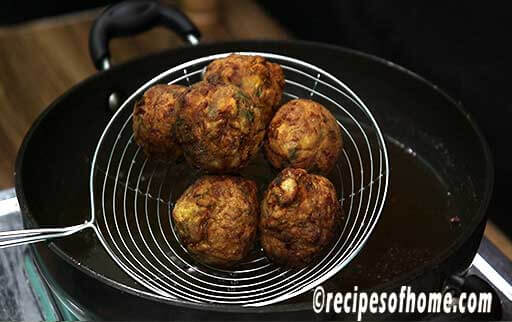 Vegetable pakora recipe card

Here is a quick overview of all the vegetable pakora ingredients including quick step by step preparation of veg pakora recipe shown in the recipe card.
Take note of all ingredient lists.