The Perfect Restaurant Style Gobi Manchurian recipe
Gobi manchurian recipe-crispy,fried gobi florets simmered in spicy,delicious manchurian gravy,is one of the popular manchurian recipes in Indo-Chinese cuisine.Gobi manchurian popularly known as cauliflower manchurian is very tasty and easy to cook.In this post you will learn how to make restaurant style gobi manchurian recipe?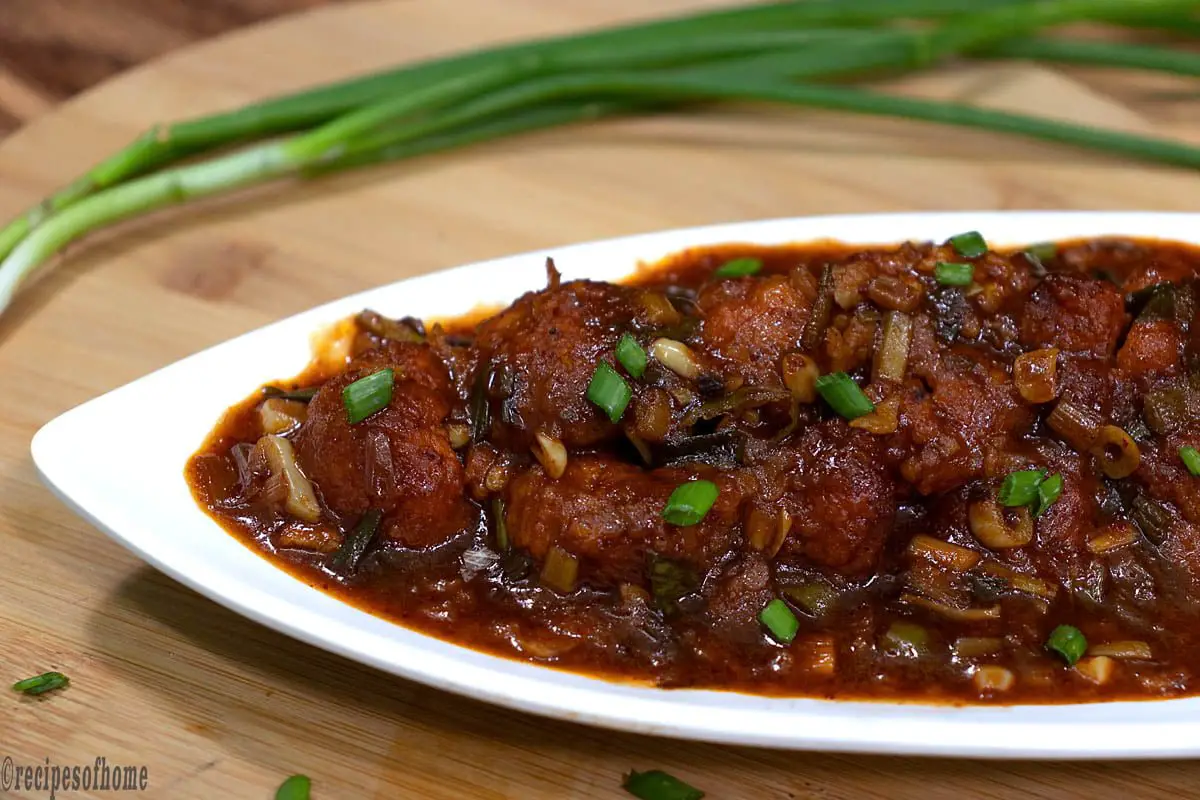 Note:if you are in a hurry,feel free to click on the following links to check your desired topic.If you'd like to see our in-depth step by step recipe preparation keep reading!
This manchurian recipe is popular in two variants as gobi manchurian gravy or dry gobi manchurian.Though both of this manchurian recipe is almost same and can be made easily at home.
More Recipes You May Love
What is gobi manchurian made of ?
Gobi manchurian is made of cauliflower which is first marinated then fried and tossed in manchurian gravy,consists of spring onions,capsicum,ginger-garlic,a few indian spices and soy sauce,red chili sauce and vinegar.
What to serve with gobi manchurian?
Gobi manchurian goes well as an appetizer or as a side dish with main course of fried rice and noodles.
Tips To Make Best Gobi Manchurian Recipe
Crispness:

To get perfect crispy in gobi manchurian marinade gobi with breadcrumbs or cornflakes as described in below.
Perfect Temperature: To get perfectly crunchy gobi fry them in medium flame.If you fry in high flame leads to burn gobi from outside and uncooked inside similarly low flame doesn't get crunch in gobi.
Vibrant Colour: To get vibrant colour similarly restaurant style gobi manchurian,without using any fancy food colour,simply add good quality kashmiri red chili powder which is available at our home.
Recipe of Gobi manchurian step by step with photo?
The complete recipe of Gobi manchurian classified into three simple categories,
first one is marinating cauliflower,second one is frying cauliflower ,
and
the last one is preparing gobi manchurian gravy.
so,lets make it now.
Marinating Cauliflower
1.At first for marinating cauliflower or gobi floret,in a deep pan pour water.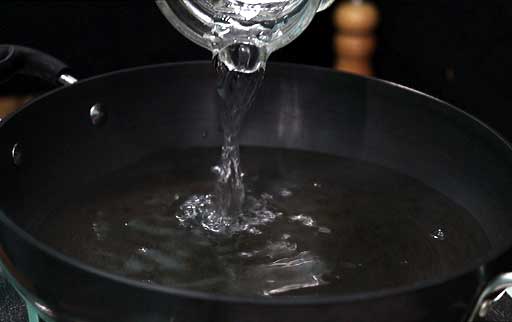 2.Now,add 2 tsp salt,vinegar and let the water to boil.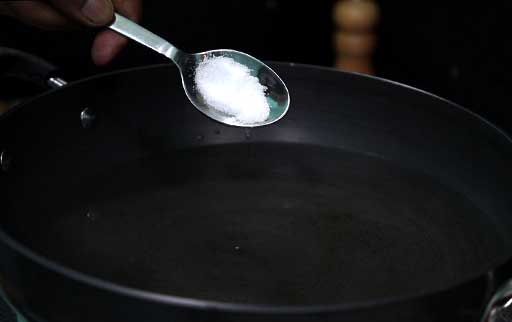 3.Mix small pieces of cauliflowers in this hot water.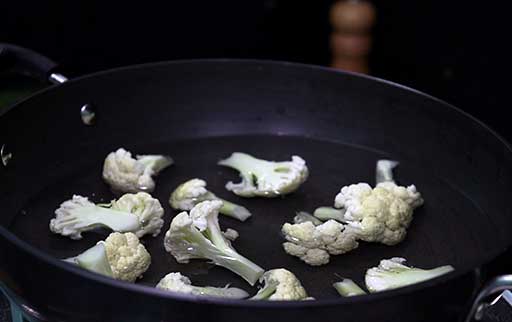 4.cover the pan and boil the gobi at least 2 to 3 min in medium to high flame.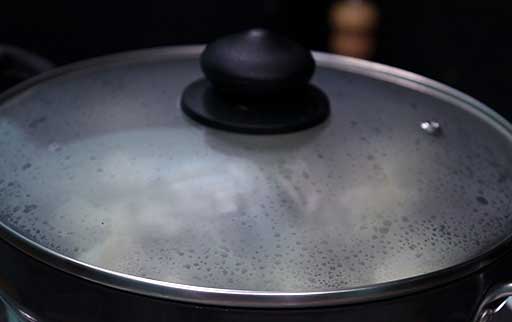 5.After that,turn off the gas.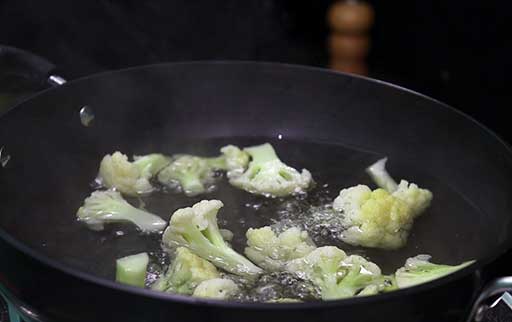 6.Drain the boiled cauliflower in a clean cotton towel.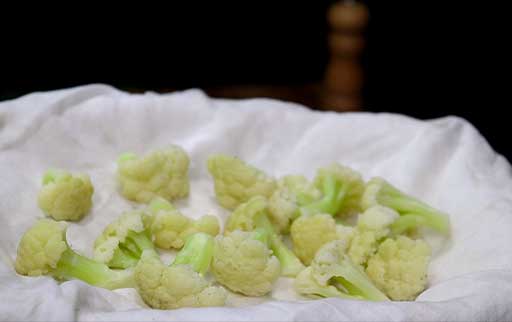 7.Now for marinating cauliflower,in a bowl add 3 tbsp corn flour,3 tbsp maida.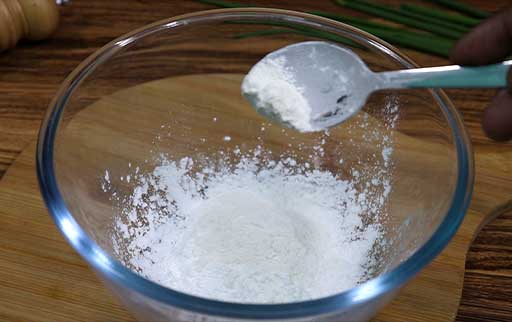 8.Also add 1/2 tsp black pepper,1 tsp kashmiri red chilli powder.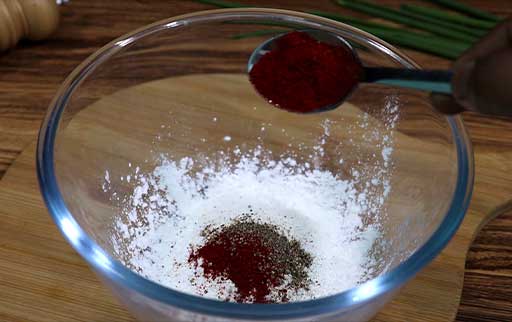 9.Add 1 tsp salt.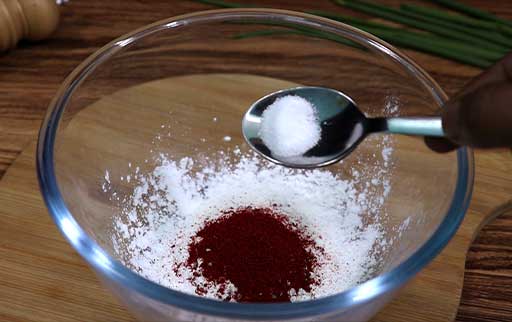 10. Now mix everything.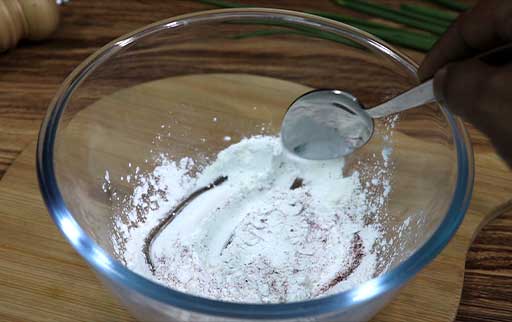 11.Now,add boiled cauliflower in bowl .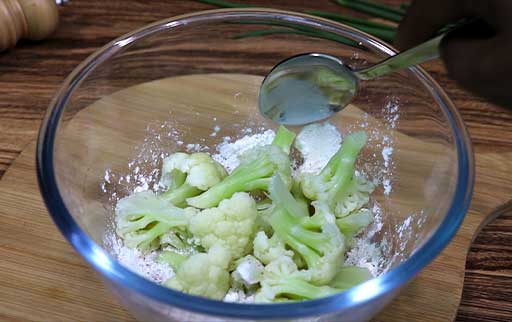 12.Without adding any water mix cauliflower with rest of ingredients.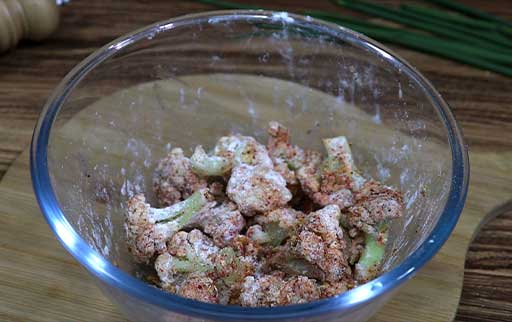 13.To make gobi manchurian crispy add 2 to 3 tbsp bread crumbs or cornflakes.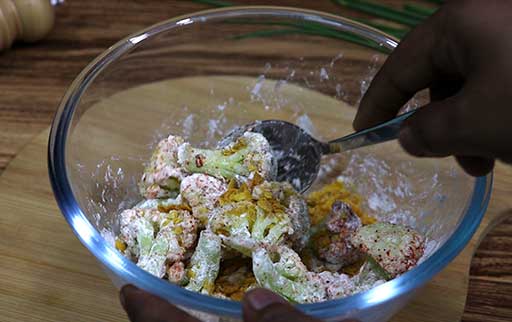 Frying Cauliflower
1.For frying cauliflower pour 50 to 100 ml oil in a deep bottom pan.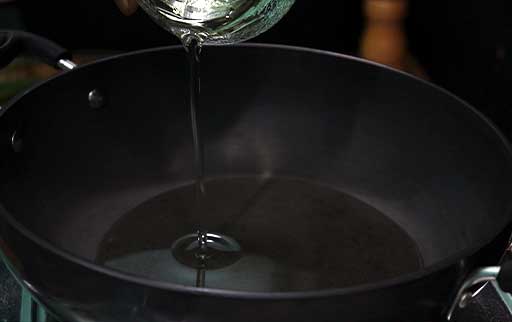 2.Now add marinated cauliflower in this pan and fry in medium flame 2 to 3 min.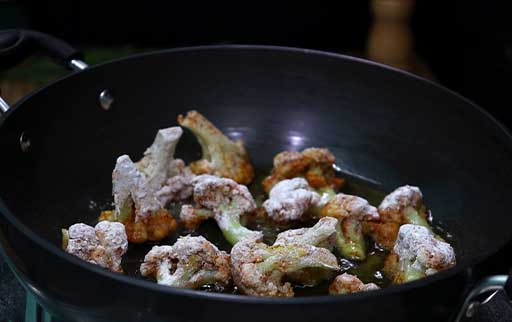 3.Then flip each pieces and cook both side.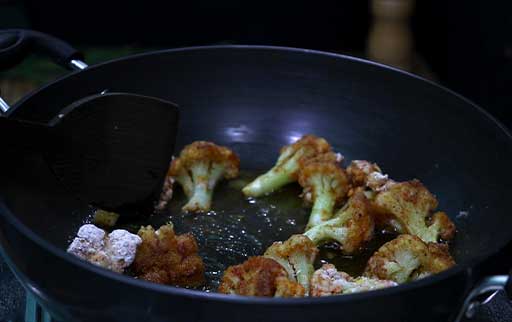 4.When both side of cauliflower becomes golden brown turn off the gas.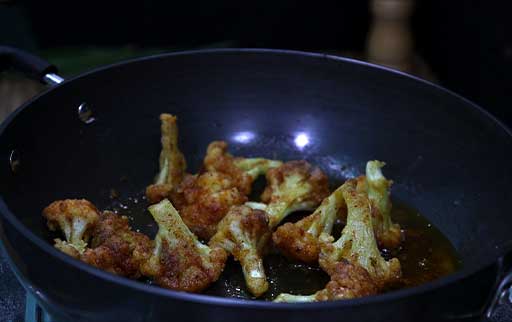 5.Now,take out fried cauliflower from pan and drain the excess oil in kitchen tissue.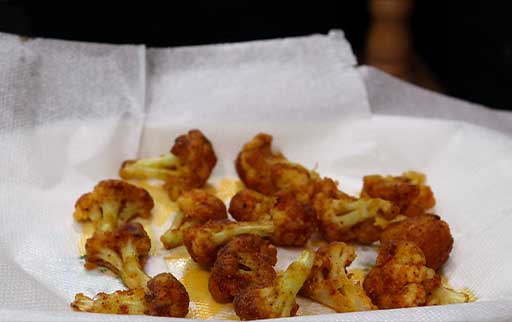 Making Gobi Manchurian Gravy
1.Heat 4 to 5 tbsp oil in a pan.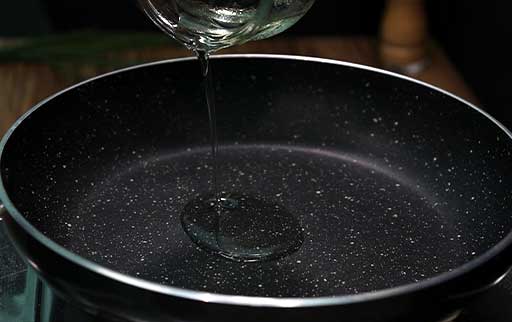 2.Add 1 tbsp chopped ginger garlic,saute the ginger-garlic in medium flame until raw smell disappear.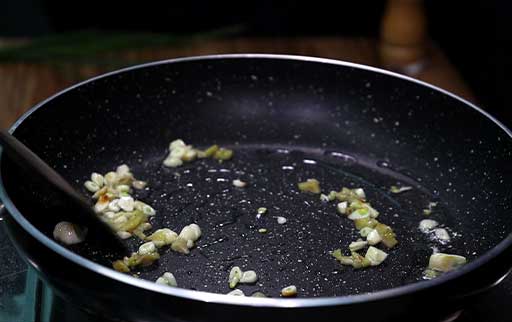 3.Add 3 tbsp spring onions 2 to 3 chopped green chili and cook in medium flame until it becomes translucent,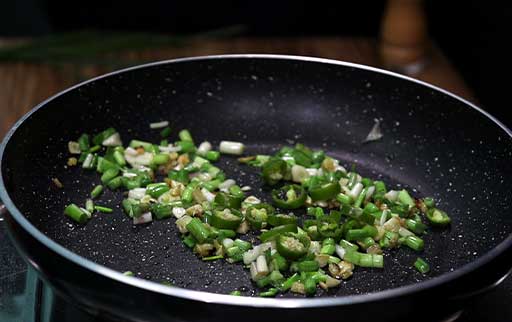 4.Pour 3 to 4 tbsp red chili sauce.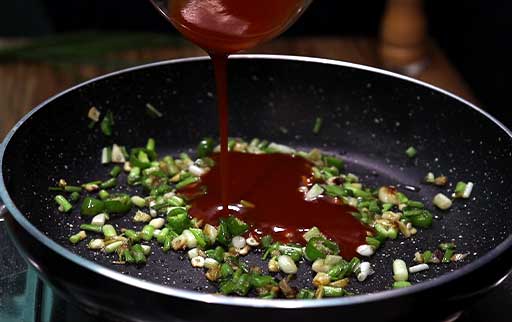 5.Add 1 tbsp soy sauce.
6.Also add 1 tbsp vinegar and mix everything for 2 to 3 min in medium flame.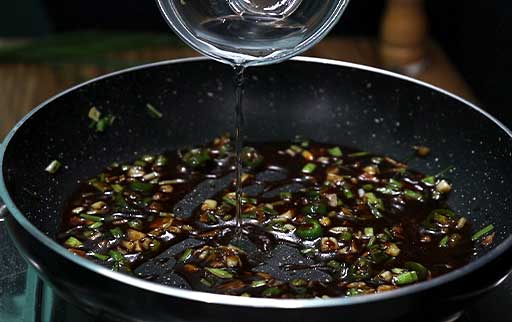 7.To balance out taste of gobi manchurian sauce add 1 tbsp sugar.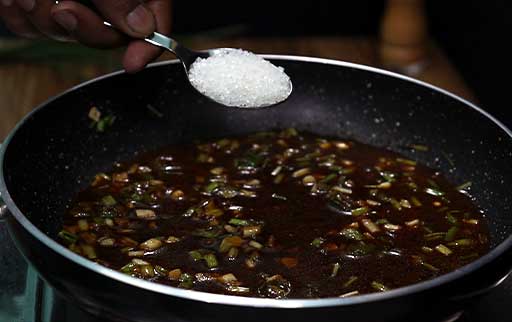 8.1 tsp salt adjust later if required.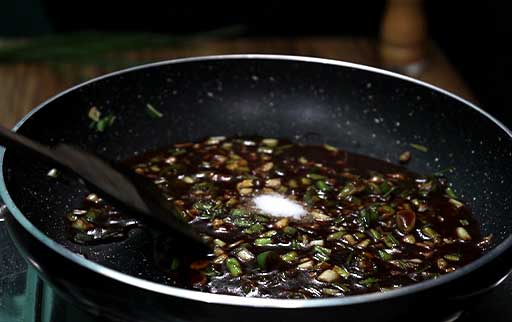 9.For vibrant colour like restaurant style gobi manchurian add 2 tsp kashmiri red chili powder.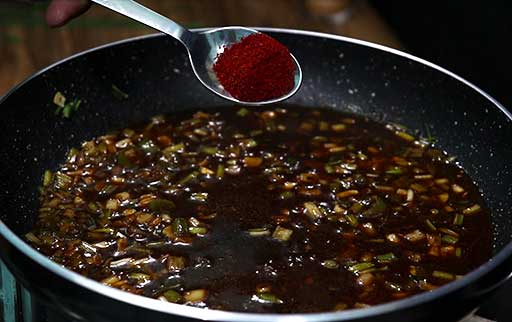 10.Finally add fried cauliflower in manchurian gravy.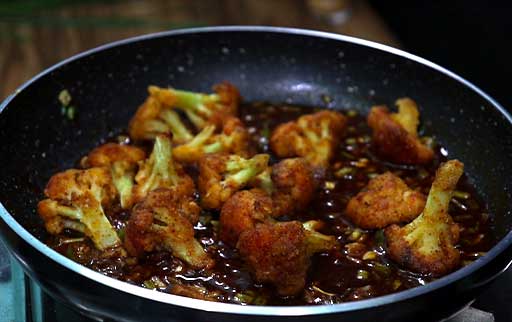 11.Now,gently mix in this sauce for another 1 to 2 min in medium flame.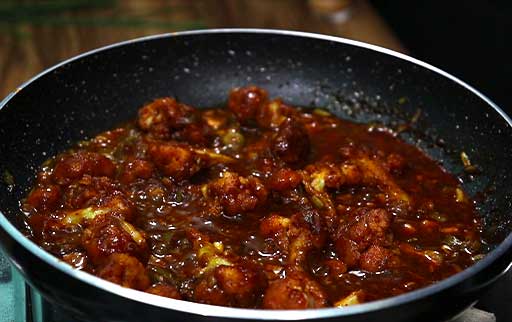 12.At the end,garnish the gobi manchurian with some chopped spring onions at the top.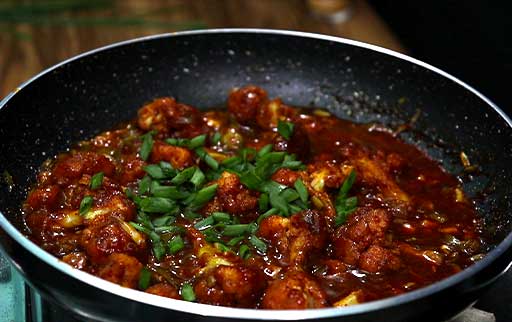 Gobi Manchurian Recipe Card
Here is the quick overview of all the ingredients of gobi manchurian gravy recipe including quick step by step preparation of gobi manchurian shown in recipe card.
Take note of all ingredient list.