veg fried rice recipe|how to make vegetable fried rice recipe
veg fried rice recipe-fragrant long grain basmati rice fried with fresh vegetables, soy sauce, and vinegar is one of the popular vegetable fried rice recipes in India. In this post, you will learn how to make vegetable fried rice recipe at home.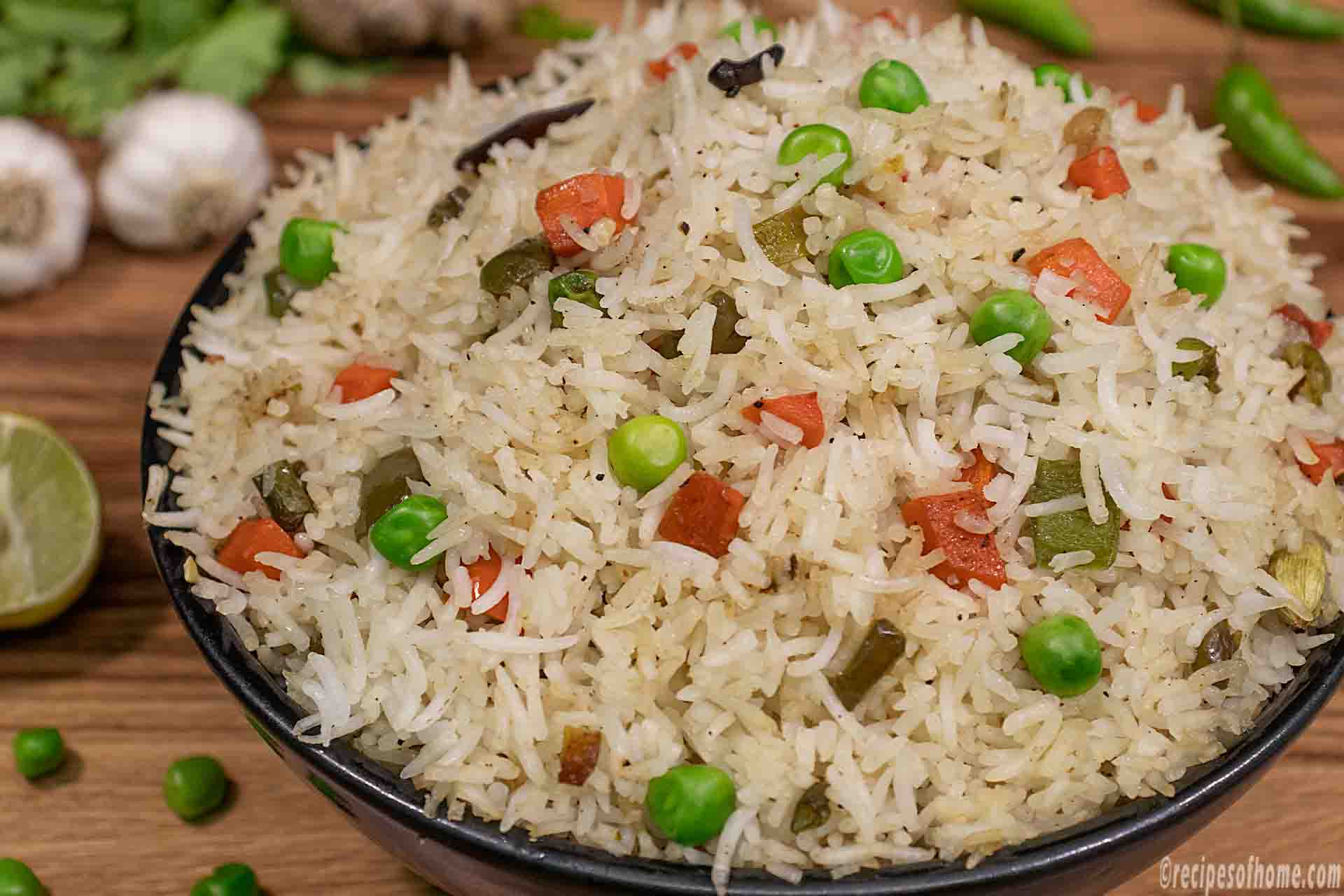 Note: if you are in a hurry, feel free to click on the following links to check your desired topic.If you'd like to see our in-depth step by step recipe preparation keep reading!
More Recipes You May Love
What is vegetable fried rice?
Vegetable fried rice is made of pre-cooked long-grain flavourful basmati rice fried with cooked vegetables, soy sauce, vinegar, and a few aromatic Indian spices.
What to serve with vegetable fried rice recipe?
If you are vegetarian serve hot fried rice with veg manchurian gravy, otherwise, it will be best to serve with chili chicken or any Chinese dish.
Tips To Make Best Veg Fried Rice Recipe
Rice: Most people use leftover rice to prepare fried rice recipe. But here I use long-grain flavourful basmati rice rinse thoroughly and soak them in the water at least 20 to 30 min before boiling rice for fried rice.
Choice Of Vegetables: Always use fresh vegetables whatever you like most. If you are going to use it from the refrigerator then keep them out for some time before preparing recipes.
Aromatic Flavour: A pinch of nutmeg powder, mace powder, and black pepper powder gives a beautiful aroma in your fried rice.
Recipe of fried rice step by step with photo?
The complete preparation of veg fried rice classified into two simple categories,
first one is Preparation For Vegetable Fried Rice,
and
the second one is Cooking Veg Fried Rice Recipe.
so, let's make it now.
Preparation For Vegetable Fried Rice
1. Before making vegetable fried rice take 250 to 300 grams of fragrant long grain basmati rice and wash thoroughly in running water.
2.Then soak the rice in water at least 25 to 30 min.
Note: In the meantime chopped and wash all the vegetables used to prepare fried rice.
3. Now to boil rice pour water in a deep bottom pan or kadhai
4. Add 1 tsp salt,1 tbsp oil which prevents rice grain not to stick to each other.
5. Now make a quick stir and let the water boil for some minute.
6. Add soaked rice in this hot water.
7. cook the rice in medium flame till grains are separated from each other.
8. we don't need mushy rice for fried rice, you can check the rice by pressing in fingers, when rice is in the desired state turn off the gas and drain the rice in a colander.
9. Now cool this rice completely and set aside for later use.
Cooking Veg Fried Rice
1. Now, For cooking fried rice pour 3 to 4 tbsp oil in a nonstick pan, spread it evenly in medium flame.
2. Add whole spices 1 small bay leaf,4 green cardamoms,4 cloves,1 black cardamom, 2-inch cinnamon and saute in medium to low flame up to 1 min.
3. After that add 1 tbsp chopped ginger-garlic.
4. And saute in medium to low flame until the raw smell of ginger garlic completely disappears.
5. Now mix vegetables for fried rice including 3 tbsp chopped capsicum.
6. 1 medium-size chopped carrots.
7. add 3 tbsp chopped french beans,
8. also, add 4 tbsp green peas
9. now saute all the veggies in medium flame up to 3 to 4 min.
10. add 1 tbsp chopped green chili and saute the veggies for another 1 to 2 min until all vegetables are properly cooked.
Note: here is the simple trick we need crunchy vegetables for fried rice, so don't overcook the vegetables and make them mushy.
11. now add 1 tbsp soy sauce.
12. additionally, mix 1 tbsp vinegar,
13. also add 1 tsp salt, to balance the taste of all ingredients add 2 tsp of sugar.
14. Pour 5 to 6 tbsp water and mix everything in medium flame until the sauce starts to bubbling.
15. Now add boiled rice in this sauce.
16. Next, fry the rice for 2 to 3 min in low flame until all of the sauce properly mix with rice.
17. To enhances the flavor of veg fried rice adds 1 tsp black pepper powder.
18. Also, add 1/2 tsp nutmeg and 1/8 tsp mace powder.
19. Then fluff the rice from one side with a sharp spatula without breaking any rice grain. Finally, garnish fried rice with chopped spring onions and serve hot with Manchurian gravy.
Veg Fried Rice Recipe Card
Here is the quick overview of all the veg fried rice ingredients list including quick step by step preparation of vegetable fried rice shown in the recipe card.
Take note of all ingredient list.