Curd rice recipe | Thayir sadam | How to make curd rice
Curd rice recipe is a popular south indian recipe where precooked rice mix with curd , veggies and aromatic tempering.Curd rice also known as thayir sadam or bagala bath or dahi chawal.To cook best curd rice at home follow below step by step instructions on how to make curd rice?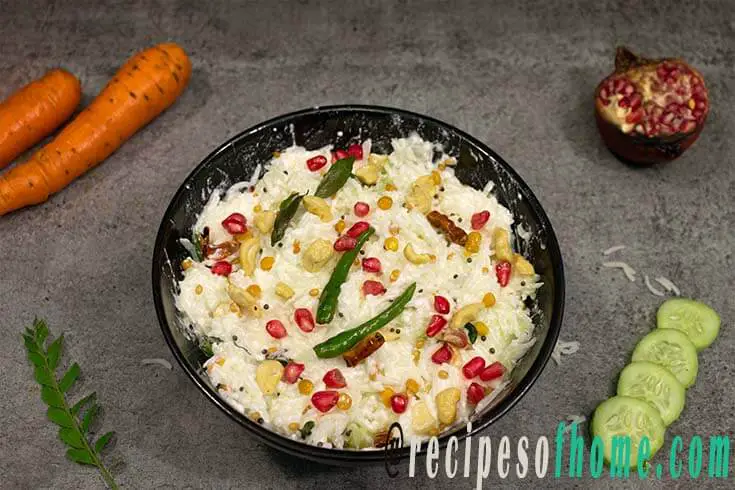 Note : if you are in a hurry, feel free to click on the following links to check your desired topic.If you'd like to see our in-depth step by step recipe preparation keep reading!
What is curd rice
Curd rice or thayir sadam or bagla bath or dahi chawal whatever you say is a famous south Indian curd rice recipe, where soft cooked rice mix with curd or indian yogurt, salt, tempering of spices, herbs and roasted cashew which makes curd rice more flavorful and tasty.
Benefits of curd rice
There are lot of benefits of curd rice if you eat it during your meal.
As curd has a good amount of proteins, calcium, minerals so it can easily full fil some portion of our daily nutrition requirements.

In curd presents friendly probiotic bacteria which help in digestion.
We usually eat curd rice during the summer seasons to prevent sunstroke and summer heat because curd act as a natural coolant and brings down our body temperature.
Must Check Recipes
Side dish for curd rice
Serve curd rice immediately with roasted cashew, freshly chopped coriander leaves or pomegranate arils and grated cucumber, and carrots.
You can also serve with a south Indian mango pickle, papad.

Tips to make curd rice recipe



Choice of Curd : Curd or yogurt is one of the main binding ingredients in this curd rice recipe so try to choose fresh curd or dahi or homemade curd.

Choice of Rice : Always use fresh and soft cooked rice for thayir sadam recipe. Make sure you saoak the rice in water for some time before cooking.
Tempering :

To enhance flavour in dahi chwal do tempering with urad dal, chana dal, mustard seeds, cashew nut, dried red chili, hing and fresh curry leaves.
Mixing Method : Never mix cold curd with hot rice because it separates whey from the curd. It will be best if you cool the soft cook rice at room temperature before mixing curd.
Later Consumption : If you want to eat thayir sadam later then mash the cooked rice properly when it is hot then pour milk gradually until it absorbs all milk. Next pour curd as per need and mix.
You May Like
How to make curd rice
Here, the complete recipe of curd rice preparation is classified into three simple categories first one is cooking rice for thayir sadam,
second one is tempering for dahi chawal , third one is making curd rice recipe.
so, let's make it now.
Cooking rice for thayir sadam
1. At first cooking rice for thayir sadam soak 150 grams of white rice in sufficient water for 30 min.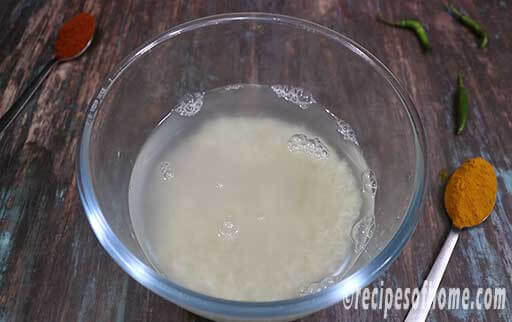 2. Now pour 400 ml water along with a pinch of salt and 2 teaspoon oil into a kadai.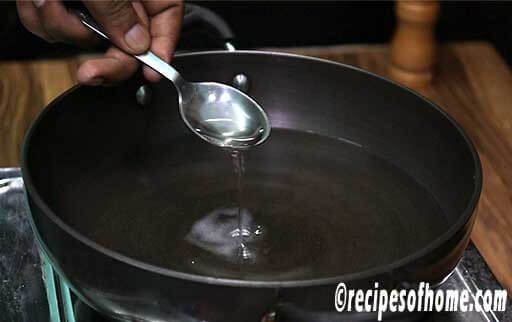 3. When water starts boiling add soaked rice, cover the lid and cook rice on a medium flame for 10 min till rice is soft.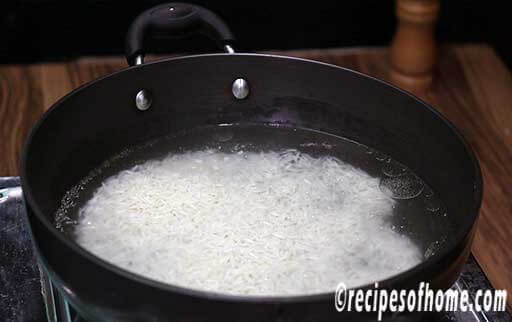 Note : If you are using a pressure cooker then pressure cook for at least 6 whistles or 10 min till rice is soft and cooked very well.
4. At this stage rice becomes completely soft and well cooked. If you want to mash the rice do it now.Now, wait for sometimes to allow cooked rice at room temperature.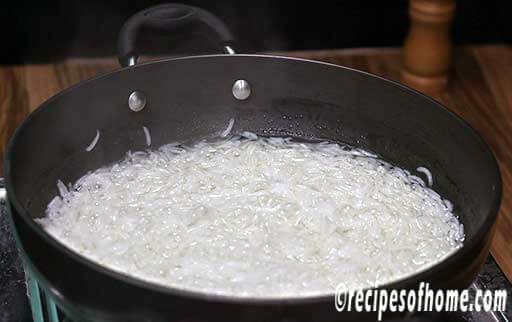 Tempering for dahi chawal
1. Now tempering for dahi chawal heat 2 tablespoons of oil in a pan.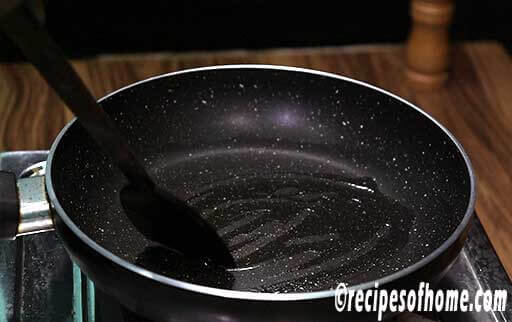 2. When oil becomes hot add 1/2 teaspoon mustard seeds, 1 teaspoon urad dal and 1 teaspoon chana dal, saute them till dal becomes slightly golden.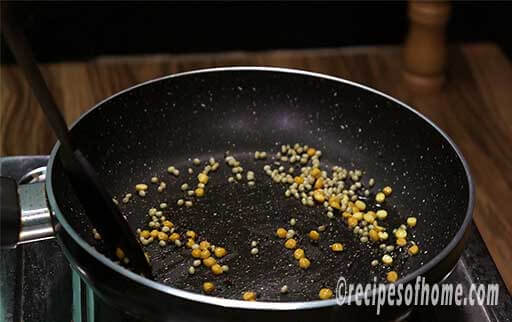 3. Now add 2 dried red chilies, 10 cashews, 3 vertically sliced green chili and 10 to 12 fresh curry leaves.
4. Next saute everything for another 2 min on medium to low flame till cashews become slightly golden and curry leaves become crisp.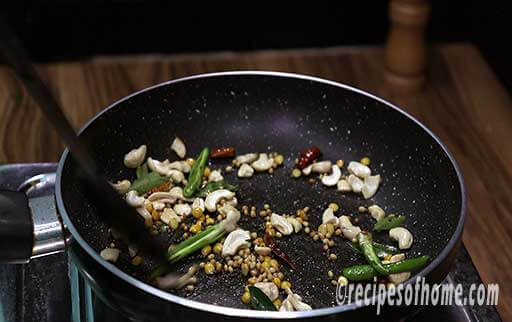 5. After that add pinch of hing, mix everything and switch off the flame.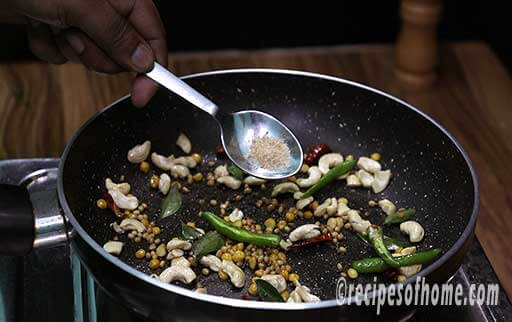 Making curd rice recipe
1. Now for making curd rice recipe transfer the soft cooked rice to a bowl and add 400 grams of curd in it.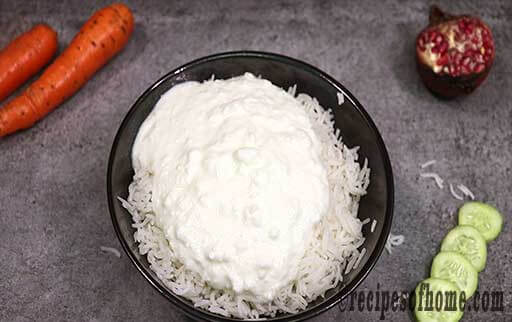 2. Next with a spoon mix curd properly with rice.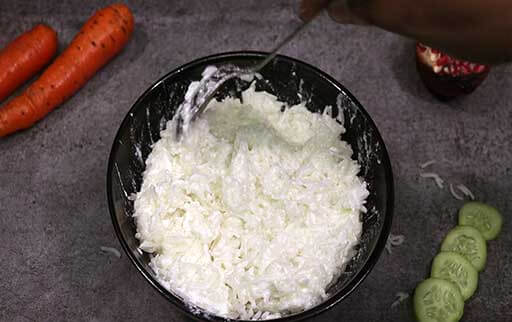 3. After that add grated cucumber and temper in curd rice mixture. Again mix curd rice well.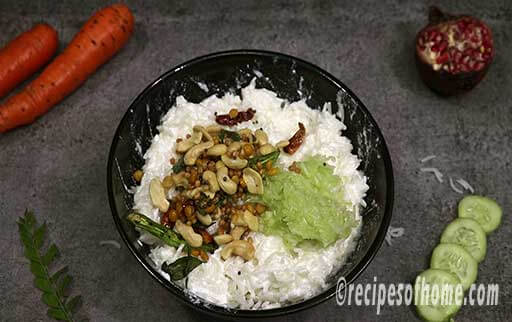 4. Now serve curd rice immediately by garnishing it with fresh coriander leaves and pomegranate seeds along with papad and pickle.

Curd rice recipe card
Here is a quick overview of all the curd rice ingredients including quick step by step preparation of dahi chawal recipe shown in the recipe card.
Take note of all ingredient lists.