Bhel puri recipe – a mixture of puffed rice, freshly chopped vegetables, fried peanut,sev and tamarind chutney, green chutney, and red chutney flavour with a few Indian spices popularly known as bombay bhel recipe or bhel puri chaat in Mumbai.In this post, you will learn how to make bhel puri recipe?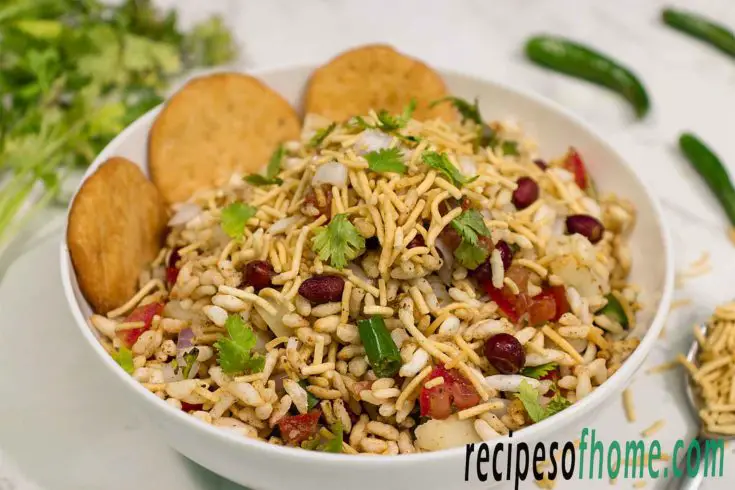 Though there are various recipe of bhel puri available by just varying its base ingredients, this is a very easy bhel puri recipe if you had made all the bhel puri chutney,papries and peanuts already then it will be your quickest snack dish can easily be made within 10 min.
This bhel puri recipe is one of the best evening snack dish you can try at home.
Note: if you are in a hurry, feel free to click on the following links to check your desired topic.If you'd like to see our in-depth step by step recipe preparation keep reading!
What is bhel puri
Bhel puri is India's most delicious street food made of puffed rice, chopped onions, tomatoes, green chili, chutneys, and garnished with chopped coriander leaves,sev, papries.  
What to serve with bombay bhel recipe
Serve bombay bhel recipe immediately with topping papries,sev, and coriander leaves on it, otherwise, it will become soggy and lose its flavour.
|Here are some delicious chaat recipes
What is the difference between the dry bhel puri and wet bhel puri recipe
There are two popular recipes of bhel puri available in India: dry bhel puri or "sukha bhel" and another one is wet bhel puri or "geela bhel".
Though both of these recipes are made of the same ingredients, the main difference is the use of chutneys.
If you want to make "dry bhel puri" just follow all of the above recipes except the "chutneys" part, which doesn't require "wet bhel puri".
Tips to make street style bhel puri chaat
Crispy Murmura : To get the best result from the bhel puri make sure you use fresh puffed rice that is crisp enough, if not you can dry roast in low flame for 3 to 4 min to make them crispy.
Use Of Chutney : You can make all the bhel puri chutney earlier and store them in an airtight container, While using chutney make sure you first use a little amount and then the rest of the amount if required because lots of chutney makes your bhel puri soggy.
Additional Ingredients :

If you like you can mix fried peanut, crushed papri,sev, boiled chickpeas while assembling bhel puri chaat.
Secret Flavor :

To get the flavour just like street style bhel puri, you have to use chaat masala powder and roasted cumin powder it.
You May Like
How to make bhel puri
Here, the complete bombay bhel recipe is classified into four simple categories first one is basic preparation for bhel puri 
the second one is making spicy red chutney for bhel puri, the third one is making sweet tamarind chutney for bhel puri,
the fourth one is making spicy green chutney for bhel puri and the last one is making bhel puri chaat.
so, let's make it now.
Preparation for bhel puri chaat

1. At first, for preparing the bhel puri recipe, we boil 2 to 3 medium-sized potatoes and chop them.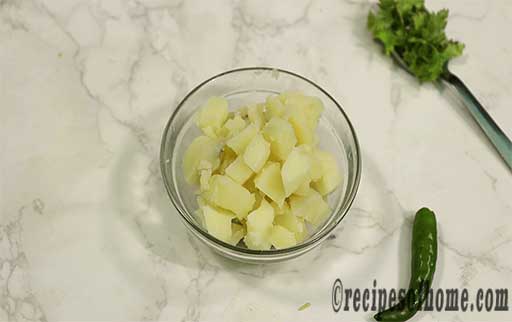 2. Now chopped 100 grams of onions,2 medium size tomatoes,2 to 3 tbsp fresh coriander leaves, and 1 tbsp chopped green chili.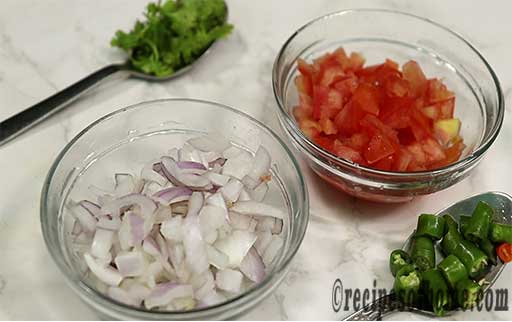 3. Also fried some 50 grams of peanuts.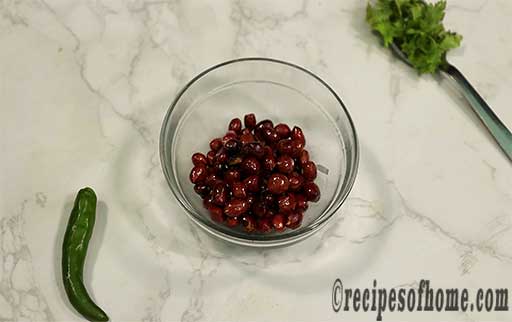 4. 6 to 8 papries while assembling bhel puri.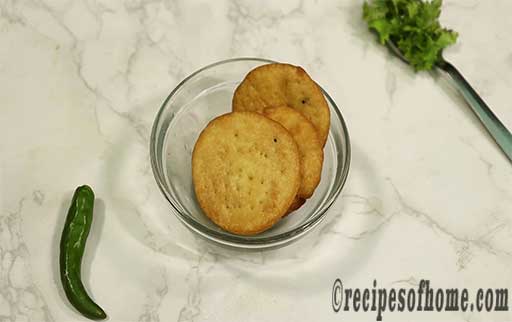 5. Also set aside 50 grams bhujia for later usage.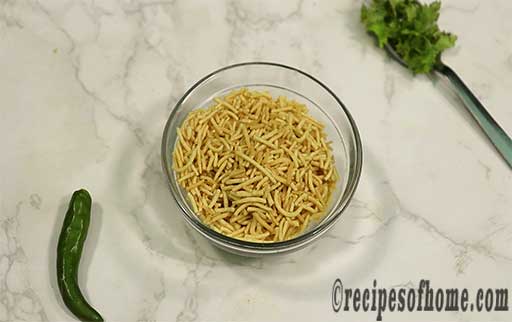 Bhel puri chutney recipe
To make street style bhel puri recipe at home, you have to prepare the 3 most delicious chutney recipes for bhel puri, which are hot and spicy red chutney, sweet and sour tamarind chutney, and green chutney.
Below I share step by step preparation of how you can easily make these chutney recipes at home.
Red chutney for bhel puri
1. Now for making hot and spicy red chutney for bhel puri recipe, soaked 8 to 10 dried red chili in warm water.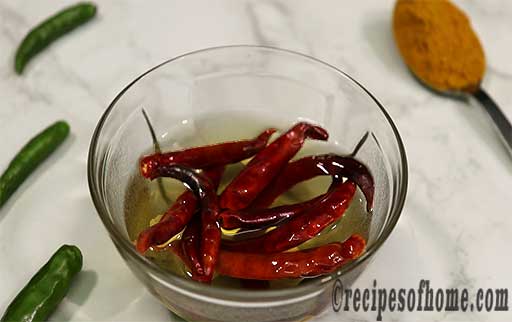 2. Next, pour soaked red chili into a blender, also add 4 to 5 garlic pieces, and 1 tbsp sugar with it.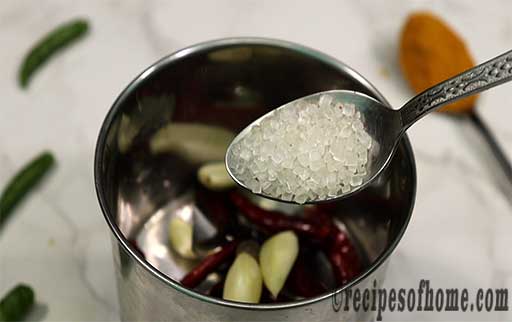 3. Furthermore add 50 ml water,1/2 tsp black salt, and 1/2 tsp white salt then blend them.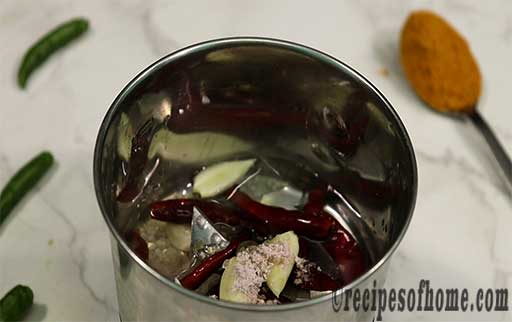 4. Finally set aside this hot and spicy red chutney for bhel puri for later usage.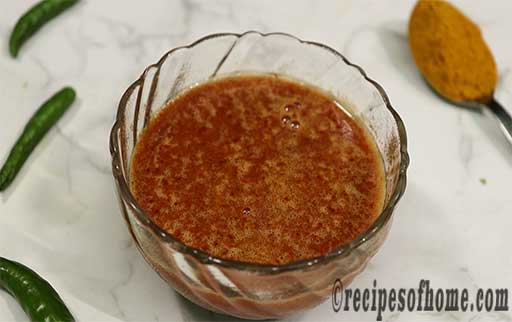 Green chutney for bhel puri
1. Now, for making green chutney for bhel puri in a blender pour 200 grams fresh coriander leaves,50 grams pudina leaves,2 to 3 chopped green chili, and 3 tbsp chopped onions if want to use.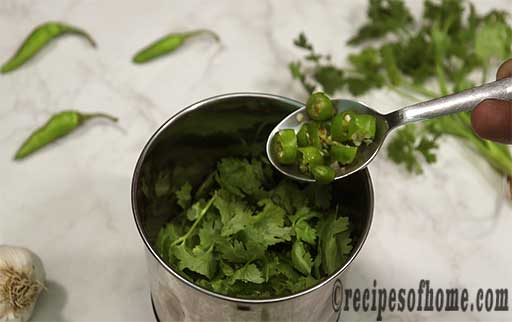 . 
2. Now, add 1 tbsp of chopped ginger-garlic,1 tsp of cumin seed, 1/2 tsp amchur powder(dry mango powder), a pinch of salt, and pour a dash of water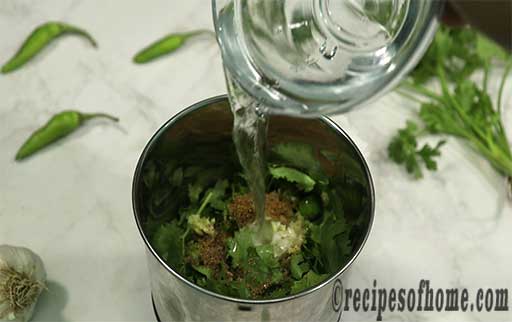 3. Next blend everything together.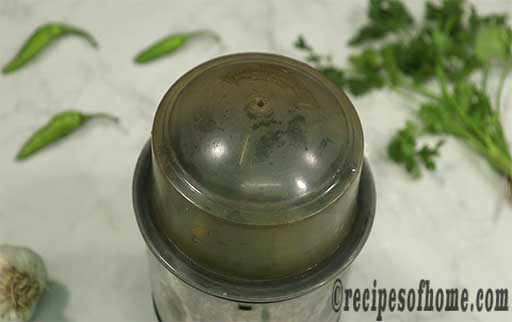 4. If water is required add a little amount of mix together, make sure the chutney should not runny, then set aside this green chutney for later usage.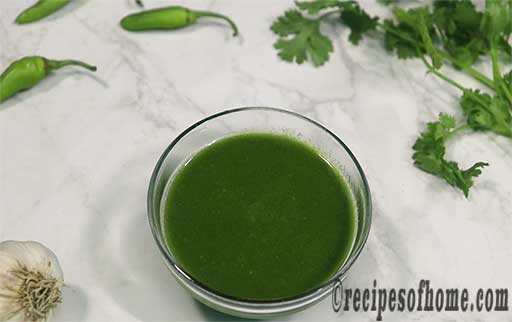 Tamarind chutney for bhel puri
1. Now for making sweet tamarind chutney for bhel puri recipe add 60 grams of tamarind in a bowl and pour a dash of warm water, gently squeeze each tamarind skin, and deseeded them.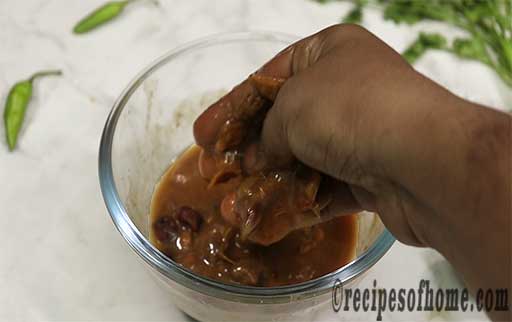 2. After that pass it through a sieve, then keep this smooth tamarind mixture in a separate bowl.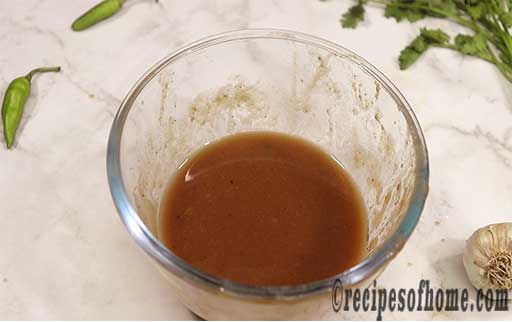 3. Now, pour 100 ml water, tamarind mixture,100 grams of jaggery, and salt to taste.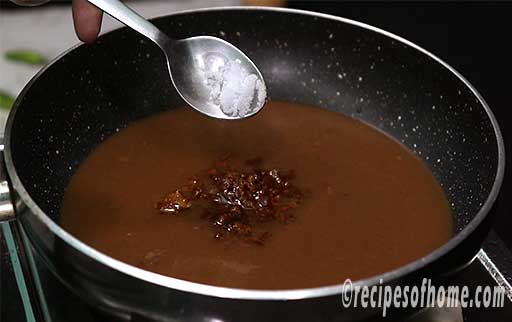 4. After that sprinkle 1 tsp red chili powder,1 tsp coriander powder, and 1 tsp cumin powder in it.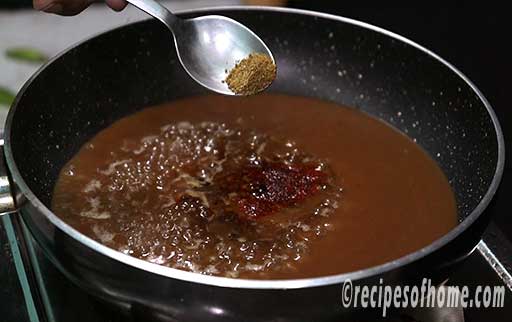 5. Furthermore mix them properly and let it simmer for 3 to 4 min until it becomes slightly thick. checks the taste of tamarind chutney if required add more jaggery and simmer for some time.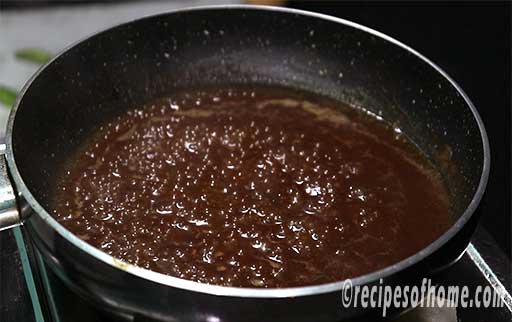 Making bhel puri recipe
1. Now for making the bhel puri recipe pour puffed rice or murmura into a large mixing bowl and mix chopped boiled potatoes, and onions.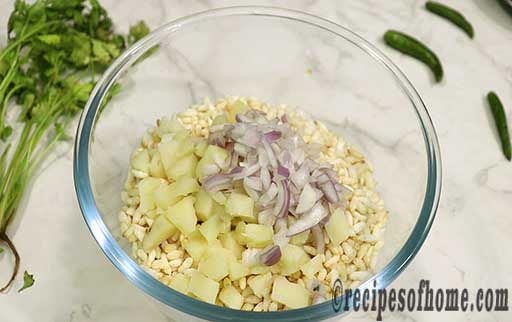 2. Also add chopped green chili, chopped tomatoes, and coriander leaves, and mix them.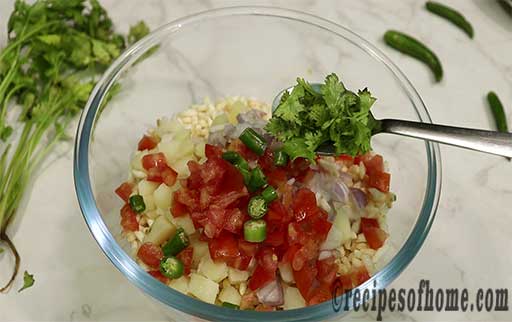 3. Next add 1 tbsp sweet tamarind chutney.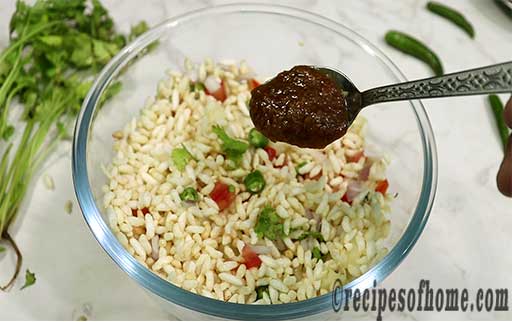 4. Also add 1 tbsp green chutney.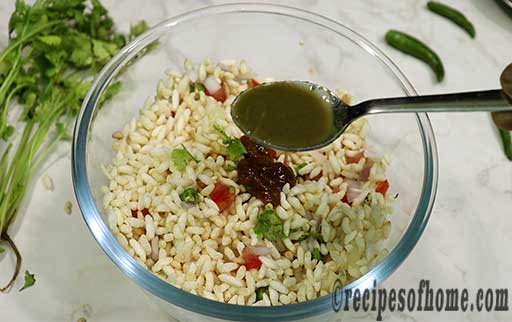 5. After that add 1 tbsp host and spicy red chutney.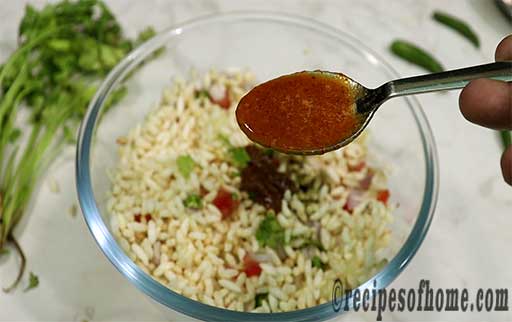 6. Now add 6 to 7 fried papries,3 tbsp fried peanuts, also add 2 tsp chaat masala,1 tsp black salt, and 1 tsp roasted cumin powder.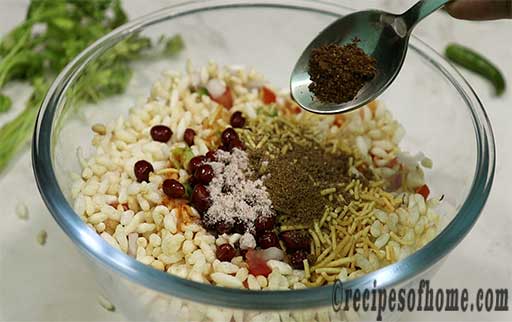 7. Finally, mix them, if required add more chutney, but make sure don't overdo it because it will lack the crispiness of bhel puri, serve this delicious bhel puri chaat immediately as your evening snacks.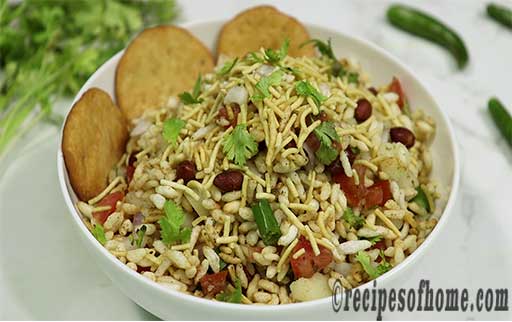 Bombay Bhel Recipe Card
Here is a quick overview of all the bhel puri ingredients including quick step-by-step preparation of bomaby bhel recipe shown in the recipe card.
Take note of all ingredient lists.