Samosa recipe | Aloo samosa recipe | How to make samosa
Samosa recipe – stuffing of potatoes and green peas flavoured with a few indian spices which are first filled in samosa pastry sheets then deep fried in oil, is the most popular crispy, flaky Indian snack dish. This crispy samosa recipe is popularly known as singara in bengal.If you want to make the perfect aloo samosa recipe then follow below step by step instructions on how to make samosa?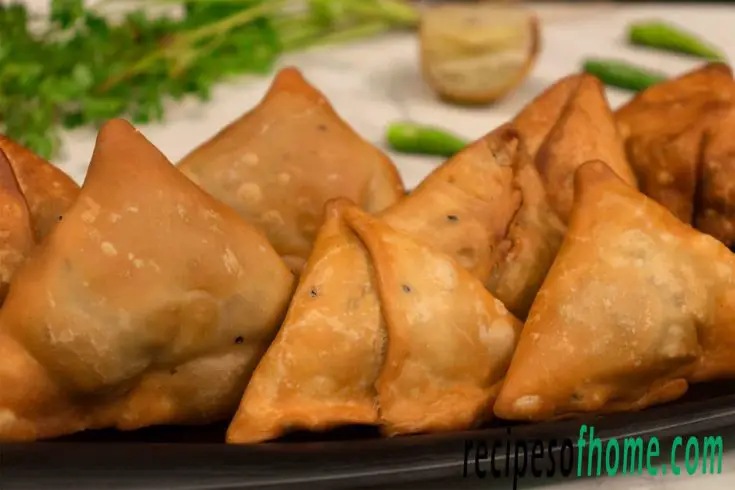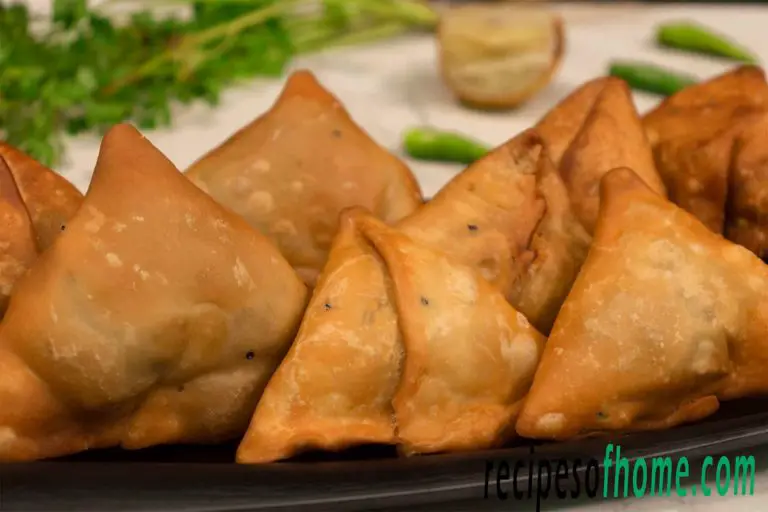 Though there are various types of samosa recipe available by just varying its stuffing ingredients chicken samosa, paneer samosa, keema samosa, veg samosa, etc.
Among them, the most famous is the vegetable samosa recipe which we usually eat in india as aloo samosa recipe. 
This is a very quick and simple samosa recipe, which does not only taste good but is also very easy to make at home if you follow all the below instructions properly.
Note: if you are in a hurry, feel free to click on the following links to check your desired topic.If you'd like to see our in-depth step by step recipe preparation keep reading!
What is the origin of samosa
According to popular belief, the origin of samosa was middle east countries and it was first introduced in india during delhi sultanate rule, later it was introduced in India as a vegetable samosa by potato filling inside samosa.
How aloo samosa is made
In india " samosa " widely known as aloo samosa recipe is one of the popular indian street food where the stuffing of spicy potatoes is first filled in a conical maida dough, sealed it then deep-fried in oil in low flame to make it crispy and flaky.  
| You can also check below snack recipes
What to serve with punjabi samosa
You can serve samosa and jalebi or samosa with tea as a combo snack dish whatever you like most.
Tips to make crispy samosa recipe
Amount Of Moian :

 To make a perfectly crispy samosa at home, you have to strictly follow maida and oil ratio of 5:1; here I use 60 ml oil for 300 grams of maida, beyond this samosa crust may break while frying, similarly less oil make samosa crust hard.  
Cooking Method : At first, heat the oil on medium flame when the oil is hot enough then add the samosa and fry them on the medium-low flame till it becomes slightly golden brown. In this way, you not only make the samosa crispy but also do not form any blister on the samosa crust.
Perfect Samosa Dough : For preparing a crispy samosa recipe, the dough must be stiff and nonsticky, and most importantly it should rest for at least 30 min before making samosa shape and filling.
Thickness Of Samosa : Make sure to prepare samosa sheets in equal medium thickness size, too thick will become uncooked from the inside similarly too thin samosa will easily break-in oil.
You May Like
How to make samosa
Here, the complete aloo samosa preparation is classified into three simple categories first one is making samosa dough,
the second one is preparing samosa stuffing, third one samosa filling and shaping
and the last one is frying samosa 
so, let's make it now.
Making Samosa Dough
1. At first for making samosa dough in a large mixing bowl add 300-gram maida or all-purpose flour,2 tsp caraway seed or Kala jeera, and 2 tsp salt.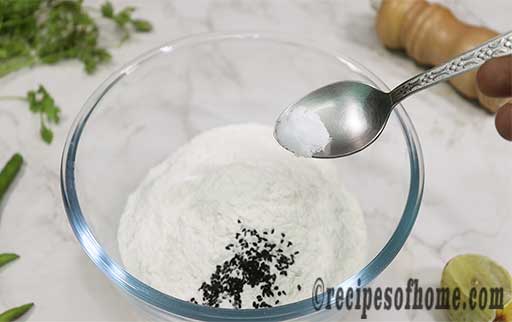 2. Then pour 60 ml of oil into it.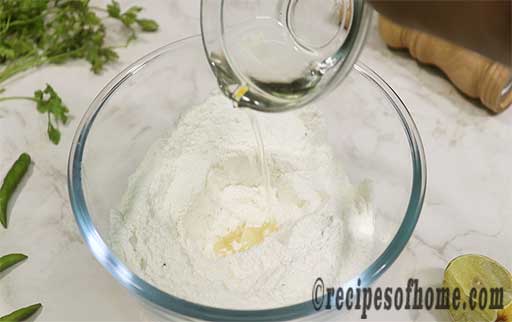 3. Now mix the maida properly in oil such that it forms or holds shape.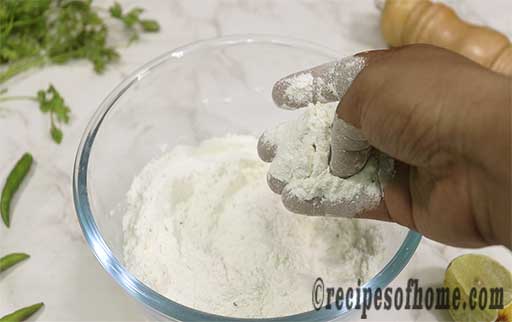 4. Then pour water in the interval and knead the dough, making sure the dough must be stiff and nonsticky.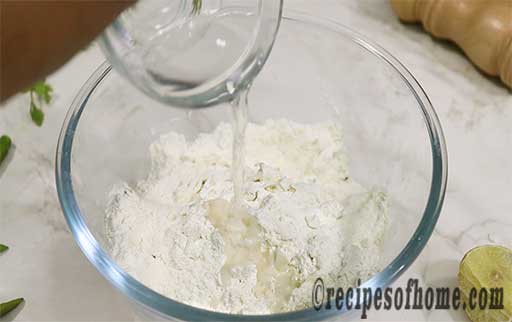 5. Finally rest the dough for some time.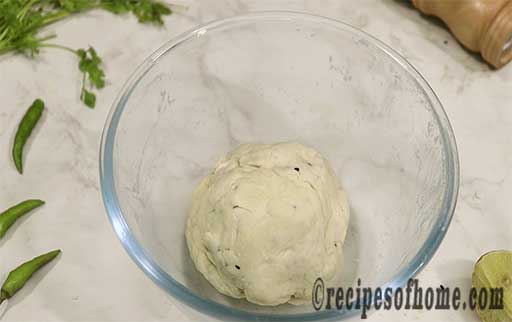 Preparing Samosa Stuffing
1. Now for preparing samosa stuffing heat 3 tbsp oil in a pan, spread evenly in the pan.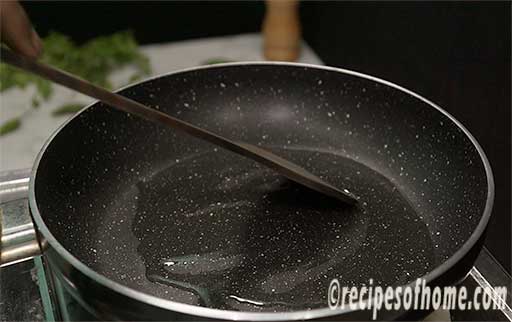 2. After that add 1 tbsp chopped ginger garlic,1 tsp cumin seed.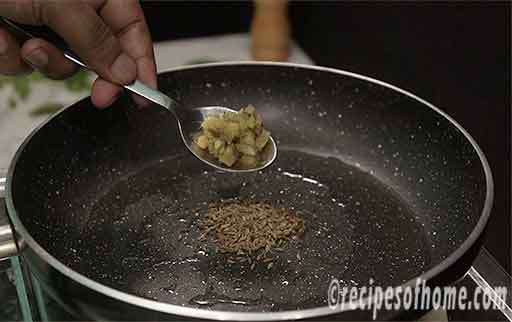 3. Saute them for some time until the raw smell completely disappears.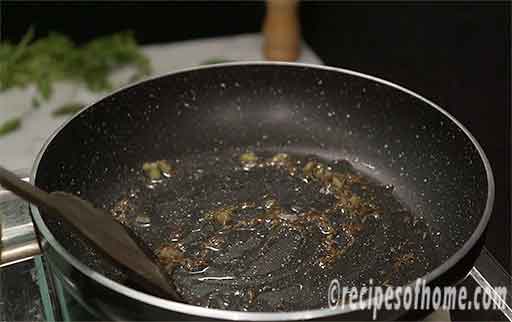 4. If you like onion samosa then add 2 medium size finely chopped onions, and 3 chopped green chili, and cook them for another 4 to 5 min until onions become translucent.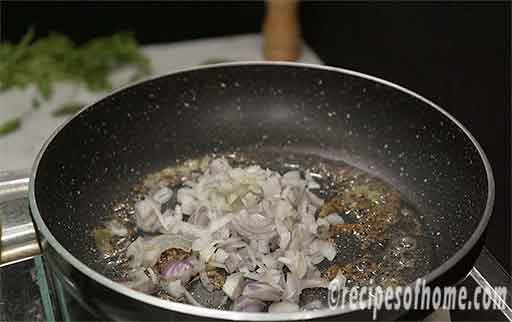 Note: Using onion in samosa is totally optional, if you don't like just ignore it.
5. Now add 5 medium sizes boiled mashed potatoes, also sprinkle 1 tsp red chili powder,1 tsp garam masala powder,1/2 tsp salt,1 tsp roasted cumin powder,1/2 tsp turmeric powder,1/8 tsp amchur powder. mix them.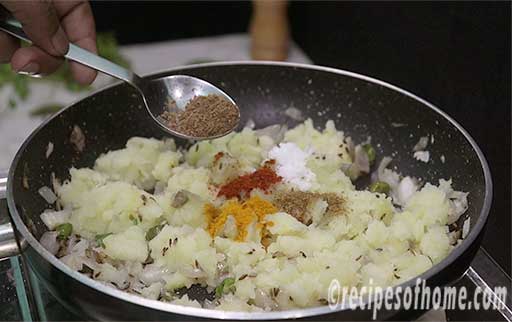 6. Cook all of them further for 4 to 5 min on medium flame until all the masala is mixed properly with the potatoes.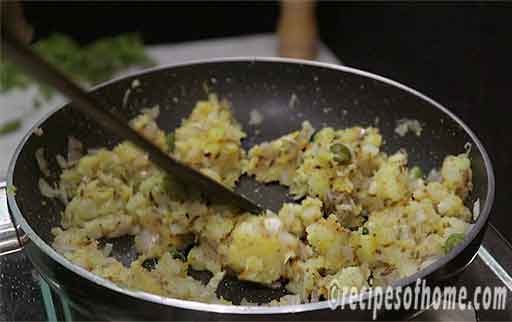 7. Furthermore, sprinkle 4 tbsp freshly chopped coriander leaves, and mix them.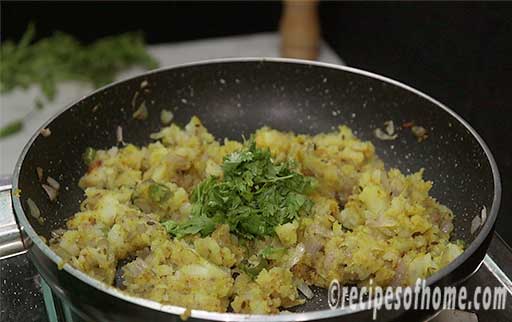 8. If you love green peas add them now.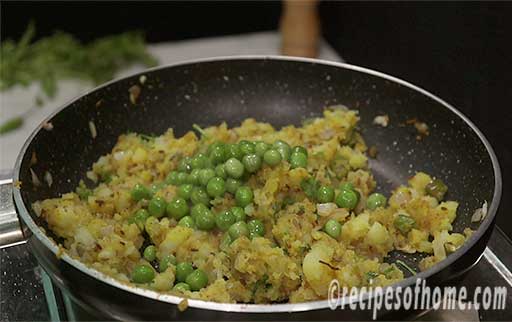 9. Finally, the samosa stuffing is ready, keep it in a separate place for later usage.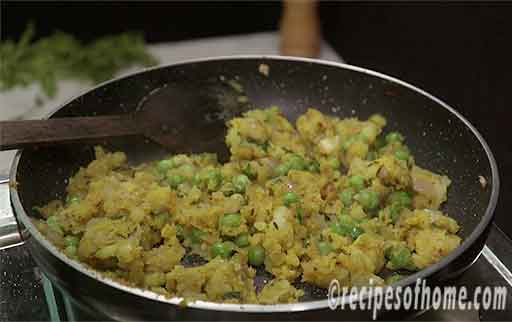 Filling and shaping for samosa recipe

1. Now for samosa shaping cut the dough into equal small size dough, make a medium oval shape of equal thickness using a rolling pin.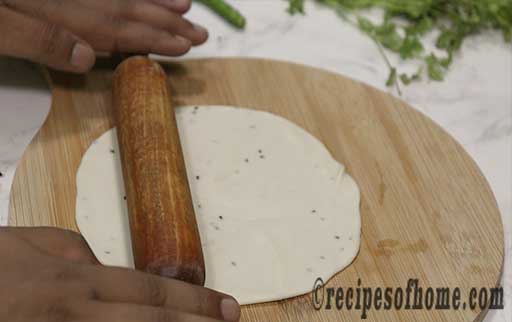 2. Cut the oval shape from the middle into two halves.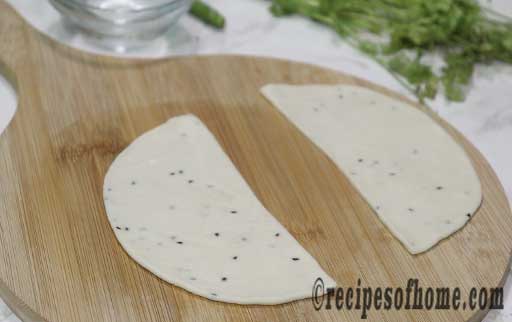 3. Next, apply water on the edges of samosa sheets and join both ends of the semi-oval shape to make a cone shape.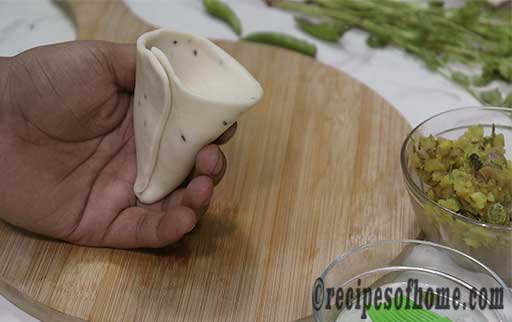 4. After that pour samosa filling in it, using a brush apply water at the edges of the samosa sheets to seal them properly.
5. Finally place this samosa one by one on a plate for frying.
Frying aloo samosa
1. Now for making crispy aloo samosa, heat 500 ml oil in a pan.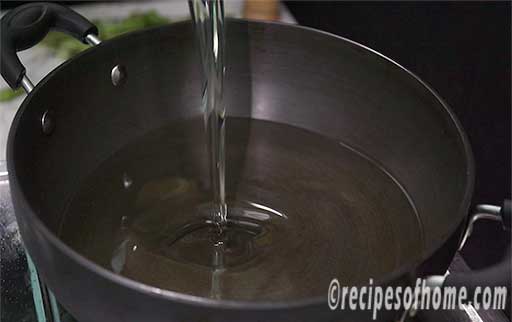 2. Check whether the oil is hot enough, by placing a small dough in oil if it easily rises without browning then the oil is ready.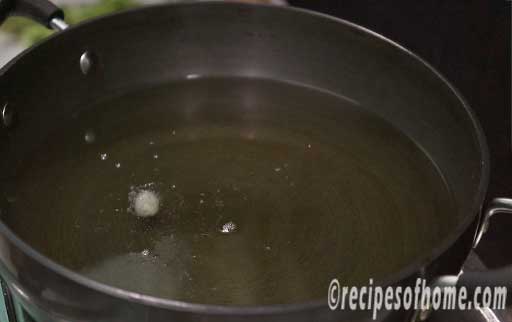 3. After that gently place aloo samosa one by one in oil fry them in medium to low flame for around 8 to 10 min until one side becomes light brown colour.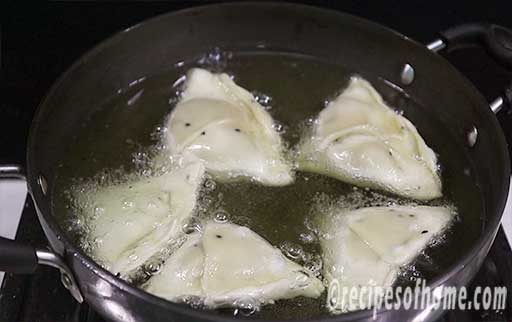 4. Turn the other side and cook that side also.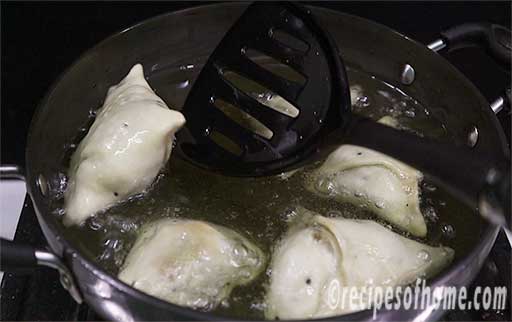 5. When both sides become light golden brown, take them out from the pan.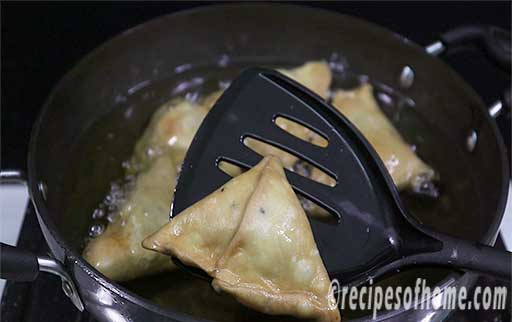 6. Finally our aloo samosa recipe is completed, now serve this garam samosa with tea or any samosa chutney either tomato ketchup or green chutney whatever you like.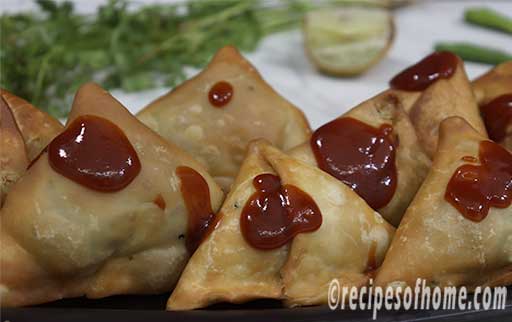 Aloo Samosa Recipe Card
Here is a quick overview of all the aloo samosa ingredients including quick step by step preparation of aloo samosa recipe shown in the recipe card.
Take note of all ingredient lists.