Veg cutlet recipe – stuffing of fresh vegetables and potatoes flavoured with a few indian spices which are first coated with crumbs then fried in oil is one of the popular Indian snack dishes. This hot and crispy vegetable cutlet recipe is widely served as evening snacks across India. In this post, you will learn how to make cutlet?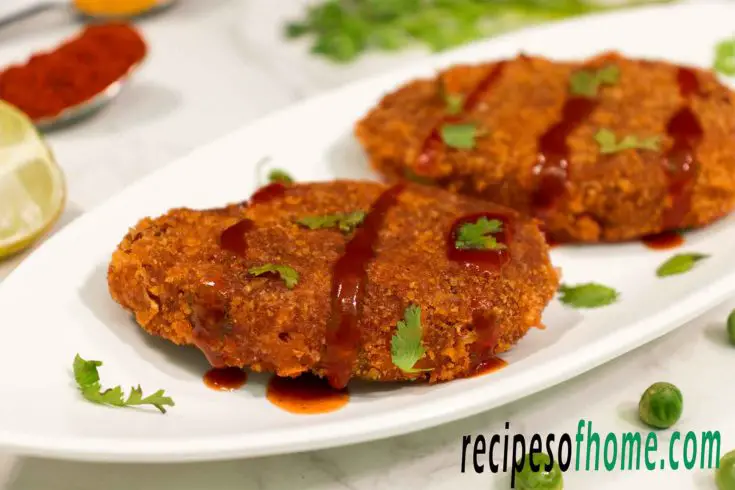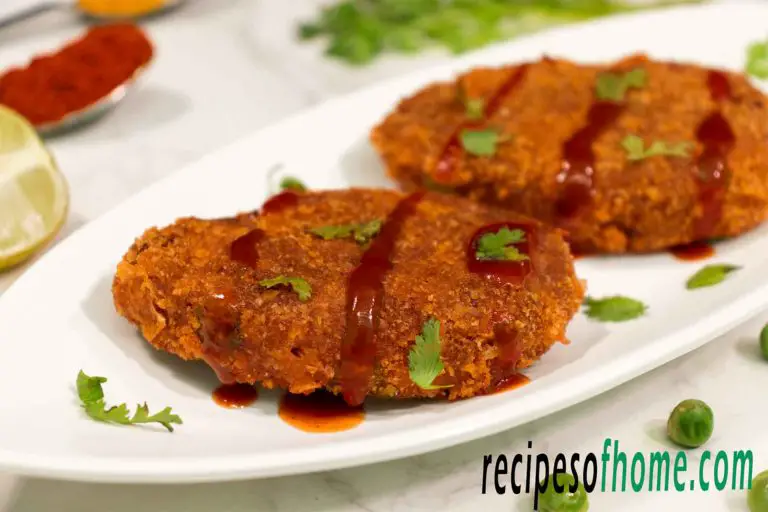 Note: if you are in a hurry, feel free to click on the following links to check your desired topic.If you'd like to see our in-depth step by step recipe preparation keep reading!
Though there are various type recipe of veg cutlet available just varying it's stuffing ingredients and coating, sometimes scrambled paneer, cheese is also used as a stuffing ingredient,
instead of crushed cornflakes which I used here, crushed poha or breadcrumb is used.
All of the above variations work well depending upon preference, this crispy veg cutlet recipe is not only tastes good but also very easy to cook at home. 
What is veg cutlet
Veg cutlet recipe a popular Indian snack dish where stuffing of veggies, potatoes, and spices first make cutlet shape then deep into maida batter and coated with crumbs after that shallow or deep-fried in oil.  
What to serve with vegetable cutlet
You can serve this veg cutlet as it is in your evening snacks with chai or you can serve this vegetable cutlet with tomato ketchup, green chutney whatever you have. 
⇒ You can also check below recipes 
How to store cutlets
After completing veg cutlet recipe you can safely store this cutlet for at least 2 to 3 days in a zip lock bag.
But, before using it make sure you cool them at room temperature, then deep into the maida water mixture and give a crumb coat before frying oil.
How to avoid breaking the cutlet while frying
As veggies have a lot of moisture in them if the temperature of the oil is not perfect while deep frying then these veg cutlets automatically absorb a lot of oil and ultimately will end up breaking.
So to avoid these I have two suggestions for you :
First one, while preparing to stuff for veg cutlets mash it properly, cool it down then add crushed cornflakes, breadcrumbs, or crushed poha whatever you like.

This will help to reduce moisture in the stuffing.
The second one, if you are not a pro cooker don't do deep frying just do shallow frying as I'm using, if your cooking temperature is not perfect your cutlet may break while frying.
Tips to make the best vegetable cutlet recipe
Choice Of Veggies : In an authentic vegetable cutlet recipe the main ingredients are beetroot, carrots, and green peas which I used here, if you want variation you can also include broccoli, sweet corn, yam scrambled paneer, etc  
Cooking Method : Here I cooked this veg cutlet recipe in shallow frying on medium to low flame. if you are not a pro cooker I suggest don't do deep frying because you will end up breaking cutlets.
Secret Flavor : To enhance the flavour of the vegetable cutlet recipe use good quality coriander powder, garam masala powder, and amchur powder from any popular brand.
Binding Agents : To make a crispy veg cutlet recipe, I use crushed cornflakes here which not only reduces the moisture in veggies but also gives more crispy outside after frying. You can also use crushed poha or breadcrumbs.
You May Like
How to make veg cutlet
Here, the complete preparation of veg cutlet recipe is classified into three simple categories first one is stuffing for vegetable cutlet,
second one is making veg cutlet recipe and the last one is frying veg cutlet 
so, let's make it now.
Stuffing for vegetable cutlet recipe

1. At first, preparing to stuff for the vegetable cutlet recipe, wash 200 grams of potatoes, cut them into quarters shapes then boil them in a pressure cooker for up to 7 to 8 whistles.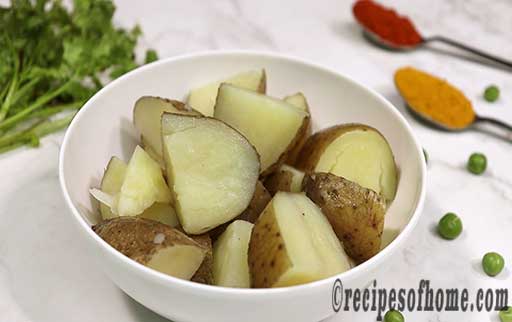 2. Now, cool the potatoes a little bit peel and mash them with a masher or by hand.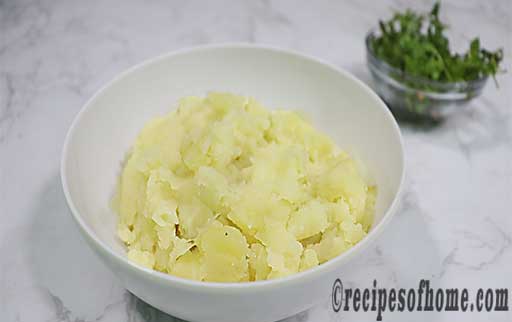 Note : At this stage grate 1 small beetroot, 2 medium sizes chopped carrots, 2 medium size chopped onions, 1 tbsp green chili,1 tbsp ginger-garlic, and 4 tbsp chopped coriander leaves.
3. Now, heat 5 tbsp oil in a pan,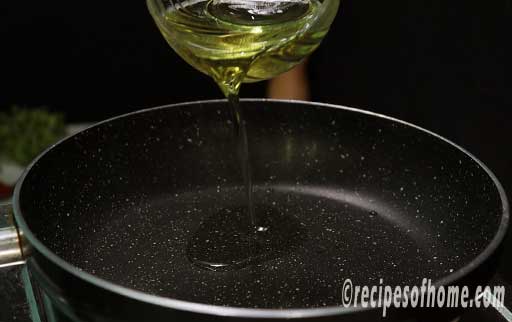 4. Next, add 1 tbsp chopped ginger garlic and saute in medium flame until the raw smell disappears.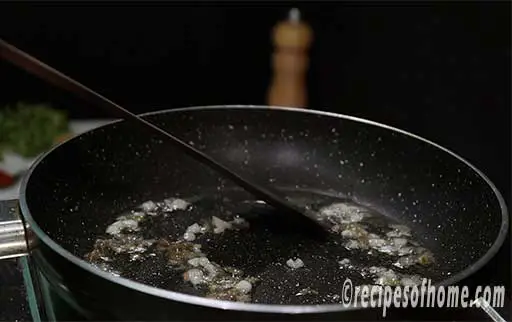 5. Also, add 1 tbsp chopped green chili.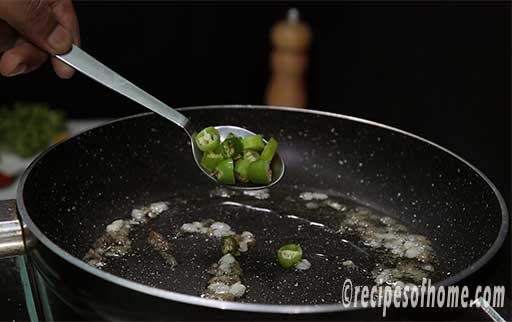 6. After that add, 2 medium size chopped onions, and saute them until the onions become slightly golden brown.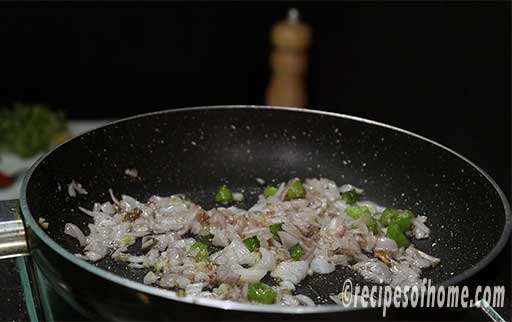 7. Now add 4 tbsp green peas and saute them for a min.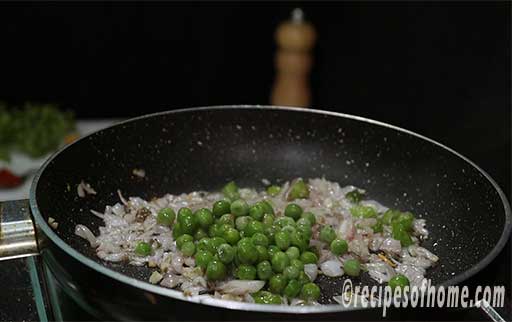 8. Furthermore, add 1 small size grated beetroot,2 medium-size carrots, and 4 tbsp chopped french beans, saute all the veggies till it is crunchy but not mushy.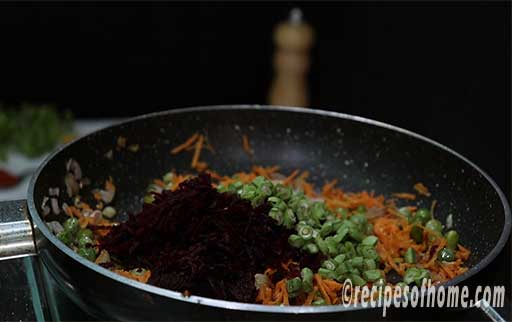 9. At this stage add mashed potatoes to it and quickly mix it.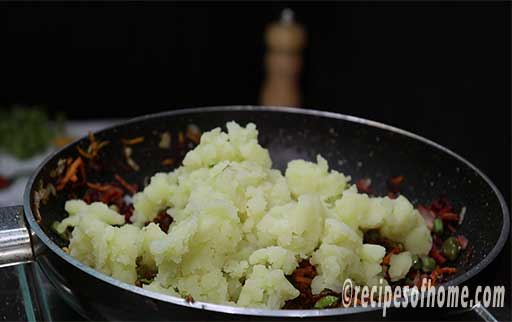 10. Then sprinkle a pinch of salt, 1 tsp red chili powder, 1 tsp coriander powder, 1/2 tsp amchur powder, and 1 tsp garam masala powder.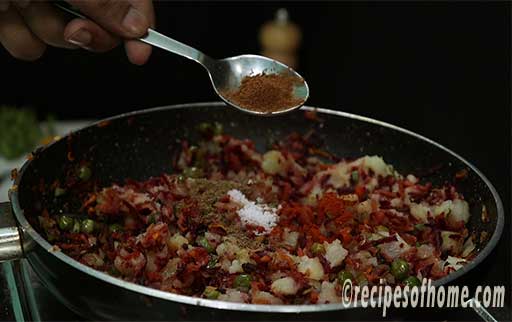 11. Mix them properly.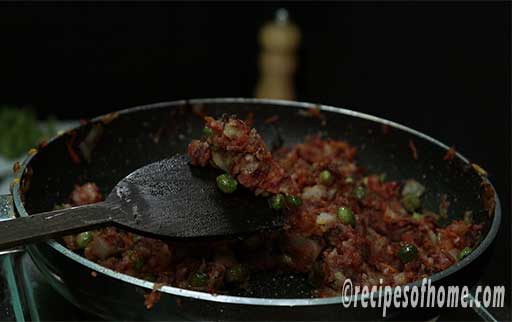 12. Finally mix 4 tbsp freshly chopped coriander leaves, after that cool down the mixture.

How to make cutlet 

1. For, shaping veg cutlet first transfer this mixture into the serving bowl also add 100 grams crushed cornflakes, or powder poha or breadcrumb, and 50 grams maida, now mix everything.
2. Now In another bowl make a thick batter of maida water mixture.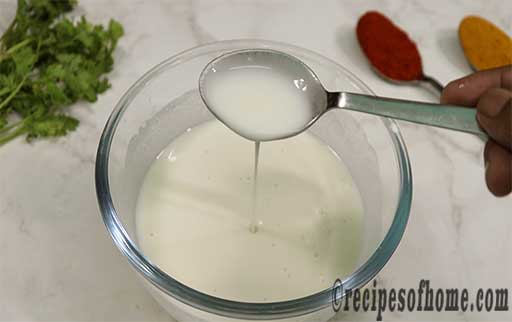 3. Now apply oil to the palm and pick a small vegetable stuffing to make your desired cutlet shape.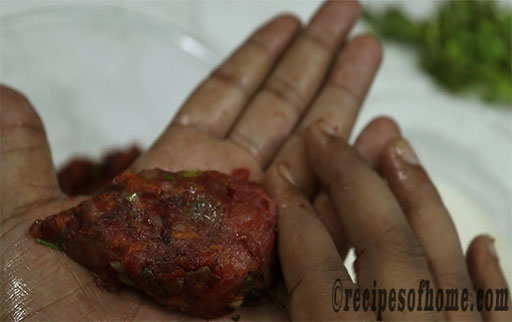 4. Then deep this cutlet into this thick batter.
.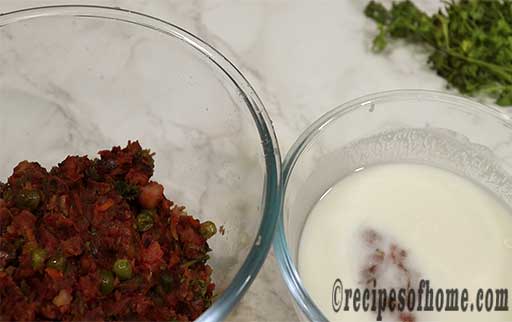 5. Immediately transfer them onto a coating plate and coat them with crushed cornflakes, gently shake them for removing excess crumbs then keep them on a large plate for frying.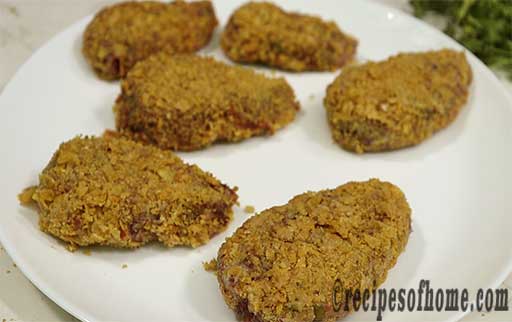 Frying veg cutlet 
1. Now for making the crispy veg cutlet recipe fry veg cutlet in heat 200 to 250 ml oil in a frying pan.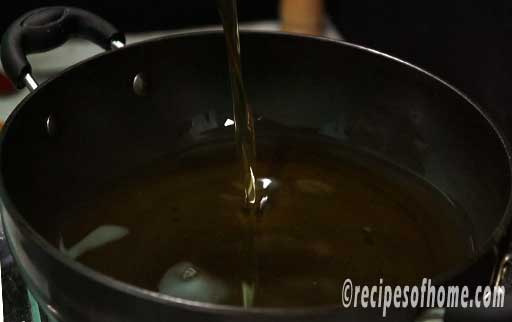 2. When oil is hot enough then add this coated veg cutlet one by one and fry in medium to low flame.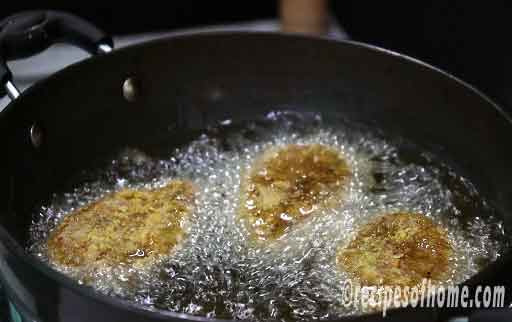 3. When both sides of the veg cutlet become golden brown and crispy turn the flame off.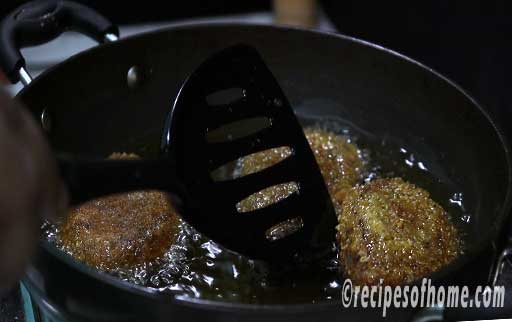 4. Immediately placed this crispy fried vegetable cutlet on kitchen tissue to drain excess oil.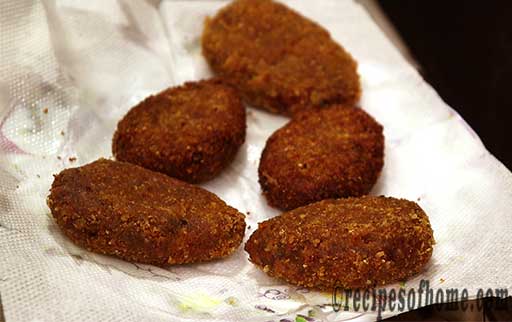 Note : Finally, our delicious veg cutlet recipe is completed now serve this veg cutlet as evening snack with ketchup or masala chai.  
Veg Cutlet Recipe Card
Here is a quick overview of all the recipe of veg cutlet ingredients including quick step-by-step preparation of vegetable cutlet recipe shown in the recipe card.
Take note of all ingredient lists.