Matar paneer recipe | Restaurant style matar paneer | How to make matar paneer
Matar paneer recipe – fresh paneer cube simmered in spicy, creamy peas gravy, is one of the tastiest and easy paneer recipes in India. This restaurant style matar paneer is not only super delicious but also very easy to cook at home.Now make this rich and creamy mutter paneer at home with below step by step recipe. In this post, you will learn how to make matar paneer?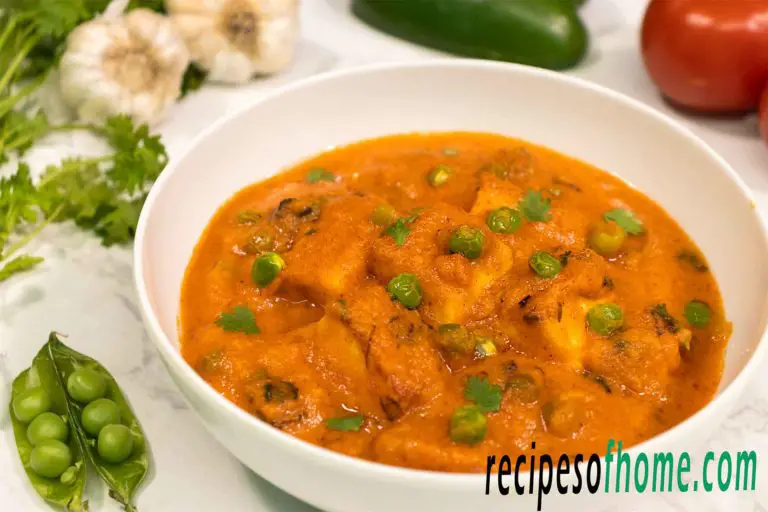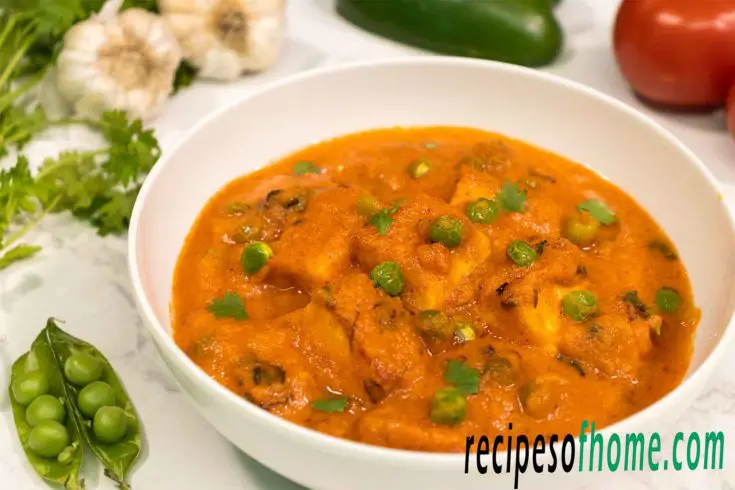 Note: if you are in a hurry, feel free to click on the following links to check your desired topic.If you'd like to see our in-depth step by step recipe preparation keep reading!
If you are looking for quick paneer recipes for dinner, then you must try this delicious restaurant style matar paneer recipe.
Though mutter paneer can be made in various ways for that reasons taste also varies in every dish but this is very delicious and simple paneer dish for your family. I'm sure you will love it.
What is matar paneer?
 Matar Paneer  where Matar means Green Peas and Paneer means Cottage Cheese is a very delicious and easy north indian recipes, where fresh paneer cube first tossed in butter,
then simmered in spicy peas curry flavored with a few Indian spices, finally served by garnishing with a few tablespoons of cream and freshly chopped coriander leaves on top of the curry.
What to serve as mutter paneer side dish?
Matar paneer goes well with indian roti, paratha, naan, or any type of flavored rice including jeera rice, fried rice as well as plain rice.
| You can also check some delicious recipes :
How to store mutter paneer curry?
You can keep this delicious mutter paneer curry in an airtight container and store it in the refrigerator for at least 1 to 2 days.
Make sure before eating this just reheat with a dash of water and a pinch of salt,Kasuri methi, and freshly chopped coriander leaves if required.
Tips to make restaurant style matar paneer recipe
Green Peas :

It will be best if you use fresh green peas for making mattar paneer, if it is not available you can use either frozen green peas or boiled green matars.
Choice Of Paneer : Though matar paneer can be made for both store-bought and homemade paneer,if you want to use store-bought paneer, soak them in warm water for 10 to 15 min to make the paneer soft.
Use Of Tomatoes :

Always use red color ripe tomatoes for matar paneer masala paste as they have less tanginess in them, If it still tangy then you can sprinkle a few tablespoons of sugar to balance the taste.
Cooking Method : Cook spicy tomato onion mixtures in medium to low flame for at least 12 to 15 before adding green peas and water; otherwise, you can get the raw smell of tomato in matar paneer gravy.
More Recipes You May Love
Matar Paneer Recipe Video
If you want to watch the matar panner video recipe watch it here, otherwise read the below article with step by step instructions.
Don't forget to  Subscribe.
How to make matar paneer?
Here, the complete matar paneer sabji classified into three easy categories,
the first one is frying paneer cube, the second one is make mutter paneer masala paste,
and
the last one is making matar paneer gravy recipe. 
so, let's make it now.
Frying paneer

1. At first, for frying fresh paneer cube heat 2 tbsp butter in a pan and melt the butter in a medium to low flame.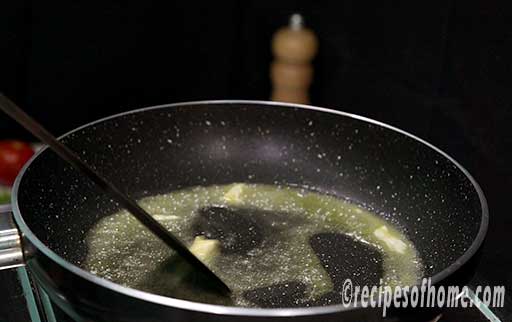 Note: don't make the flame high, it will burn your butter which tastes bitter.
2. Now, add 200 gm fresh paneer cube in this pan, fry them medium to low flame.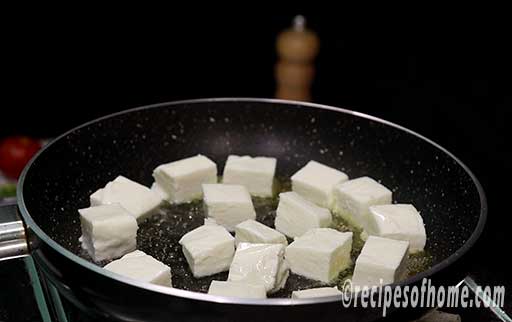 3. Flip them after 1 to 2 min then cook both sides until it becomes slightly golden brown.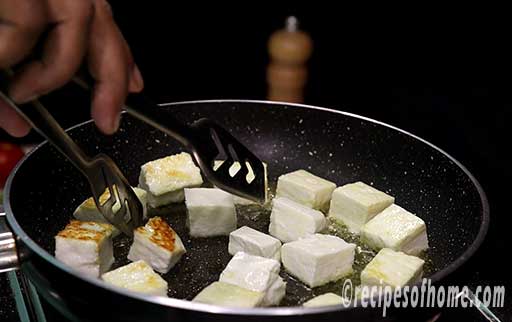 Note : fry the paneer cube for only 3 to 4 min in medium to low flame, don't over fry them, otherwise paneer becomes hard and chewy.
4.Then, take out the fried paneer cube from the pan and place it in the kitchen tissue to drain off the excess oil from the paneer.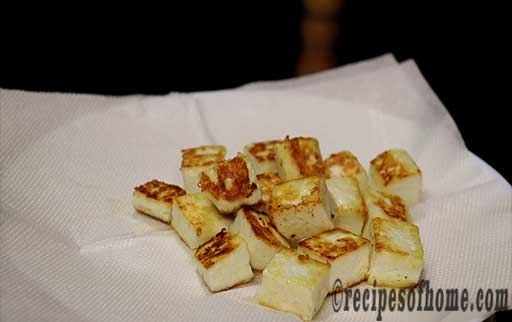 Make mutter paneer masala paste

1. Now, to make mutter paneer masala paste heat 3 tbsp oil in the same pan and spread them thoroughly.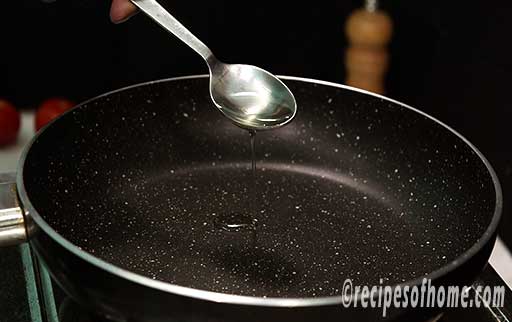 2. Now, add 2 medium size chopped onions and saute 3 to 4 min in medium flame until it becomes slightly golden brown.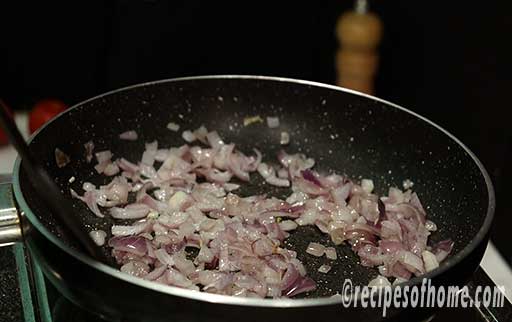 3. Next, add 3 medium size finely chopped deseeded tomatoes,1/6 tsp turmeric powder, salt to taste.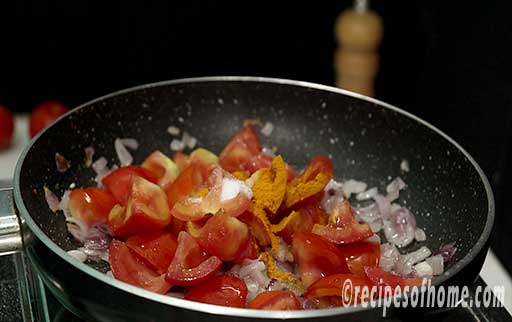 Note : If you want to use cashew nut in your matar paneer recipe, before using it soak them in hot water up to 20 to 30 min then add in a pan and mix everything well.
4. Cook them in medium to low flame for up to 6 to 8 min.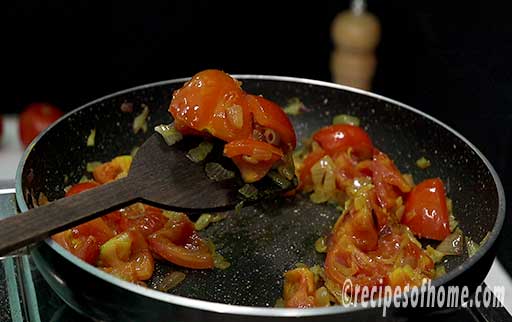 5. After that, cool this mixture and put it into a blender.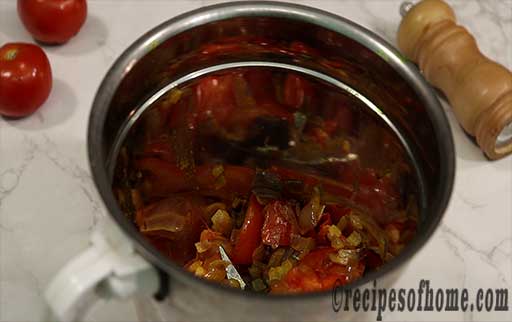 6. Now, make a smooth maslala paste for matar paneer gravy.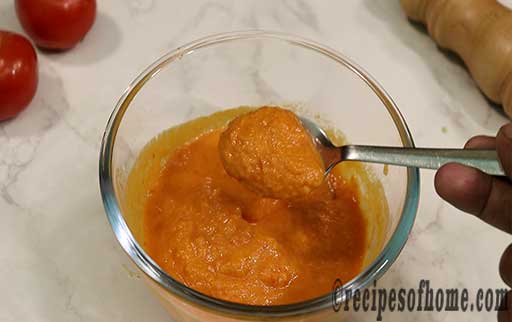 Make matar paneer gravy

1. Now, to make matar paneer gravy, heat 3 tbsp butter or oil in and spread it evenly.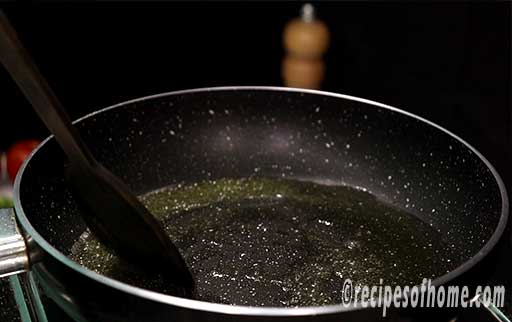 2. Then, add some whole spices including 1 small bay leaf or tej patta,4 to 5 green cardamom, 1-inch cinnamon, and saute them in medium flame up to 45 sec to 1 min.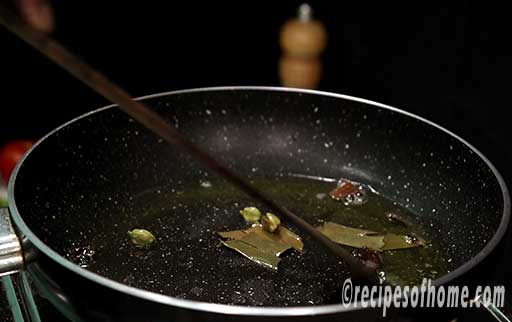 3. Next, add the tomato-onion puree, to this pan and saute in medium flame for up to 4 to 5 min.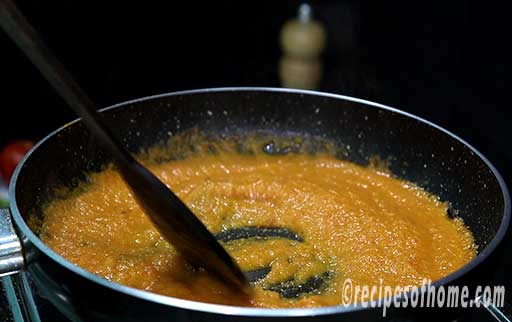 4. Add 2 chopped green chilli and 2 tsp ginger garlic paste, saute further 2 to 3 min until raw aroma completely disappears.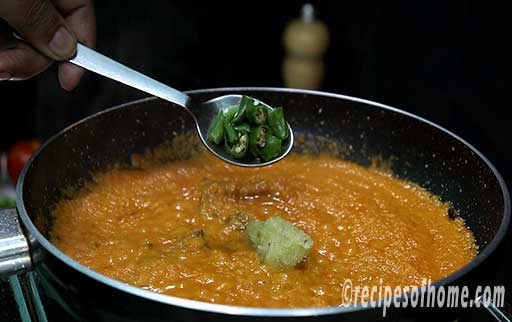 5. Then, sprinkle a pinch of salt, 1 tsp red chili powder,½ tsp garam masala powder,1 tsp coriander powder, cook further 10 to 12 min in medium to low flame until spicy tomato-onion mixture starts leaving sides of the pan.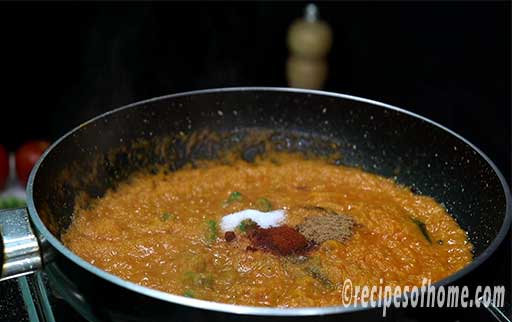 6. After that, add 100 grams of fresh or frozen green peas or green matar (boiled previously) and mix them in this spicy masala.
7. Now, pour 500 ml water in this pan adjust as per your peas curry requirement.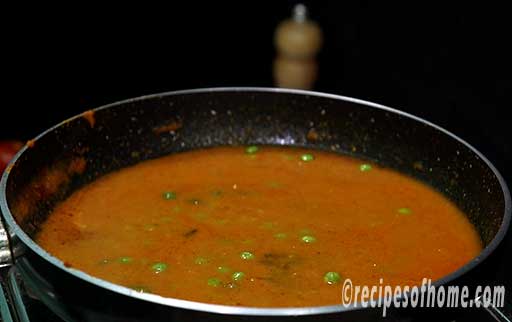 8. Then, cover the pan and simmer these peas curry on low flame for another 15-20 min until matar becomes soft.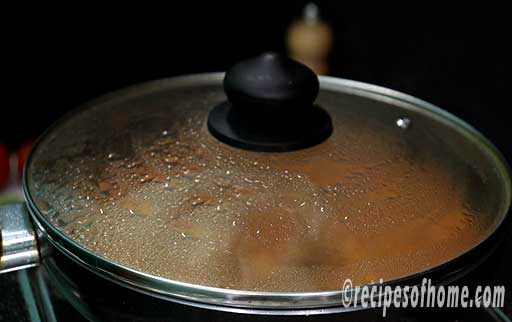 Note: If you want to use a pressure cooker then pour the mixture in it and cook for 2 to 3  whistle until mutter peas are cooked.
9. When matar is completely cooked, add fried paneer cube in this paneer gravy and gently mix them for another 2-3 min in low flame.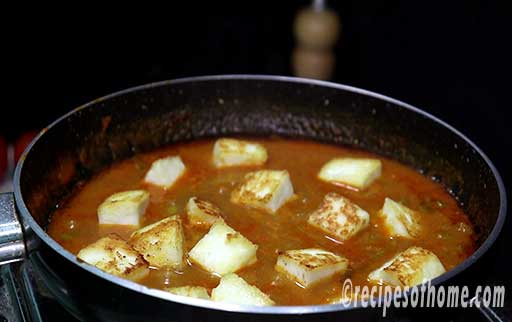 10. Now sprinkle 3 to 4 tbsp freshly chopped coriander leaves.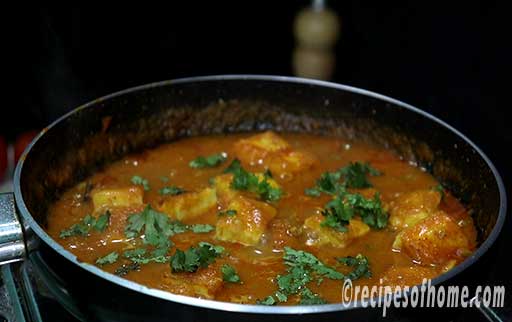 11. Furthermore sprinkle 1 tsp kasuri methi or dry fenugreeks and mix with this matar paneer gravy.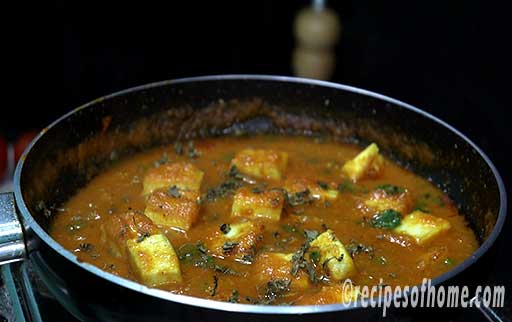 12. Finally, for restaurant style matar paneer recipe, add 3 tbsp heavy cream in this paneer gravy and mix them well.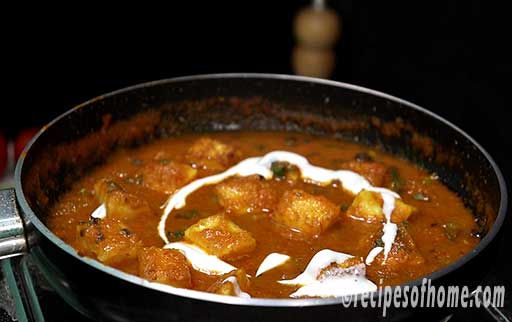 Matar Paneer Recipe Card
Here is a quick overview of all the mutter paneer ingredients including quick step by step preparation of matar paneer recipe shown in the recipe card.
Take note of all ingredient list.