Paneer tikka recipe | How to make paneer tikka
Paneer tikka recipe is a popular indian paneer recipes where paneer or indian cottage cheese is first marinated in a super flavorful tandoori sauce then arrange in a skewer and grill them. If you don't have tandoor you still make this tandoori paneer tikka recipe by using a gas stove, tawa, oven and air fryer. To cook the paneer tikka at home follow the below step-by-step instructions on how to make paneer tikka?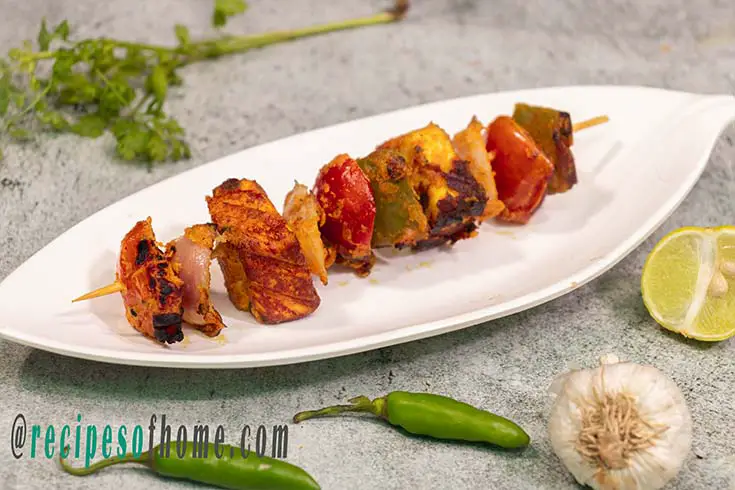 If you love paneer or indian cottage cheese then you must give a try of this delicious paneer tikka recipe. This paneer tikka dry is not only super delicious but also a very easy paneer recipe, that you can easily cook at home.
Note : if you are in a hurry, feel free to click on the following links to check your desired topic.If you'd like to see our in-depth step by step recipe preparation keep reading!
What is paneer tikka
Paneer tikka recipe is a famous indian appetizer where " paneer " means " indian cottage cheese " and " tikka " means which are marinated and then baked or grilled or fried.
So in the tandoori paneer tikka,  paneer is first marinated with cube-cut onions, capsicum, and tomatoes in tandoori sauce made with yogurt and spices then threaded on a skewer and grilled in a tandoor, this gives exact charcoal flavour to your tikkas.
But while cooking paneer tikka at home most of us don't have tandoor so we grill the paneer tikka skewer on a direct gas stove, pan-fried or in an oven, then give smoke externally by using red hot charcoal for charcoal flavour.
⇒ Must Check Recipes
What to serve with tandoori paneer tikka
Serve tandoori paneer tikka recipe hot by sprinkling some lemon juice, and chat masala on it along with your favourite chutney either mint chutney or coriander chutney.
Tips to make paneer tikka recipe

Choice of Curd : Curd or yougurt is one of the main binding ingredients in this paneer tikka recipe so try to choose a little bit sour but thick curd, never use any runny curd because it will drip off all marinate while grilling tikkas.

Type of Oil :

In the traditional tandoori paneer tikka you get a little pungent flavour, this comes from the use of mustard oil, so i suggest you should use it to maintain the authenticity, and don't forget to brush tikkas with butter or oil at the time of grilling, it prevents tikkas from drying quickly.
Spices : To enhances the flavour in this paneer tikka recipe don't forget to use good quality kahmiri red chili powder for bright red colour, and the required amount of spices mentioned in the recipe.
Veggies : I like paneer tikka only with paneer, capsicum, onion and tomatoes so i use only these veggies in this recipe but if you want more add then use sliced carrots, mushrooms, baby corn, and cauliflower ( blanch before marinating ).
Paneer : Try to use a larger size paneer while cooking paneer tikka at home so that it will not break at the time of grilling, choose any good quality paneer either store bought or homemade. For frozen paneer do one thing just soak them in warm water for at least 15 min to make them soft before marinating.
Marination time : In paneer tikka marination must use roasted gram flour or besan which helps to make the proper binding of your tandoori tikka sauce on paneer at the time of grilling. For the best flavour in your paneer tikka store the marination for at least 2 hours in the refrigerator.
Cooking method : Though traditionally tandoor is required to cook paneer tikka recipe, in the homemade version you can use direct gas stove, pan fry, oven even an air fryer then infused smoke with red hot charcoal.
You May Like
How to make paneer tikka
Here, the complete recipe of paneer tikka preparation is classified into four simple categories first one is paneer tikka marination,
second one is cooking paneer tikka on gas stove, third one cook paneer tikka on tawa , fourth one cook paneer tikka on oven
and last one give smoke to tandoori paneer tikka

so, let's make it now.
Paneer tikka marination
1. At first for paneer tikka marination in a large mixing bowl add 200 grams of thick curd or yogurt then Whisk it properly such that no lumps forms on the curd.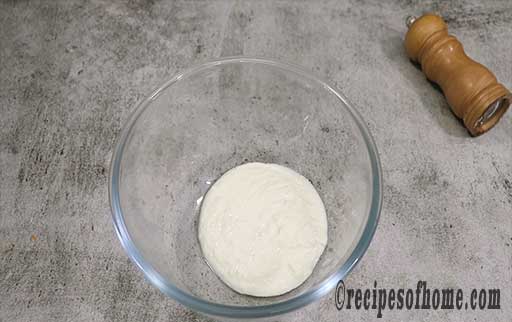 2. Now add 1 tablespoon red chili powder, 1 teaspoon garam masala powder, 1/8 teaspoon turmeric powder, a Pinch of salt, 2 teaspoons coriander powder, and 1/2 teaspoon chat masala powder.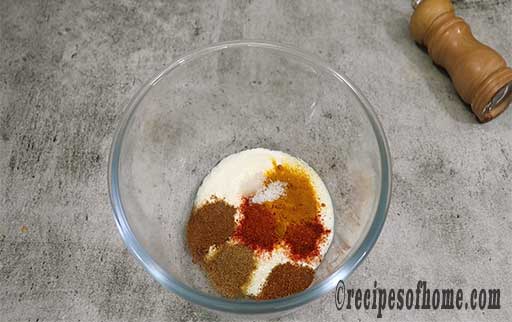 3. Also add 1 tablespoon ginger garlic paste,2 teaspoons kasuri methi,1/2 teaspoon ajwain, and 2 tablespoons roasted besan.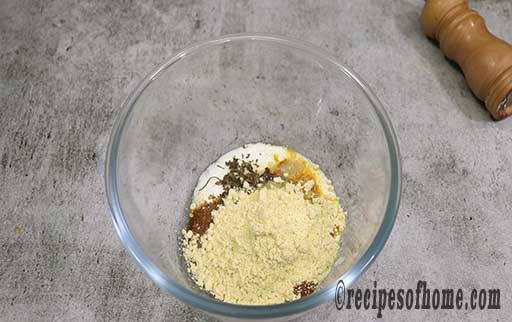 4. Now mix everything with a whisker till the marination for tandoori paneer tikka becomes smooth and thick, check the taste of marination if salt or other spices are required add it.
5. Next add 2 tablespoons of mustard oil.
6. After that add cube-cut capsicum, tomato, and onion to this mixture. Mix everything together.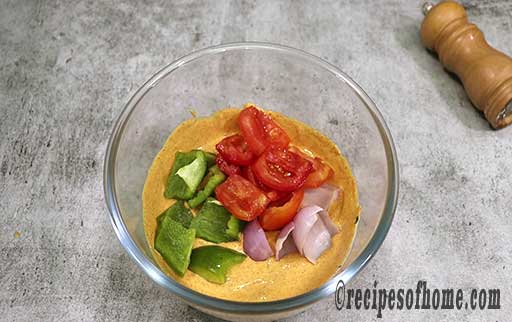 7. Finally add paneer cube and gently mix with other ingredients without breaking.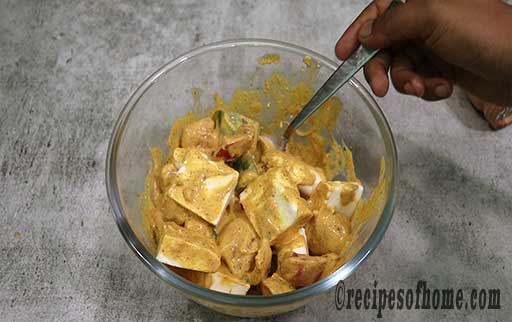 8. At this stage refrigerate this paneer tikka marination for at least 60 min.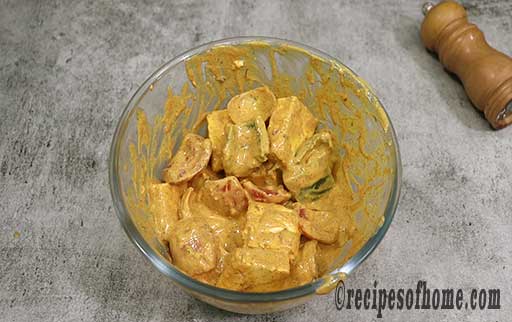 How to make paneer tikka on gas stove
1. Next before cooking paneer tikka dry on the gas stove, start threading each ingredient one by one like capsicum, onion, tomato, paneer cube or whatever order you like.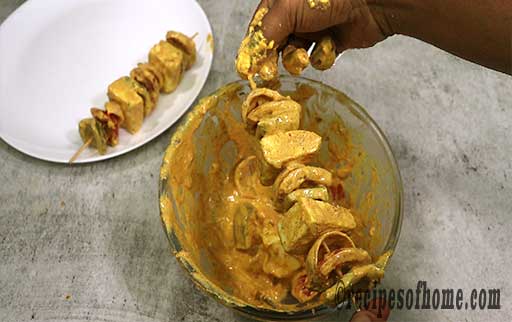 Note : Now to make paneer tikka on the gas stove take out the marination from the freezer if you are using a bamboo skewer before threading soak the bamboo skewer in water for 1 hour.
2. Now on the gas stove and make the flame medium-low then hold the skewer either from one end or both ends and gently rotate on the flame.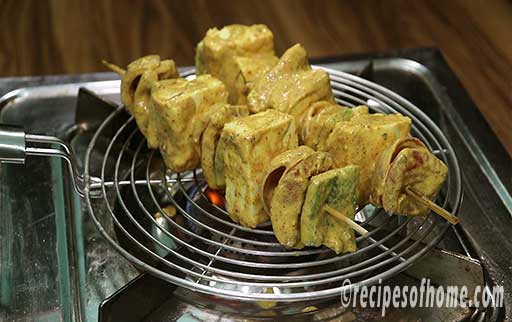 3. Rotate the other side and cook the paneer tikka dry on both sides until it gets evenly cooked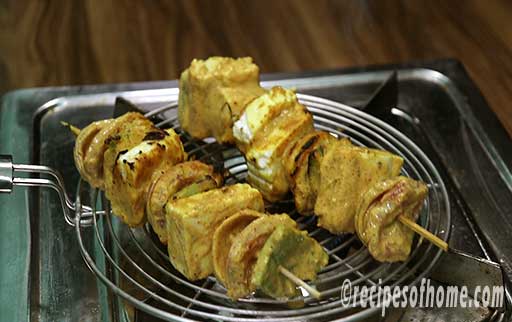 4. If you cook paneer tikka by hand carefully rotate the tikka and cook on both sides till you get the char.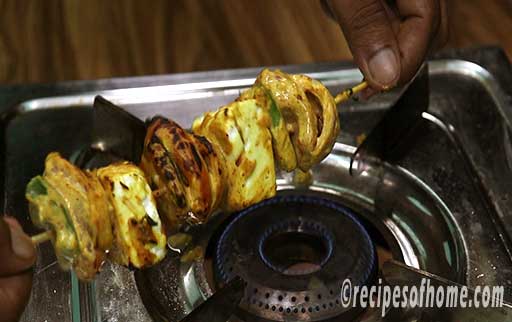 5. After some time you will see paneer along with other veggies begins chared from the edges and everything cooks properly.when paneer tikka is cooked properly sprinkle butter and lemon juice on it.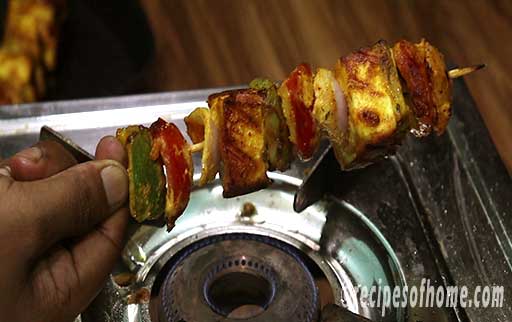 How to make paneer tikka on tawa
1. To prepare tawa paneer tikka first heat 2 tablespoons oil in a pan you can use a grill pan, non-stick pan or iron griddle.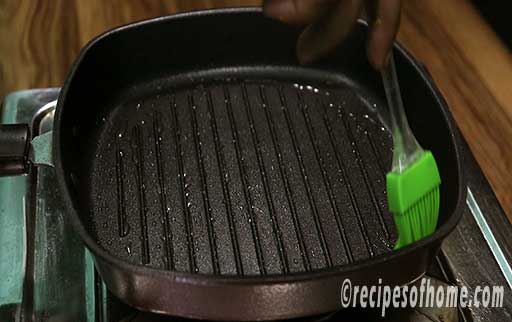 2. Make sure the flame is medium to low then place the paneer tikka skewer on the pan.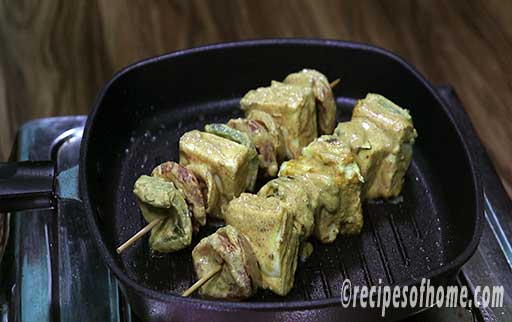 3. Another way to cook paneer tikka at home is to remove all the ingredients from the skewer and place them on the pan. You can try either of these methods.
4. Fry the tikkas properly from one side until you get light brown colour on the paneer and veggies.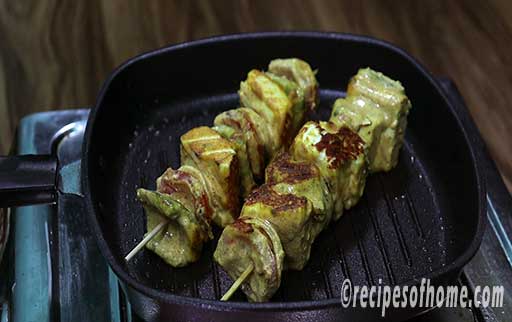 5. Make sure you brush some butter or oil at the time of grilling so that it prevents it from drying out quickly.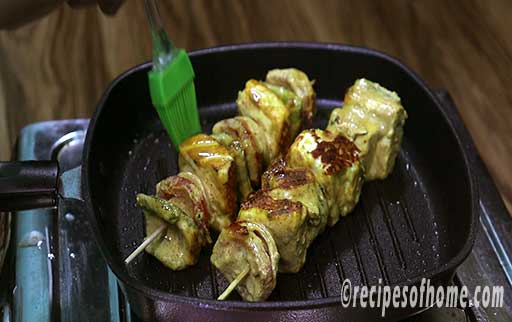 6. At the end don't forget to sprinkle some lemon juice after cooking paneer tikka recipe, it generates a beautiful aroma.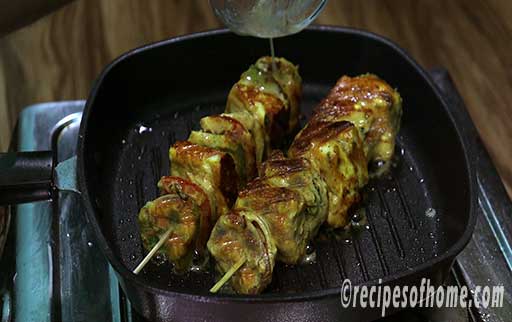 How to make paneer tikka in oven
To cook paneer tikka in oven here is a brief overview of all the necessary steps you have to follow in your recipe.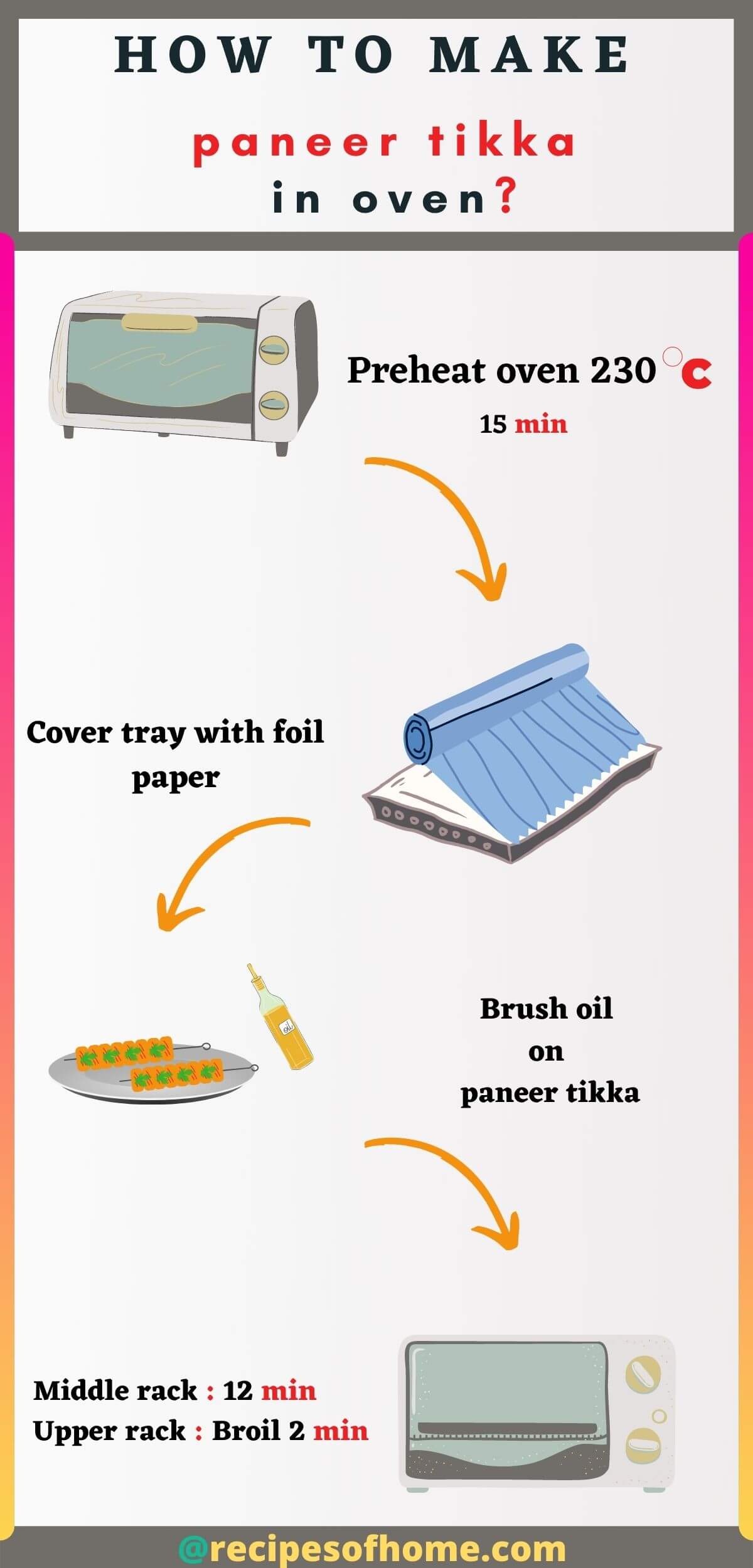 Before preparing paneer tikka in oven preheat the oven at 230 degree Celsius or 450 degree Fahrenheit for at least 15 min then place the tikka skewer on foil-covered tray then brush oil on it to avoid drying while in oven.
Now place the paneer tikka tray on the middle rack and cook the paneer tikka in the oven for at least 12 min, make sure to turn the skewer to another side after 6 min to cook properly on both sides.
Finally for char in paneer tikka recipe put the tray on the upper rack and broil for at least 2 min. Make sure don't overdo it, otherwise, your paneer becomes rubbery and chewy.
Giving smoke in tandoori paneer tikka recipe
1. Now to get the smoky flavour in your tandoori paneer tikka recipe, place our cooked paneer tikka in a pan or large tray.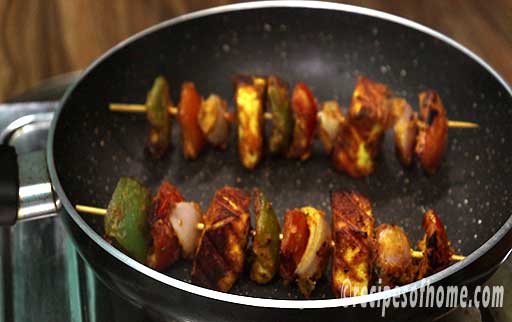 2. Heat charcoal until it becomes red hot.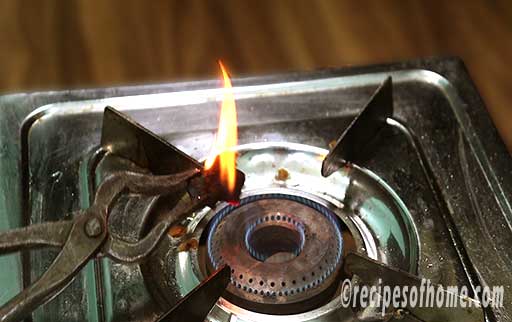 3. Then place red hot charcoal in a small bowl and place it in the middle of the tikka immediately pour ghee on it, it immediately generates smoke.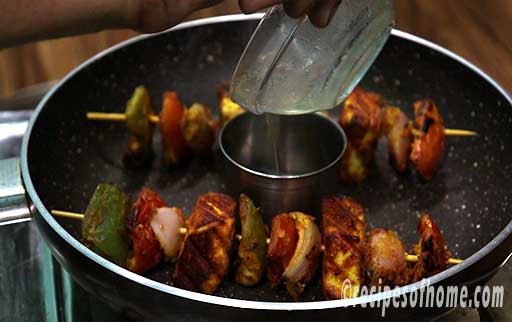 4. Close the pan or plate with a lid and stay in this condition for at least 10 min until all smokes properly infuse in your paneer tikka.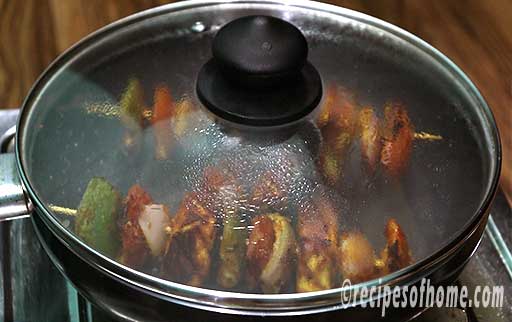 Paneer tikka recipe card
Here is a quick overview of all the ingredients of paneer tikka including quick step by step preparation of the tandoori paneer tikka recipe shown in the recipe card.
Take note of all ingredient lists.