Poha recipe is a famous Maharashtrian breakfast dish which is made from flattened rice, onions, nuts, herbs and spices. There are two most popular variations of poha recipe are available in india kanda poha recipe is made with onion and kanda batata poha recipe is made with onion and potatoes. In this post, I will give you step by step instructions on how to make poha.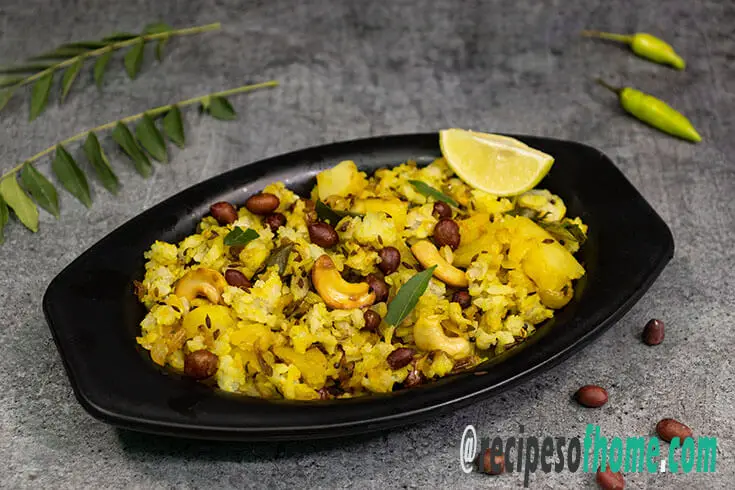 Though you can make a lot of variations in poha recipe by using onions and potatoes, cauliflower , carrots and capsicum.
But this simple and tasty batata poha recipe will not only enhances your taste buds but also gives a hassel free breakfast recipe in your busy schedule.
Note : if you are in a hurry, feel free to click on the following links to check your desired topic.If you'd like to see our in-depth step-by-step recipe preparation keep reading!
What is poha



What is poha recipe



Though Poha recipe is a traditional western indian breakfast recipe, where soaked flattened rice tossed with spicy onion, potatoes , herbs mixture.
Side dish for poha recipe



Poha recipe is mostly served as a breakfast meal or evening snack. The best way to serve kanda poha with coconut chutney or coconut chutney, even masala chai goes well with it.
If possible you can even garnish with some grated coconut or sev on top of poha while serving.
How to store kanda batata poha



Must Check Recipes
Tips to make kanda poha recipe



Type of poha :

For the best kanda poha recipe you have to choose thick poha also known as white poha. Never choose thin poha because they become easily mushy after one wash.
Rinsing poha :

Place the poha in a colander and rinse in water, after rinsing them press a flake and if it gets crushed easily then it is soft enough to be cooked. Never ever soak them in water.
Veggies :

Apart from onions you can add various veggies to your poha recipe for example grated carrots , boiled green peas , potatoes, cauliflower etc.
Add on :

  A little amount of sugar is used to balance the flavours in your poha, apart from this fresh curry leaves, roasted peanut, and cashews give a nice texture to the poha.
Cooking method :

While cooking batata poha make sure mix the roasted rava to the boiling water in batches then mix it evenly with the water otherwise your upma will not soft and becomes lumpy.
Variation of poha dishes
Apart from the traditional poha recipe there are two most popular ways you can prepare poha at home. For example kanda poha recipe and kanda batata poha recipe you can try any one variations depending upon your likes.
What is kanda poha
Kanda poha is basically a Maharashtrian dish, where " kanda " means onion and " poha " is flattened rice.
Basically, kanda poha recipe is made by cooking soaked poha with spicy onion masala.
What is kanda batata poha
Kanda batata poha is another variation of poha recipe, where " batata " means potatoes in marathi.
Hence this variation poha dish is made by cooking soaked flattened rice with potatoes along with spicy onion masala.
You May Like
How to make poha



Here, the complete recipe of poha is classified into three simple categories first one is preparation for poha recipe,
second one is tempering spices for kanda poha and last one is how to make kanda batata poha

so, let's make it now.
Preparation for poha recipe
1. At first for preparing poha recipe in a pan melt 2 tablespoons ghee or clarified butter in low flame.
2. Next add 8 to 10 split cashews and 3 tablespoons peanuts.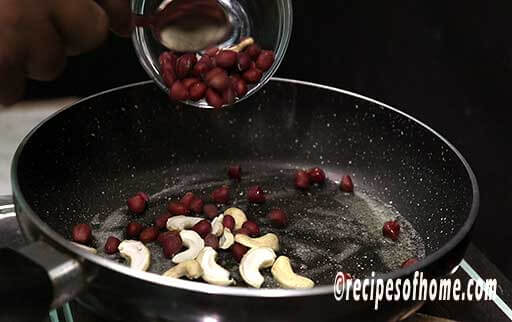 3. Now fry them in low flame until they become slightly golden and crunchy. After that take them out from the pan and keep them in a separate bowl for garnishing.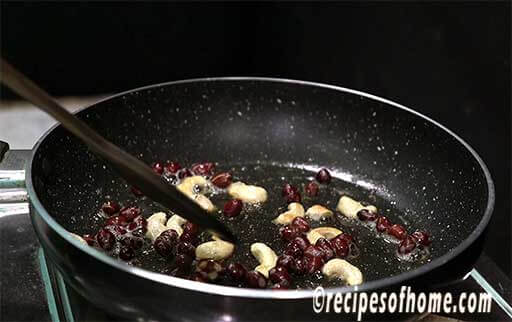 4. As we prepare kanda batata poha recipe, for this, we boil 2 medium size potatoes and cut them into small pieces.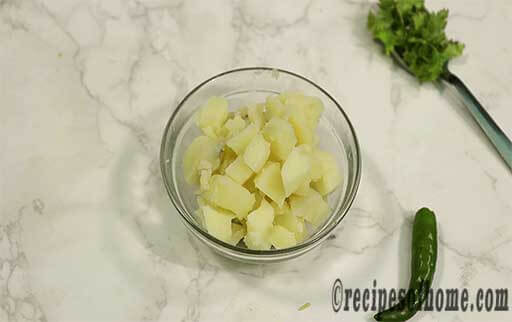 Tempering spices for kanda poha
1. At first, temper spices for kanda poha in a pan heat 2 tablespoons oil.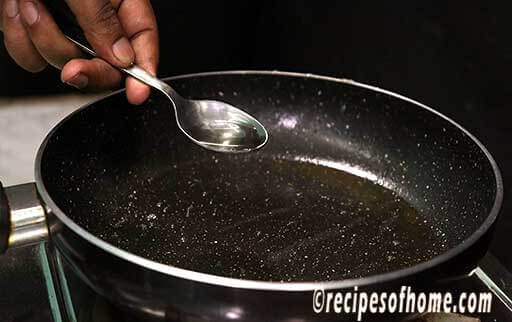 2. Next add 2 teaspoons mustard seed, 1 teaspoon cumin seed, pinch of hing.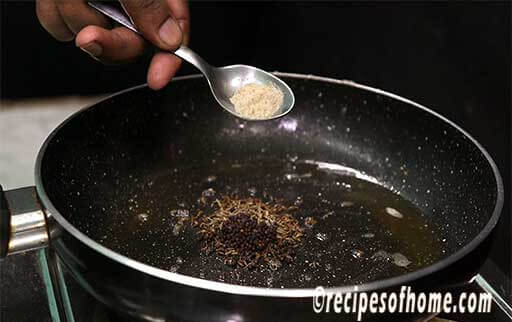 3. After that saute them in low flame till you hear the crackling sound of mustard seed.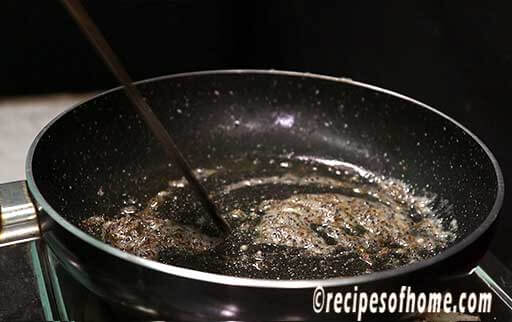 4. Now add 8 to 10 fresh curry leaves, and saute them till they become crispy.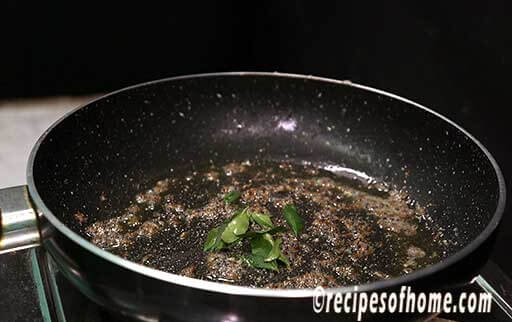 5. Next add 1 medium size chopped onion, and 3 vertically sliced green chili.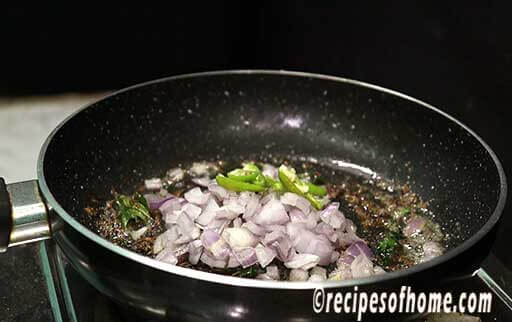 6. After that saute them in medium to low flame till they become soft and translucent.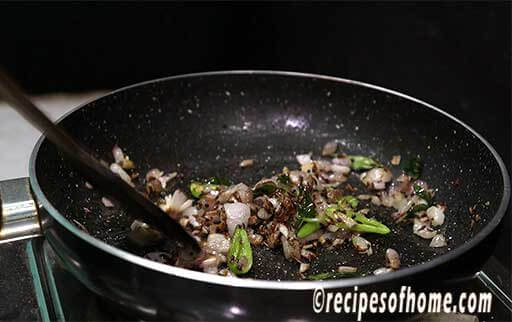 7. Now add preboiled potatoes, roasted nuts, 1/8 teaspoon turmeric powder, pinch of salt, and 2 teaspoons sugar to balance the taste of poha.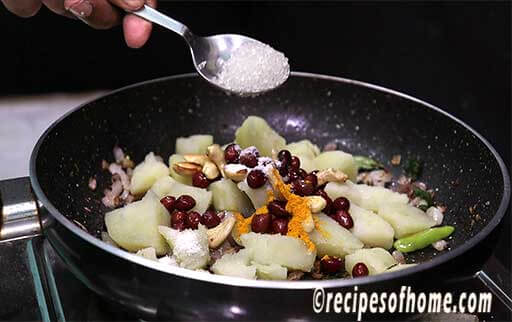 8. Saute them in high flame for 1 to 2 min. 

How to make kanda batata poha
1. In the meantime, to make kanda batata poha recipe in a large bowl put a strainer then add 150 grams of thick poha or flattened rice.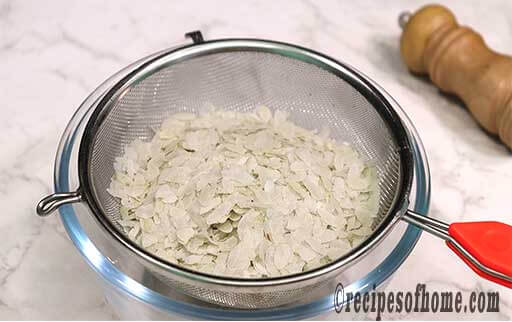 2. After that add rinse the poha well with water, and drain all of the water immediately. I suggest you should not rinse the poha or flattened rice more than 1 time otherwise they will absorb a lot of water and become mushy.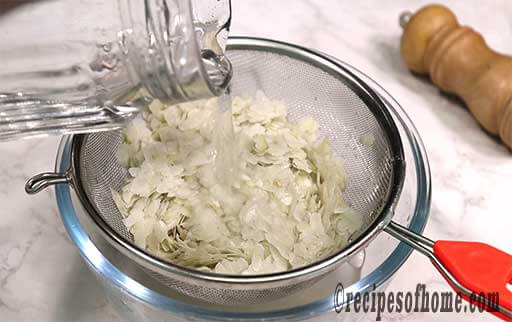 3. After that add 2 teaspoon lemon juice.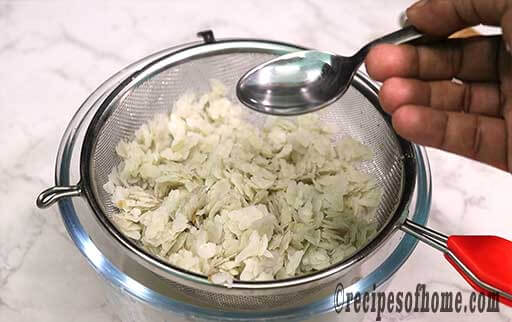 4. Also add 1 teaspoon salt and gently mix with the lift and drop method.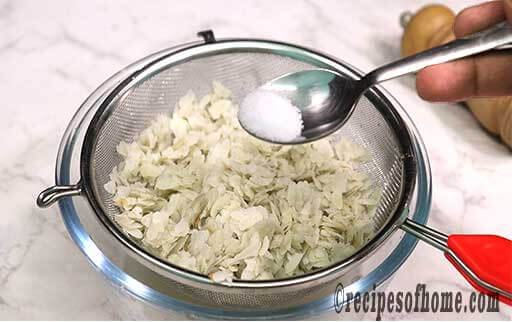 5. Finally add poha to the pan and gently mix with other ingredients.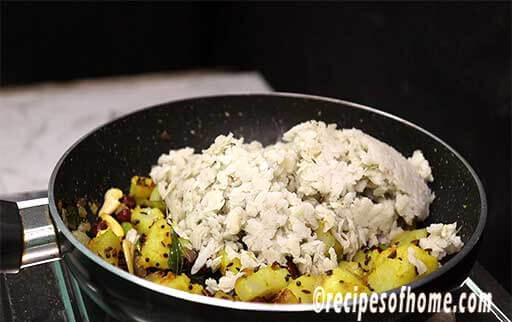 6. Gently stir in between in low flame and our kanda batata poha recipe is completed.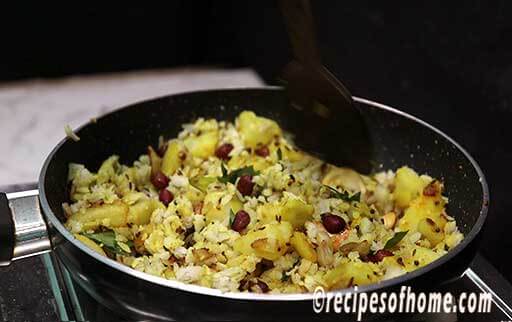 Poha recipe card

Here is a quick overview of all the poha ingredients including quick step by step preparation of kanda poha recipe shown on the recipe card.
Take note of all ingredient lists.