Indian spices are inseparable from Indian cuisine, which enhances the taste and flavour of Indian food. In this post, we will share 9 secret kitchen tips to keep indian spices safe during monsoon. Because in the monsoon season there is excess moisture in the air, consequently ground masalas, and whole spices tend to get soggy or lose their flavour if not stored properly.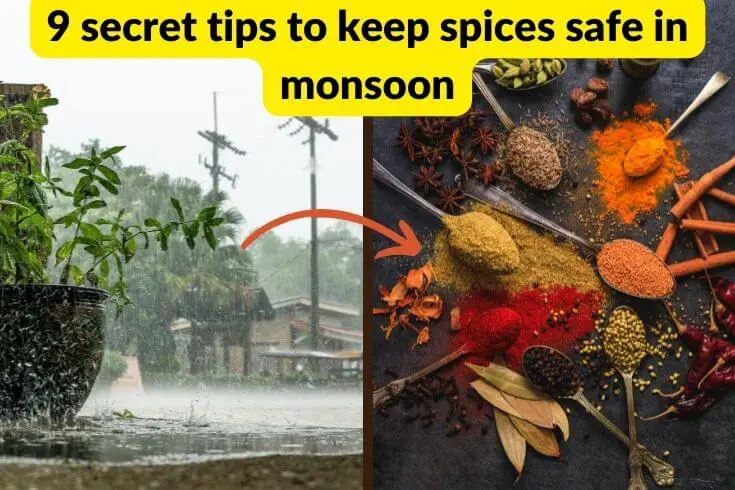 Spices are aromatic because of the essential oils they contain, but these oils are highly volatile and thus tend to lose flavour easily.
It is very common to find masala powders caking at the bottom of the jar, only because you forgot to close the lid properly, or used a wet spoon to take it out.
You May Like
How to store indian spices
Here are the below kitchen tips to store indian spices safe during monsoon season.
Sun dry or dry roast spices before storing
While working with whole spices like bay leaf, black pepper, cumin seed, fennel seed, cinnamon, cloves, and cardamom first dry roast them in a pan or sun dry them this will free them from growing fungal and retain their freshness. finally cooled and stored in an airtight bottle.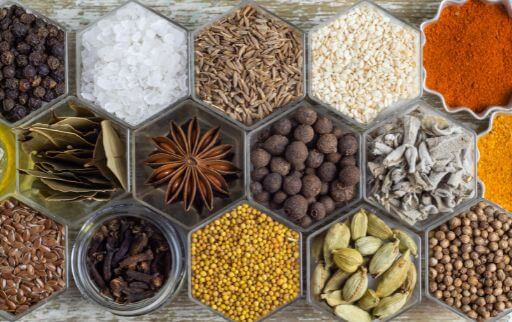 Store spices in an airtight container

If you want to store spices for a longer duration first clean your kitchen and store spices in an airtight container this will help to keep your masalas free from fungus and lower quality.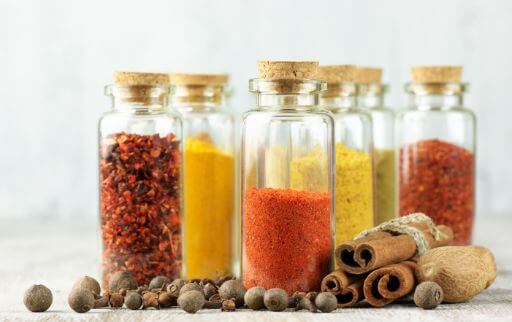 Keep spices away from heat

Just like oil, spices are also volatile if it exposes to heat. Never ever keep spices near your gas stoves otherwise the essential oils and aroma present in the spices evaporate.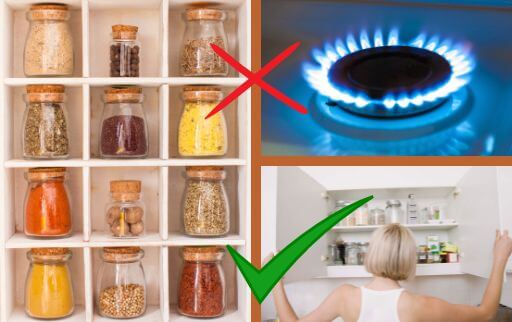 Always store them in an air-tight container or a dark-coloured jar to avoid easy penetration of heat and place them inside a cupboard, away from a gas stove and direct sunlight.
Keep spices away from water
Never ever use a wet finger or spoon to take out spices from the jars if you do so your spices may start growing fungus.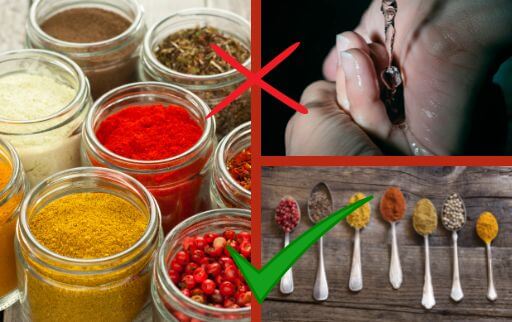 To avoid the stale smell and loss of flavour, keep your spices away from water and always use a dry utensils to pick masalas. 
Don't refrigerate loose masalas in a plastic packet




If you refrigerate loose masalas in a plastic packet you can see spices getting caked up at the bottom of the jar or packaging due to the moisture in the fridge it also alters the natural flavour and aroma of the spices.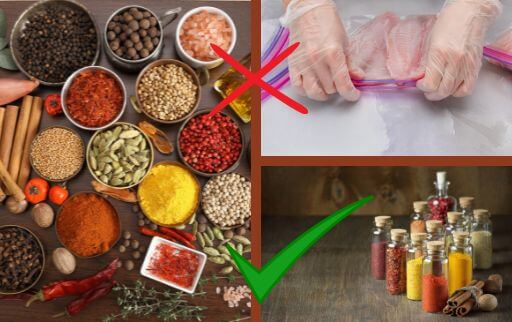 To avoid this store spices inside a dark glass jar or in a dry container.
Keep your masalas in an upright position

They say the basic and simple rule of a smart kitchen is to store everything in an upright position. It is convenient, looks presentable and also increases the shelf life of the ingredients.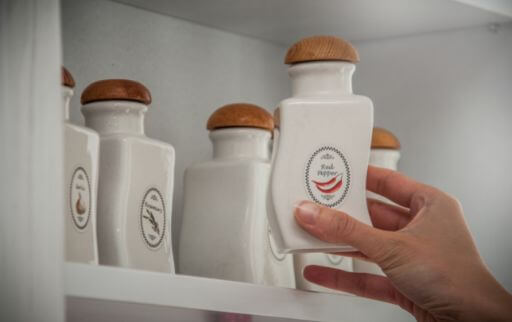 Keeping the masalas in an upright position will ensure that they don't get crumbled easily.
Store masalas in a dry place
Stay cautious while storing spices during the humid season. Any type of moisture can spoil the colour, aroma and flavour of your spices.
Always try to store your spices in a dry and dark place, away from water and light sources.
Buy small quantities of spices



The main flavour of Indian recipes is all about fresh spices. So to keep the spices fresh always buy in small quantities of spices rather than very larger quantities.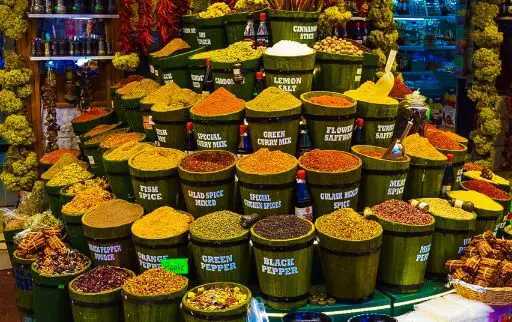 Periodically check your spices

Sometimes we store spices in kitchen cabinet but later we forget what spices we even own, ultimately spices turned soggy and spoiled.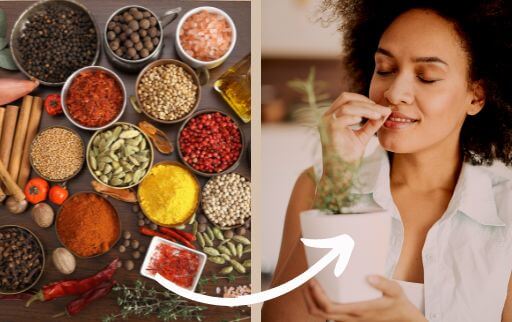 So to keep them fresh you can label the containers which help to keep them organized now it will become easy to use them regularly in rotation.