Red Sauce Pasta Recipe|how to make red sauce pasta
Red Sauce Pasta Recipe-boiled pasta cooked in hot and spicy red pasta sauce made with tomato onion puree, flavored with dry red chili flakes, mixed herbs, and cheese is one of the popular italian red sauce pasta recipe which we cooked in Indian method. In this post, you will learn how to make red sauce pasta at home?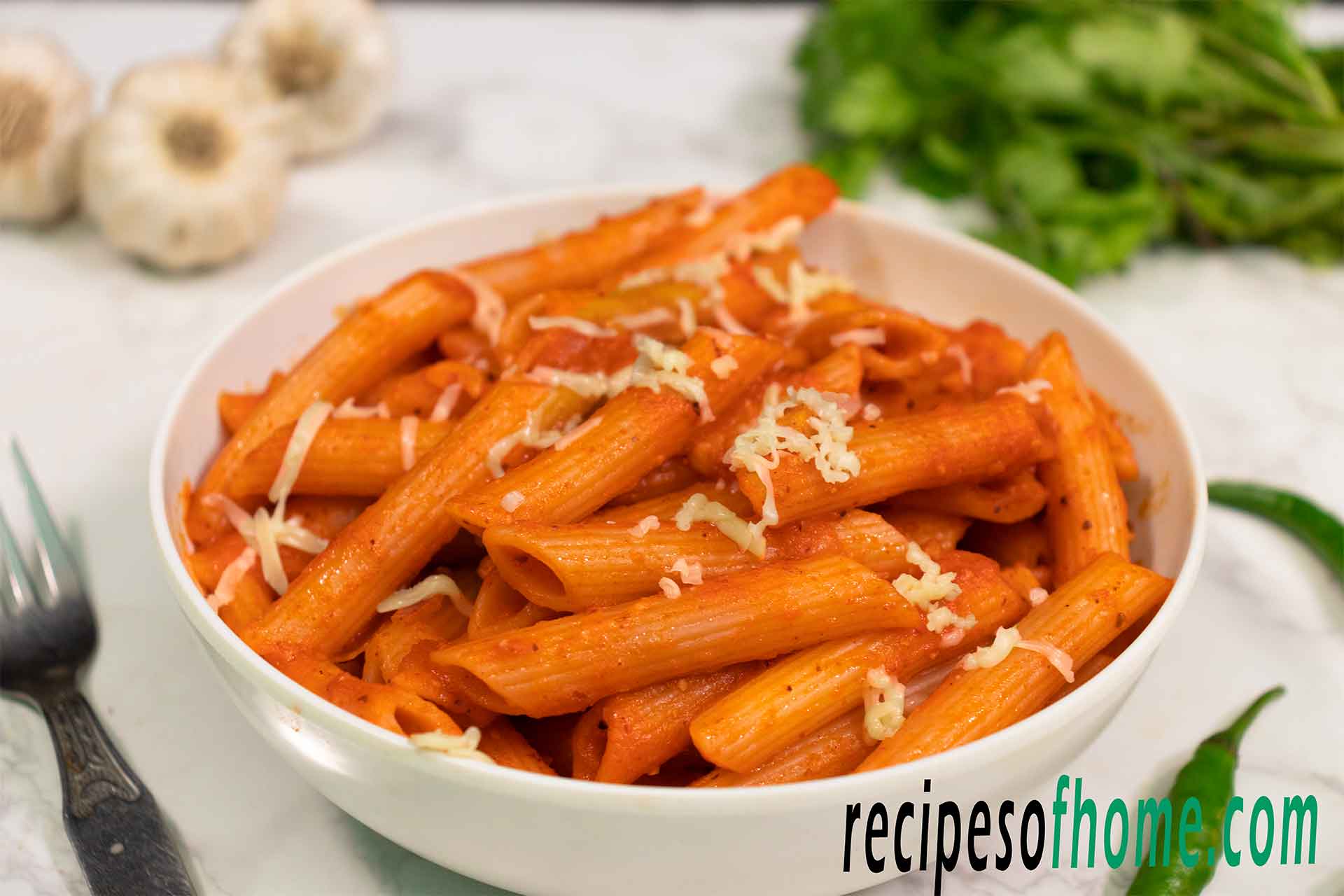 Note: if you are in a hurry, feel free to click on the following links to check your desired topic.If you'd like to see our in-depth step by step recipe preparation keep reading!
We convert this italian pasta in red sauce into indian style red sauce pasta recipe as per our convenience, for this, I simply use homemade fresh red tomato puree instead of canned tomato puree,
and for the bright red color, I use a few teaspoons of Kashmiri red chili powder, and dried red chili flakes.
Finally, for garnishing, I use grated cheese, mixed herbs instead of fresh basil leaves which are used only for authentic italian pasta in red sauce.
More Recipes You May Love
What is red sauce pasta?
Red sauce pasta is a delicious italian pasta recipe where boiled penne pasta tossed in a hot and spicy red sauce flavor with mixed herbs and garnish with grated cheese.
What to serve with red sauce pasta?
Serve hot red sauce pasta by garnishing it with grated cheese and a pinch of black pepper powder from the top.
How to store pasta in red sauce?
You can safely store this hot and spicy red sauce in an airtight container in the refrigerator for approximately 2 to 3 days. But before using it make sure you reheat it by adding a dash of water to it.
Also, boil penne pasta as per the required temperature and mix with this sauce as mentioned below.
Tips To Make Best Red Sauce Pasta Recipe
Choice of Tomato: In this red sauce pasta recipe tomato puree is the main ingredient so choose medium-size ripe, red color tomatoes which is usually less tangy.
Cooking Method:

If you use penne pasta boil them only sharp 8 min, for other types of pasta it usually mentioned on pasta packed.
Secret Flavor: Just like Italian red sauce pasta to increase flavor in this pasta recipe we add mixed herbs including thyme, rosemary, basil, oregano, and a pinch of black pepper and chili flakes.
Choice Of Veggies:

If you want to cook red sauce pasta with vegetables, you can include chopped capsicum, carrots, green peas, broccoli, potatoes, mushroom.
.
Recipe of red sauce pasta step by step with photo?
Here, the complete recipe of pasta in red sauce preparation classified into three simple categories first one is preparing pasta sauce,
second one is boiling penne pasta and the last one is making red sauce pasta recipe.
so, let's make it now.
Preparing Pasta Sauce
1.At first, for making Indian style red sauce pasta recipe pour water in a Kadai and heat it on medium flame.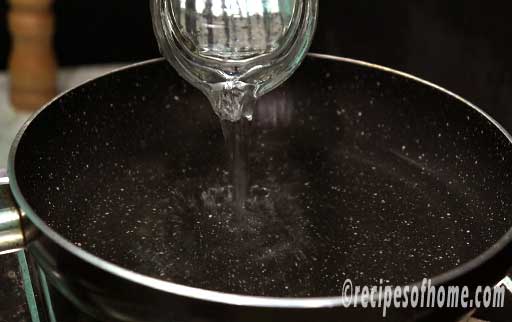 2.Then add 5 to 6 dry red chili in it and let it boil for 2 to 3 min.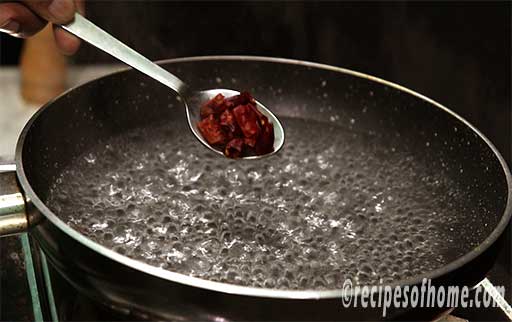 3. Now pick tomatoes one by one and carefully cut a cross shape on the top of them.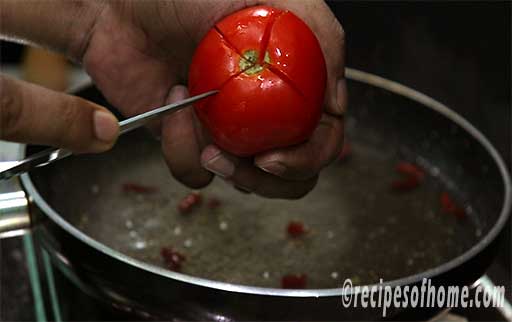 4.Then carefully place them in boiling water, cover the lid and let them boil for 3 to 4 min in high flame.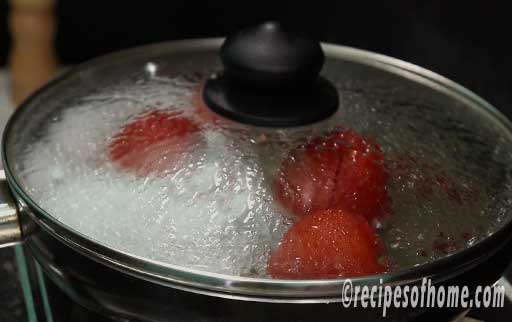 5. After that you can see the skin of tomatoes easily come out from it, turn off the gas.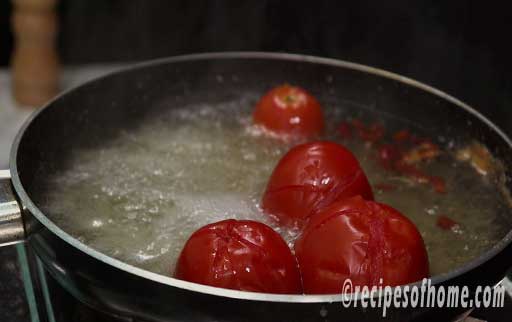 6.Transfer the tomatoes and red chili in cold water and remove the skin of tomatoes one by one.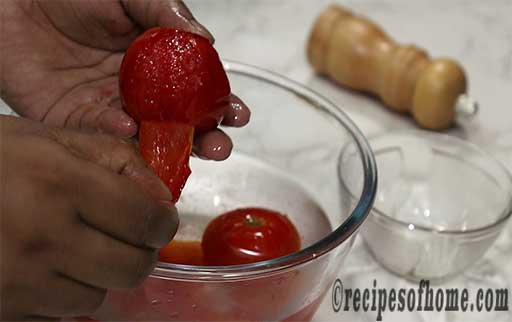 7.Next pour the boiled tomatoes, red chili, and a teaspoon of Kashmiri red chili powder in a blender.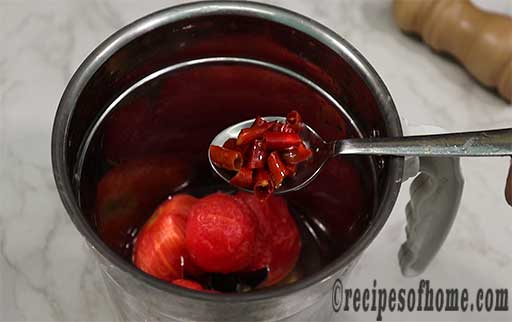 8.Blend them to make smooth hot and spicy pasta sauce.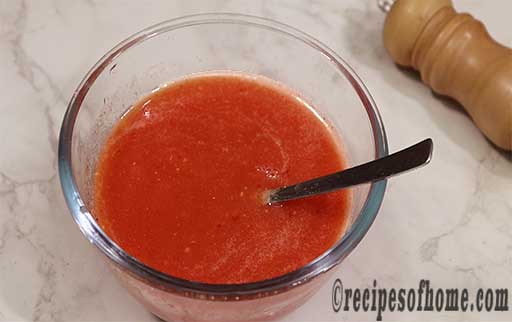 Boiling Penne Pasta
1. Now, boiling penne pasta pour water in a deep bottom pan or kadhai.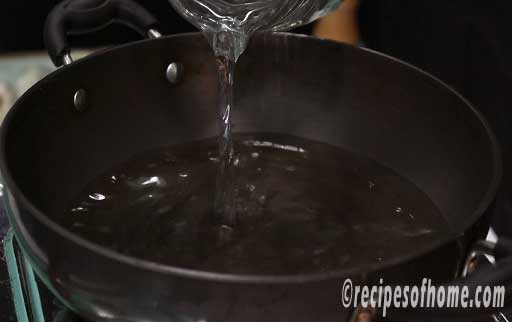 2.Sprinkle a teaspoon of salt and let it boil for some time.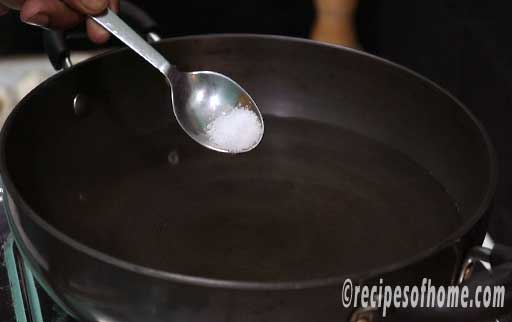 3.When water comes to a boil add penne pasta and a dash of oil in it.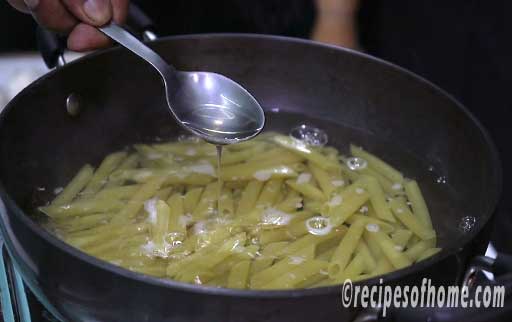 Note: I suggest you must use penne pasta as the sauce goes inside pasta it becomes very delicious, otherwise you can use spaghetti, farfalle, and fusilli pasta.
4.Let them boil for approximately 8 min. When pasta is cooked till al-dante drain in a colander and transfer them to the large plate for later usage.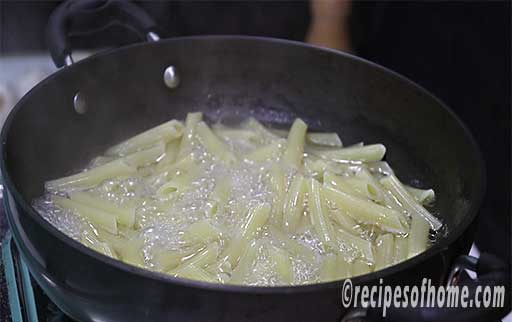 Making Red Sauce Pasta Recipe
1.Now making pasta in red sauce add 3 tablespoons of butter and melt it on low flame.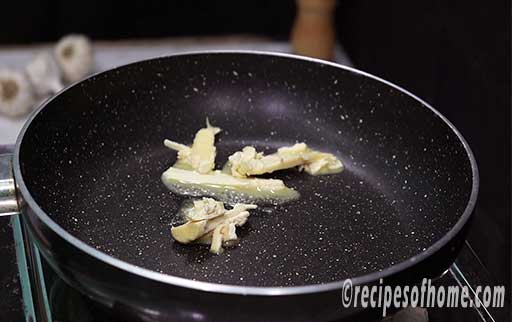 2.Then add 1 tbsp chopped garlic,2 to 3 dry chili flakes cook for some time.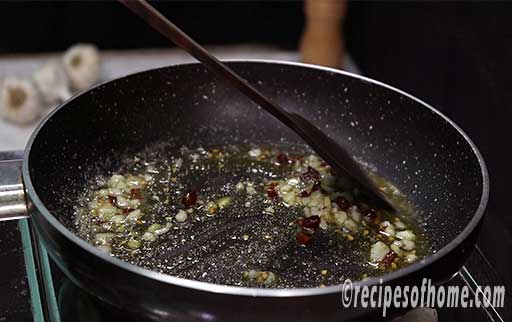 3.Next add 1 medium size chopped onions.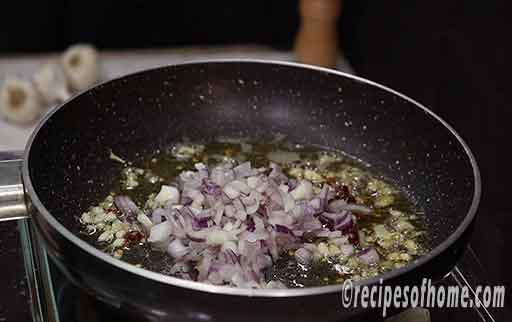 4.fry them until it becomes slightly golden brown.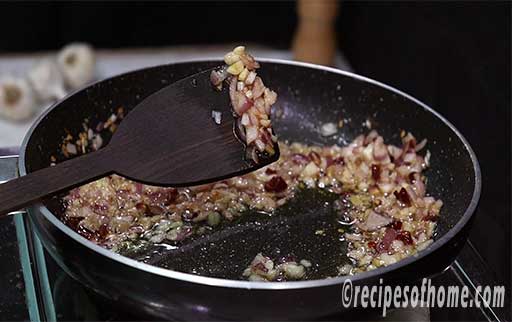 5.Furthermore, pour tomato puree and cook for 5 to 6 min in medium to low flame.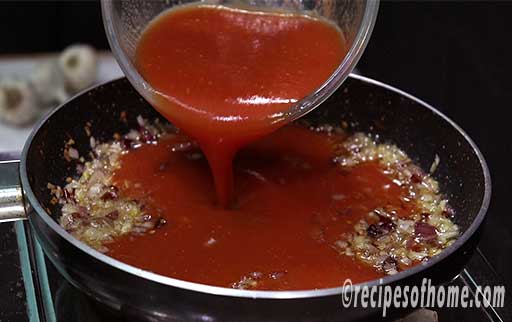 6.Next sprinkle 2 tsp salt.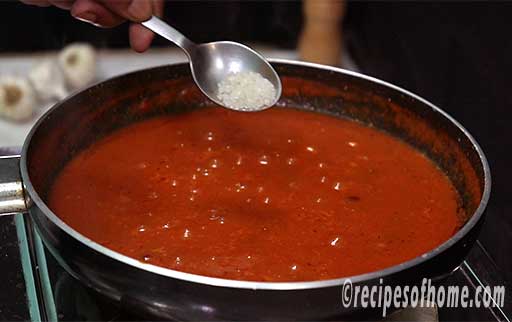 7. Also sprinkle 1 tsp black pepper.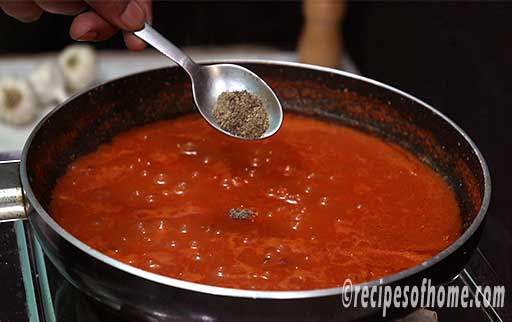 8.And 2 tsp mix herbs including basil, oregano, thyme, rosemary.
9.After that, add boiled penne pasta and teas spoons of red chili flakes in this hot and spicy red pasta sauce,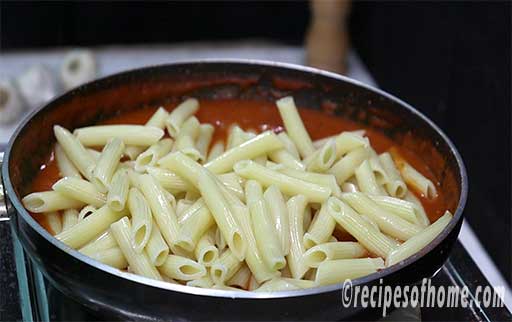 10.Mix them properly with red pasta sauce, also check the taste if required any spices add now.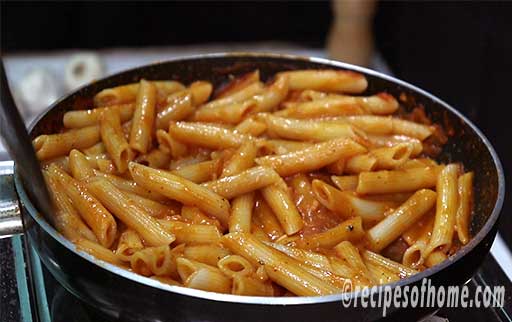 11.Finally garnish this Indian red sauce pasta recipe with grated cheese.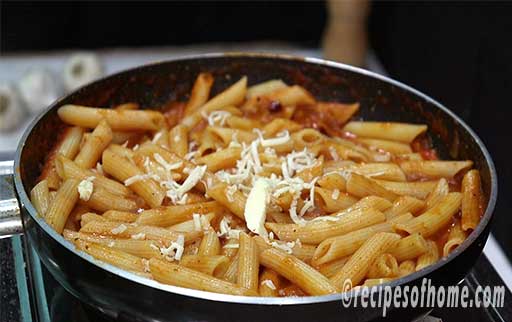 Red Sauce Pasta Recipe Card
Here is a quick overview of all the ingredients of pasta in red sauce including quick step by step preparation of indian pasta recipe shown in the recipe card.
Take note of all ingredient lists.