Dahi vada recipe | Dahi bhalla recipe | How to make dahi vada
Dahi vada recipe is one of the popular Indian street food where fried urad dal vada garnish with thick yogurt, sweet and sour tamarind chutney, spicy green chutney, sprinkle with some Indian spices . In north India this soft and fluffy homemade dahi vada recipe also known as dahi bhalla recipe in other part in india.In this post, you will learn how to make dahi vada?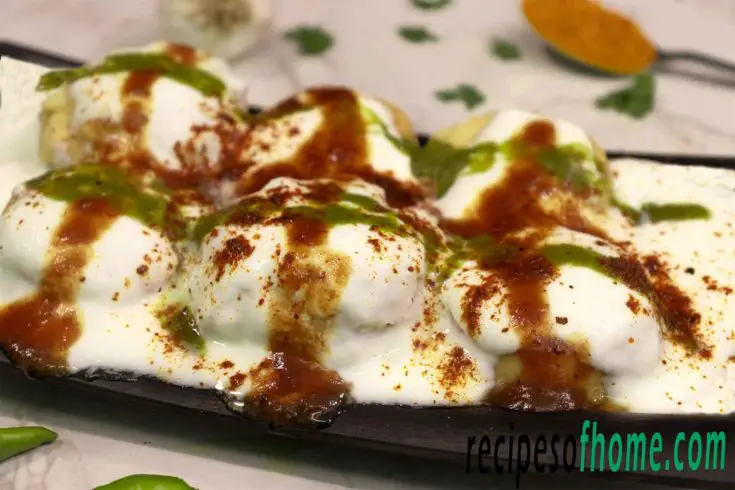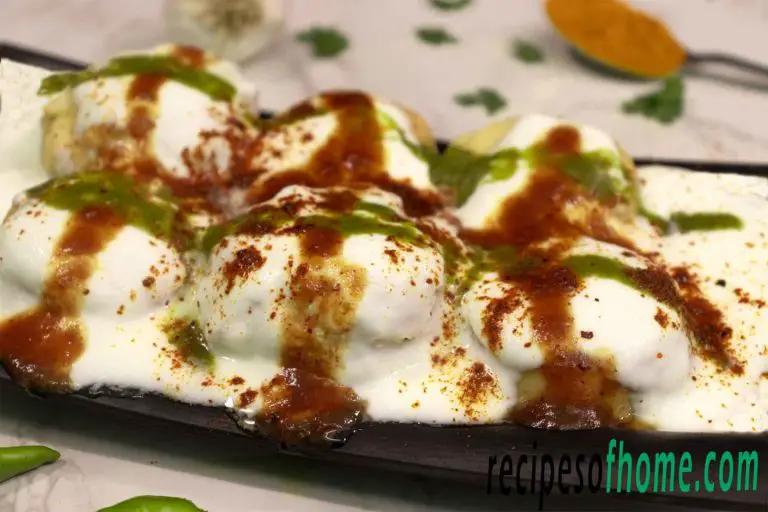 Note: if you are in a hurry, feel free to click on the following links to check your desired topic.If you'd like to see our in-depth step by step recipe preparation keep reading!
Though there is the various dahi vada recipe available like the north Indian version dahi vada or dahi bhalla recipe and south indian version of dahi vada or thayir vada which is usually tempered with green chili,hing, mustard seed, and a few fresh curry leaves, this homemade dahi vada is very tasty which can easily be made at home with using only a few ingredients.
If you want to know how to make dahi vada at home then must follow below step by step instructions.
What is dahi vada?
" Dahi Vada " is nothing but soft and fluffy fried lentils fritters soaked in thick yogurt, garnish with sweet and sour tamarind chutney, spicy green chutney garnish with a few Indian spices including roasted cumin powder, chaat masala powder, red chili powder, and amchur powder.
How to serve dahi vada?
You can serve this soft and fluffy dahi vada as your snack or it can be served as your side dish to your meal. 
How to store dahi vada?
You can safely store dahi vada in the refrigerator for at least 1 to 2 days.
But if you want to assemble dahi vada later you can follow the below process.
After making fried vada you first cool them at room temperature then keep them in a zip lock bag or in an air-tight container and safely store them in the refrigerator for at least 4 to 5 days.
Before assembling dahi vada make sure you re-boil those vada in a sufficient water for at least 15 to 20 min, then gently squeeze water from it and follow the rest of the process of assembling as mentioned above.
⇒ You can also check below recipes :
What is the difference between dahi vada and dahi bhalla?
Though both of the recipes is followed the same process the main difference between them is in dahi bhalla recipe some moong dal is used with urad dal to make batter but in dahi vada recipe it is not used.
Tips to make soft dahi bhalla recipe
Fluffy Batter :

 For soft urad dal dahi vada, soak urad dal for at least 8 to10 hours then blend it by adding a dash of water and beat continuously in a circular direction until it becomes soft and fluffy.
Soft Vada :

 For preparing soft vada, immediately pour hot fried vada in cold water and soak them some time until they become larger in size.
For Chutney : You can prepare all the dahi vada chutney in advance and store it in a refrigerator which saves your time.
Cooking Temperature : For perfectly cooking dahi vada recipe, fry the vada only in medium flame, don't fry in a low flame which will make them hard, also if you fry in a very high flame that will make your vada golden brown from outside but uncooked from inside.
More Recipes You May Love
How to make dahi vada?
Here, the complete recipe of dahi vada preparation classified into four simple categories first one is preparing green chutney for dahi vada
the second one is preparing tamarind chutney for dahi bhalla recipe, the third one is making soft and fluffy vada and the last one is making dahi vada recipe.
so, let's make it now.
Green chutney for dahi vada

1. At first, preparing green chutney for dahi vada recipe in a blender pour 200 grams fresh coriander leaves,50 grams pudina leaves,2 to 3 chopped green chili, and 3 tbsp chopped onions if want to use.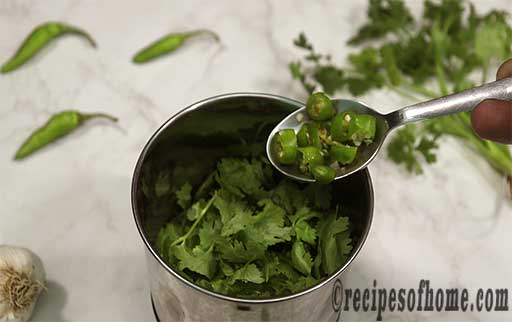 .
2. Now, add 1 tbsp of chopped ginger garlic.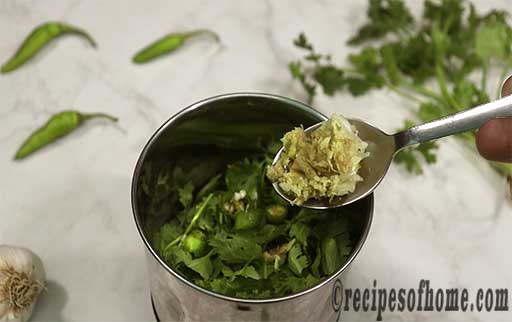 3. Next sprinkle some powder spices including 1 tsp of cumin seed, 1/2 tsp amchur powder(dry mango powder), and a pinch of salt.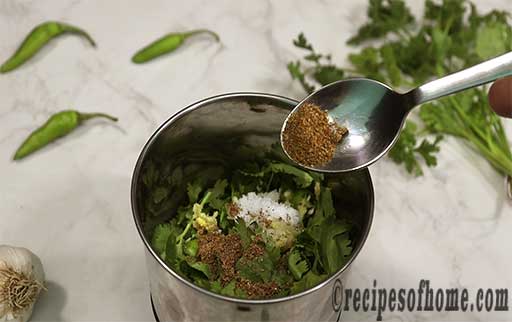 4. After that pour a dash of water to blend everything together.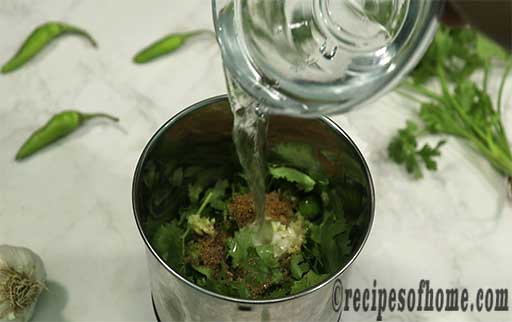 5. If water required add a little amount of mix together and set aside this green chutney for later usage.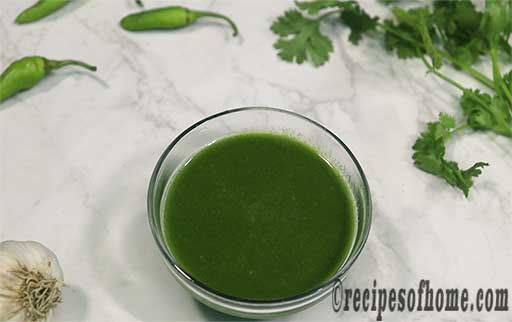 Note : If you don't use onion to prepare this green chutney ( because onion gives pungent flavor after 2 days in the refrigerator ) you can safely store this in an air-tight container in a refrigerator for up to seven days. 
Tamarind chutney for dahi bhalla


1. Now preparing sweet tamarind chutney for dahi bhalla recipe add tamarind in a bowl and pour some warm water in it.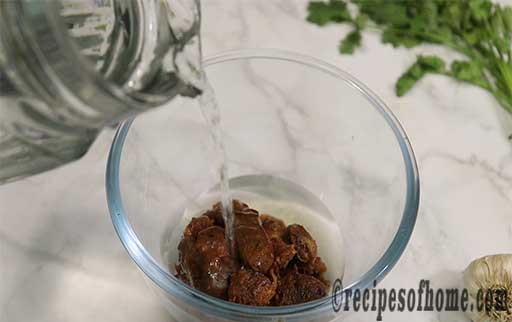 2. Next gently squeeze each tamarind skin and de seeded them.
3. After that pass it through a sieve and make it a smooth tamarind mixture.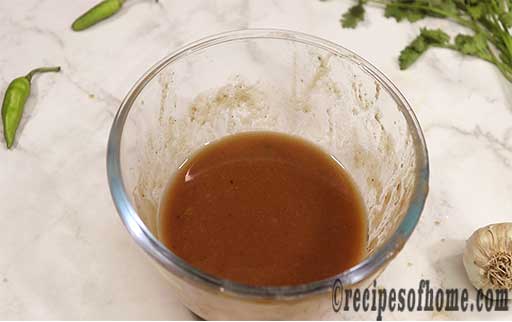 4. Now, pour 100 ml water, tamarind mixture,100 grams jaggery, and salt to taste.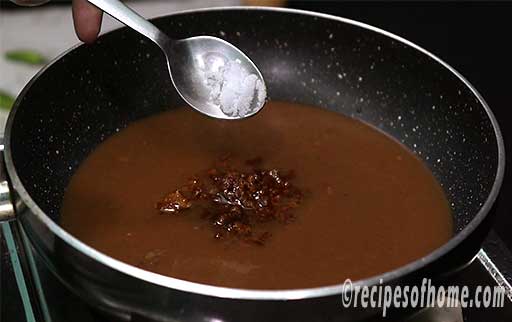 5. Also sprinkle 1 tsp red chili powder,1 tsp coriander powder,1 tsp cumin powder in it.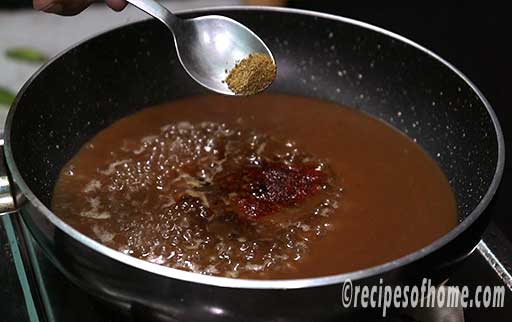 6. Now, mix them properly and let it simmer for 3 to 4 min until it becomes slightly thick.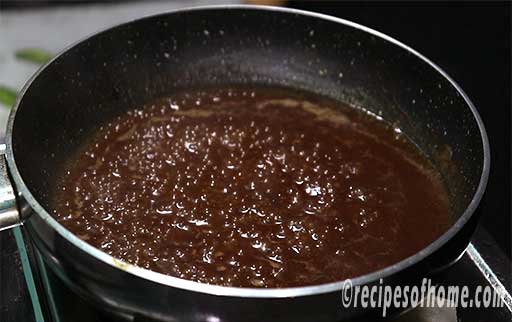 7. At this stage checks the taste of tamarind chutney if required add more jaggery and for some time, then transfer this sweet and sour tamarind chutney in a small bowl for later use.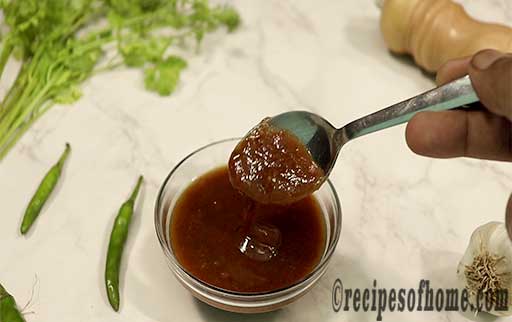 Note : You can safely store this sweet and sour tamarind chutney in a container for at least 7 days.
How to make dahi vada soft


1. Now to make dahi vada soft, soak 200 grams urad dal in the water for at least 8 to 10 hours.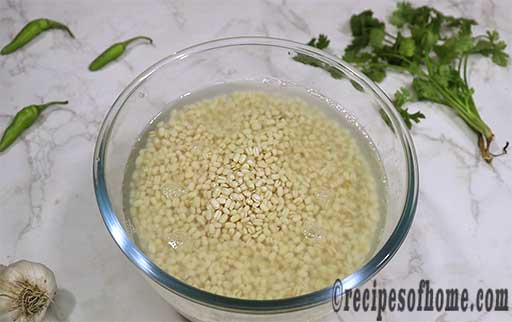 2. Then, drain the dal and pour in a blender add 4 to 5 tbsp of water in it and blend it until it becomes completely fluffy.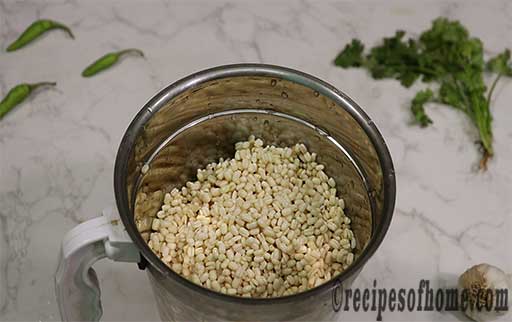 3. Next transfer this batter to a large bowl, add a dash of water,1 tsp of cumin seed, salt,1/2 inch chopped ginger and 2 chopped green chili, if you want to use raisins add it now.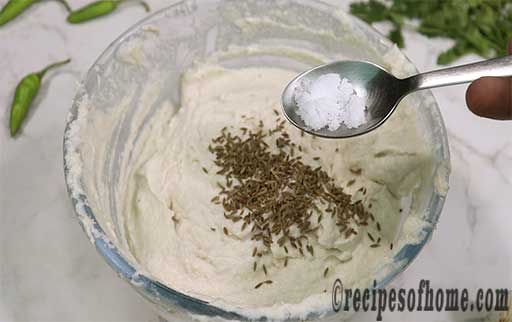 4. After that continuously beat the batter in one direction until air goes inside the batter and becomes more fluffy and light.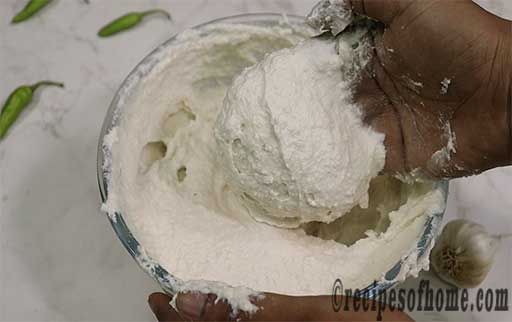 5. Finally cover the bowl with a wet cloth and rest the batter for 30 min.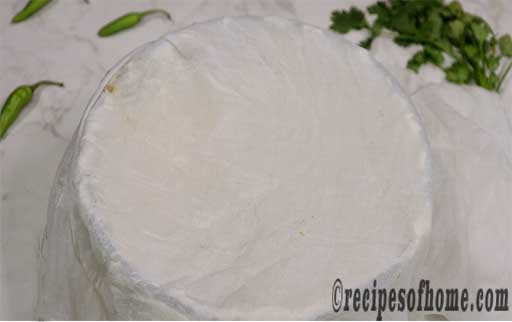 Soaking and frying vada
1. Now frying vada for dahi vada recipe heat 500 ml oil in a pan in medium flame.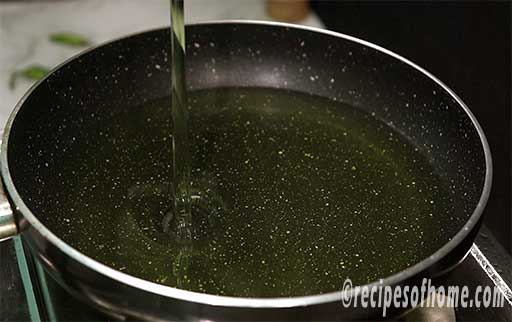 2. Then gently pour 3 tbsp of batter for each vada in hot oil.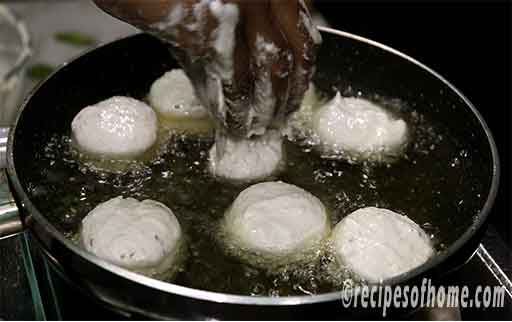 3. Fry the vada in medium flame until it becomes slightly crisp and golden brown from both sides.
Note : While frying vada you must press the vada with a spatula as you see in the above picture, as it helps to make vada proper shape, it will not increase very big.
4. After that, take the vada out immediately from Kadai and place them in cold water for at least 20 to 25 min.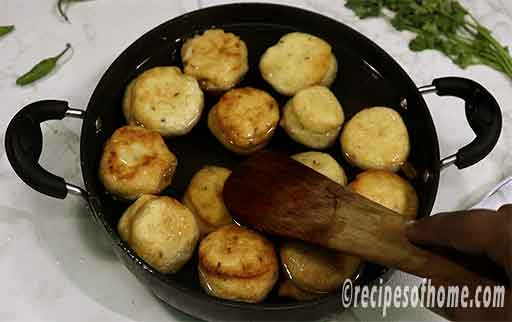 Making dahi vada recipe
1. Now for assembling dahi vada recipe gently squeeze each vada and remove excess water from it.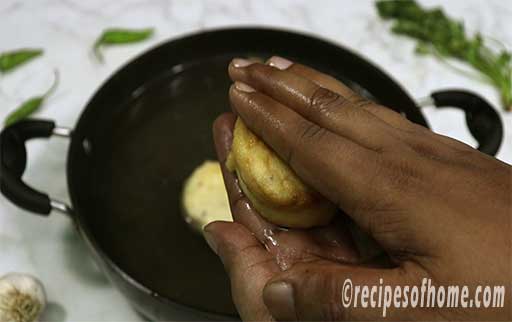 2. Then place each vada one by one on a serving plate.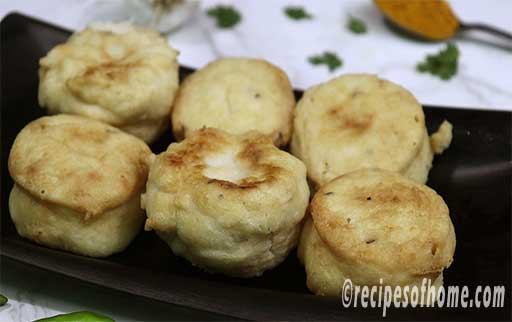 3. Next in a bowl pour 600 grams yogurt, add 3 to 4 tbsp powder sugar, a pinch of salt, and beat everything until yogurt becomes soft and smooth.
4. Furthermore for assembling dahi bhalla chaat add beaten yogurt or dahi on each vada.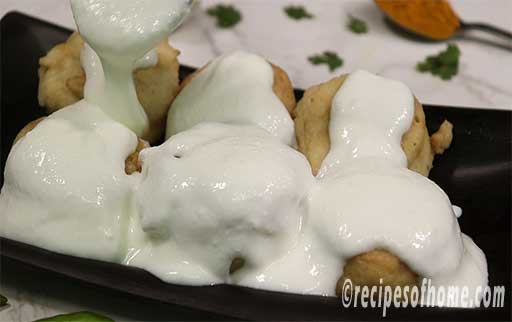 5. Finally our dahi vada recipe is ready, now garnish with dahi vada chutney and dahi bhalla masala including 1/2 tsp roasted cumin powder, 1 tsp red chili powder, 1 tsp chat masala powder, 1/2 tsp black salt, and 3 tbsp chopped coriander leaves.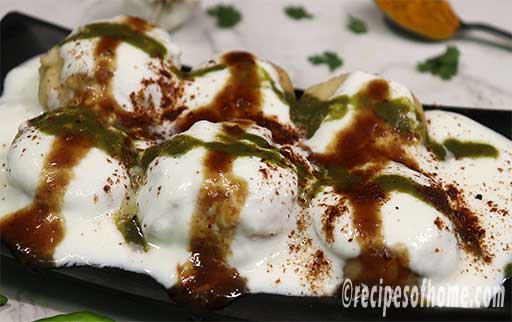 Dahi Vada Recipe Card
Here is a quick overview of all the dahi bhalla ingredients including quick step by step preparation of dahi vada recipe shown in the recipe card.
Take note of all ingredient lists.