Khasta kachori recipe (moong Dal kachori) | how to make kachori at home
Kachori recipe-grounded moong dal flavored with some Indian spices filled inside the cover of maida then deep fried in oil is one of the delicious khasta kachori recipe in India. These crispy and flaky moong dal kachori is the best snack dish that you should not miss. In this post, you will learn how to make kachori at home?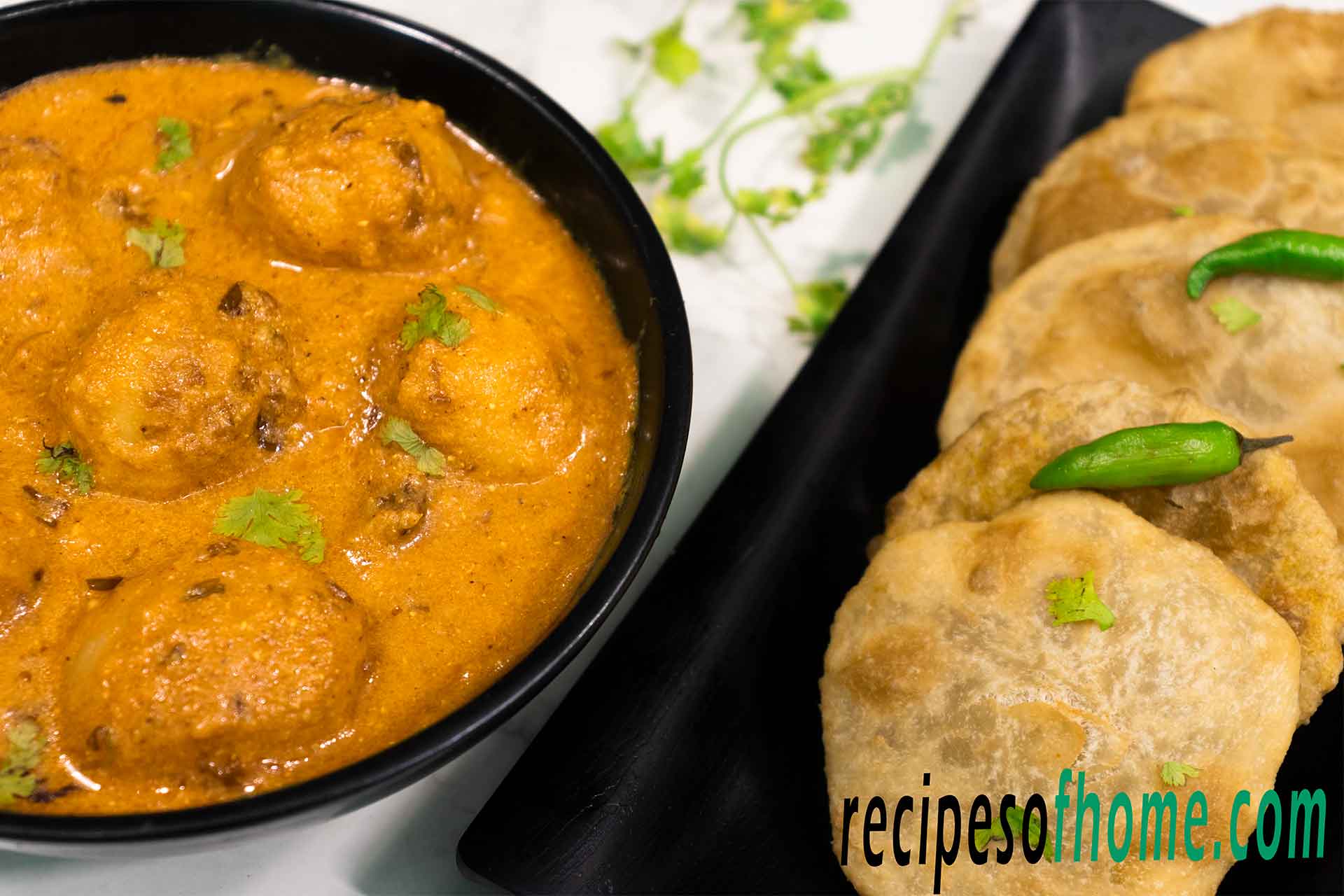 Note: if you are in a hurry, feel free to click on the following links to check your desired topic.If you'd like to see our in-depth step by step recipe preparation keep reading!
As we know there are various recipe of kachori available in india some time kachori is made with a stuffing of green peas,mawa etc.
But if you want to cook something delicious in breakfast then you must try this moong dal kachori recipe at home.
More Recipes You May Love
⇒ Dum Aloo
What is kachori?
Kachori is a crispy, flaky deep-fried flatbread made of maida which is either filled with spicy grounded moong dal or spicy grounded green peas.  
What to serve with moong dal kachori ?
You can serve this moong dal kachori with dum aloo,aloo sabji even it goes well with delicious tamarind chutney, hot and spice red chutney.
Tips To Make Best Khasta Kachori Recipe
Khasta Kachori: To make crispy or khasta kachori you can add a few tablespoons of semolina or sooji while preparing the dough.
Amount Of Moyan:

For partially soft and non-sticky dough for kachori add oil or ghee at 10:1 ratio. That means for 250 to 300 grams maida you have to add 4 to 5 tbsp oil.  
Cooking Method: To get khasta kachori heat oil first in medium high flame then place kachoris in hot oil immediately turn the flame low and gently splash hot oil over kachori which helps to grow them big.
Recipe of moong dal kachori

 step by step with photo?
Here, the complete moong dal kachori recipe classified into three simple categories first one is making moong dal stuffing for kachori,
second one is making dough for kachori and the last one is cooking khasta kachori recipe.
so, let's make it now.
Stuffing For Moong Dal Kachori
1.At first, for making moong dal stuffing for kachori recipe, pour 3 tbsp oil in a Kadai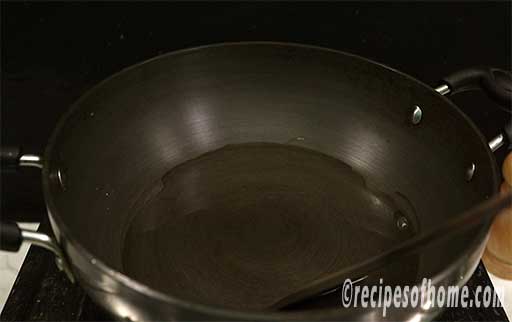 2.Then, add 60 to 80 grams moong dal and saute in low flame until it changes its color from yellow to slightly brown.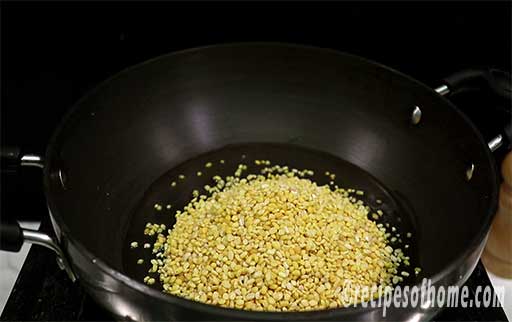 3. It takes approximately 4 to 6 min, at this stage, you get a beautiful aroma from it.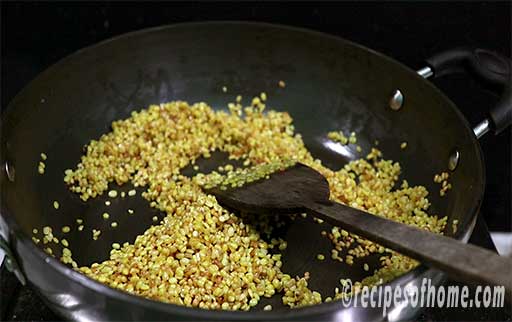 4.Now cool down this fried moong dal then pours into a blender with 2 tsp of sugar and blend it.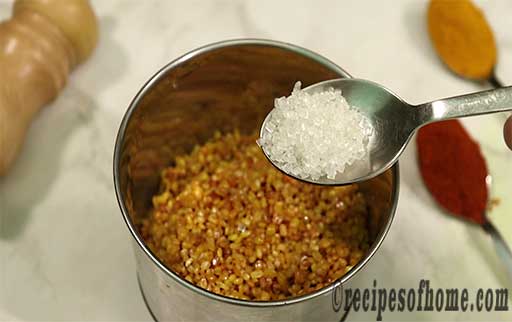 5. After that transfer this powder moong dal into a large mixing bowl.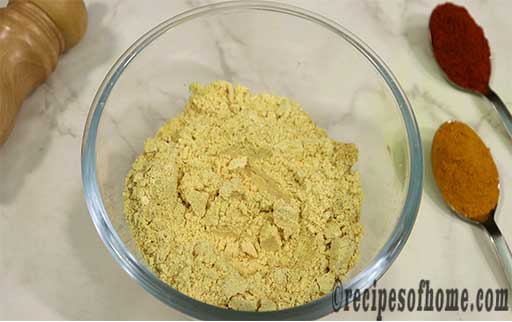 6.Next add 1 tbsp oil to it.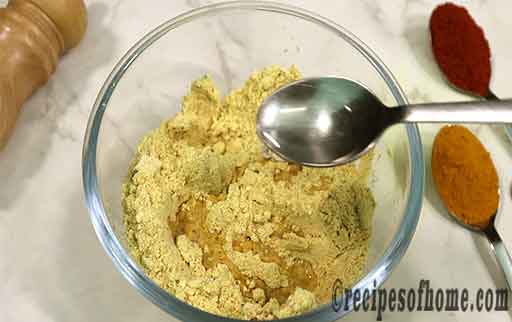 7.Also add some Indian spices including 1/2 tsp coriander powder,1/2 tsp cumin powder,1 tsp red chili powder,1/4 tsp turmeric powder,1/4 tsp amchur powder,1 tsp fennel seed,1/2 tsp garam masala powder, and a pinch of salt.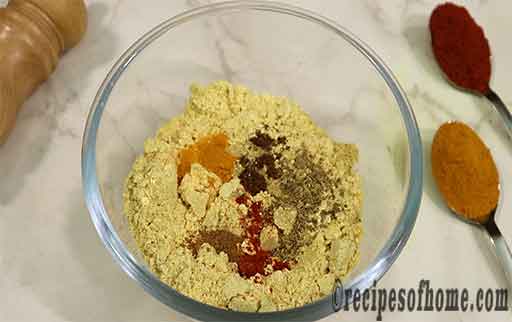 8.Then mix all of them together with a spoon.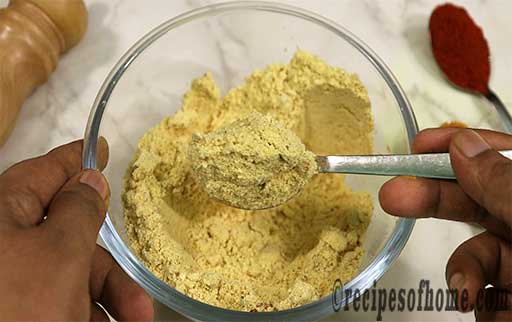 9. Next pour a dash of water in the interval, knead it properly.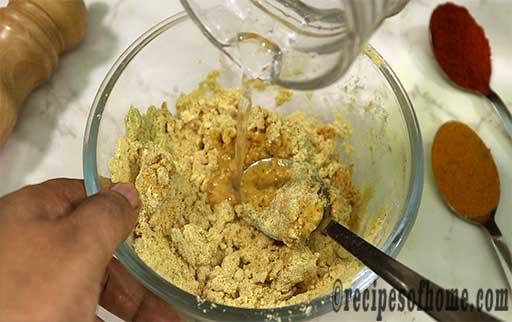 10. Finally set aside this stuffing for kachoris for later usage.
D

ough For Kachori
1. Now for making dough for kachoris add 250 grams maida in a large mixing bowl.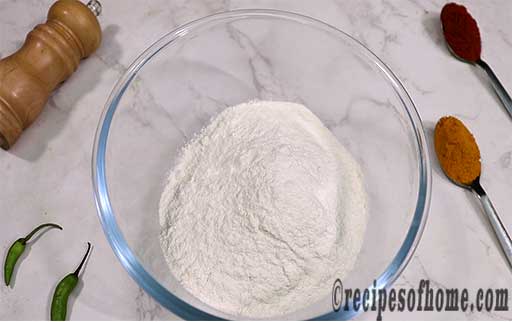 2.Sprinkle 2 tsp salt,1 tsp baking soda. Sprinkle a teaspoon of salt and let it boil for some time.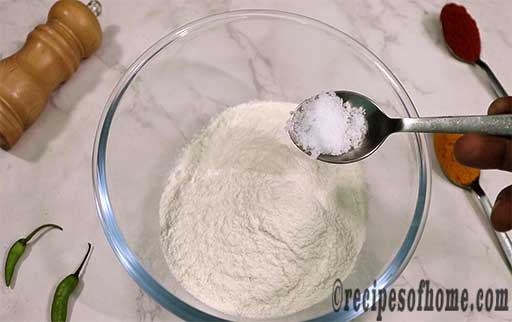 3.Also add 2 tbsp sooji or semolina.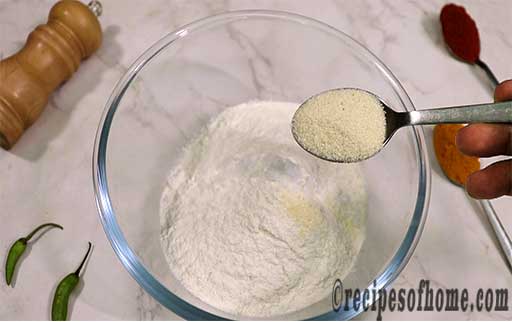 4.Furthermore, add 4 to 5 tbsp oil and mix all of them together.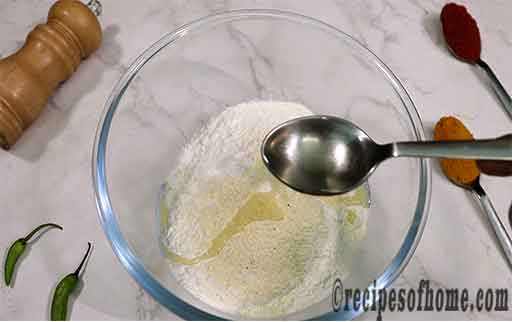 5.Then pour water little by little and knead thoroughly till soft dough.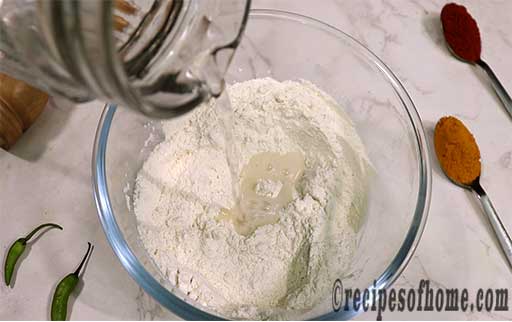 6.Sprinkle 1 tbsp oil all over the dough.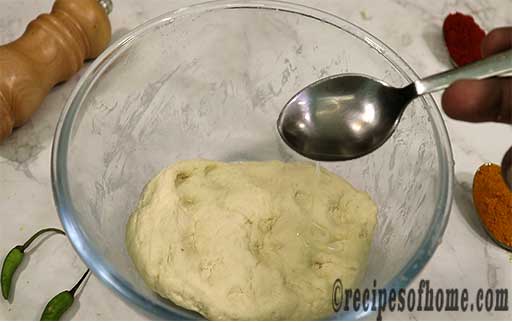 7.Finally cover the dough with a wet cloth and rest it for 30 min.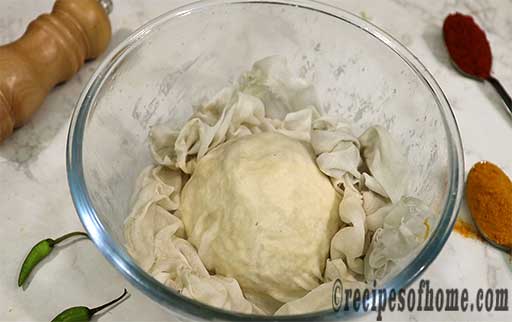 Cooking Khasta Kachori Recipe
1.Now for making kachori take the oil on your palm and pick a small portion of dough, make a circular hollow shape, place the moong dal stuffing in it.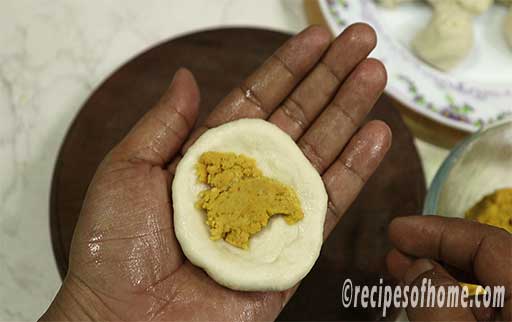 2.After that seals the mouth by bringing the edges together just like making modok or momo.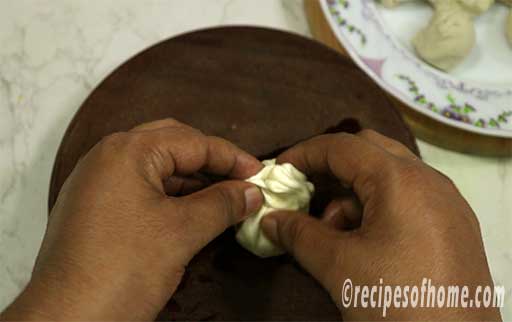 3.Then gently flat this stuffing dough by pressing in between palm,make a circular puri shape with help of a rolling pin.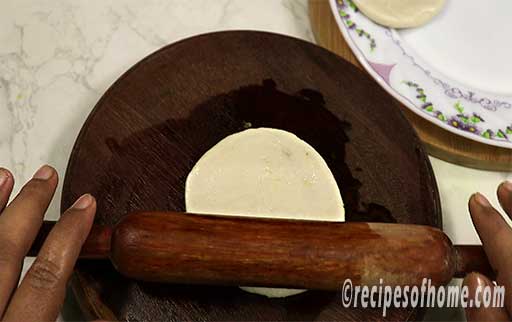 4. Now for frying kachori pour 400 ml oil in a kadhai, heat it medium-high flame.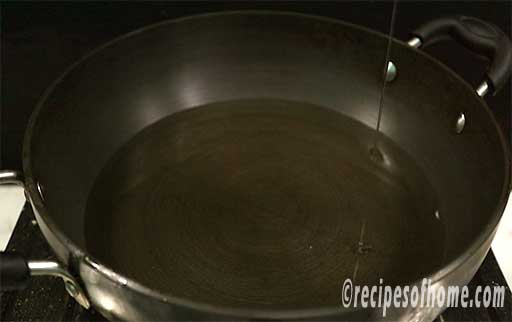 5.Then add stuffed kachori in it, immediately make the flame medium to low.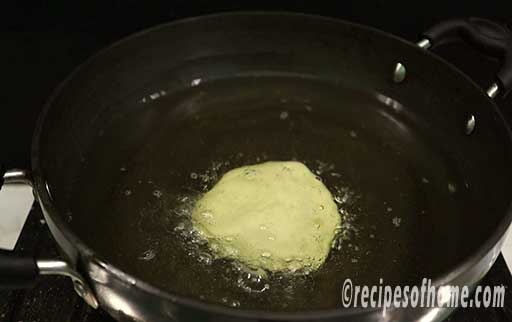 6.Fry this kachori until it becomes crispy, flaky, and slightly golden brown from both sides.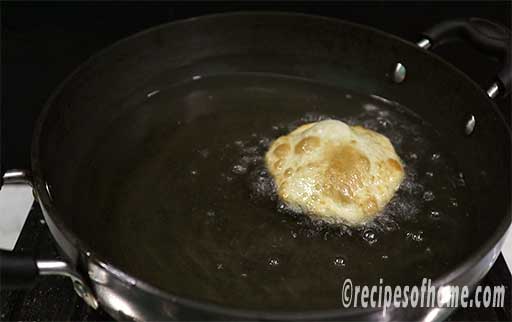 7.Finally take out this khasta kachori from oil and immediately serve hot with dum aloo or hot and spicy red chutney, sweet tamarind chutney or green chutney whatever you like.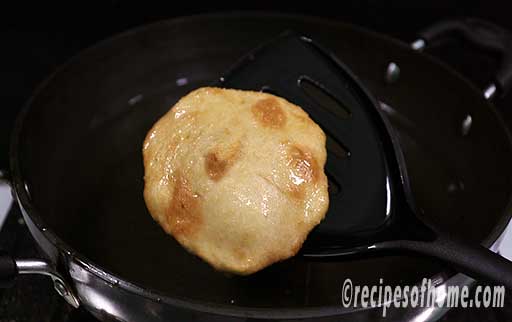 Moong Dal Kachori Recipe Card
Here is a quick overview of all the moong dal kachori ingredients including quick step by step preparation of khasta kachori recipe shown in the recipe card.
Take note of all ingredient lists. 
Please follow and like us: