Punjabi kadhi pakora recipe is a very popular north indian recipe where crispy onion fritters are dunked in a spice, tangy yogurt based sauce. This punjabi kadhi pakora recipe is a very simple yet very delicious vegetarian curry dish. To cook the best punjabi kadhi recipe at home follow the below step by step instructions on how to make kadhi pakora?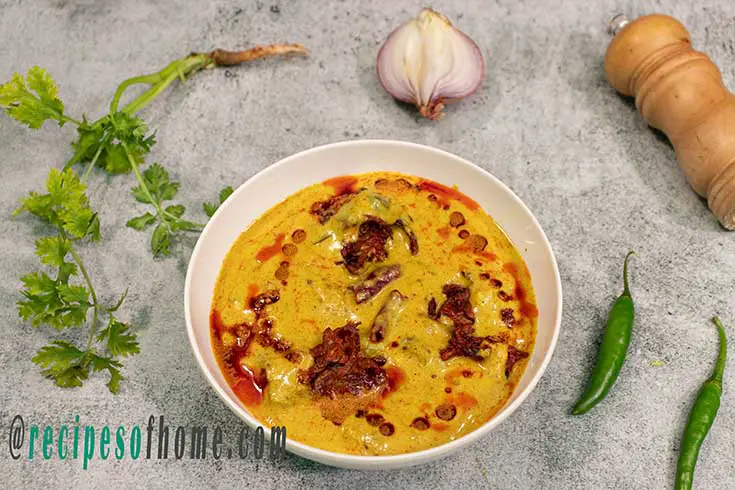 Do you want to cook punjabi dish at home? then give a try this famous punjabi kadhi pakora recipe at home.It tastes not only delicious but also very easy to cook at home.

Note : if you are in a hurry, feel free to click on the following links to check your desired topic.If you'd like to see our in-depth step by step recipe preparation keep reading!
What is kadhi recipe
Though there are a few variations of kadhi recipe available in indian cuisines like Gujrati kadhi , Rajasthani kadhi , Maharashtrian kadhi though the base ingredients are same but the main difference is using of a spices and thickness of kadhi.
What is kadhi pakora
" Kadhi " is a hindi word it means aromatic yogurt sauce and " pakora " means fritters made from gram flour or besan. That means spicy crispy fritters made of onions, gram flour and some spices served with tasty yogurt sauce.
Among the other kadhi recipes this punjabi kadhi pakora recipe tastes very delicious, it is creamier and thick than others.
⇒ Must Check Recipes
What to serve with punjabi kadhi recipe
You can serve punjabi kadhi recipe as a popular punjabi staple " kadhi chawal " where hot punjabi kadhi pakora serve with steamed rice or jeera rice. You can also serve the kadhi with roti

Tips to make best punjabi kadhi pakora recipe



Choice of Curd :

As in the authentic punjabi kadhi recipe, kadhi tastes a little bit sour so try to use full fat sour curd or yogurt either homemade or store bought.

Type of Oil : In punjabi kadhi pakora recipe you can find a little pungent flavour, this comes from the use of mustard oil, so i suggest you should use it to maintain authenticity, otherwise you can use any neutral oil like sunflower oil but it lacks the flavour.
Spices :

To enhances, the flavour of this dish don't forget to use fresh curry leaves, and the required amount of spices mentioned in the recipe.
Pakora texture : As I like a litlle bit crispy pakora in my punjabi kadhi recipe, so i add only the required amount of water to make the batter smooth not runny and add only before serving kadhi, but if you like soft and mushy pakora add water quantity in the batter.
Cooking method : Try to cook kadhi first in medium to low flame for 20 min with string often then simmer further 10 min to get aroma in your dish.
Prevent kadhi from splitting : To avoid kadhi splitting or separating at the time of cooking always use room temperature curd , whisk it properly before adding in Kadai, and most important stir often kadhi till it starts boiling, it prevents it from splitting.
Must give tadka : Don't forget to give tadka with ghee, a few whole spices and kashmiri red chili powder in your punjabi kadhi pakora recipe it really enhances flavour of your dish.
You May Like
How to make kadhi pakora
Here, the complete preparation of kadhi pakora recipe is classified into three simple categories first one is preparation for punjabi kadhi recipe,

second one is making pakora , thid one is cooking kadhi pakora and last one is giving tadka to punjabi kadhi.

so, let's make it now.
Preparation for punjabi kadhi recipe
1. At first for preparing punjabi kadhi recipe in a large mixing bowl add 200 grams of sour curd then whisk it properly such that no lumps forms on the curd.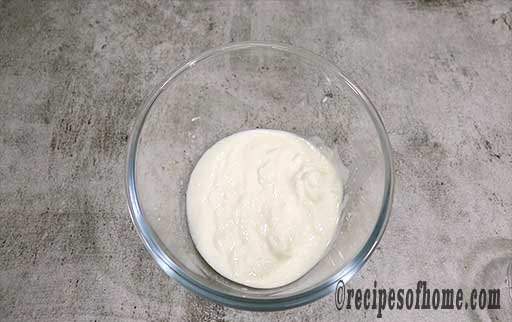 2. Now add 4 tablespoons of gram flour or besan, 1 teaspoon red chili powder, 1 teaspoon garam masala powder, 1/2 teaspoon turmeric powder, Pinch of salt to prepare this kadhi recipe.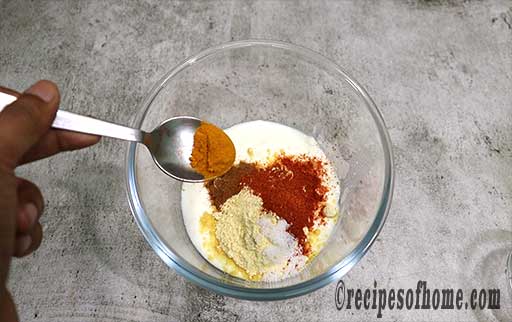 3. Then pour 400 ml water and stir thoroughly such that no lumps can build up in your slurry and you will get a smooth mixture.

4. Next stir everything mixes them properly and set aside this mixture for later usage.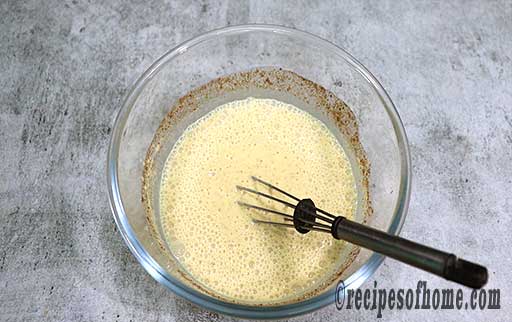 Making pakora for kadhi recipe
1. Now to make pakora in a large mixing bowl add 2 large slices of onions and 200 grams gram flour or besan.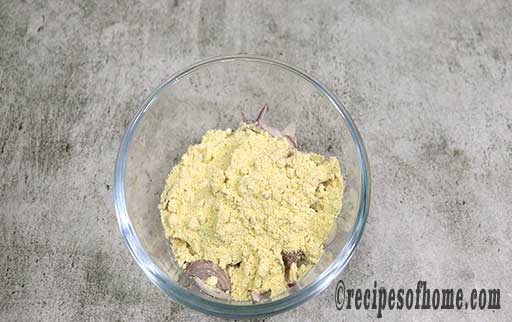 2. Next add 1/2 teaspoon ajwain, 1 teaspoon red chili powder, 1/8 teaspoon turmeric powder, 1/2 teaspoon garam masala powder, pinch of salt.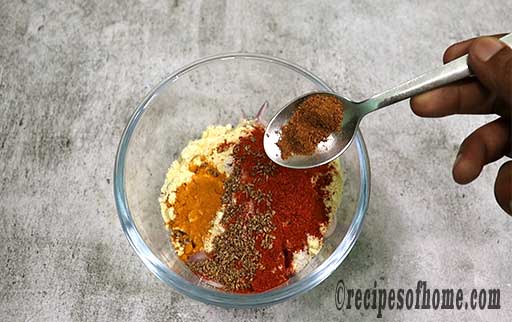 3. Now mix all of them together by hand or spoon.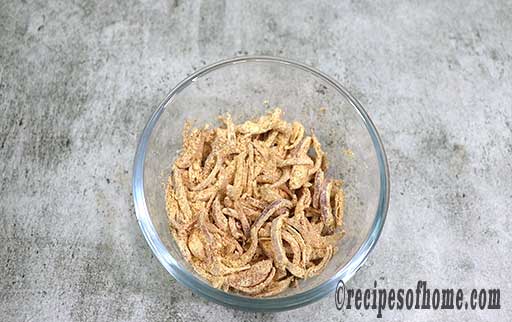 4. Also add 60 ml water which helps the mixture thick.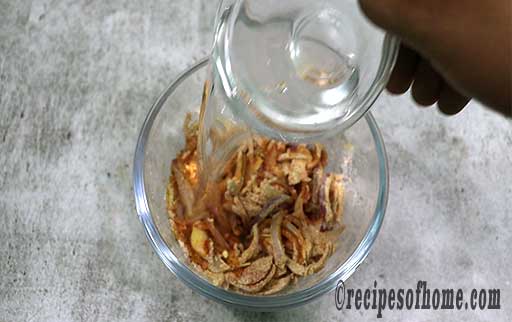 5. After that rest this mixture for at least 30 min.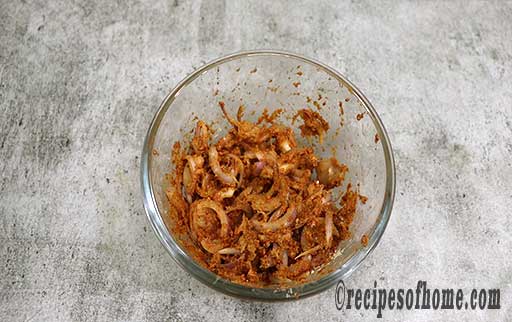 6. Furthermore pour oil into a pan, when the oil is medium hot.
7. Place one by one onion pakora in oil.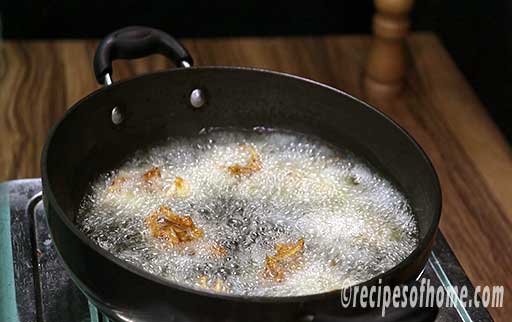 8. Fry the pakora completely on medium flame till they become golden brown and crisp.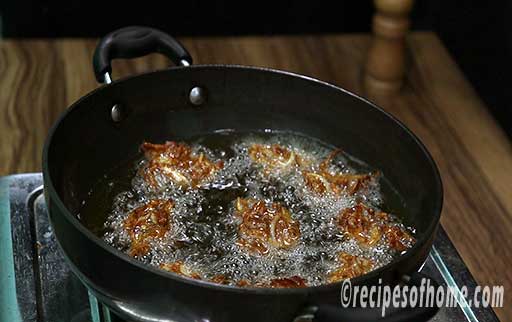 9. Finally remove the fried pakora from oil and place it on the kitchen tissue to remove excess oil from it.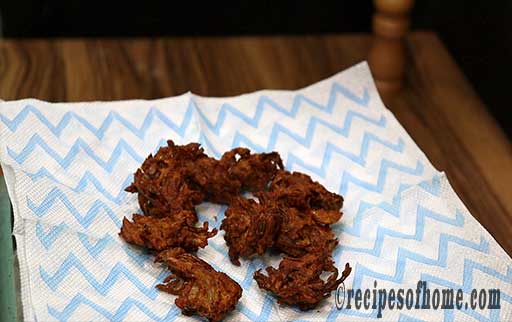 Cooking punjabi kadhi pakora recipe
1. For cooking punjabi kadhi pakora recipe heat 4 tablespoons of mustard oil in a pan just like the original punjabi kadhi recipe.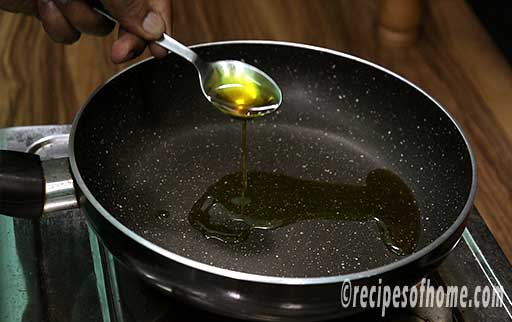 2. Now add 1 teaspoon cumin seed, pinch of hing, and 1 tablespoon chopped ginger garlic and saute them on low flame till the cumin seed began to splutter.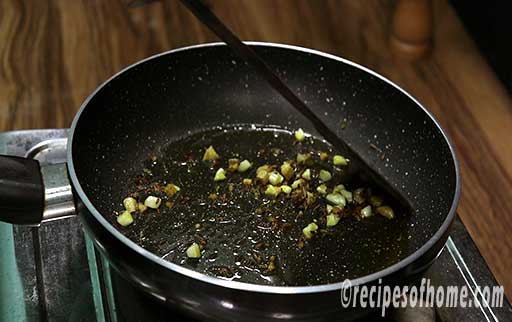 3. After that add 2 medium size chopped onions and saute them in medium flame till translucent.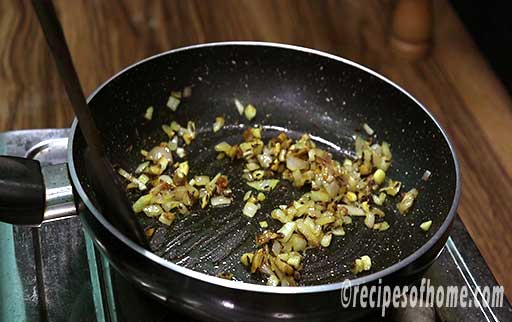 4. Next add 2 finely chopped green chilli and 10 to 12 fresh curry leaves.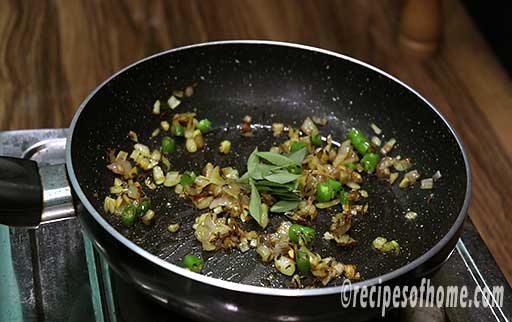 5. Now add  2 dried red chili and saute them in this mixture for another 2 min on medium to low flame.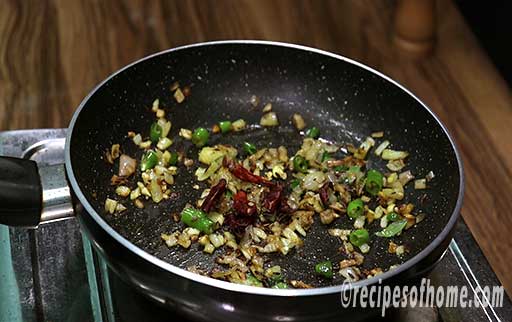 6. After that add the curd slurry which we made earlier and mix everything properly.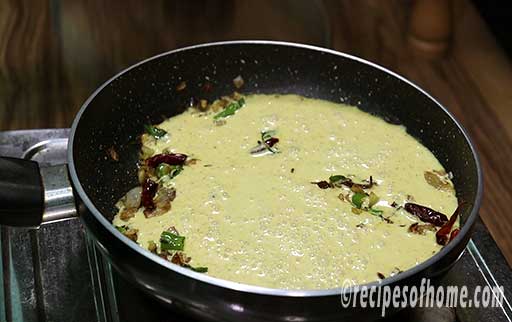 7. Then make the flame medium low and boil this kadhi for about 20 min. Make sure you stir this kadhi in between this time otherwise kadhi becomes brown from the bottom.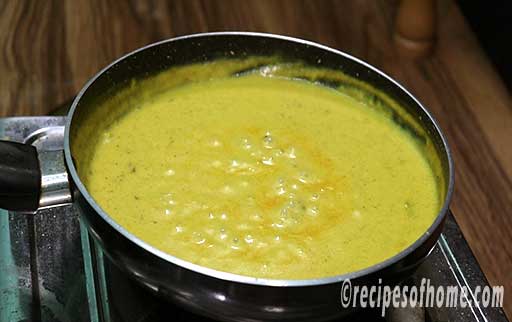 8. At this stage if the kadhi becomes thick but if it is too thick then pour a dash of water, cover the pan and simmer the kadhi for a further 10 min. Now sprinkle 1 teaspoon garam masala powder, pinch of salt in this punjabi kadhi pakora recipe.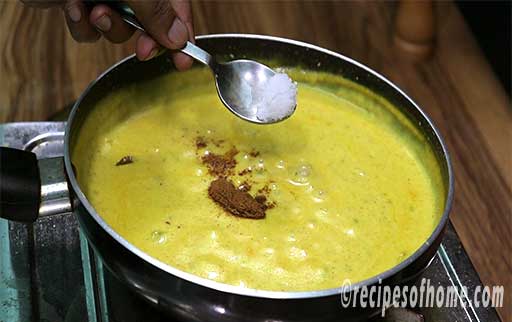 9. Don't forget to sprinkle 3 tablespoons of fresh coriander leaves.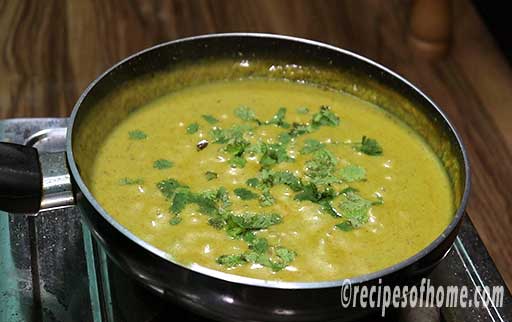 Giving tadka to punjabi kadhi recipe
1. Now to give tadka in punjabi kadhi recipe, in a tadka pan add 3 tablespoons ghee and 1 teaspoon cumin seed saute them till the cumin seed began to splutter.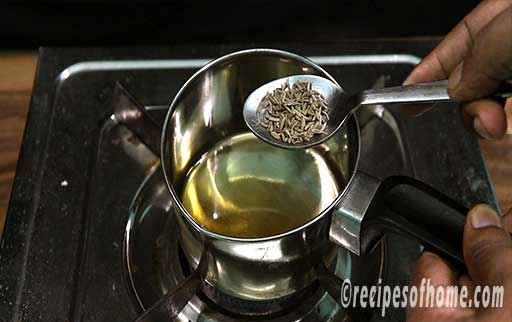 2. Then add 1 teaspoon kashmiri red chili powder for vibrant red colour.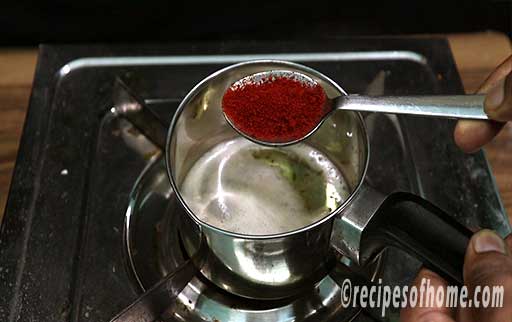 3. Finally our punjabi kadhi pakora recipe is completed now add our fried pakora to this kadhi, along with this tadka.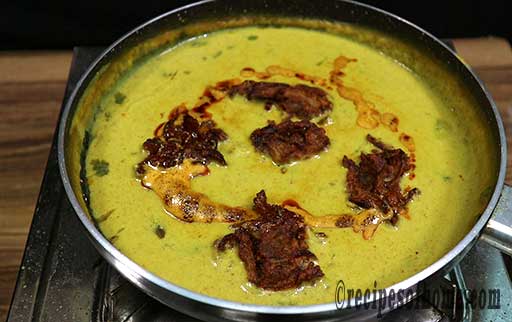 4.  Mix them properly then close the lid for some time till all aroma properly goes into the kadhi.

Kadhi pakora recipe card
Here is a quick overview of all the ingredients of punjabi kadhi recipe including the quick step by step preparation of punjabi kadhi pakora recipe shown in the recipe card.
Take note of all ingredient lists.