Veg kurma recipe | Vegetable kurma recipe | Vegetable korma recipe
Veg kurma recipe is a very delicious south indian korma recipe cooked with mixed veggies, grated coconut , cashew paste and a few aromatic spices. This mild spicy but flavorful vegetable kurma recipe is very simple yet very delicious vegetarian curry dish.To cook best vegetable korma recipe at home follow below step by step instructions on how to make veg korma?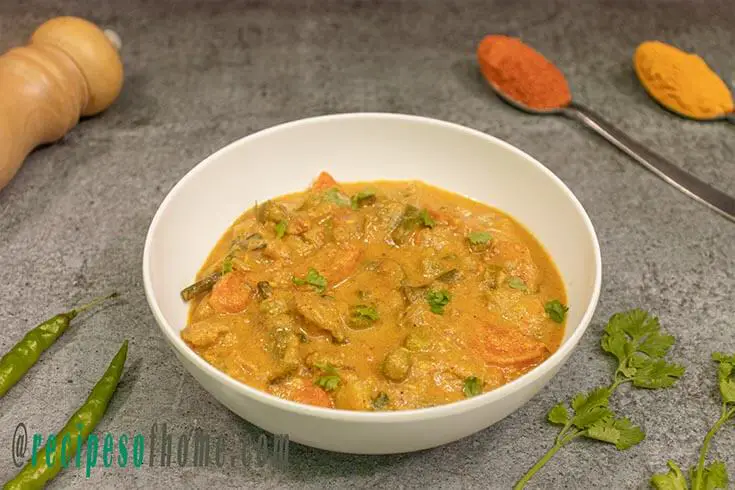 Are you frustrated about simple vegetarian recipes? don't worry just give a try of this aromatic vegetable kurma recipe which not only tastes very good but also it will change your taste about vegetarian recipes in future.
In this south indian veg kurma recipe it is slightly spicy but addition of grated coconut and cashew makes the perfect balance of sweetness and sourness of the dish.
Note : if you are in a hurry, feel free to click on the following links to check your desired topic.If you'd like to see our in-depth step by step recipe preparation keep reading!
What is veg kurma?
Korma recipe or kurma recipe whatever you say is a famous dish in mughlai cuisine.
Vegetable korma or veg kurma recipe is an aromatic vegetarian indian gravy made from curd or coconut , nuts specially cashew or almonds , onion , tomatoes , vegetables , cream and fragrant spices.
What to serve with vegetable kurma recipe?
Serve hot this vegetable korma recipe with some plain rice or jeera rice even rotis, paratha goes well.
Tips to make best vegetable korma recipe



Choice of veggies : You can make this tasty veg kurma recipe with any vegetables of your choice here i use potatoes, cauliflower, green peas, carrots,french beans,you can also include corn,zucchini etc .
Kurma paste :

Kurma paste is the most important thing you have to make for your vegetable korma, use all the ingredients in proper amount to get actual flavor of this korma curry.
Spices : To enhances flavor in your vegetable korma don't forget to use kasuri methi and a handful of coriander leaves at the end of making dish.
More Recipes You May Love
H

ow to make vegetable kurma?
Here, the complete recipe of vegetable kurma classified into three simple categories first one is preparation for veg kurma recipe,
second one is making paste for vegetable kurma.
so, let's make it now.
Preparation for veg kurma recipe
1. At first for preparing veg kurma recipe finely chop 2 large size tomatoes and de seed them , 2 medium size tomatoes , 1 medium size carrots , 2 medium size potatoes , 10 to 12 french beans , and 150 grams green peas either fresh or frozen and 1 small cauliflower florets [ optional ] , wash them thoroughly in running water.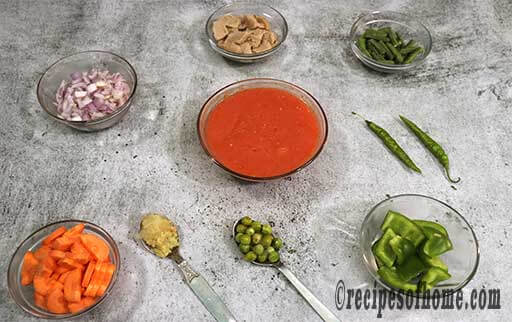 Note : I don't use cauliflower in this recipe but if you are using cauliflower in your recipe make sure you blanch them in warm water for at least 10 min to remove any harmful insect.
Making paste for vegetable kurma recipe
1. Now to make aromatic creamy paste for veg kurma recipe in a mixing grinder add 12 to 15 cashew nut and 60 grams grated coconut.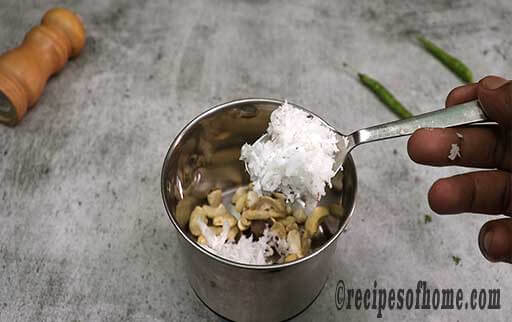 2. Next add 1 teaspoon cumin seed , 1 teaspoon fennel seed , 1/2 teaspoon coriander seed , 3 green cardamoms , 3 cloves , 1 inch cinnamon , 1 tablespoon roasted chana dal ,2 teaspoons of poppy seed.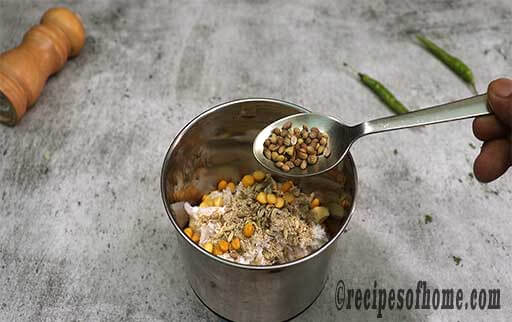 3. After that add 6 tablespoons of water.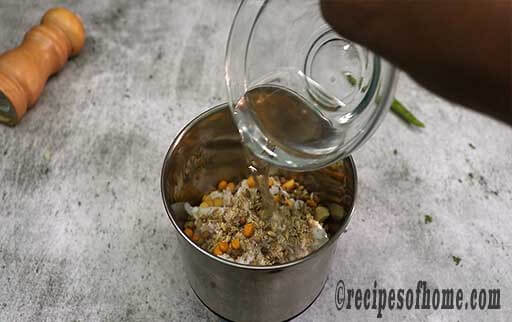 4. Close the lid and blend all of the ingredients together until thick and nice paste for your vegetable kurma.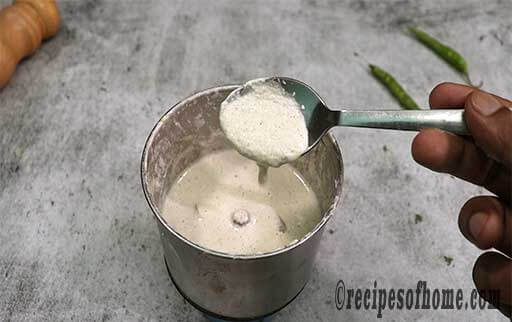 How to make veg kurma?
1. For making vegetable kurma recipe heat 2 tablespoon of oil in a pan and spread it evenly.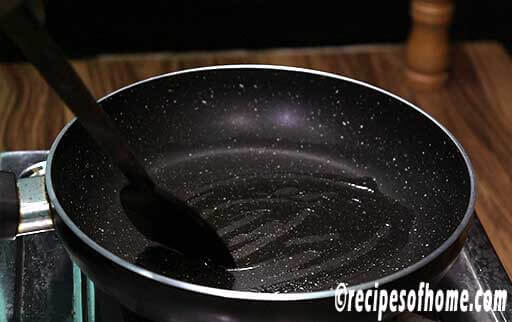 2. Now add 1 bay leaf , 2 green cardamom , 1/2 teaspoon cumin seed , 3 clove , 1 inch cinnamon and saute them in low flame till they began splutter.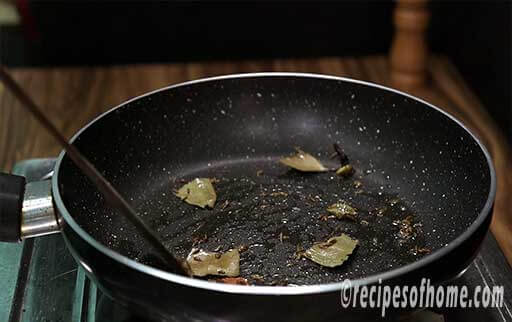 3. After that add 2 medium size chopped onions and 2 chopped green chili.Saute the onions in medium to low flame till slightly golden brown, it takes approximately 5 to 6 min in medium flame.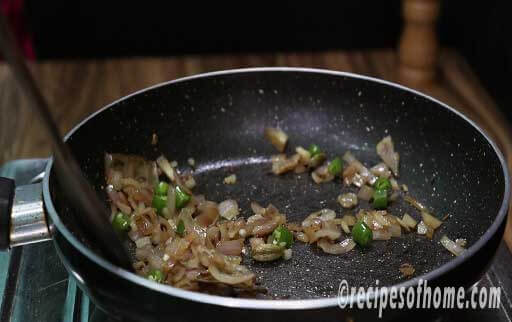 4. Next add 1 tablespoon ginger garlic paste saute them for 1 min till raw smell disappear.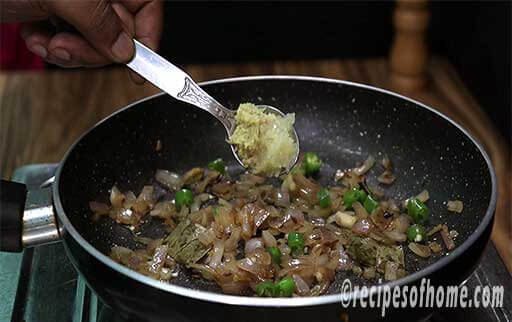 5. Now add 3 medium size tomato puree cook it properly for 8 min till raw smell of tomatoes goes way completely.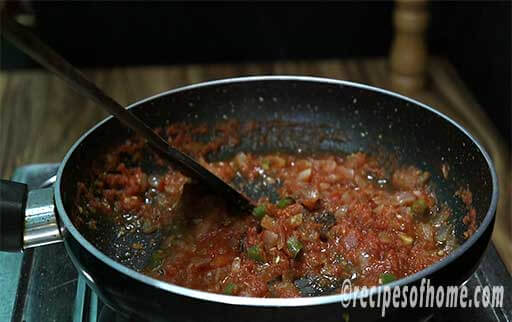 6. After that sprinkle 1 teaspoon red chili powder , 1/8 teaspoon turmeric powder , 1 teaspoon garam masala powder, and pinch of salt.At this stage saute them for another 4 to 5 min, if it dried out quickly pour dash of water and saute further.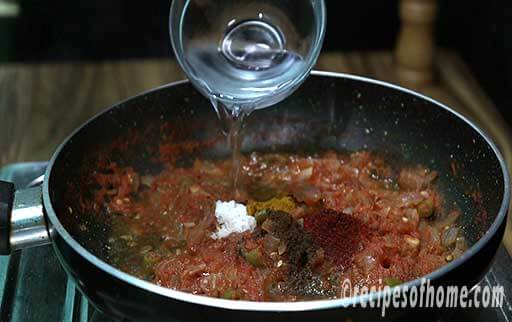 7. Furthermore add korma paste which we made earlier.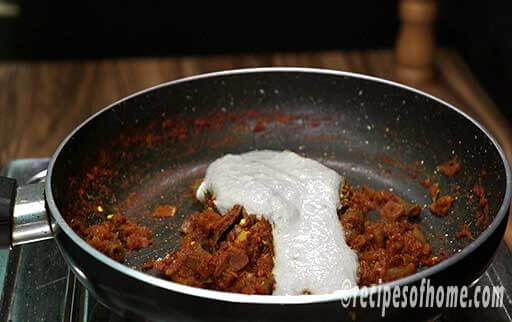 8. Then saute this mixture for another 7 to 8 min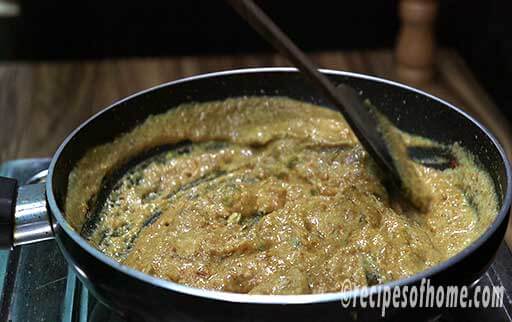 9. Next add 3 tablespoons cream and mix it properly.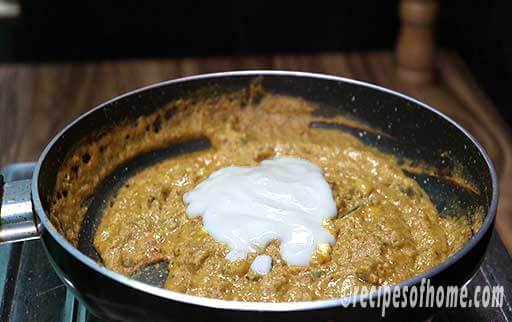 10. After that add all veggies including capsicum , green peas, french beans, carrots which we chopped earlier and mix them properly.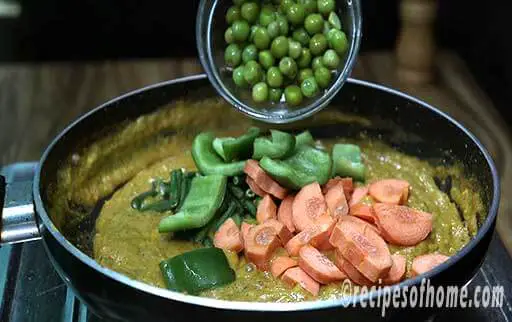 11. Also add parboil soya beans and cubed cut potatoes.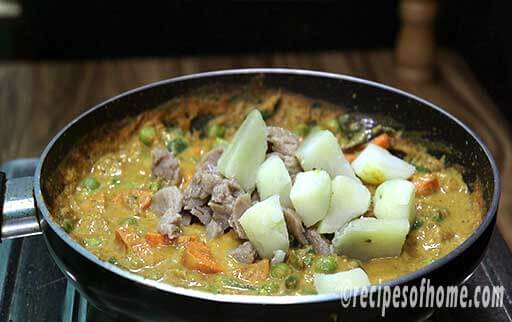 12. Now saute everything for another 5 to 6 min.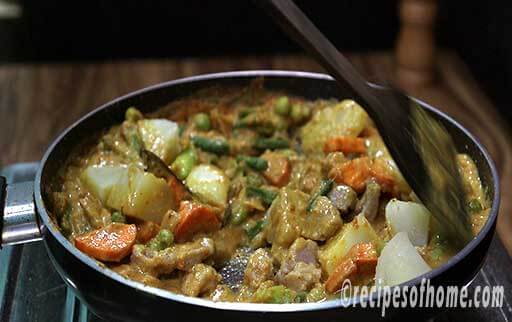 13. Finally pour water in this vegetable kurma, gently mix everything.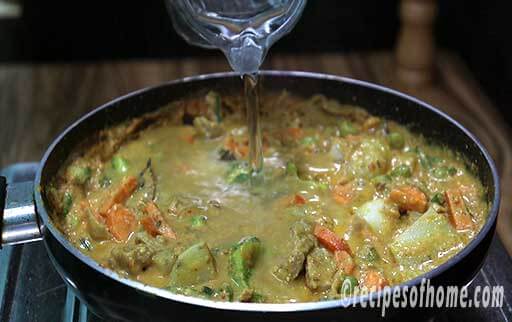 14. Now cover and cook this aromatic korma curry for further 20 min to 25 min in medium flame until all the veggies cooked properly.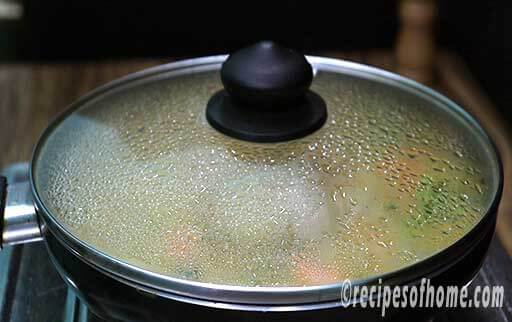 15. When everything is done check the taste of salt if required add don't forget to sprinkle 1/2  tablespoon kasuri methi and 3 tablespoon freshly chopped coriander leaves for enhancing flavor.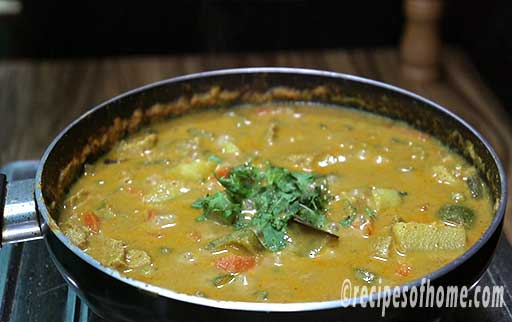 Veg kurma recipe card
Here is a quick overview of all the ingredients of veg kurma recipe including quick step by step preparation of vegetable kurma recipe shown in the recipe card.
Take note of all ingredient lists.