Egg bhurji recipe is a popular indian scrambled eggs recipe where beaten eggs cooked with some veggies and flavour with some aromatic indian spices. Egg bhurji is also known as anda bhurji recipe in india.To cook, this delicious dish follow the below step by step instructions on how to make egg bhurji?
This anda bhurji recipe is not only tastes delicious but also super easy to make at home within a few minutes. Besides breakfast, you can also take it as a meal of the day by cooking egg bhurji curry.
Note : if you are in a hurry, feel free to click on the following links to check your desired topic.If you'd like to see our in-depth step by step recipe preparation keep reading!
What is egg bhurji
Egg bhurji is a spicy indian scrambled eggs dish, that is made by combining scrambled eggs, onions, capsicum, french beans, tomato and some aromatic Indian spices.
It is also known as Anda bhurji in India where Egg means Anda in hindi and Bhurji mean mishmash of two or more ingredients.
It is very similar to the Parsi breakfast dish akuri but a small difference is akuri tends to runnier as compared to Bhurji and eggs tend to be soft.
Must Check Recipes
Side dish for anda bhurji
If you are cooking egg bhurji for breakfast then you can place it inside of toasted bread, mumbai style bhurji pav just like sandwich or serve it with roti as a side dish.
But if you are preparing delicious egg bhurji curry then it goes well with roti, paratha even plain rice.
Tips to make anda bhurji recipe



Beaten Eggs : If you love fluffy scrambled eggs then must beat the eggs properly with a hand whisker till frothy.

Spices :

To enhances the flavour in this egg bhurji recipe don't forget to use good quality garam masala powder and some red chili powder from any popular brand. For street-style egg bhurji flavour just add pav bhaji masala instead of garam masala and red chili powder.
Veggies : I like to eat anda bhurji with some basic veggies including capsicum, french beans, green chilli, tomato and onions. But if you need some variation you can add mushroom, frozen green peas etc.
You May Like
How to make egg bhurji
Here, the complete recipe of egg bhurji preparation is classified into three simple categories first one is preparation for anda bhurji,
second one is making egg bhurji recipe.
so, let's make it now.
Preparation for anda bhurji
1. At first for preparing anda bhurji recipe ready 3 eggs, chopped 1 large size onion, 1 large size tomato, 1 medium size capsicum, 2 french beans, 3 green chili, 8 to 10 fresh curry leaves.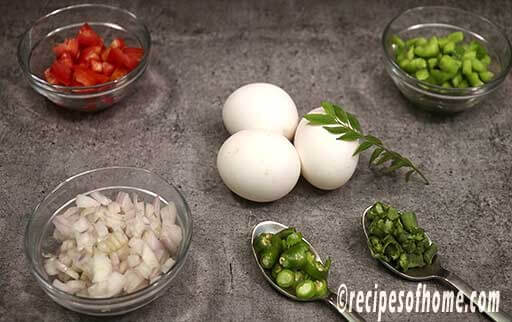 2. Now break 3 eggs or anda in a bowl.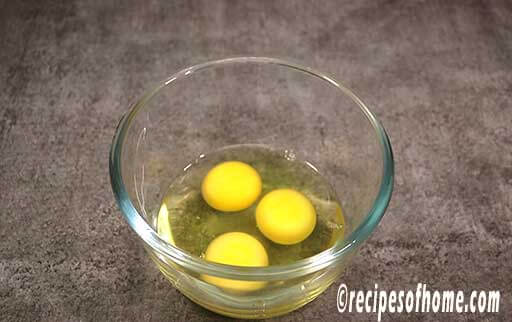 3. Next add 1/2 teaspoon salt.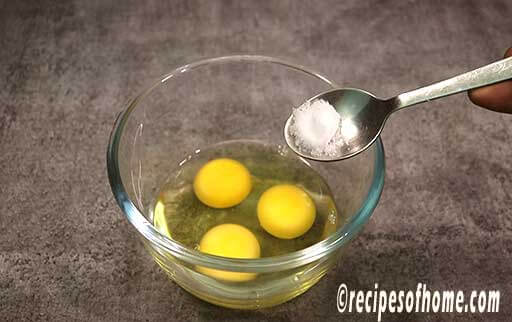 4. After that add 1/8 teaspoon turmeric powder.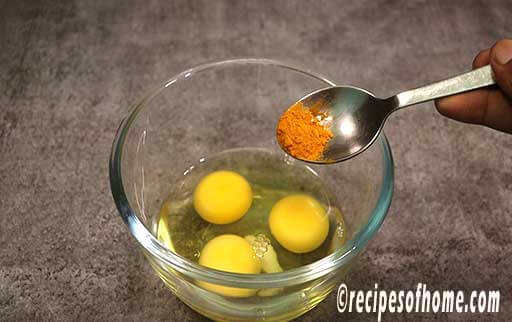 5. Finally beat the egg thoroughly with a whisker till get a frothy texture. This will help you to get a fluffy scrambled egg.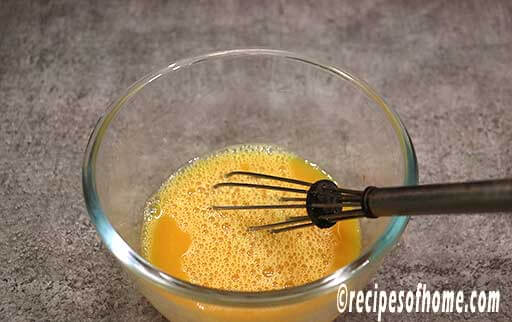 Making egg bhurji recipe
1. Now to make egg bhurji recipe heat 3 tablespoons of oil in a pan then spread it evenly.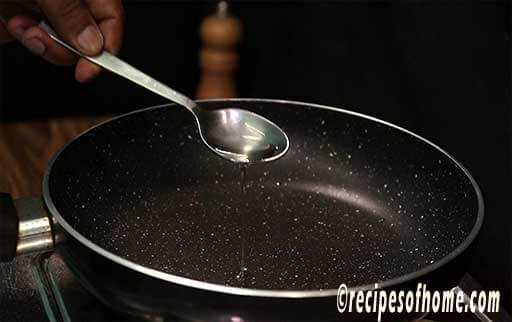 2. Next add 1 teaspoon cumin seed and 10 to 12 fresh curry leaves.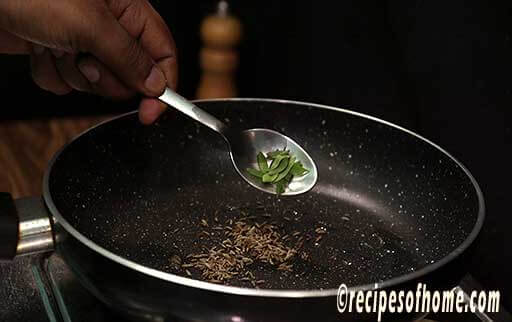 3. Now saute them till curry leaves become crisp.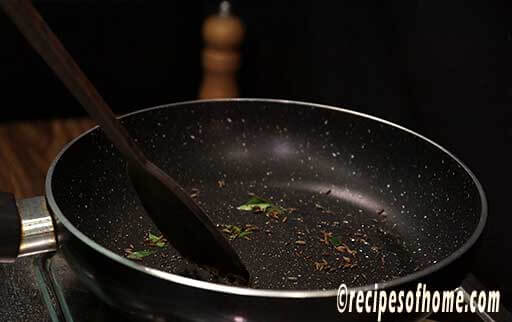 4. After some time add 1 large chopped onion and 3 chopped green chillies. Saute until onions become translucent.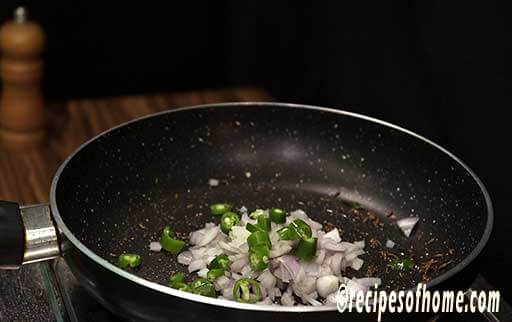 5. Next add 1/2 tablespoon ginger garlic paste, and saute them till the raw smell disappear.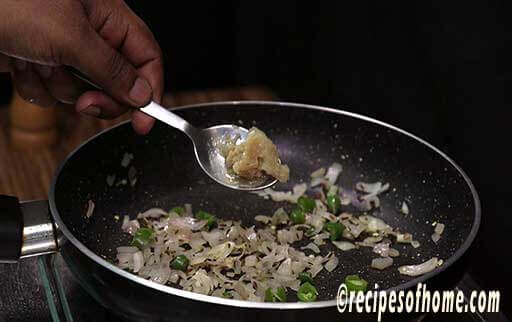 6. Furthermore add 1 large size chopped tomato and cook for 7 to 8 min in medium flame till the tomatoes are mushy.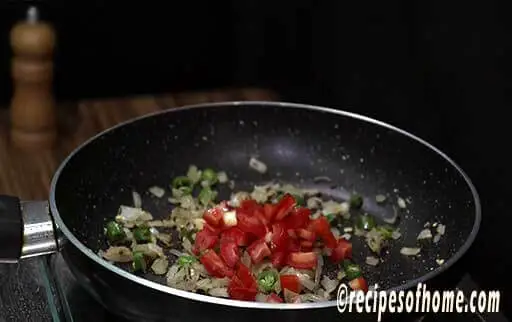 7. Also add 2 finely chopped french beans, 1 medium size chopped capsicum, and cook further 5 min till the veggies are cooked well.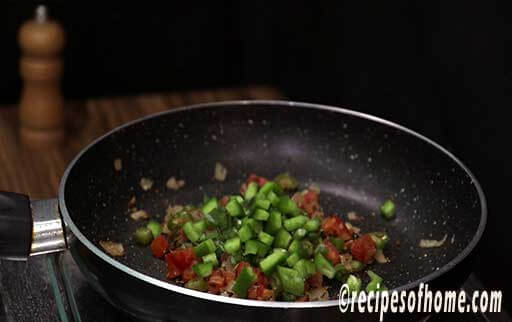 8. Now pour the beaten eggs which we prepared earlier.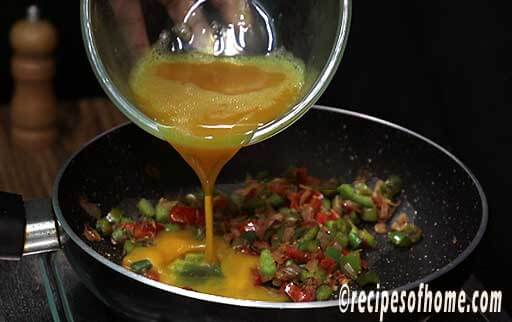 9. Scramble the eggs and mix with the rest of the veggies on medium flame.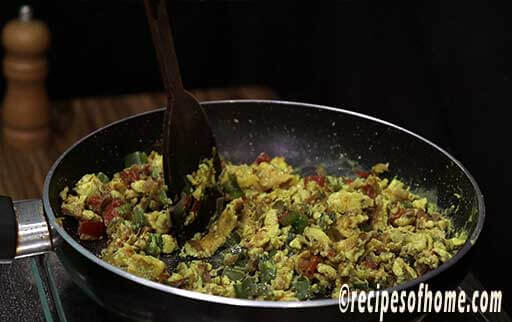 10. For enhancing flavour in egg bhurji recipe sprinkle 1 teaspoon red chili powder, 1 teaspoon garam masala powder and a pinch of salt if required.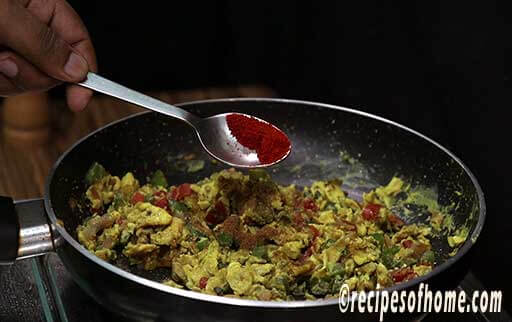 11. Finally garnish anda bhurji with freshly chopped coriander leaves, and squeeze some lemon juice if you like. Then serve it hot immediately with roti, bread, pav etc.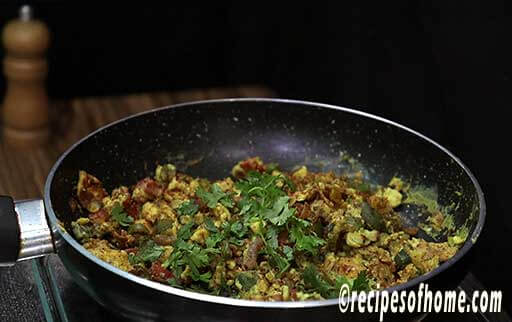 How to make egg bhurji curry
If you want to cook delicious egg bhurji curry for your meal then the whole process is exactly the same.
After mixing scrambled eggs with veggies, pour 250 ml of water and mix everything well.
Also sprinkle 1/2 teaspoon coriander powder, pinch of salt and gram masala powder, red chili powder as mentioned above.
Now cook the curry for 5 minutes on medium to low flame and the curry will be ready to serve.
Finally, our scrambled egg curry is ready, garnish with some freshly chopped coriander leaves and serve it hot.
Egg bhurji recipe card
Here is a quick overview of all the anda bhurji ingredients including quick step by step preparation of anda bhurji recipe shown in the recipe card.
Take note of all ingredient lists.