Ghee rice recipe is a very delicious, fragrant south indian rice dish which is usually made with basmati rice, desi ghee, dry fruits and a few aromatic Indian spices.Ghee rice recipe is popularly known as neychoru recipe in south India, where Nei means ghee and choru means rice. To cook this delicious neychoru recipe at home follow the below step-by-step instructions on how to make ghee rice.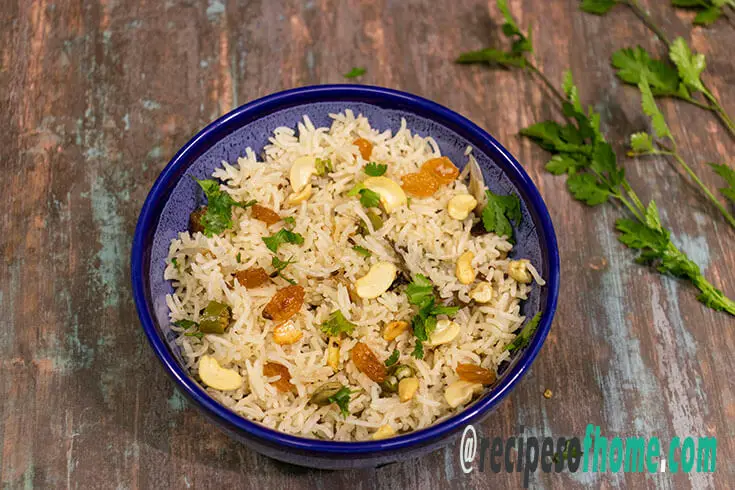 This ghee rice recipe is very easy to make and you need only a few ingredients. Make it today's dinner menu for your family.
Note: if you are in a hurry, feel free to click on the following links to check your desired topic.If you'd like to see our in-depth step-by-step recipe preparation keep reading!
What is ghee rice



Ghee rice or Nei Choru or Neychoru is a flavourful one-pot Kerala style rice dish.
Neychoru recipe is usually made with fragrant rice varieties like jeeraga samba or basmati rice, desi ghee, caramelised onions, roasted cashew, raisins and a few aromatic indian spices.
You can easily cook this ghee rice recipe within 1 hour and serve it for dinner to your guest.
Side dish for ghee rice



You can serve veg kurma, chicken curry, mutton curry, and raita as a side dish for ghee rice.
How to store ghee rice
Variation of neychoru recipe
Apart from traditional dish there are various ways you can prepare neychoru recipes. Just add various ingredients depending upon your likes. Below i show you some variations you can try.
Coconut Ghee Rice : Instead of water you can use coconut milk to cook the rice, after that add grated fresh coconut to the recipe.
Fruits Ghee Rice : For preparing fruit ghee rice you can add fruits such as mangoes, pineapple, or pomegranate.
Vegetable Neychoru : Just like fruits you can also add fresh vegetables like green peas, potatoes, french beans, and carrots to make vegetable ghee rice.
Dry fruits Neychoru : For the dry fruits neychoru recipe apart from raisins and cashews, you can add more dried nuts such as pistachios, almonds, cranberries, blueberries, and apricots.
Must Check Recipes
Tips to make ghee rice recipe



Type of Rice: It is better if you use non-sticky rice like basmati rice or seeraga samba rice to prepare ghee rice recipe. Otherwise, you can choose any type of rice which does not stick together after cooking.
Choice of ghee:

For the best taste and aroma in your ghee rice recipe always use desi ghee or homemade ghee.
Spices: You must use fresh whole spices which are on their shelf life. Make sure you saute them in melted ghee for some time.
Dry fruits:

You can use cashews and raisins as the main dry fruit ingredients in your ghee rice recipe. Otherwise, you can also use add almonds and pistachios. Make sure you first saute them in ghee for some time before doing anything.
Cooking fluffy rice :

To get fluffy rice to maintain water to rice ratio of 2:1 .Basically, after 8 to 10 mins of cooking rice, it absorbs all the water. Still, it keeps covered for further 10 minutes to continuously cook in the residual steam and that gives you plump, perfectly cooked, non-mushy rice.
You May Like
How to make ghee rice



Here, the complete recipe of ghee rice preparation is classified into three simple categories first one is soaking rice,
second one is frying dry fruits and third one is cooking ghee rice recipe

so, let's make it now.
Soaking rice
1. At first for preparing ghee rice recipe first add 200 grams of long grain basmati rice in a large bowl.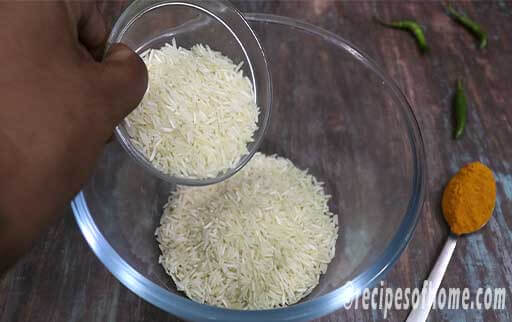 2. Then rinse them thoroughly in running water and soak them for 20 to 30 min.

Frying dry fruits for neychoru recipe
1. Now for frying dry fruits for neychoru recipe add 3 tablespoons of clarified butter or ghee in a frying pan or kadai.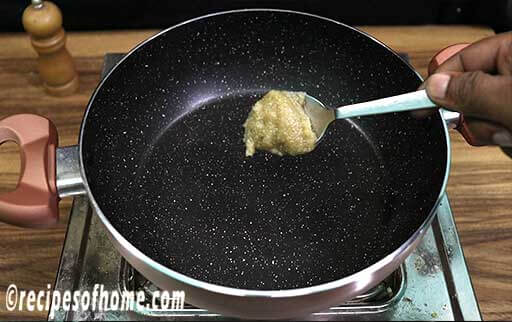 2. Next melt the ghee on a low flame such that it does not burn.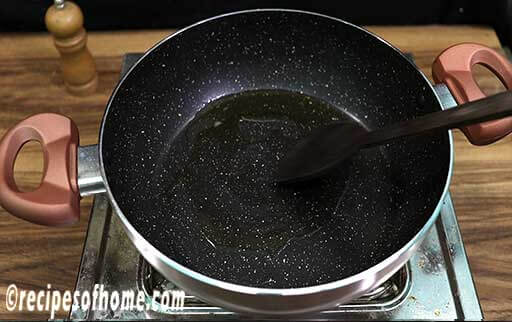 3. At this stage add 15 to 20 cashew nuts and 15 to 20 raisins.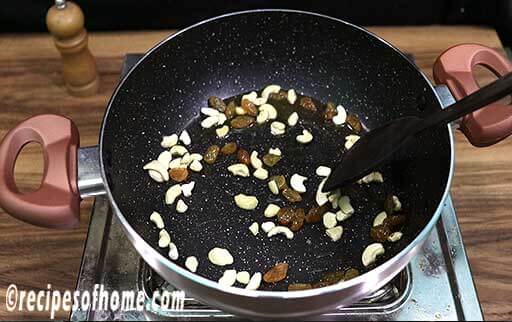 4. Stir cashews and raisins continuously in low flame until cashews become golden brown and raisins plum up a bit in the ghee. Take them out from kadai and set them aside for later usage.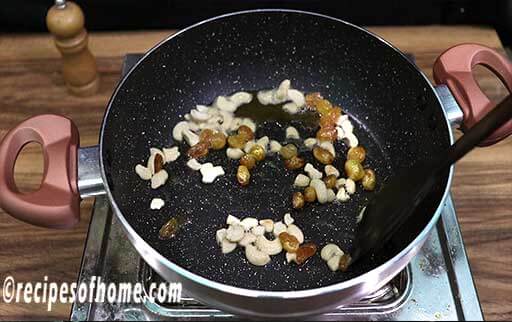 Cooking ghee rice recipe
1. Now for cooking ghee rice recipe in the same kadai add 2 teaspoons of cumin seed, 4 green cardamoms, 4 cloves, 2 inches of cinnamon, and 1 bay leaf.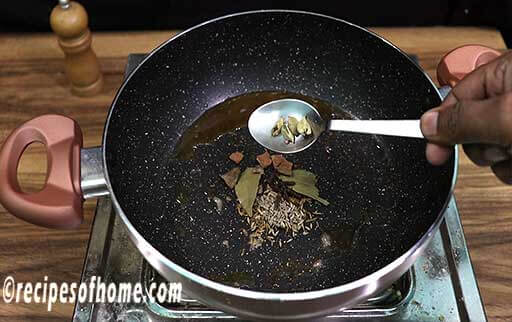 2. Then saute the whole spices for 1 to 2 min in medium flame.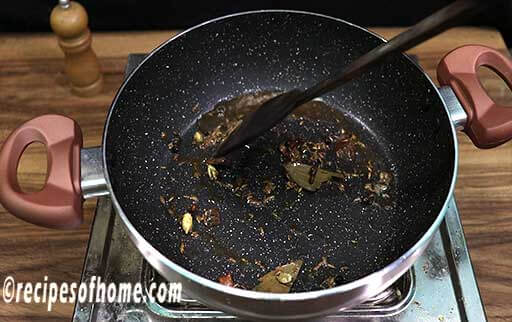 3. After that add 1 medium size slice of onions and fry them till golden brown.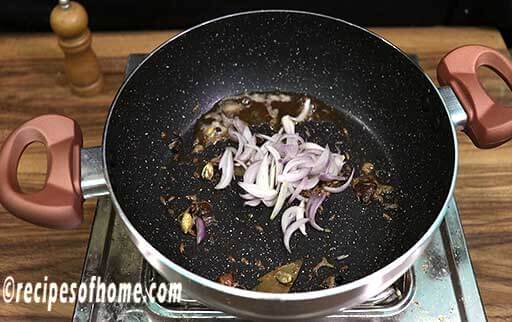 4. Next add 3 chopped green chilli.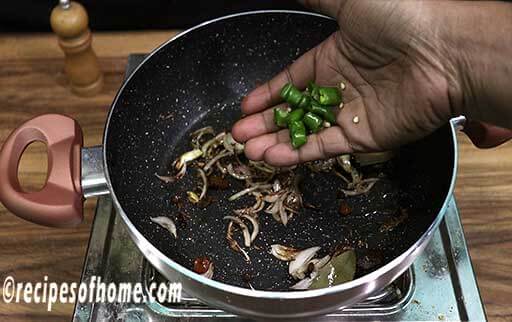 5. Now add the drained rice.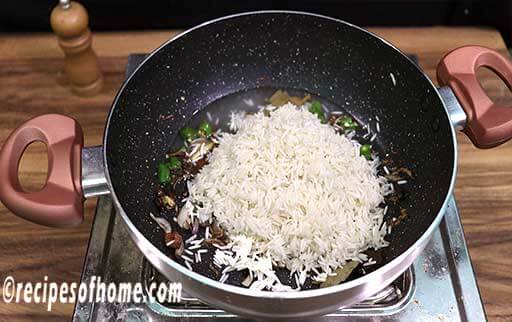 6. Gently stir the rice for 5 minutes. Make sure to not over-stir because the rice grains may break.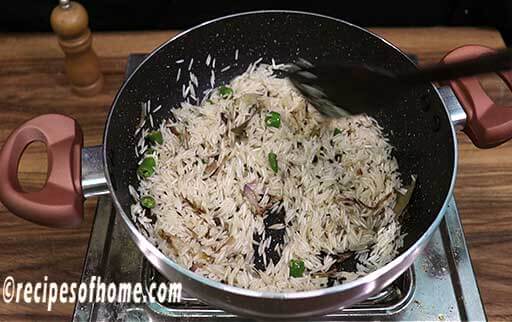 7. Now pour 400 ml water. Stir and mix the rice properly.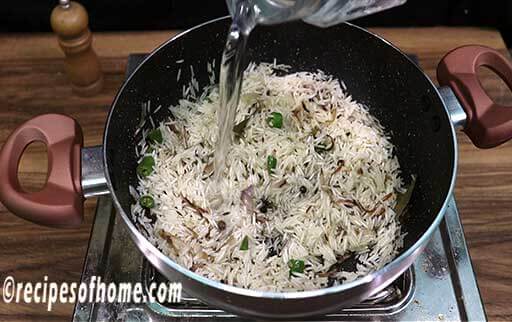 8. Also sprinkle 1 teaspoon salt. Check the taste of the water it is required you can add it later.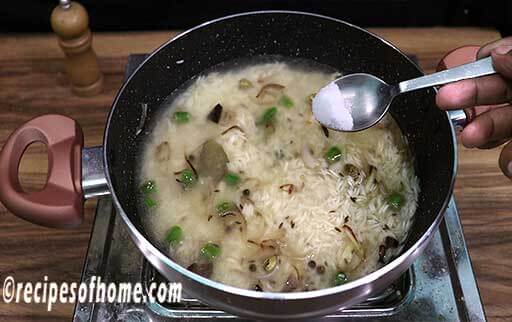 9. After that cover the Kadai with a lid. Initially increase the temperature of kadai then reduce the flame to low heat.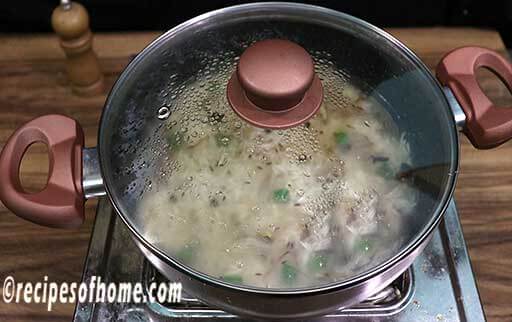 10. It takes approximately 15 to 20 min to properly cook less sticky and fluffy ghee rice. Check the rice you get proper fluffy rice.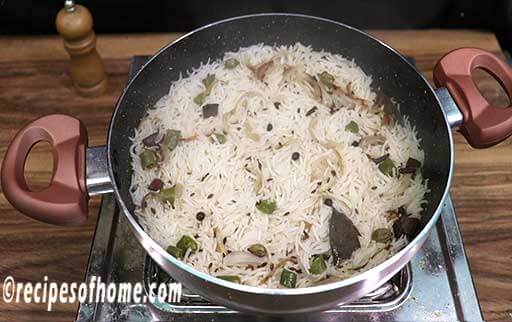 11. Finally garnish ghee rice with the fried cashews and raisins, 3 tablespoons freshly chopped coriander leaves and black pepper powder.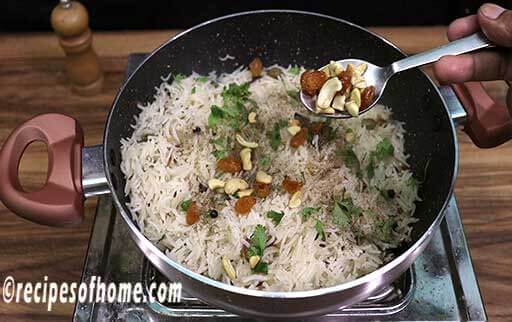 Ghee rice recipe card

Here is a quick overview of all the ghee rice ingredients including quick step by step preparation of ghee rice recipe shown in the recipe card.
Take note of all ingredient lists.