Coconut chutney recipe | Nariyal chutney | How to make coconut chutney
Coconut chutney recipe is a popular south indian condiment usually served in various breakfast and snack dishes. For example coconut chutney for dosa, coconut chutney for idli, uttapam, medu vada. To cook this delicious nariyal chutney recipe at home follow the below step-by-step instructions on how to make coconut chutney.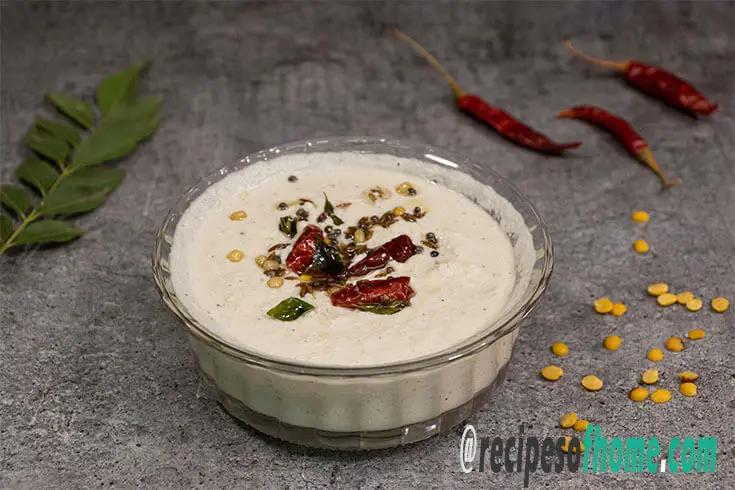 There are various types of coconut chutney recipes available based on the ingredients used like red coconut chutney, green coconut chutney, yellow coconut chutney, and this white coconut chutney.

Among them, this white coconut chutney is the most popular and widely served in most of South Indian restaurants.
Note: if you are in a hurry, feel free to click on the following links to check your desired topic.If you'd like to see our in-depth step-by-step recipe preparation keep reading!
What is coconut chutney



Coconut chutney is also known as "Nariyal Chutney" in Hindi and "Khobryachi Chatni" in Marathi where both Nariyal and Khobra mean coconut which basically originated from South Indian cuisine.
If you want to make simple white coconut chutney which is made by blending fresh or frozen shredded coconut with ginger, green chillies, salt, and cumin seeds.
What to serve with nariyal chutney



You can serve this coconut chutney for dosa, upma , medu vada, uttapam, pongal. Even you can serve this nariyal chutney for idli sambar. 
Apart from this you can also serve nariyal chutney as a dip with nachos or chips or slather it over sandwiches and wraps.
How to store coconut chutney
Variation of coconut chutney for dosa recipe
Though you can make coconut chutney in various ways depending upon your needs for example dosa chutney, idli chutney and various other dishes. Below are some variations of coconut chutney recipes that you can make once you learn the basic white coconut chutney.
Red Coconut Chutney: For red coconut chutney add dry red chillies to the basic white nariyal chutney.
Green Coconut Chutney: For green coconut chutney add fresh cilantro or coriander leaves to the basic chutney.
Mint Coconut Chutney: Fresh mint leaves add a lovely flavour to the nariyal chutney.
Green Mango Coconut Chutney: If you have mangoes then you can add tangy green mangoes to the white chutney to make this variation.
Tomato Onion Coconut Chutney: For preparing tomato onion chutney recipe is made by sauteeing tomatoes and onions and then adding them to the basic recipe.
Must Check Recipes
Tips to make coconut chutney recipe for dosa, idli



Coconut : To cook the best coconut chutney recipe you must use freshly grated coconut, but if it is not available then you can try frozen coconut or desiccated coconut flakes
Soaking time :

If you are using frozen coconut or desiccated coconut for your nariyal chutney recipe, then first soak them in hot water for 10 to mins to get a thicker consistency.
Roasted dal : To get thickened consistency of coconut chutney for dosa and idli you can use roasted dal along with coconut it not only helps to thicken the chutney but also prevents the water from separating in the chutney.
Water : The process is initially add a little water in a blender, and later increasing the water quantities depending on the type of coconut used and the mixer grinder.
You May Like
How to make coconut chutney



Here, the complete recipe of coconut chutney preparation is classified into three simple categories first one is making nariyal chutney recipe,
second one is tempering for coconut chutney recipe.

so, let's make it now.
Making nariyal chutney recipe
1. At first for making the nariyal chutney recipe in a grinder add 200 grams of grated coconut, 2 green chili and 2 tablespoons of roasted chana dal.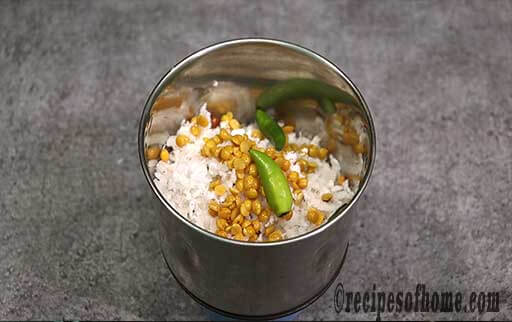 2. Then add 1/2 inch ginger, 2 to 3 garlic cloves and 1/2 teaspoon salt. You can add salt later if required.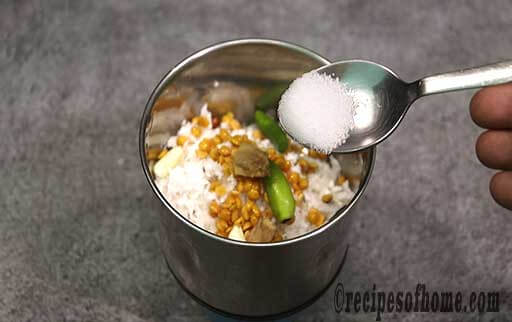 3. Now initially pour 60 ml of water to make a smooth coconut chutney recipe. While blending make sure to scrape the sides of the grinder, pour some more water if required then blend it again.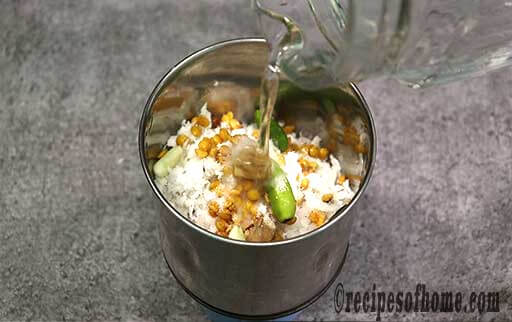 4. After that blend the coconut chutney till you get a smooth consistency.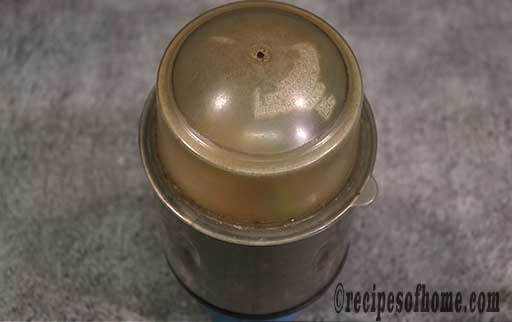 5. Finally remove the chutney from the blender and pour it into a serving bowl. Taste the chutney if any additional salt is required add it.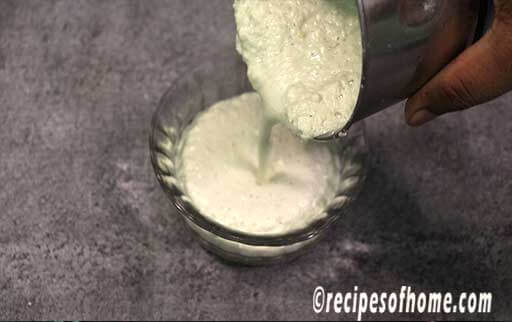 Tempering for coconut chutney recipe
1. Now for the tempering coconut chutney in a frying pan add 1 tablespoon oil.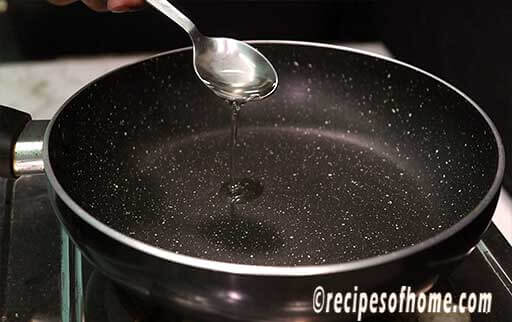 2. Then add 1 teaspoon mustard seed and 1 teaspoon cumin seed and saute them on low flame till they start to crackle.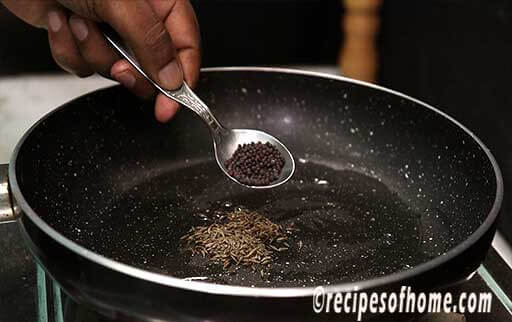 3. After that add 1/2 teaspoon urad dal, 3 to 4 dried red chilis, 9 to 10 fresh curry leaves and a pinch of hing or asafoetida.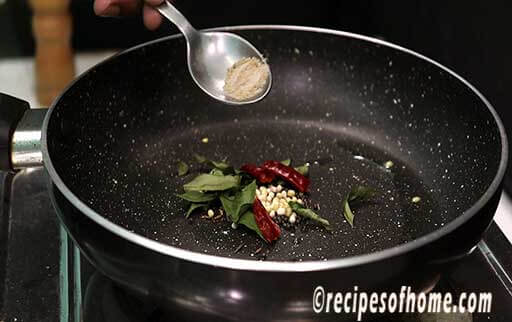 4. Next stir-fries them for a couple of minutes till the curry leaves become crispy and red chili starts to change it's colour.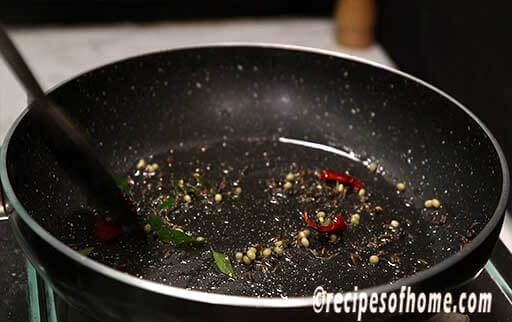 5. Now immediately turn off the gas and pour the entire tempering on coconut chutney then mix it well. Don't forget to serve hot coconut chutney with idli, dosa, vada, pongal or pakoda of your choice.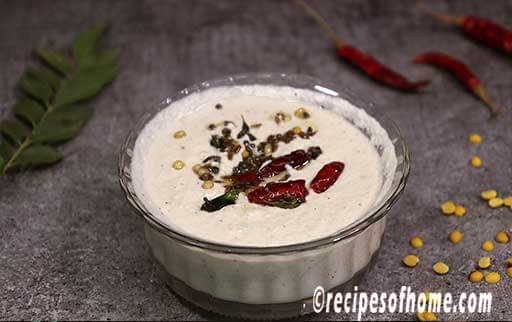 Coconut chutney recipe card

Here is a quick overview of all the coconut chutney ingredients including quick step by step preparation of coconut chutney recipe shown in the recipe card.
Take note of all ingredient lists.