Veg noodles recipe | Veg hakka noodles recipe
Veg noodles recipe is a popular indo chinese noodles recipe where cooked hakka noodles tossed with some veggies and flavor with some spices and sauces.This Vegetable noodles recipe also known as veg hakka noodles recipe in india.To cook this delicious hakka noodles follow below step by step instructions on how to make veg noodles?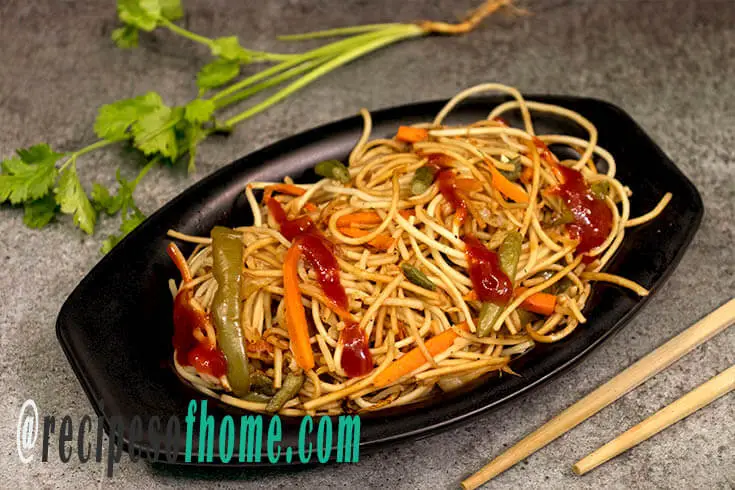 This mouthwatering hakka noodles recipe is not only tastes delicious but also very easy to cook at home. This noodles recipe is quite popular among indo-chinese street food vendors and various restaurants.
What is veg noodles recipe?
Veg noodles recipe or Veg hakka noodles recipe the most popular chinese noodles recipe where thin rice noodles tossed with stir fried fresh veggies including carrots, cabbage, french beans, capsicum , onions and flavor with some sauces and spices.
What is the difference between noodles and hakka noodles?
The main difference between noodles recipe and hakka noodles recipe is the type of preparations. In hakka noodles recipes only thin rice noodles are used but in noodles recipe you can use any types of noodles.
In this hakka noodles recipe dishes are a liitle bit spicer.
Note : if you are in a hurry, feel free to click on the following links to check your desired topic.If you'd like to see our in-depth step by step recipe preparation keep reading!
Must Check Recipes
What to serve with hakka noodles?
You can serve hakka noodles with some red chili sauce, tomato ketchup etc. or serve this super delicious vegetable noodle with Veg Manchurian, Gobi Manchurian, Chilli Paneer or Paneer Manchurian.
Tips to make veg hakka noodles recipe



Choice of Noodles : To cook best veg noodles recipe use any good quality noodles including whole wheat noodles, chowmein noodles you can also use thin rice noodles known as hakka noodles just like this recipe.
Spices & Sauce : To enhances flavor in this veg hakka noodles recipe don't forget to use black pepper powder, dash of soy sauce and tomato ketchup.
Veggies : You can use thinly sliced veggies including carrots, capsicum,cabbages and chopped french beans while cooking vegetable noodles recipe.
Cooking Method : Traditionally while preparing chinese noodles recipe , they are tossed in high flame in a cast iron or carbon steel wok or a pan with handles so it is easy to lift and hold the pan with the handles, while tossing as well as when stirring.
Non-sticky noodles :  When the noodles are al dente or just about cooked, strain them in a colander. Then rinse them with fresh water. Drain off the extra water and toss them with 2 to 3 teaspoons of oil.
Variations of hakka noodles recipe
You can also make egg hakka noodles and chicken hakka noodles recipe from this hakka noodles recipe, just you have to vary a small amount of ingredients.
Egg hakka noodles :

At first beat egg in a bowl then make scramble egg and set aside for later usage.After following above steps to make vegetable noodles recipe,add scrambled eggs and cooked noodles in wok and tossed in high flame.Adjust the sauce amount depending upon your needs.



Chicken hakka noodles : For chicken hakka noodles recipe first coat cubed boil chickens in a mixture of beaten eggs , 2 tablespoon cornstarch , 2 teaspoon red chili powder, salt, black pepper , then fry in oil till cooked. Finally following same steps add cooked chickens and noodles and tossed in high flame.Adjust sauce depending upon your need.
More Recipes You May Love
How to make veg noodles?
Here, the complete recipe of veg noodles preparation classified into three simple categories first one is cooking hakka noodles,
second one is making veg noodles recipe.
so, let's make it now.
How to make hakka noodles



1. At first for making hakka noodles rinse and chop or shred veggies including 1 cup shredded cabbage, ½ shredded carrots, 8 to 10 french beans , ⅓ sliced capsicum and 1 large onion chopped , 1 tablespoon ginger garlic, 2 to 3 sliced green chili.
2. Next heat 1.5 liter water along with ½ teaspoon salt, ½ teaspoon oil.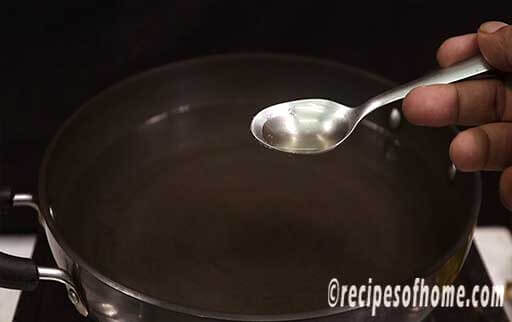 3. After sometime water comes to a boil.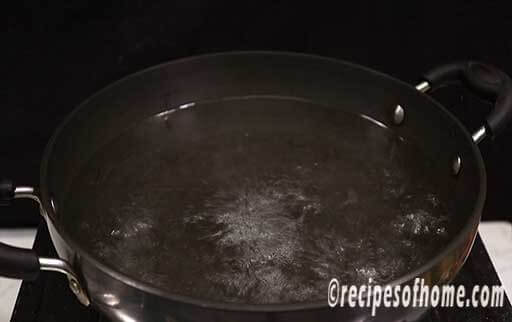 4. Next add 200 grams hakka noodles ,  mix well.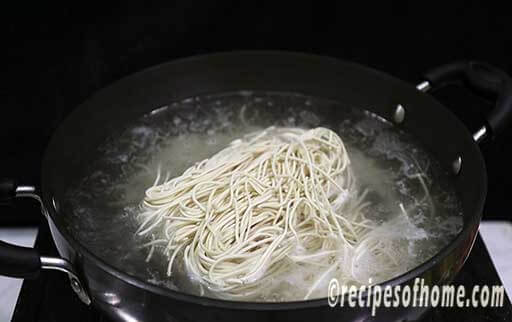 5. Cook the noodles according to the package instructions as every variety of noodle will have a different cooking time. For any variety of noodle, you need to cook them until al dente.
6. Make sure to check whether noodles are done or not.I press and taste them they must be softened, but slight bite to them.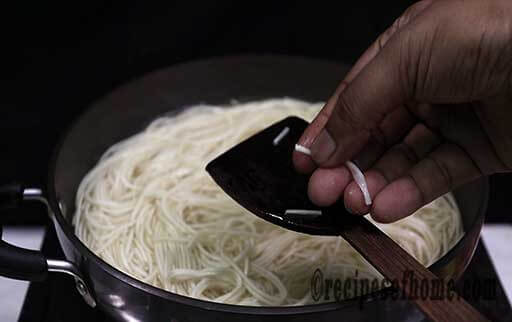 7. Then drain the cooked noodles in a colander and rinse the noodles with fresh water after that apply 2 tablespoon oil and tossed the hakka noodles and rest them for sometimes.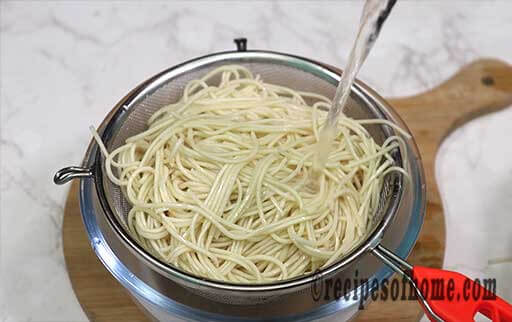 Cooking veg noodles recipe



1. Now to make veg noodles recipe heat 3 tablespoon oil in a pan then spread it evenly.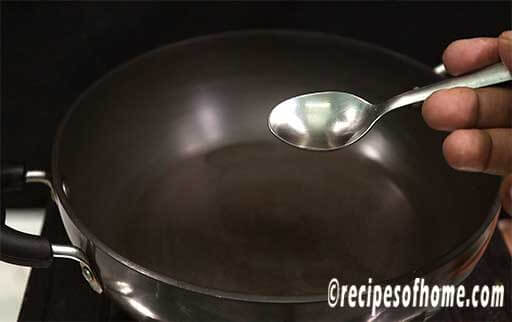 2. Next saute 1 tablespoon finely chopped ginger- garlic.
3. After that cook 1 large size chopped onions and 3 chopped green chili till translucent.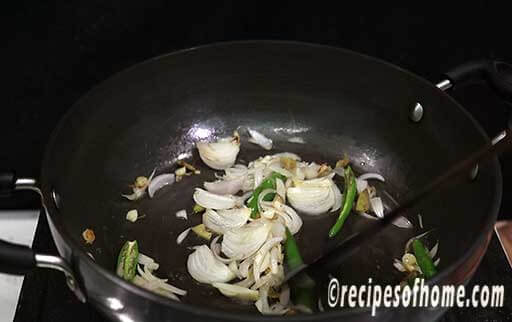 4. Then add 8 thinly sliced french beans , 1 thinly sliced carrots, 1 thinly sliced capsicum , 1 cup shredded cabbage and stir fry for 2 to 3 minutes on a medium to high heat.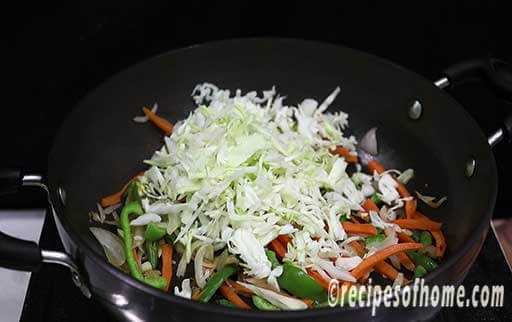 5. Now continue to toss and stir fry on a medium to high heat until the veggies are almost cooked. If possible it is best to use a pan with handles as it is better to lift it while tossing after that add 2 tablespoons of soy sauce. Mix well.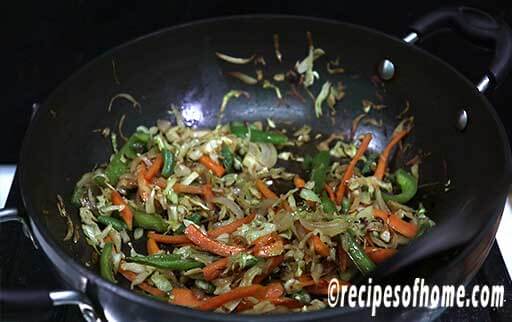 6. Then add cooked hakka noodles , pinch of salt and 1 teaspoon crushed pepper as required.
7. Next sprinkle 1 tablespoon soy sauce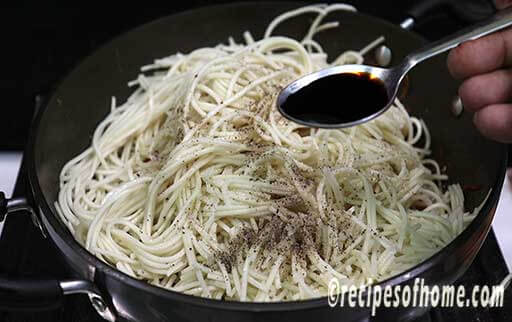 8. Now and mix with veg hakka noodles.And our homemade veg hakka noodles recipe is completed.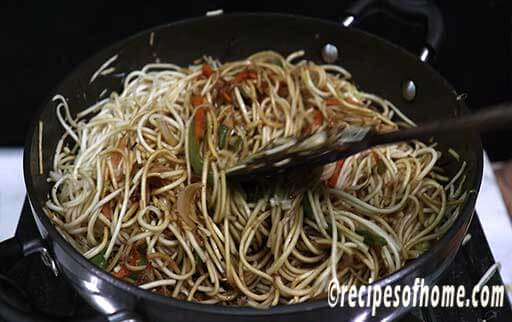 9. Finally, serve this veg noodles steaming hot as it is or with some black bean sauce or tomato sauce.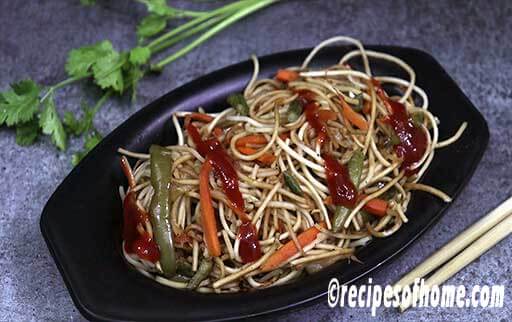 Veg noodles recipe card

Here is a quick overview of all the hakka noodles ingredients including quick step by step preparation of veg noodles recipe shown in the recipe card.
Take note of all ingredient lists.