Sarson ka saag recipe is a popular saag recipes in India made with mustard leaves, spinach leaves and reddish leaves.Sarson ka saag is also known as Sarson da saag in India.This creamy but aromatic punjabi sarson ka saag dish is usually made during winter. To cook sarson da saag recipe at home follow the below step by step instructions on how to make sarson ka saag?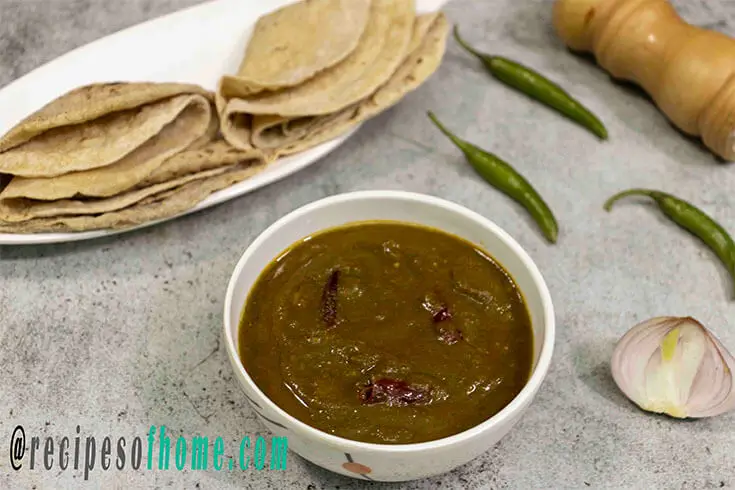 Though preparing this sarson ka saag recipe takes some time but ultimately it tastes very delicious. If you want curry in a hurry you can clean the greens one day before and keep them in airtight containers in a fridge.
To cook authentic sarson da saag you have to follow step by step instructions.
Note : if you are in a hurry, feel free to click on the following links to check your desired topic.If you'd like to see our in-depth step by step recipe preparation keep reading!
What is sarson ka saag
Sarson ka saag or sarson da saag recipe is a creamy, spicy curry made of mustard leaves, spinach, and radish.
This winter special sarson ka saag recipe is a famous punjabi curry where " Sarson " is a hindi word for " Mustard " and " Saag " refers to any " green leaves "; thus, this is a traditional Indian recipe of mustard leaves.
Must Check Recipes
What to serve with sarson da saag
Sarson ka saag is served best with makki di roti, paratha or steamed basmati rice.
Tips to make sarson ka saag recipe



Choice of greens :

You can choose young spinach or palak leaves, white or red radish leaves, methi leaves, bathua leaves along with a bunch of mustard leaves in preparing sarson ka saag.



Proportion of greens :

To avoid bitterness in punjabi sarson da saag recipe maintains a proper ration of saag. For the best result, mustard leaves and the rest of the greens ration should be 2 : 1
Maize Flour :

Must use a tablespoon of maize flour or gram flour in your sarson da saag, which gives a beautiful nutty flavour.

Veggies : If you add fresh radish, tomatoes, onions, and green chili along with saag it will enhance the taste of saag recipe.

You May Like
Sarson ka saag recipe video
If you want to watch this delicious sarson ka saag recipe video watch it here , otherwise for step-by-step instructions continue reading.
How to make sarson ka saag
Here, the complete recipe of sarson ka saag preparation is classified into three simple categories first one is preparation for sarson ka saag
second one is making sarson ka saag and third one is tempering for sarson da saag.
so, let's make it now.
Preparation for sarson ka saag
1. For preparing sarson ka saag recipe wash 1 bunch of mustard leaves, 1/2 bunch of methi leaves, 1/2 bunch of spinach leaves and 1/2 bunch of radish leaves.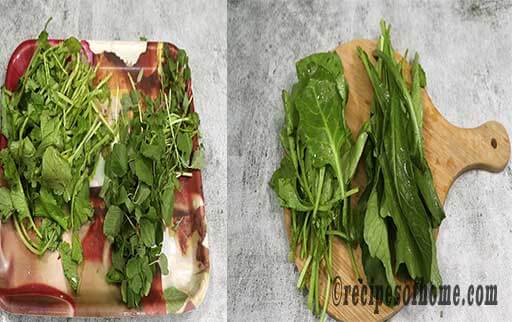 2. Also chopped 2 tomatoes, 2 onions, 1 medium size radish, 1 tablespoon chopped ginger garlic and 3 chopped green chili.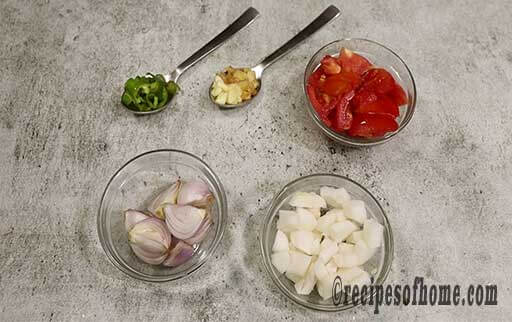 3. Next in a pressure cooker add green leaves, all chopped veggies, 2 teaspoons red chili powder and a pinch of salt.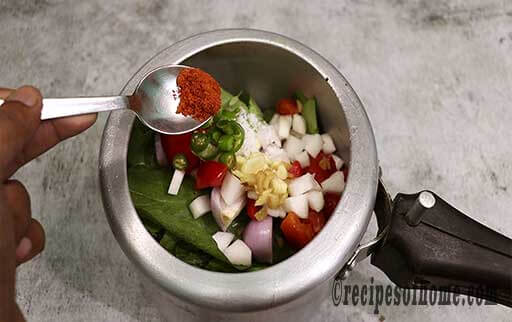 4. Now pour 600 ml water.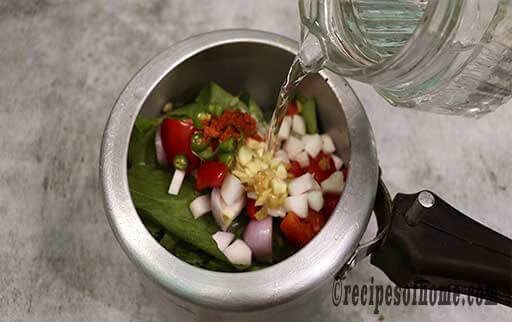 5. Now cover and pressure cook saag on a medium flame for 10 min until saag is soft.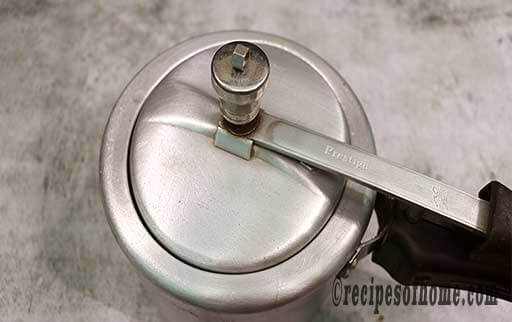 6. After that carefully open the lid, and you will see all greens, onions, radishes, and tomatoes are cooked well. Let rest the mixture cool to room temperature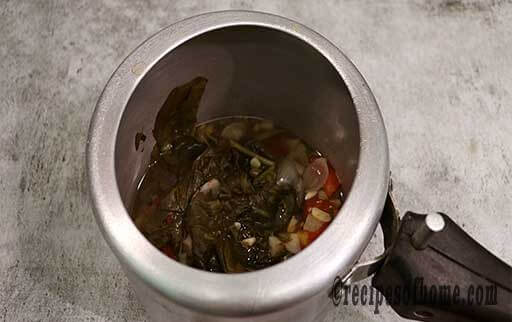 Making sarson ka saag
1. Now to make Sarson ka saag pour these cooked greens along with some water into a blender to make a fine paste.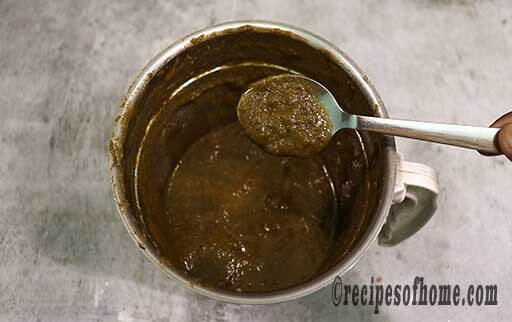 2. Next pour this saag puree into a deep bottom pan and cook on low flame for at least 35 min.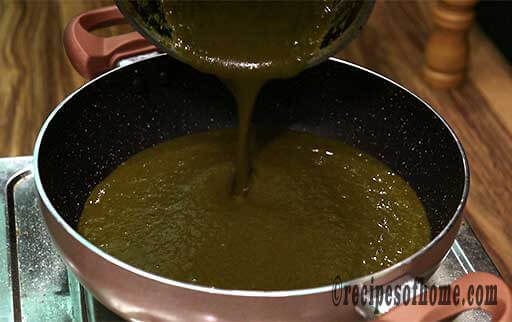 3. In between stir occasionally, such that sarson ka saag doesn't stick at the bottom of the pan.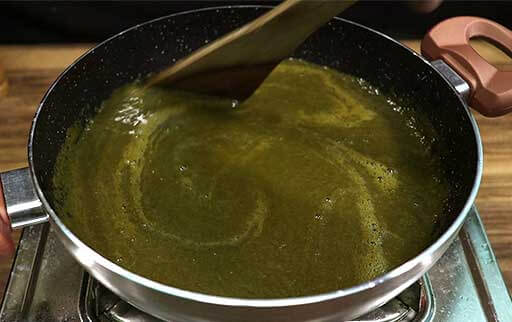 4. After that add 2 tablespoon of maize flour or gram flour and mix properly for another 10 min.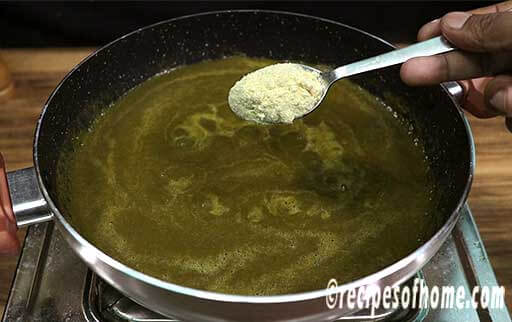 5. At this stage you will see sarson da saag becomes thick and bubble on top of the curry.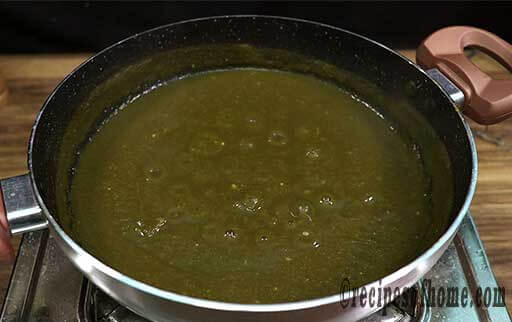 Tempering for sarson da saag
1. Now for tempering sarson da saag recipe melt 2 tablespoons butter in a pan.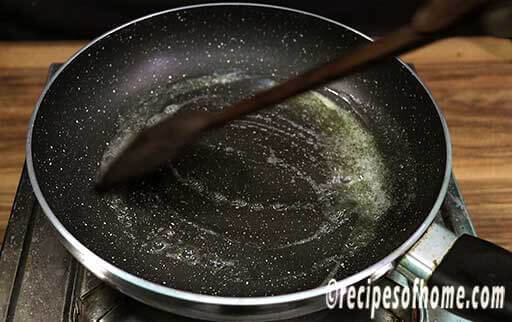 2. Then add 2 dried red chili and saute on low flame till cooks properly.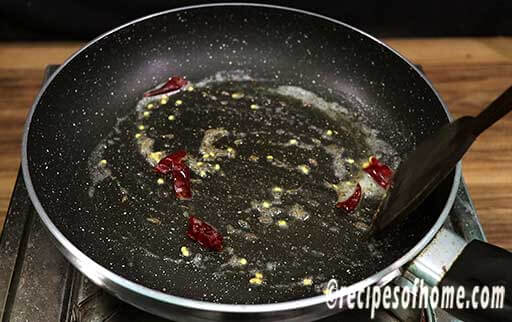 3. After that add 1/2 tablespoon garlic, and 1 medium size chopped onion and cook till onions become lightly golden brown.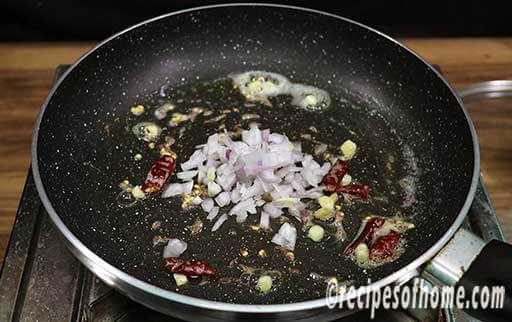 4. Furthermore pour tempering in kadai.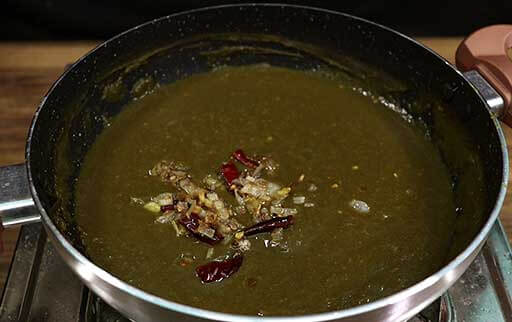 5. Cover and simmer sarson da saag for another 10 mins.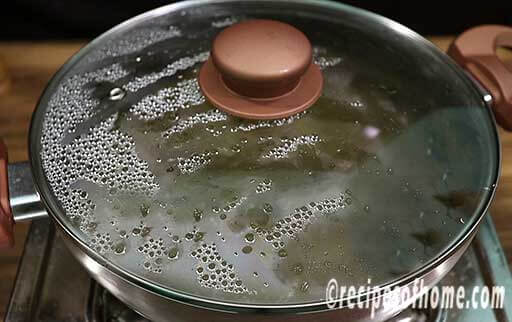 6. Finally our sarson da saag recipe is completed now serve it hot with makki di roti, paratha and steamed rice.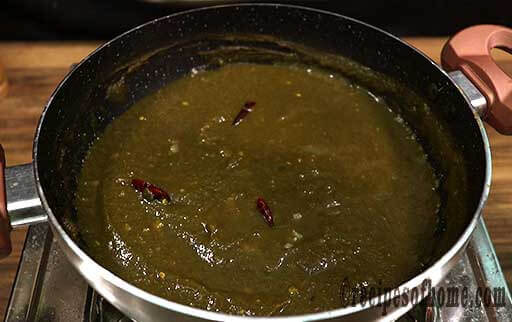 Sarson ka saag recipe card
Here is a quick overview of all the ingredients of sarson da saag including quick step by step preparation of sarson ka saag recipe shown in the recipe card.
Take note of all ingredient lists.