Have you ever wondered how to make homemade pizza from scratch? Well, you are in the right place. This guide will show you step by step process of how to make a delicious pizza at home.
Making pizza at home is not only fun but also allows you to customize it with your favourite toppings. Let's start to make a perfect homemade pizza.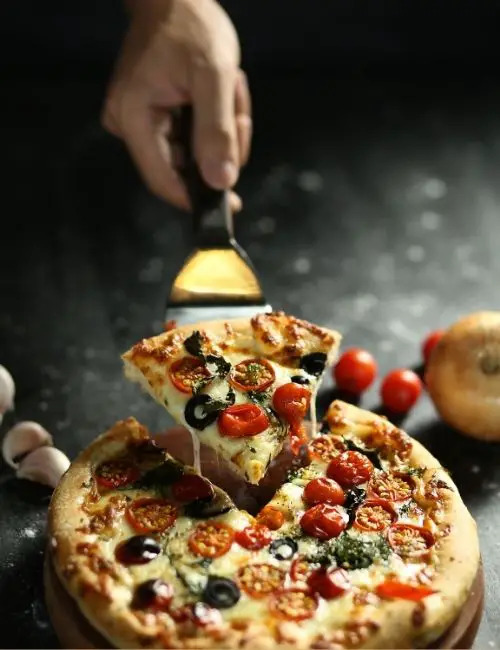 What is Pizza?
Pizza is a popular dish enjoyed by people all around the world. It is a round flatbread topped with tomato sauce, cheese and various ingredients like vegetables, meats and herbs.
The beauty of pizza lies in its versatility you can make pizza at home the way you like it.
What is the origin of Pizza?
Pizza has an interesting history that goes back to ancient times. It became famous in Naples, Italy in the 18th century. Neapolitan pizza is known for its thin, chewy crust.
Initially, it began as a basic street food and later it became popular for its delicious flavours.
What is Pizza made of?
To make a delicious homemade pizza you will need the following key ingredients:
Pizza Dough: A mixture of flour, water, yeast, salt and olive oil. You can make it from scratch or use store-bought dough.
Pizza Sauce: Tomato sauce with herbs and seasonings like basil, oregano and garlic.
Cheese: The best option is Mozzarella but you can use other cheese options.
Toppings: Anything you like. But most common toppings include pepperoni, mushrooms, bell peppers and olives.
Herbs and Spices: Add oregano, basil, garlic powder or red pepper flakes for extra flavour.
What does Pizza taste like?
Homemade pizza delights the taste buds with a combination of flavours. The crust is crispy on the outside and chewy on the inside, while the sauce adds a tangy kick.
The cheese melts and becomes creamy. Your toppings add different textures and flavours.
You May Like
Homemade Pizza Ingredients
For a basic homemade pizza, gather these ingredients:
1 cup of warm water
2 teaspoons of active dry yeast
2 cups of all-purpose flour
2 tablespoons of olive oil
1 teaspoon of salt
1 cup of pizza sauce
2 cups of shredded mozzarella cheese
Your favorite toppings
How to make homemade pizza step by step
Preparing the Pizza Dough
At first, in a bowl mix warm water, yeast, and sugar. Let it sit for about 5 minutes until it foams
After that, add flour, olive oil and salt. Mix until the dough forms.
Knead the dough on a floured surface until smooth.
Now, place the dough in a greased bowl. You can cover it with a kitchen towel and let it rise for an hour.
After rising punch down the dough then roll it out into your desired pizza shape.
Making Pizza Sauce
To make tasty pizza sauce in a saucepan, heat olive oil, add crushed garlic then stir in canned tomatoes. After that add your favourite herbs like basil, oregano, garlic, salt and pepper.
Next, simmer the sauce for 15 to 20 minutes until it thickens. Make sure to stir occasionally to avoid burning.
Assembling the Pizza
At first, preheat your oven to 475°F (245°C) with a pizza stone or pan inside for 30 minutes.
Now, place the pizza dough on parchment paper.
Next, spread pizza sauce over the pizza dough leaving a border for the crust.
After that, sprinkle mozzarella cheese evenly.
Furthermore, add your favorite toppings.
Baking Pizza
Put the pizza on the heated stone or pan and bake for 12-15 minutes.
The crust should turn golden and the cheese should bubble.
Slicing Pizza
Now use a pizza cutter or sharp knife to slice your homemade pizza into wedges. Serve hot and enjoy.
Expert tips and tricks to make the best pizza
Quality Ingredients: To make your homemade pizza taste better, use fresh, high-quality ingredients. Start with ripe tomatoes for the sauce. Use real mozzarella cheese and fresh herbs to add the most flavour.
Proper Dough Handling: Allow the pizza dough to rest and rise then gently roll or stretch it for a perfect thin crust.
Hot Oven and Pizza Stone: To get a crispy crust and bubbly cheese, heat your oven and pizza stone at high temperatures.
Even Sauce Spread: Spread your sauce, leaving a small border for a golden, crunchy crust.
Topping Balance: Don't overload with toppings. Make a proper balance of taste and even cooking.
Remember the Baking Time: Keep a close eye on your pizza in the oven to prevent overcooking. It should be golden and irresistible.
What to serve with pizza?
You can serve pizza with tasty side dishes like salad, garlic bread, some fresh fruit and cold drinks.
These delicious accompaniments make your pizza meal even more satisfying and enjoyable.
How to Store Pizza Dough?
If you have leftover dough, wrap it in plastic and store it in the refrigerator for up to three days.
You can freeze the dough for longer storage and use it within a month.
FAQs (Frequently Asked Questions)
Can I use store-bought pizza dough? 
Yes, store-bought dough is convenient and works well.
What is the best flour for pizza dough? 
All-purpose flour is excellent for pizza dough.
Which cheese is best for pizza?
 Mozzarella is a classic choice, but provolone and cheddar also work wonders.
What type of sauce goes on pizza? 
A tomato sauce seasoned with herbs is traditional, but you can experiment with different sauces.
How long to knead pizza dough? 
Knead for about 5-7 minutes until the dough is smooth.
Is It Better To Let the Dough Rise Overnight? 
Overnight rising can enhance flavor, but a shorter rise works too.
Can you refrigerate pizza dough?
 Yes, you can refrigerate it for a slow rise.
How To Make Sure Your Yeast Is Active?
 Proof the yeast by mixing it with warm water and a pinch of sugar until it foams.
Is it better to roll or stretch pizza dough? 
Stretching by hand is traditional, but rolling is easier for beginners.
Why does my pizza smell or taste yeasty? 
Ensure your dough has properly risen, and don't overuse yeast.
How should I use a pizza stone? 
Preheat the stone, then transfer the pizza with a peel or parchment paper for even cooking.
My pizza dough is too sticky – what should I do?
Add a bit more flour while kneading until the dough is less sticky.
The pizza crust is too hard – how to avoid it?
Ensure not to overbake the pizza. Reduce the baking time if needed.
How to prevent toppings from sliding off?
To avoid a soggy pizza, pat dry the veggies and meats before adding them.
Congratulations you have just learned how to make homemade pizza step by step. You have everything you need to make delicious pizzas that will impress your loved ones. Enjoy your culinary adventure in the world of homemade pizza-making.