Are you tired of throwing away wilted and spoiled coriander leaves after just a few days of buying them? Don't worry here is the simple tips and tricks on how to store coriander leaves fresh and flavorful for longer without wasting money on spoiled herbs. In this blog post, you will get to know how to store coriander leaves for longer so that you can enjoy their fresh and flavor without worrying anything.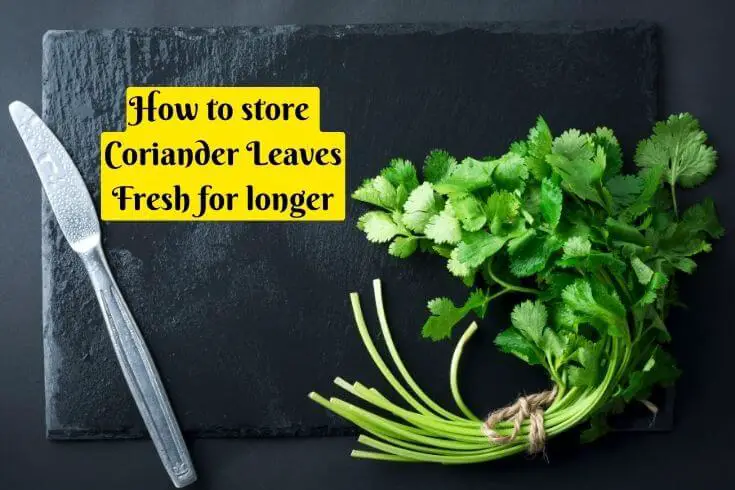 What are coriander leaves
Coriander leaves are bright green colour, citrus flavour leaves from Coriandrum sativum plant. It is also known as Dhania, Cilantro and Chinese parsley across the world.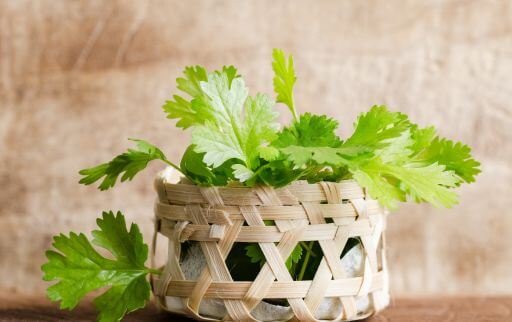 Coriander leaves have a lot health benefits from digestive benefits to anti-inflammatory properties. Besides, it is widely used in various dishes from salads, curries, meat, soups, or stews.
How to buy fresh coriander leaves
While buying coriander leaves from market pay close attention to the bunches.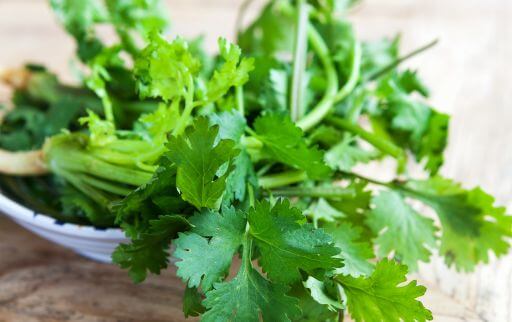 They must have bright green leaves and no signs of wilting or yellowing. If you find any brown or slimy coriander leaves avoid them.
Cilantro Vs Coriander: What is the difference?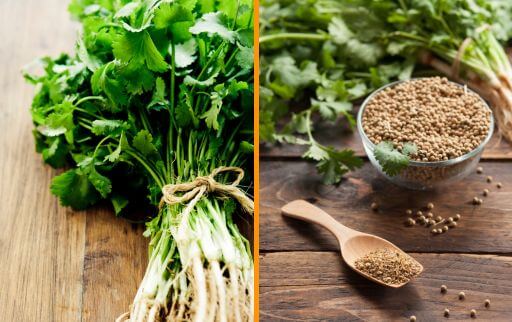 Region-wise name: In the US cilantro is used for the herb and coriander refers to its dried seeds. But for the rest of world coriander refres to both leafy herbs and spices.
Taste and Smell: Cilantro has a refreshing taste and citrusy flavour.But Coriander has warm, spicy and nutty taste and aroma.
Nutrition profile: As fresh cilantro has higher level water quantity ( 92.2% ) hence it has higher level vitamins like A, E, K and low minerals. But coriander seeds have only 8.9% water hence it has low in vitamins but high in minerals like minerals like manganese, iron, magnesium and calcium.
Uses in recipes: Cilantro is used in various soups, chutneys and salsa. Whereas coriander is used in various Indian curries, dal, rice dishes and meat recipes.
Cilantro Vs Parsley: What is the difference?
If you are thinking cilantro and parsley are same then you have to read this cilantro vs parsley. The main difference are appearance, taste, and smell.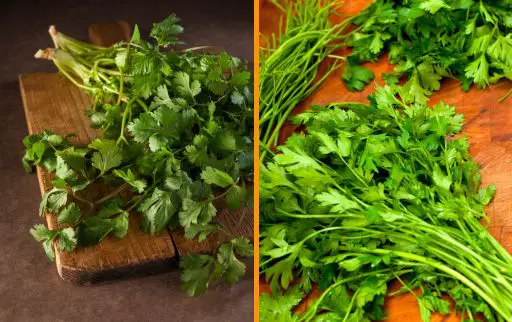 Appearance : Cilantro has brighter green and more feathery leaves but Parsley has a small, dark green plant with curly leaves.
Taste : The taste of fresh Cilantro has a very strong flavour sometime people call it soapy. But parsley has a grassy taste with some bitter flavour.
Smell : The smell of fresh cilantro is pungent, but the smell of fresh parsley is a mild earthly smell.
You May Like
What are the benefits of coriander leaves
Sure, here are the various health benefits of coriander leaves.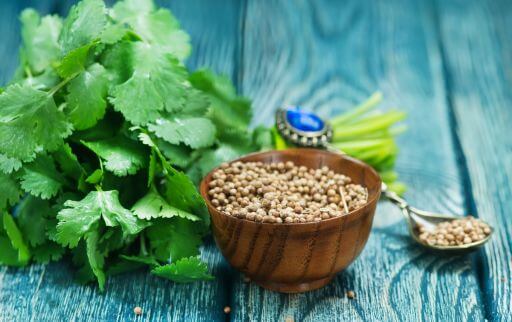 High in Nutrients:

Coriander leaves are a high source of vitamins and minerals, including vitamin A, vitamin E, vitamin K some minerals magnesium, and iron.
May promote digestion: Coriander may improve digestion and reduce bloating and discomfort.
Anti-inflammatory Properties:

Coriander can help to reduce inflammation in our body.
High in Antioxidants:

Corianders are full of antioxidants from terpinene, quercetin, and tocopherols. It helps us protect against cell damage and various neuroprotective effects.
May Help Control Blood Sugar: Coriander leaves, seeds and oils may all help to lower blood sugar levels by promoting enzyme activity.
[ Note : The above information on the health benefits of coriander leaves is for educational purposes only. One should always consult a healthcare professional before using coriander leaves for medicinal purposes. ]
Uses of coriander leaves
Here are the various uses of coriander leaves from cooking, medicinal uses and uses like insect repellent or various cosmetic product preparation.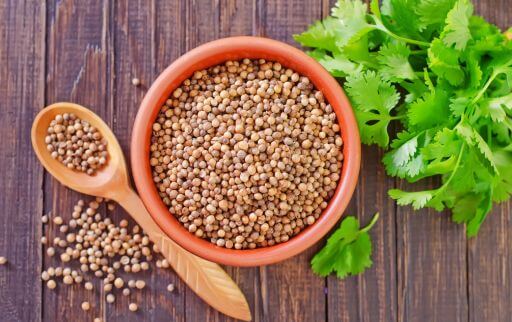 How to use coriander leaves in cooking
Coriander leaves have a distinct, refreshing, and citrusy taste, making them a popular ingredient in various culinary dishes.
Garnishing: Fresh coriander leaves are used as a garnishing agent on various soups, curries, and salads.

As a Spice: To prepare many spice blends, such as garam masala and curry powder coriander leaves uses.

Chutneys: It uses to prepare chutneys, sauces, and dips.

Other Uses Of Coriander Leaves
Aromatherapy: The essential oil of coriander leaves is used in aromatherapy, which means to reduce stress and anxiety.

Insect Repellent: Coriander leaves work as a natural insect repellent. Because the smell of the coriander leaves repels insects and pests.

Cosmetics: In various cosmetic product preparations such as creams, lotions, and shampoos, coriander leaves are used.

What can I substitute for coriander leaves
It is always best to choose a substitute that complements the flavours of the dish you are making and to use it in moderation so as not to overpower the other ingredients.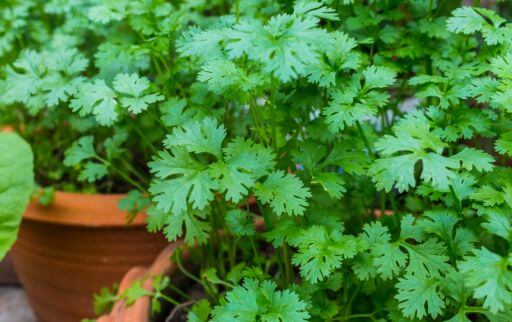 Cilantro: You can use Cilantro as one of the substitute ingredients. But keep in mind cilantro has a stronger flavour than coriander, so use it in smaller amounts.
Parsley: You can also use Parsley because it is a mild-flavoured herb. Parsley has a bitter taste, so use it in very small amounts.

Basil: Basil is another herb that can use as a substitute for coriander leaves. It is a sweet and spicy flavour herb.

Dill: Dill has a similar flavorful profile to coriander leaves, with an anise-like taste.

Mint: Mint has a fresh, cool flavour. It can use in place of coriander leaves in salads or dressings. Always keep in mind mint has a stronger flavour than all the above herbs, so use it in smaller quantities.

How to store coriander leaves
You can store coriander leaves in 3 ways throughout the month. Like store coriander leaves fresh in a glass of water and zip lock bag. Apart from that store them as dry coriander leaves. Try any of the below techniques you like.

How to store coriander leaves fresh for longer
Remove Yellow and Wilted leaves: The first step to storing coriander leaves fresh for longer is to remove any yellow and wilted leaves from the bunch of the coriander leaves.

Rinse and dry the leaves: Thoroughly rinse the coriander leaves under cold water and remove any dirt or debris from them. After that pat dries with a paper towel. Make sure the leaves are completely dry before storing them.

Wrap in a damp paper towel: Now in a damp paper towel wrap the coriander leaves. This helps to keep the leaves moist and fresh. 
Store in the refrigerator:  

In a zip-lock bag place the wrapped coriander leaves. Then keep the bag in the refrigerator for up to a week. Make sure to check the leaves every few days and replace the paper towel if it becomes dry.
Store in a glass of water: 

You can also fill a sturdy glass jar with cool water. Then keep the coriander leaves inside the glass, make sure all the stem ends are submerged but the leaves should stay above the surface of the water. Remember to change the water every alternative day to prevent bacteria growth.
How to dry Coriander Leaves
Clean and Pat dry

: At first cut the ends of the coriander stems to remove any damaged or wilted leaves. Clean the fresh coriander leaves to remove dirt or debris from them. Then pat dry the leaves with a clean paper towel to remove excess moisture.
Place Leaves in a Larger area: Now spread the coriander leaves in a single layer on a clean, well-ventilated area, especially a dry surface like a baking sheet or a mesh drying rack. Depending upon humid levels it takes a few hours to several days to completely dry leaves.

Store dry leaves: When the coriander leaves become completely dry and crispy store them in an airtight container or a plastic ziplock bag.

People often ask question
Can you store coriander leaves in water?
Yes, you can store coriander leaves in water. For this place, the stems of the coriander leave in water. It helps to keep the coriander leave fresh for longer. To prevent any bacteria growth in the water you should change it every alternate day.
Should you store coriander with or without stems?
You should store coriander with stems as they help to keep the leaves fresh. After buying always keep them in a jar of water or cover them with a plastic bag, and store them in the fridge..
Can you store coriander in the freezer?
Yes, you can store coriander in the freezer. You can find the texture of the coriander leaves may change after freezing.